Many brands are starting or are well into their digital transformation initiatives in areas such as marketing, sales, and customer experience. These trends have been slow to penetrate supply chains, especially as geopolitical and economic uncertainties continue to increase.
The coronavirus crisis has been with us for some time now, uncovering numerous supply chain vulnerabilities businesses didn't know they had: whether it's within their supplier networks, planning processes, logistics systems, organizational maturity, or resiliency.
Digitally transforming supply chains is key to maintaining business efficiency, competitive advantages, and future-proofing against later shocks. More importantly, digitization helps brands act on quickly emerging opportunities in a fast-paced environment.
What Is Digital Transformation in the Supply Chain?
A ToolsGroup and Spinnaker's survey of supply chain professionals demonstrated that only 7% of companies had been reaping any benefits of digitized supply chain planning.
Now, they have no choice. The post-COVID uncertainty and ongoing global supply chain crisis are accelerating their digitization initiatives.
Getting these plans off the ground presents similar challenges, and many supply chains lack the capabilities to develop, test, and scale their technology and digital transformation initiatives. According to Gartner, less than half have defined or plan to implement a supply chain digital transformation roadmap, and over 50% don't have a roadmap for supply chain digital transformation.
Supply chains can quickly find themselves on the losing end by failing to keep up with the technological and economic changes happening around them. According to The Fung Group's Pamela Mar, the digital divide is growing among the top, innovative supply chains and the bottom, overspecialized, and rigid ones. 
How can organizations start their digital transformation in supply chain management for a resilient, future-proof supply chain? Brands must act early on to execute on a strategy while the competitive advantage and opportunities are there. Those with an open-minded, digital-first mindset will foster innovation, empower teams, and drive operational excellence.
What Are the Benefits of Supply Chain Digital Transformation?
Supply chains have always been intricately linked with technology, and leaders recognize that enabling supply chain digital transformation in manufacturing, consumer goods, or any other industry helps them realize their short-term and long-term goals. There are other drivers for digitization, including:
increase effectiveness to maximize cash flow and stay competitive

grow business performance through revenue and sales

adapt to new buyer behaviors and changing customer expectations

improve customer service and the customer experience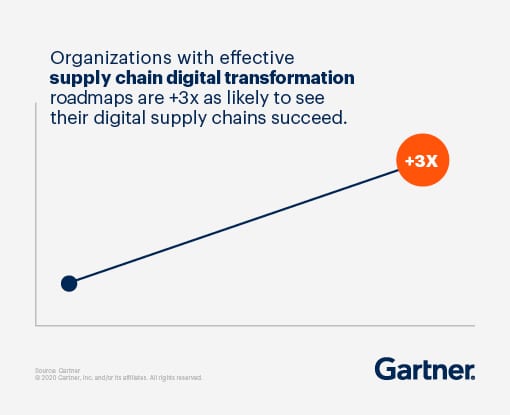 [Source]
Here are some other supply chain digital transformation benefits:
It brings attention to issues early
Supply chains tend to operate using top-down management and communication for merchants and vendors. Many distributors looking to grow their product lines tend to focus on reconciliation, monitoring, and reporting. Just as important is communicating defects, delays, or other types of disruptions early on in the supply chain cycle.


Digital solutions, including monitoring tools and integrations such as those between the

ERP and eCommerce system

, will help companies make quicker, better decisions early on. The benefits are clear: proactive decision-making increases efficiency, removes waste and chargebacks, and keeps operations running smoothly.

It enables agility during disruption
Flexible supply chains are a must in an unpredictable economy, especially with the possibility of future disasters and political pressures thrown in the mix. Digitizing supply chains allows for diversification and alternatives for quick sourcing, capacity, or demand-related decisions.


Digital solutions can increase data visibility and maintain a consistent record of sales, inventory numbers, back order rates, and other performance metrics. For example, 

cloud-based digital systems

 simplify recording and recalling data, making it easy to enact changes, especially during lockdowns, tensions, and other risks.

It helps scale and future-proof


Resilient supply chains require a solid foundation. Transparency and efficiency are not enough – the ability to scale and adjust as circumstances change is just as important. To remain competitive in the years and decades ahead, start with a robust and flexible 

B2B eCommerce platform

 that you can build and grow with, without the need to reinvent your supply chain.


This flexibility gives businesses more freedom when onboarding new suppliers, particularly in new industries or geographies. It helps brands respond to demands, grow their stores, launch new ones, or roll out to additional regions. 
Thankfully, digital commerce tools like OroCommerce support various role permissions, languages, localized tax regulations, and built-in capability to expand to new markets such as B2B2C, DTC, and B2B marketplaces.
The Top Trends in Supply Chain Digital Transformation
While brands have come a long way in overcoming adoption, implementation, and technology challenges in digital supply chains, there's still lots of growth potential. Here are some of the top future trends to look out for:
eCommerce integration
Today's technology allows B2B sellers to identify and resolve many inefficiencies within their supply chains. Connected systems make it possible for them to run efficient operations and offer seamless customer experiences. Thus, companies are starting to take advantage of interconnected supply chains within their eCommerce operations, enabling a free flow of information across their organizations.

AI and Automation
Artificial intelligence, machine learning, and automation technology allow companies to improve efficiency, make more accurate projections, and increase personalization. If implemented correctly, workflow automation can encourage collaboration and company-wide shifts away from siloed, cumbersome, and inefficient functions. For instance, in our roundup of digital transformation examples in manufacturing, we highlighted how ThyssenKrupp Materials Services (TKMS) used an AI decision-making engine to identify supplying locations for each customer. 
Logistics and 3PL
Streamlined logistics, outsourced fulfillment, and real-time visibility already play a significant role in supply chains. Still, uncertainties force brands to avoid shocks and additional costs at the detriment of performance. As companies ramp up production, they must reanalyze value chains, optimize logistics capacity, and improve contingency planning for "just-in-case" situations.
IoT, blockchain, and 5G
As the number of data grows in supply chains, data transfer and management methods will improve as well. Thankfully, technologies surrounding IoT (internet of things) and blockchain will allow for more transparent and efficient supply chains. 5G technology promises to enable supply chains to react to changing environments with even greater accuracy.
Digital twins
A digital supply twin is a digital representation of a supply chain. By linking the two twins together, organizations can enhance situational awareness and improve their decision-making process. According to Gartner's Christian Titze, digital twinning increases visibility and helps teams act on opportunities, particularly in complex supply chains. 
Compliance and governance
Technologies in digital supply chain compliance and governance are still in their infancy, but this is bound to soon change. As digital connections of increased magnitude and complexity play a central role in supply chains, brands will need to focus on maintaining the privacy, reliability, and digital security of information. Learn how to tackle eCommerce PCI compliance in our guide.
Challenges of Digital Supply Chain Transformation
Implementing a digital transformation journey comes with many technological challenges, the ongoing pandemic, and changing customer behavior. Here are some challenges brands face when digitally transforming their supply chains.
Misconceptions about expectations
Many businesses make the mistake of automating existing processes within supply chains instead of rethinking them from the ground up. Investing in standalone tools such as business intelligence or demand planning systems only changes the process, without new ways of building relationships, planning, and forecasting. Organizations must make a whole-company approach that takes into account all vulnerabilities and shocks to build structural resistance with the help of digital transformation.
Technology and organizational challenges
Smaller organizations often lack the resources and organizational challenges to create value for their businesses and stakeholders. If they don't have the technical expertise in-house, they can outsource these functions externally with digital transformation consulting companies. A successful transformation requires having the full support of the executive team, the right culture and support systems in place, and individual and team accountability for the project's success.
Process and execution challenges
Supply chain digital transformation is not only complicated, but also risky, especially if required processes are not in place to see it succeed. Even with a robust roadmap and mature technology stack, any digital transformation project can fail. Last year, GE, Ford, and Proctor & Gamble failed in their digital transformation initiatives, either through poor planning, a lack of strategic focus, or insufficient research into their competition or audience.
Digital Transformation Supply Chain Examples
Animal Supply Company
Animal Supply Company distributes pet food and supplies across the United States. Founded in 1987, it since has grown to encompass 21 distribution centers, half of which serve various arms of their business, such as 3PL for eCommerce and retail partners. Distribution is managed across separate ERP systems and warehouse locations. This complex business structure called for unique workflows to manage promotions, prices, and contract restrictions to facilitate retail digital transformation.
In order to maintain a single source of truth in their supply chain, Animal Supply implemented OroCommerce's B2B eCommerce system as a headless order management system. This setup allowed them to connect multiple ERP systems and streamline B2B 3PL operations. In the end, Animal Supply got full transparency around inventory, product, customer activity, and fulfillment operations.

France Air Group
France Air Group designs, manufactures, and distributes air handling equipment for residential and commercial properties, as well as institutions and governments. It was founded in 1960 in Lyon, France, and is now a leader in air handling and air ventilation products with a presence in over 17 countries.
With cross-border B2B transactions amounting to 25% of their revenues, France Air needed to effectively manage the complex international fulfillment process. OroCommerce enabled France Air to manage custom B2B delivery options across borders by facilitating real-time data exchange between systems. The end result is an industry-first, highly personalized customer experience for clients in every corner of the world.

5 Steps to Supply Chain Digital Transformation
A supply chain digital transformation can seem like an enormous task, but taking the first step can appear just as challenging. The steps listed below will help you prepare for digital transformation in your supply chains and skus in supply chain.
Before you start your digital transformation journey, ensure you've established internal and external communication channels with suppliers, vendors, and partners. Ensure they buy into the change and get their respective stakeholders on board, too.
While communication is vital, measuring your results is just as important. Establish a system of accountability and metrics for how well the program is working, including processes that ensure data is communicated and effectively presented to those who need it.
Gather plenty of information from teams across all functional areas to layout your resources and capabilities. Determine the effort needed for changing the company culture, operating models, business models, or pursuing parallel opportunities.
List technologies in their basic form, whether it's an eCommerce feature, data source, an analytical tool, a reporting system, or an integration. Instead of cross-shopping various technology vendors, prioritize your digital capabilities according to short, medium, and long term strategic goals. Conduct research across the organization to get buy-in, the needed resources, the right investment, etc.
After getting your capabilities in place, the next step is to get them working together. Your company culture, human resources, communication, processes, strategies, and technology must all form a greater strategy. Document how you plan on turning your ideas into reality, the results you expect to achieve, and the expected ROI of your supply chain digital transformation.
The Time Is Now for Digital Innovation in the Supply Chain
The quickly-changing technological landscape, global and national tensions, and heightened customer expectations are causing brands to revisit how they do business. Brands are rethinking supply chains for greater control over performance, flexibility, rerouting, and building resilience. 
For businesses re-evaluating their supply chains, eCommerce operations, and B2B sales strategy, now's the best time to start putting these plans into action. Establishing a modern, digitalized, and integrated supply chain today is one of the most effective and safest ways to build a resilient business.