Implementing the right digital transformation technologies can fuel your enterprise business to reach new heights. As enterprises adopt transformative technologies, it is important to select the ones that make the most impact.
Too often, digital transformations fail because the technologies implemented weren't the right solution for the enterprise. Don't chase the next big thing or the latest shiny object. Focus on the transformative technology that works for your enterprise.
Read on to learn about enterprise-grade digital transformation technologies that we know from experience work, and how to choose the right technologies for your business.
What Are Digital Transformation Technologies?
Digital transformation technologies bring agility to large organizations, build resiliency, and position enterprises for the future. They automate workflows and perform repetitive tasks with ease. Digital transformation technologies make it easier for enterprises to put the customer at the center of everything they do. That's key because buyers increasingly demand highly personalized products and buying experiences that can only be delivered at scale with digital technology. Future-proofing requires digital technology.
Some digital technologies help humans work together better while other technologies replace the need for human intervention. From automated assembly lines powered by robotics to automated business processes, technology improves almost every facet of enterprise business. AI-enabled chats handle routine inquiries, freeing human assets to field inquiries requiring a human touch. Digital twins improve the performance and efficiency of equipment from boilers and HVAC systems to manufacturing machinery.
Low-code solutions allow people with limited tech skills to adopt and use new technologies and everyone benefits from cloud and mobile technologies.
Digital transformation technologies literally transform how enterprise does business.
What is the Role of Technology in Enterprise Digital Transformation?
The technology used in digital transformation shouldn't overshadow the goals of improving business processes and outcomes. Some technologies benefit almost every enterprise (mobile, cloud, and workflow automation – we're looking at you) while others such as digital twinning are only appropriate in specialized situations. With technology, digital transformation is possible – but technology is the means to reaching a goal, not the goal itself.
Productivity
For example, digitalization in the construction industry is leveraging cloud-based technology to improve collaboration and boost productivity. While digital transformation in the packaging industry adds 3D printing technology to prototype new package designs faster. Digitalization in the medical device industry utilizes digital twins to enhance manufacturing processes and reduce the need for human intervention. These are just a few examples of how different enterprises are harnessing the power of different technologies to achieve productivity goals. Each enterprise is adopting digital technologies with the potential to transform its enterprise.
Accessibility and reliability
Cloud-based technologies empower remote workforces and teams and allow dispersed teams to collaborate easily. In manufacturing, sensors can monitor equipment, store data in the cloud, and send an alert when predetermined conditions are met. In addition, cloud technology supports disaster recovery planning efforts and can even lower tech equipment costs.
Improved customer experiences
Mobile, cloud, and eCommerce technologies make it easier than ever for customers to interact with enterprise brands. Technology innovations allow buyers to research products on a variety of platforms and channels and perform many typical customer service functions on their own. There's no need to call or email about order status when integrated shipping and eCommerce systems send notifications automatically. Integrated ERP and eCommerce provide insight into inventory levels before the order is placed reducing backorder disappointments.
Informing better decisions
Better analytics leads to more informed decisions and better-informed decisions. Transformative technologies eliminate data silos and make data actionable. Advanced analytics brings together past and current data to predict what may happen in the future. Trends are spotted faster, and decision-makers act with more confidence.
Discover how to make technology change management part of your company culture
6 Digital Transformation Technologies Included in OroCommerce
Every enterprise is unique, so the technology and digital transformation combination will be unique to each company. However, there are a number of digital transformation technologies that can benefit almost every enterprise. These are the technologies embedded in OroCommerce. These technologies bring a proven track record of solving problems, creating efficiencies, and scaling with ease. From cloud capabilities to tools to collect and analyze a wide variety of data, these are the core digital technologies with the power to transform enterprises.
Cloud
The popularity of SaaS is fueling the growth of cloud technology usage. The global SaaS market was valued at $2.15 billion in 2021 and is expected to top $883.34 billion in 2029. That's a CAGR of over 19%. Cloud technology aids in disaster recovery and allows enterprises to quickly bring back online critical systems and data. The worldwide adoption of cloud technology is fueling other tech trends such as the Internet of Things (IoT) which is a key ingredient to factory digital transformation and remote workers in all industries.
OroCommerce offers cloud technology to enterprises looking to transform their B2B eCommerce channel. By utilizing cloud-based technology, enterprises can outsource eCommerce infrastructure, hosting, updates, and security issues. While OroCommerce is perfectly at home in an on-premise deployment, it is one of the few enterprise-grade B2B eCommerce solutions that can be deployed onsite, on a private cloud, on a public cloud, or via the proprietary OroCloud.
This deployment flexibility brings you the ability to customize your digital technology transformation to your needs. Start on-premise and move to the cloud or vice versa. Moving to cloud technology enables enterprises to scale without investing in costly infrastructure and pay only for the resources they use. Teams aren't tied to a location or device with OroCommerce in a cloud. They have any time, anywhere access to data and systems.
Mobile
Mobile devices are what connect modern businesses. They facilitate communications with workers, customers, and vendors. According to Statista, there were 7.1 billion mobile device users worldwide in 2021. There were only 7.8 billion people on the planet in 2021!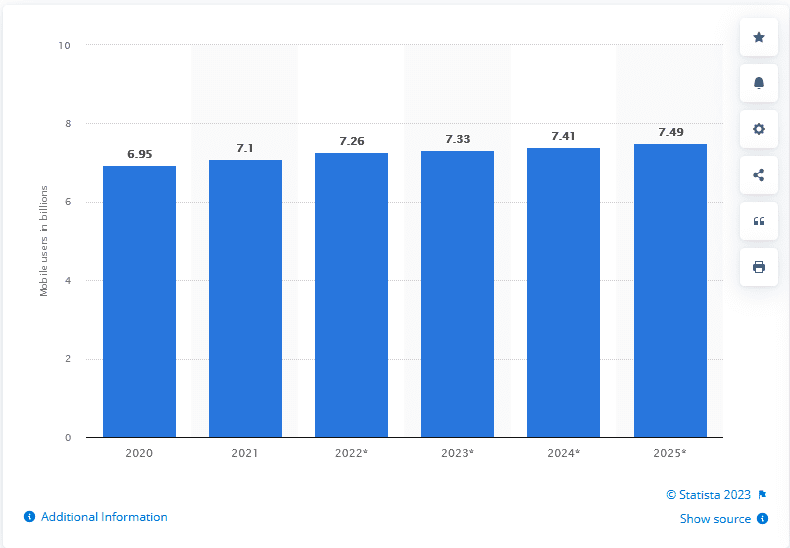 Mobile adoption will continue through 2025. If digital transformation processes and technology don't incorporate mobile, they are dead on deployment.
OroCommerce incorporates mobile-ready responsiveness on the front end and the back end. Leads and customers get a rich experience that renders pixel-perfect on any mobile device, no matter the platform or browser. From laptops in use at the airport to mobile phones used on the subway and the tablet that's used to browse from the couch at home, every mobile instance will offer full functionality.
OroCommerce mobile technology gives you the assurance that your customers are enjoying the experience you designed. In addition, employees get a mobile experience on the back end that allows them to take their job with them wherever they go. No need to return to the office for digital assets.
Sales teams can take advantage of OroCommerce mobile technology for face-to-face meetings and to support activities at shows, exhibitions, and conferences.
Workflow Automation
When you look at digital transformation in the automotive industry, you see how parts suppliers and wholesalers are using the power of workflow automation to digitally transform their enterprises.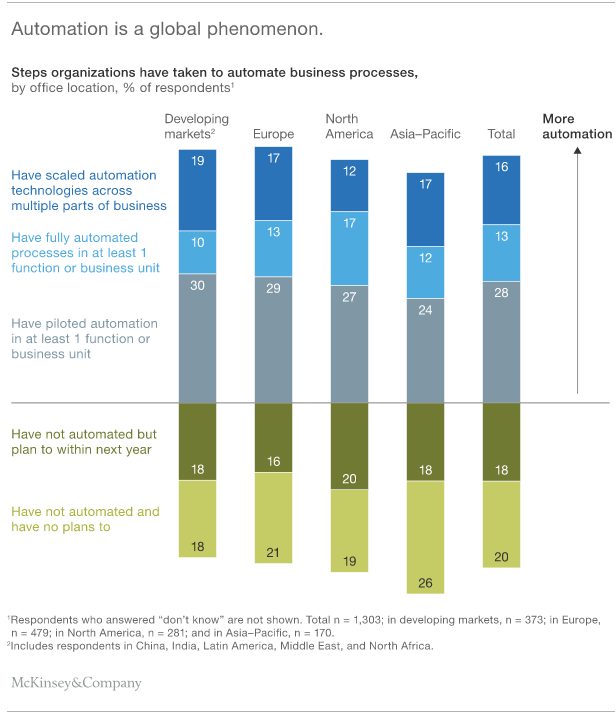 According to McKinsey & Company, workflow automation is a worldwide imperative. Workflow automation reduces errors, improves productivity, eliminates redundant tasks, and even improves the enterprise culture and employee morale.
OroCommerce automates the workflows associated with quoting, sales, marketing, order processing and fulfillment, and supports marketing processes too.
Digital commerce transformation allows companies to automate the RFQ process as well as QTC and the associated contract and communication workflows.
With OroCommerce, leads can submit a digital request for a quote or pricing, and automated workflows combined with a robust pricing engine will create the quote and send it to sales for approval or straight back to the customer in mere seconds. Your lead has a quote in hand for consideration while the competition is still juggling spreadsheets and databases. That's a digital and technology transformation that gives you a real competitive edge.
Once an order is entered on the website, the data flows with the order through acceptance, order processing, fulfillment, and billing. There's no more redundant data entry and sending the order from one department to another.
Oro is unique among enterprise B2B platforms as it offers a completely customizable workflow engine. You define the workflow and OroCommerce automates it. Instead of conforming your business processes to your software, the software conforms to your business processes.
Discover why flexible workflows are essential for B2B digital transformation
API
Application programming interfaces (APIs) are a critical technology for successful enterprise digital transformations. APIs connect internal business systems and connect your enterprise IT structure to outside software, vendors, and third-party providers. Business intelligence isn't possible without APIs, as these interfaces exchange data, eliminating data silos and allowing information to flow freely into the hands of decision-makers.
Research published in 2019 found that enterprises using APIs over a four-year period experienced a 12.7% boost in market capitalization. This research was the first to assign a value to the use of APIs. Since then, enterprises have discovered that openness promotes growth. The more connections your network makes, the more valuable your architecture is to the enterprise. Deloitte and MuleSoft joint research find companies use 976 apps and only 28% are integrated. Those missed connections represent missed opportunities.
That's why OroCommerce provides native REST APIs to make integration with third-party solutions practical. Integrate your eCommerce solution with a PIM to standardize product data and make data management easier. Connect OroCommerce with your ERP and automatically display up-to-date prices per customer and allow order data to flow from eCommerce to ERP to order management, warehouse management, and third-party logistics solutions.
OroCommerce APIs support workflow automation and connect marketing and CRM apps for better business intelligence to support sales and marketing efforts.
Data Analytics
Data analytics enhances operational efficiency by finding areas for improvement. Management utilizes data analytics to evaluate how well current workflows serve the enterprise and insights that support the evaluation of outcomes. Data analytics informs decisions that refine processes over time. This supports cost reduction across the enterprise.
Satisfying customer experiences and customer service rely on data analytics to better understand buyer behavior. Data analytics goes beyond simple net promoter scores to track how users interact with digital experiences and marries information from multiple channels for a unified view of each customer and interaction.
From launching new products to personalizing buying experiences, data analytics informs everything an enterprise does. Decisions regarding website design, determining the preferred channels for buying, and even predicting when a customer is about to churn rely on robust data analytics.
In every corner of the enterprise, data analytics informs better decisions, allows trends to be recognized early, and allows decisions to be made in a timelier fashion.
OroCommerce offers robust reporting capabilities to capture data across multiple data points. In addition, it integrates with business intelligence and web analytics dashboards. OroCommerce tracks key business KPIs, helps you better understand buying patterns, and provides tools that use data to build highly-segmented lists for marketing campaigns that convert better.
Master eCommerce and ERP integration with our in-depth guide
RAD Web Apps
Web apps are an integral part of digital life on the internet. These applications are stored on a remote server (often cloud-based) and accessed using an internet browser.
Digital transformation in the CPG industry uses web apps to calculate freight costs or determine the number of skids in a single freight car. Many web apps provide additional functionality to eCommerce websites to improve the customer experience.
In addition, progressive web apps so closely replicate the native app that most users don't realize the immersive app isn't on their device.
Web apps must be created on an individual use case, as they solve a specific problem faced by the enterprise. For example, many enterprises use push notifications created by web apps to provide product updates or information about special promotions. Web apps power help desks and order management systems. Digital transformation in the retail industry leverages web apps to send push notifications to reach shoppers reluctant to share their email addresses. It offers the customer anonymity and the seller powerful marketing capabilities.
OroCommerce provides a Rapid Application Development (RAD) platform to get your custom web app deployed quickly. This low code tool allows developers to use pre-built components to build apps and hold down costs while speeding up time to market.
Built-in components include access control lists to limit data accessibility, extendable entities, and audit logs for security just to name a few.
How to Choose the Right Digital Transformation Technologies for Your Business
Digital transformation technology requires a transformative mindset. The buy-in must start at the C-suite, but it's the people with boots on the ground that will be involved in picking the technology to be incorporated.
The needs of the enterprise, the needs of the customer, and the need to scale drive the technology decisions. So, how do you know what technology is right?
Aligned with enterprise goals
Your technology should make the enterprise more agile and align with predefined goals and objectives. If the enterprise is looking to enhance customer experiences or improve customer relationships, the technology should support these goals. If workflow automation is the goal, the technology should automate manual processes.
Customer-focused
Whether the technology supports internal teams to better serve customers or provides a better self-serve customer experience, the technology must be customer-focused. Whether you are adding chatbots, customer portals, or automating the RFQ or RMA processes, the goal must be to remove friction from customer interactions.
Improves business intelligence
Analytics and data analysis should inform better business decisions. The technology should not create data silos, but instead allow data to flow freely through business systems and processes. It should offer stock and custom reporting capabilities.
Flexible
Every technology you deploy should conform to your business model and processes. Software that requires the business to conform to the software isn't a solution, it's a problem waiting to happen. Look for flexibility in all areas of the solution. From deployment options to access control and configuration, you should have the flexibility to implement the solution so that it works best for you.
Scalable
Enterprise operates at scale, so scalability is important as well. Whether you add thousands of SKUs, warehouses, or customers, performance should not suffer. Look for technology that can grow with you so the solution that works today doesn't need to be replaced in 2 years.
Integrates with existing tech
The ability of the new technology to integrate with your existing IT architecture is critical. Solutions cannot stand alone; they must integrate so data flows freely. Integration should not involve elaborate workarounds, as these will quickly become more of a problem than a solution. You will discover that open-source technology provides more integration capabilities as the code is visible and able to be changed. On the other hand, proprietary technology may not integrate as easily.
How Oro Can Help you Implement Digital Transformation Technologies
Choosing the appropriate transformative digital technologies requires careful groundwork before you contact the first vendor. You need goals and objectives in place and a clear understanding of your present architecture.
Once you begin the selection process, you must consider how the technology will integrate with your existing processes and technology stack, and if it offers the flexibility to meet future needs.
If you need to streamline and automate processes, Oro technology is ready to help. It provides a digital commerce platform that streamlines operations and boosts efficiency, provides an exceptional customer experience, and includes CRM and RAD technology as well. Enterprises across industries trust for their digital transformations.
Oro understands the unique challenges faced by enterprise-level B2B businesses. These unique challenges are what drive our commitment to provide exceptional personalized support to every client. Whether you're just starting your digital transformation or are looking to optimize existing efforts, our team of experts will guide you through every step of the process – from scoping your MVP to testing, validation, and implementation.
And because digital transformation is an ongoing journey, Oro is always there to help you along the way.
Conclusion
Enterprises increasingly turn to digital technologies with a track record of making positive change. With the increasing need for mobile experiences across multiple channels, enterprises must pick technology with a robust API offering and the ability to integrate with a wide range of other business solutions.
The need for agility to change business processes and models to adapt to rapidly changing conditions requires technology that is flexible. Cloud-based solutions support remote workers as well as provide customers with reliable access to websites and portals. With the demand for low-code solutions, RAD tools will be more popular than ever. These core transformation technologies are being used by enterprises worldwide to future-proof their company and provide value to customers and stockholders.
Find out how OroCommerce enables enterprise digital transformation
Frequently Asked Questions
What technologies are used for digital transformation?
The most popular digital transformation processes and technology center around improving customer experiences and making data more accessible and actionable. Effective digital transformation technologies for enterprise in 2023 include:
Cloud
Mobile
Automation
API
Data Analytics
RAD
How can you digitize B2B sales and increase LTV?
By deploying B2B eCommerce webstores and customer portals, you provide the self-serve customer experience that modern buyers demand. Automating the cross-sell and upsell functionality increases average ticket value and leads to a larger total value. Data makes marketing for B2B sales more effective too.
What are the 4 types of digital transformation?
Digital transformations in enterprises can involve 4 different types of transformation: processes, business models, markets, or culture. Moving offline business online is a type of process transformation where creating a marketplace or adding direct-to-consumer online sales represents a business model transformation. Localization technology can support a market transformation and entering the digital age is a significant transformation for an enterprise that has historically been offline.
How can you calculate the ROI of enterprise digital transformation?
Before you calculate ROI, you must define the objectives of the transformation in a quantifiable manner and then identify key performance indicators. Identify the total amount of money you are investing – be sure to use the total cost of ownership not just the cost to acquire the technology. Then apply the change in KPIs to the investment cost.
Who might be in charge of a digital transformation process to drive it to success?
Digital transformations can be directed from almost any area of the company. The CTO may lead the charge from a tech standpoint or if the goal is improved sales and marketing processes the head of sales or marketing can lead the effort. The CFO may drive digital transformation to approve efficiency. Almost any leader that can manage a project can manage a digital transformation.
What are the main technologies to digitalize sales and marketing?
The technologies used to digitalize sales and marketing are eCommerce platforms, CRMs, PIMs, data analytic tools, cloud computing and infrastructure, mobile technology, and APIs to create connected experiences.