Enterprise companies are moving more and more business processes from manual to digital. Rising expectations and changing consumer demands are driving companies to become more agile than ever before. Companies of all sizes are squeezing every penny out of their digital transformation budgets.
Statista projects worldwide investment in digital transformation to top $3 billion by 2026. From digital transformation in construction to retail industry digital transformation, enterprises are investing in tech in a big way.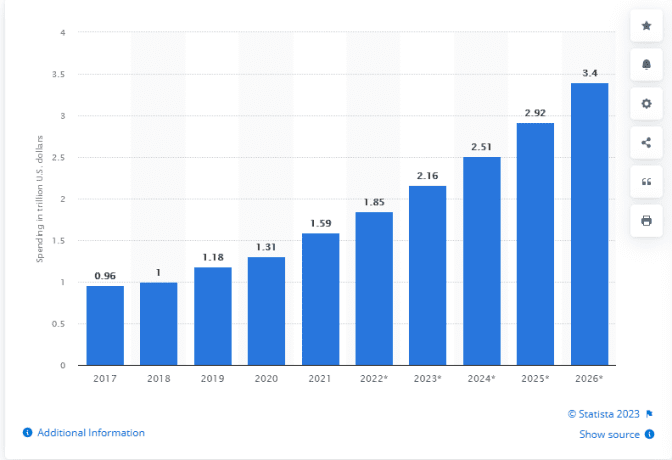 So, where are these companies investing and what benefits are they seeking? Are all industries following the same digitalization trends or are companies taking their own path?
There's no doubt that COVID-19 played a big part in accelerating the digital transformation trend, but will recession bring change to a halt or add fuel to the transformation fire?
Here are the top enterprise digital transformation trends, how these trends in industrial digital transformation are impacting different business sectors, the importance of a platform for digital transformation, and how you can prepare for a digital transformation at the enterprise level.
The Impact of COVID-19 and Possible Recession on Digital Transformation
When the COVID-19 pandemic swept the world, a digitize-to-survive mindset swept through businesses. Digital transformation plans took on greater importance. But even in the aftermath of a pandemic and with the possibility of recession before them, too many leaders still think digital innovation trends are nothing more than the latest bit of tech wizardry, a fancy new app, or a software update.
Transformative digital trends are about bringing together data, people, technology, and business processes together to change the way business is conducted. These changes are essential to survival in an ever-increasingly connected business environment.
First the fax machine replaced phone orders, then EDI took the place of fax. Today, business is conducted across continents at the speed of digital using nothing more than a couple of smartphones.
COVID-19 taught the C-Suite that transformation was essential for survival. A potential recession isn't changing these CEO minds.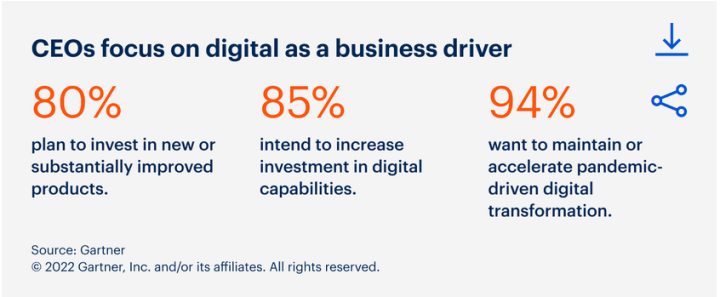 According to Gartner, CEOs are looking forward, not back. They see investment in key digital transformation trends as a way to permanently reduce costs in addition to enhancing customer and employee experiences. Seasoned veterans of the recession of 2008-2009 see digital transformation as a tool to weather the economic storm and even an opportunity to be a disrupter. It's little wonder that 94% want to accelerate or at least keep pace with their current transformation efforts.
6 Most Significant Trends in Digital Transformation
Across the board, the latest trends in digital transformation are focused on doing things better. From better tech management and security to better managing data and processes, the top transformative digital trends take companies to the next level. Here are the most important trends shaping digital transformation in 2023.
Move to the Cloud
If your business isn't already in the cloud, don't worry – there's still room for you. As internet speeds rise and more teams work remotely, cloud processing and data storage are becoming the norm and not the exception.
After all, one of the greatest hurdles cloud applications had to overcome was internet speed. With 46 of 50 states on board with 5G in at least some areas, even mobile devices are reaching cloud-compatible speeds.
Cloud technology companies understand that to attract enterprise companies with sensitive data, they must harden their defenses. And hardening they are.
Market and Market Research projects an 8.9% CAGR in cybersecurity from 2022 through 2027. They estimate the global market to be worth $266.2 billion by 2027.
And if one cloud is good, shouldn't two be better? One digital transformation trend within a trend is multiple cloud architecture. Enterprises are using more than one cloud to support improved disaster recovery, meet data residency requirements, and build resilience in their architecture. With each innovation, infrastructure management becomes more complex.
Business Process Automation
One of the top digital transformation industry trends to follow in 2023 is automation. Automating business processes takes on the same urgency as automating manufacturing processes in 2023.
By removing human intervention in the business process, workflows are completed faster and more accurately. Enterprises won't be replacing people with software; they will be arming people with software that handles the routine and allows their focus to shift to the non-routine tasks that require creative problem-solving.
Of course, all this automation requires integration. Processes that flow through multiple solutions require careful integration and data synchronization if they are to be engines of efficiency.
Learn why flexible workflows are essential for B2B digital transformation
Just consider your ERP.
It may sit as the hub of your architecture, but unless it integrates with your other solutions it can't be relied upon as the source of truth it should be. Because ERPs are rarely changed, as you select new solutions, you must keep an eye on the ability of a solution to integrate.
For example, with proper integration, an eCommerce website may show users data that originates in the ERP (price) and PIM (images and other product data). When the order is placed online, the automated workflow brings together the ERP, the warehouse system, CRM, 3rd-party shipping, and finance to generate the sales order, packing slip, shipping documents, invoice, and notification to the buyer.
Low Code and No Code Tools
Low code solutions allow employees without extensive technical expertise to develop deliverables such as new web pages, new reports, and new marketing materials. Graphical user interfaces, grab-and-drop menus, and WYSIWYG rendering put design and development tools into the hands of non-tech employees.
These business technologists routinely use a combination of application development, data science, and AI tools in their daily work. According to Gartner, enterprises that successfully enable business technologists are 2.6 times more likely to accelerate their digital business outcomes.
Customer Data Platforms
With an increased focus on customer experience, service, and satisfaction it only makes sense that one of the top digital transformation trends is the rise of the customer data platform. Most enterprise systems silo customer data across many platforms. A customer data platform centralizes this customer data to make it even more accessible and actionable.
Between social media, eCommerce, websites and their analytics, and customer ordering patterns, enterprises gather a tremendous amount of data on consumers. Too often this valuable data goes to waste. But that is changing. Customer data platforms gather data from all these touchpoints and create real-time customer profiles.
2023 will be the year enterprises use customer data platforms for managing their customer information, detecting and analyzing customer trends, and then using this data to identify opportunities for marketing and to create even better customer experiences.
Highly personalized marketing campaigns start with the profile from the customer data platform. Research and development can use customer data for insights about existing products and the need for new products.
Next Level Cyber Security
Hybrid work models are here to stay. This pandemic-era workplace model places increasing importance on cyber security. Remote teams must be vigilant for spearphishing attempts and sharing scams. Customers want assurances that their data is secure, and their privacy is respected.
An improperly placed Meta pixel code led to the disclosure of personal health information for over 1.2 million Novant health customers in 2022. Something as tiny as a pixel created a huge problem for Novant and Meta, who are now facing major lawsuits over the data breach.
Since 2001, cybercrime grew to an enterprise worth $6.9 billion in 2021 and claimed 6.5 million people along the way. This uptick in cybercrime is a trend that is driving digital transformation in companies large and small. At the same time, the IT security team must ensure that digital transformation keeps data and processes secure. For 2023, no digital transformation is complete without the cybersecurity strategy, technology, and practices required to protect business data and customer data.
SaaS Management
Some digital transformation trends spawn their own digital transformation trends. SaaS management is an example.
As SaaS product upon SaaS product is added, apps are stacked upon apps and vendor lock-ins slowly erode the flexibility you thought you had. From a financial point of view, SaaS management is crucial to ensure that those auto renewal and license fees still generate value.
For enterprises, SaaS management will focus on maximizing value from the total cost of ownership associated with the tech stack and reassessing vendor lock-ins. Expect to see more focus on the visibility of how each SaaS offering is utilized in the enterprise.
Specific Digital Transformation Trends in Specific Industries
In addition to the broad digital transformation trends impacting enterprises across industries, here are trends impacting specific industries.
Manufacturing
Digital transformation trends for manufacturing are improving safety, increasing throughput, and creating higher-quality products.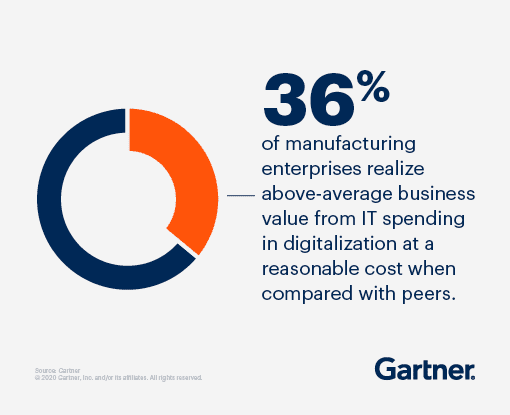 Gartner finds that enterprise investments in manufacturing IT add value. Over 30% of manufacturing enterprises benefit from above-average value from their IT spending when compared to their peers.
IoT sensors collect data on everything from oxygen levels in the area to temperature controls and the status of equipment performance. These sensors monitor plant equipment, energy consumption, maintenance needs, and managing inventory.
AI and machine learning increase throughput efficiency and reduce stress on workers by performing repetitive tasks. AI can detect and predict trends and reduce waste.
Predictive maintenance systems to continuously monitor equipment performance and health reduce downtime on the line. In addition, repair costs are reduced as the need for emergency repairs is eliminated.
3D Printing reduces the time to prototype and iterate bringing products to market faster. In addition, 3D printing parts reduces the time required for equipment maintenance by eliminating wait times.
Energy
The convergence of information technology and operation technology will key a key digital transformation trend to increase security. Everything from enterprise asset management systems to asset performance management systems and distribution management systems will come together under one secure platform.
Edge computing helps energy enterprises companies process data from customer smart energy meters and solar panels to determine when they can sell energy back to the utility. The modern two-way grid requires even more data to control distributed generation and storage.
Artificial intelligence is definitely an area of interest for the energy sector. However, an IDC survey finds that over half of the utilities surveyed are still figuring out how to leverage AI for the best results.
Banking and FinTech
Conversational chatbots driven by AI will make a serious inroad into the banking industry. Pundits have predicted the rise of AI in everything for years now, but the popularity of ChatGPT will push enterprise banking to finally deliver. A Haptik survey found that among banks already using chatbots, lead generation was the highest use case.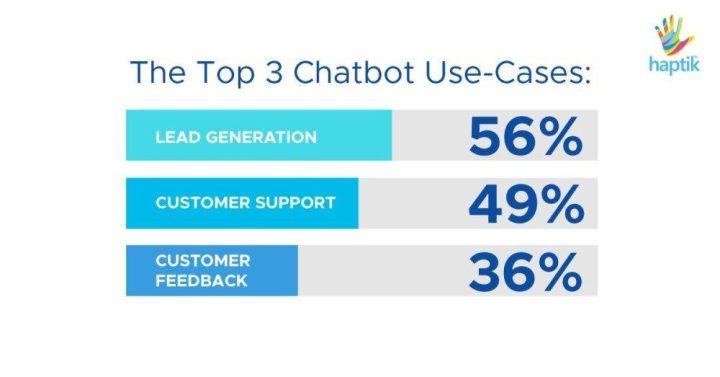 Expect to see chatbots adopted by credit unions as well. A What's Going On in Banking study by Cornerstone Advisors finds that one in four credit unions plans to deploy a chatbot in 2023.
FinTech embedded in banks and other companies is on the rise. As the demand for loans goes down as interest rates go up, banks and other financial lending institutions will be scrambling for new ways to draw customers. Embedded FinTech products and services such as identity theft protection, data theft protection, and subscription management services will become part of a banking services suite to sweeten the offering for checking accounts.
Cybersecurity remains top of mind. A Digital Banking Survey of financial institution leaders about their main focus for the next 3 to 5 years found 96% were primarily concerned about cybersecurity with channel experience coming in a close second.
Automotive
Digitally enabled vehicles will become the standard and not an upgrade as customer expectations for a connected experience rise. Digital transformation in the automotive industry gives drivers access to more than navigation and their Spotify playlist, they will enjoy apps that pay parking fees and provide digital driving assistance too.
Predictive maintenance migrates from the factory floor to the finished product in this trend. New cars will use the same predictive maintenance technology used in manufacturing to gather vehicle performance data, analyze it, and alert the driver to any maintenance needed.
B2B eCommerce will be a must-have technology for parts suppliers at the manufacturing, wholesale, and distribution levels. Modern buyers want access to a self-service portal to place orders, check order status, obtain documents, and get support. These will increasingly be offered by B2B eCommerce platforms.
Government
Governments will turn to augmented and virtual reality to improve training for inspectors, law enforcement, social workers, and other government employees. This technology will improve outcomes at the same time it reduces travel expenses associated with training.
Blockchain technology provides the antidote to endless hours of work to maintain land and property ownership records. With blockchain, state and local governments can digitize transactions for land, buildings, and vehicles on a public ledger assured the data is secure. This is just one way that government records management will be digitally transformed in 2023.
Using eCommerce technology to improve the constituent experience. Governments will copy a page from the enterprise business playbook and create constituent experiences that replicate customer experiences. An eCommerce platform can streamline processes and remove friction from everything from paying utility bills to renewing a dog license.
Why Manufacturers and Distributors Must Move Online
How to Prepare for Digital Transformation in Enterprise Businesses
Every digital transformation is unique. The goals, strategy, and technology are specific to the business case. It's not uncommon to hire the services of a digital transformation consultant for enterprise-level transformations.
You can begin by identifying the problems to be solved – whether it is in improving forward-facing experiences or back-office processes. A SWOT analysis is a great place to start. Identify the key performance indicators (KPIs) pointing to the need for change. These KPIs are crucial to measuring digital transformation success.
Next, define the objectives of the digital transformation. What do you expect because of the change?
Make sure your technology is the correct technology to meet your objectives. In picking your technology, consider how the new tech will integrate with existing tech. Your technology should be flexible enough to conform to the way you do business and scalable enough to support growth.
Learn from the success and failures of others – check out the digital transformation case studies. 
How OroCommerce Helps Enterprise with Digital Transformation
A digital transformation with OroCommerce increases automation, improves efficiency, and provides the digital tools to build a better business.
A digital transformation in eCommerce for enterprises requires an enterprise-grade eCommerce platform like OroCommerce.
Sell B2B, D2C, B2X, or even create a marketplace. Operate multiple websites, automate processes, and handle multiple hierarchies with a powerful, but easily accessible back-end. For the last two years, Gartner recognized OroCommerce for its critical capabilities as a B2B eCommerce platform.
OroCommerce understands the complexity of B2B business and recognizes the unique needs of enterprise organizations. Speak with an Oro expert about your goals and we'll recommend the right products and partners to achieve your objectives. We'll help you scope your eCommerce MVP and be with you through testing, validation, and implementation.
Because transformation is an ongoing process, Oro support is always available to guide you through the next phase.
Conclusion
Trends for enterprise digital transformation continue to focus on improving customer experiences, automating processes, and improving security. From packaging transformation to improvements in manufacturing and mobile digital experiences, enterprises must find technology partners like OroCommerce to be future and recession-proof for 2023 and beyond.
Learn how to carry out successful technology change within your organization
FAQs
How is change management relevant to digital transformation?
Change is difficult for people and organizations. Introducing new technology represents a major change in how people do their jobs. Change management helps people and companies to adapt to new technologies and processes while minimizing disruption. Digital transformation is change, and change must be managed well to reach the goals and objectives you set.
How do you develop a digital transformation strategy?
A successful digital transformation strategy has clear goals and objectives AND the backing of senior management. Once you have a vision and C-suite buy-in, it's time to share the vision and create a culture of change in the organization. Put together teams representing every area of the company impacted by the transformation. A digital transformation can't be confined to the IT department. Pick your technology, implement it, and then iterate so you continually improve.
What is a digital transformation framework?
A digital transformation framework is a tool that guides organizations through their change process. Digital transformation consulting companies use these as a blueprint for how the change will occur and to guide and develop the transformation strategy. Using a digital transformation framework keeps the focus on the objectives and not the technology.
How can I tell if my business needs digital transformation?
If you can't complete plans for improvement because you can't keep up with existing workflows, it is a clear sign that a digital transformation is needed. Other signs that you need a digital transformation include:
Inability to access and use data
Customer support depends on phone calls
Continued lost marketing and sales opportunities
Employees bogged down in paperwork
What are the main trends in digital transformation for 2023?
In 2023, digital transformation trends include low-code solutions, even more data and solutions in the cloud, enhanced security, and more eCommerce for business-to-business transactions.