For years, businesses charged fixed prices for their products and services online. Today, prices can change in minutes, depending on the customer and market conditions. For example, the price of an airline ticket for the exact same flight on the same date may be different for different customers.  The same applies to the hospitality and car rental industries, where prices change quickly depending on the market and the customer. Retailers Amazon,  Walmart, and Target pioneered dynamic pricing by leveraging customer data.
But do dynamic pricing strategies have a place in B2B eCommerce? Absolutely! Considering the complex nature of B2B sales, most standard B2B pricing strategies can be considered dynamic. Read this guide to learn how dynamic pricing works, why it's a crucial capability in B2B eCommerce, and how technology makes executing a dynamic pricing strategy easier. 
Why Dynamic Pricing is a B2B Necessity
The start of 2022 was marked by record-high 7% inflation and high labor, shipping, and commodity costs carried forward from the year before. With pandemic-related delays, supply chain issues, and the war in Ukraine added to the mix, buyers are limiting their discretionary spending and are becoming more price-conscious.
In this environment, businesses need a dynamic and flexible approach to pricing. With the market so unpredictable, companies cannot keep prices the same without either squeezing margins or losing customers to cheaper-priced competitors. But, manually monitoring supply, demand, and competitors and reactively adjusting prices can be time-consuming and lead to inaccurate pricing, misunderstanding, and frustration.
What Factors Influence Dynamic Pricing?
Dynamic pricing is widely used in industries characterized by extreme price volatility. These include the chemicals, oil and gas, and specialty materials industries. In these markets, prices depend on raw material costs tied to a certain time in history, real-time market activity, weather and traffic patterns, and other attributes.
Dynamic pricing adjusts for these variables: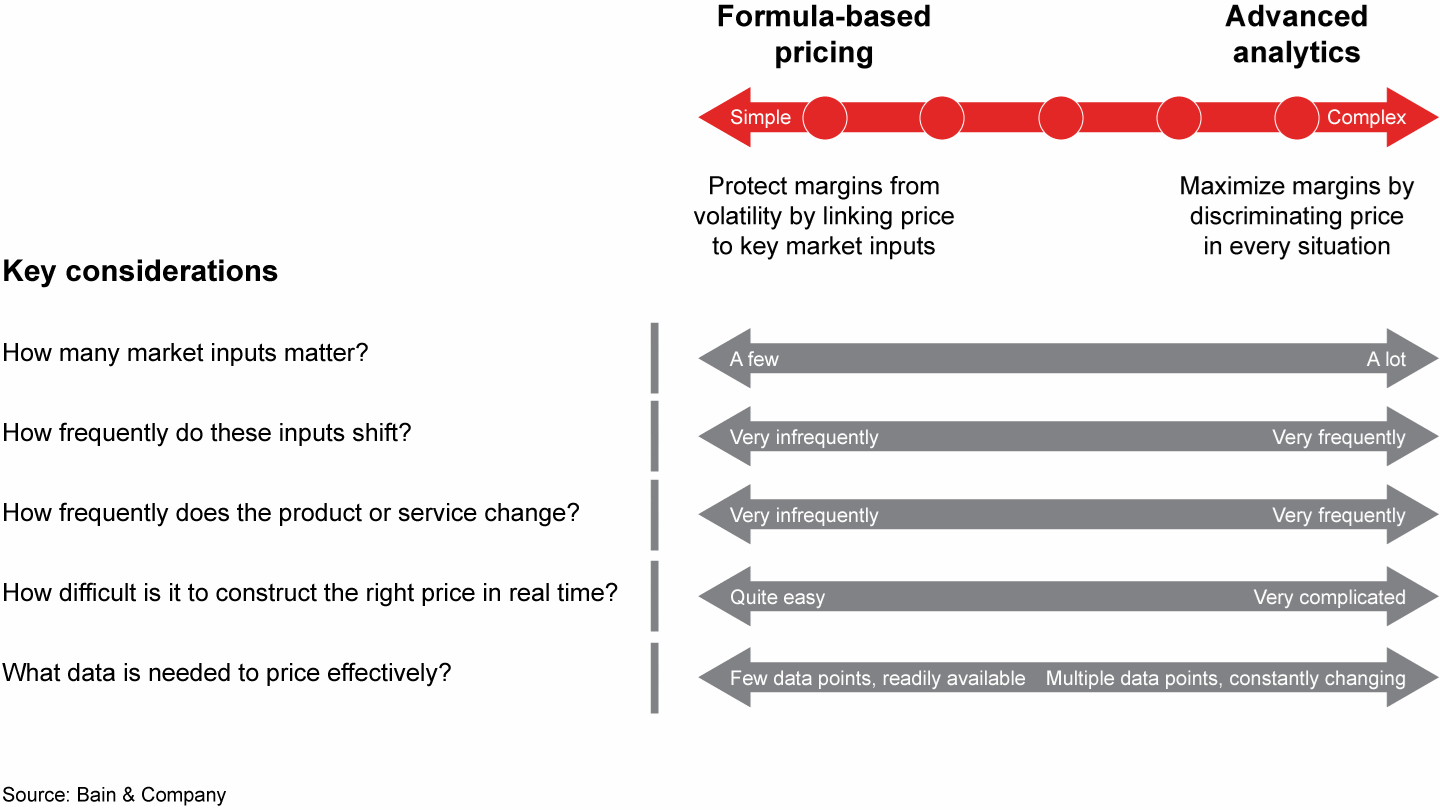 Market conditions
Every market is different and has unique supply and demand challenges. Costs for components fluctuate from one day to the next, impacting future cost projections. Demand may be seasonal and vary from product to product.
Competitor prices
The prices that competitors charge for products may be a key factor in setting your prices. It also helps understand competitors' customer purchase behavior and determine what customers are willing to pay.
Customer data
Customers may vary by age, gender, location, and income. They will spend differently, purchase specific products, and use different devices to purchase your products.
Comparing Dynamic Pricing to Other Pricing Strategies
Most B2B industries face fluctuating costs, and businesses must ensure they can cover the costs and still be profitable. As businesses grow and expand, their pricing strategy can change. It's common for a business to start with one model and change over time. Before we dive into dynamic pricing strategies, take a look at the other B2B eCommerce pricing strategies that you can try.
The cost-plus model
The cost-plus pricing model is a basic pricing strategy, where you sell something for more than its cost price. In this case, you add up all the costs of providing a good or service, and then add a profit margin on top to account for the value you offer.
The competitor-based pricing model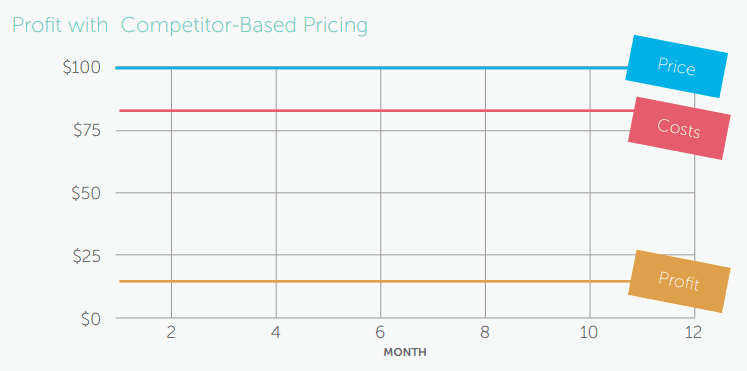 While this strategy virtually guarantees you'll set the right prices for your products, it also simply imitates the competition's pricing strategy. That's not an optimal way to go – if you want to differentiate your company from the crowd.
The value-based pricing model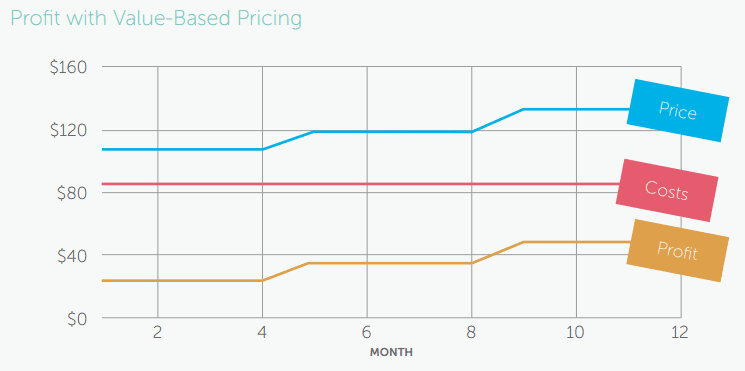 This model sets prices based on the perceived value of your products to your customers. It is also known as customer-based pricing and it's similar to B2B tiered pricing. Instead of considering your margins and the competition,  you look inwards at the value you offer customers and their willingness to pay.
The dynamic pricing model
The previous pricing methods operate with a small amount of data. A dynamic pricing model requires extensive data. You can use data to create simple rule-based pricing, real-time pricing, or take into account seasonality and competitor reactions. Dynamic pricing holds the potential to provide you with an immense market advantage.
Dynamic Pricing Pitfalls to Avoid
Now that you know the advantages of dynamic pricing, here are some considerations to know before you start implementing dynamic pricing. Jumping in too fast and without preparation can lead to disaster long before you realize any benefits from your initiative. Here are some of the most common mistakes businesses make with dynamic pricing:
Failing to involve teams and customers
A successful dynamic pricing strategy requires buy-in from key team members and key customers. Get leadership teams, customer success managers, category managers, and pricing managers involved in not only developing the strategy but also the formulas and the requirements for the pricing solution itself.
Lack of regular strategy reviews
Dynamic pricing isn't a set and forget strategy. You must constantly track sales and other key data to refine your pricing model. Make sure you consistently review results to make modifications when needed.
Ignoring customer feedback
Even though dynamic prices may benefit customers, they may not realize this. Uninformed customers may think fluctuating prices just mean they should wait for a price drop or stop by from you completely. Keep customer communication channels open and listen carefully to feedback.
Starting a race to the bottom
In a competitive market, it's easy to get let the competition guide your strategy. This can start a race to the bottom and lead to reduced margins and profits. Keep your attention Stay focused on maximizing the perceived value of your brand and product offering.
Using the wrong technology
Once you've established your pricing strategy, don't compromise on your dynamic pricing solution. Whether you select a standalone solution or a B2B eCommerce platform that supports dynamic pricing, choose the one that will support your pricing strategy, your pricing workflows, and business objectives.
Examples of Successful eCommerce Dynamic Pricing
Dynamic pricing may look great idea on paper, but how does it work in practice? Here are three B2B businesses that successfully implemented dynamic pricing.
Example 1: Government Contractor
One company primarily dealing with government defense contracts needed to account for multiple inputs, including product characteristics, a payment gateway in eCommerce, and licensing data – all controlled by multiple levels of interdependent approvals. The company serves a diverse customer base and every order is fully customized. These factors made traditional pricing approaches difficult.
Company leaders recognized the need for dynamic pricing and implemented a complex dynamic pricing model powered by an enterprise-grade eCommerce pricing engine.  They integrated their eCommerce with an in-house quoting system, ERP system, and other existing solutions. The new pricing model delivers accurate pricing and eliminates the need for back-office staff and purchasing managers to double-checking prices.
Example 2: Chemicals Trader
A chemical company needed to manage complex supply and demand cycles for various chemicals, many of which were by-products. They also had price fluctuations that occurred at different intervals. Furthermore, their raw materials are dictated by commodity markets and competitor prices, both of which change daily. Because the company has a global reach, geographic pricing is required to remain competive.
For the chemical trader, a dynamic pricing strategy powered by a pricing engine was the obvious solution. Later, the company implemented AI and BI tools to generate market forecasts and analyze past orders and feed this data via API to their pricing engine. The result is optimal prices for customers, preserved margins, and the flexibility to adapt to rapidly changing environments.
Example 3: Machinery Parts Distributor
A wholesale parts distribution business carries a wide array of products ranging from simple fasteners to highly complex electronic components. They compete with  industrial suppliers like Amazon Business, W.W. Grainger, and Home Depot Pro. The distributor maintains their competitive edge by shipping items from numerous warehouses serving specific regions.
Too often, manufacturing delays and supply chain issues aren't quickly communicated to customers. That spells trouble for customer satisfaction when selling emergency replacement parts. To maintain high customer satisfaction rates and to reduce disappointment, a dynamic pricing strategy displays real-time product prices to customers for in stock products. In addition, the price can be calculated to include shipping prices with lead times based on stock location.
How OroCommerce Helps With Dynamic Pricing
Pricing in B2B eCommerce can get complex fast when prices depend on multiple ever-chaning  variables. To remain competitive and profitable, pricing is more important than ever. Brands must have the capability to personalize prices for a company or individual buyers and adjust prices via various price points, sync price lists with external systems, and do so on the fly.
This requires tools with the ability to customize different pricing attributes and generate pricing workflows to support unique dynamic pricing needs. At the heart of this is a flexible workflow engine that allows you to customize various pricing workflows involving everything from inventory and external market data to fulfillment information.
OroCommerce is an eCommerce software that includes a modern pricing management engine. The platform is built on open-source architecture in a modular fashion for maximum flexibility. It also features a large technology partner ecosystem able to tackle pricing challenges of any complexity. It's an excellent choice for B2B brands making inroads into eCommerce because it provides the majority of B2B functionality out of the box. The result is reduced complexity, development costs, and faster time to market.
With OroCommerce, you can design price calculation rules to calculate prices in real-time when products are added and re-calculate when updated. You can reflect changes made to customer groups, customer accounts, shipping rates, and currency fluctuations. And OroCommerce's robust API enables you to connect to third-party systems and pull data from your CRM, ERP, or PIM system that triggers pricing rules. In short, you have the freedom to bring any pricing strategy to life.

However, OroCommerce provides more than just a pricing engine. OroCommerce can manage product catalogs, customer orders, quoting processes, approval confirmation, and checkout flows. Oro technology eliminates time-consuming tasks and makes it easy for B2B eCommerce businesses to build relationships with their customers at any scale. 
The Time Is Now for Dynamic Pricing
There's more to building the capabilities for dynamic pricing than selecting technology. You must also prepare your organization, organize your data, fine-tune your process, train employees, and educate customers.
When selecting your pricing technology, don't focus solely on its capabilities. Determine how well it fits within your existing business processes and integrates with your tech stack. You may discover that a pricing system with a workflow automation engine integrated with an eCommerce solution like OroCommerce is the way to go.
Dynamic pricing is here to stay. OroCommerce pricing and eCommerce automation tools help you create a profitable pricing strategy that offers more opportunities to attract customers and underpin the sustainable growth of your business.
What is dynamic pricing in eCommerce?
In eCommerce, sales and price inquiries are time-sensitive and extremely competitive. Dynamic pricing allows sellers to change the prices of their products quickly, track competitor pricing activity, and offer customers the optimal price. With dynamic prices, sellers can also tweak prices for optimum margins, greater market presence, or customer experience.
Why does B2B need dynamic pricing?
Pricing is highly complex in B2B sales because it involves numerous price points and variables. Dynamic prices allow B2B brands to better control these variables, react to changes in the market faster, and take advantage of changing conditions. In the end, businesses can remain in the optimal profitability range while growing their sales numbers.
What are the pros and cons of dynamic prices?
Pros: Dynamic prices offer many benefits, such as competitive pricing that better reflects the market. This offers the potential to quickly boost sales. A competitive price can both be optimal for the customer while maximizing profits.
Cons: Dynamic prices requires investment into pricing automation tools. Frequent price fluctuations can bring with them a "race to the bottom". It can escalate pricing wars among competitors and risk worsening customer sentiment about your brand.