As the residential and commercial construction industries increase their use of technology, building materials suppliers must be ready to engage digitally.
Builders, architects, and engineers are using 4D modeling to add a time element to their 3D designs for improved project management, better estimating, and optimized materials procurement and use.
Just like in the office, digital technology allows on-site site foremen, suppliers, and project managers to collaborate together when placing orders to ensure building supplies arrive as expected and on time.

Building materials eCommerce should follow the lead of B2B eCommerce for distributors by offering the customer experience their B2B buyers need along with the flexibility to serve B2C buyers too.
The Growing Building Materials Industry
In 2020, the global building materials market value was estimated at $271.98 billion and is projected to grow to $376.72 billion by 2026. 
The low housing stock in the US has been a key driver of growth in the residential construction industry. More homes require more building materials at a time when supply chains are still recovering from their bout with COVID. Even as interest rates rise, demand for housing continues.
The demand for more green, organic, and sustainable building materials means suppliers must handle even more SKUs and track additional data such as materials certifications. 
The building materials industry can no longer afford to rely on outdated technology to manage sales and data for this dynamic market.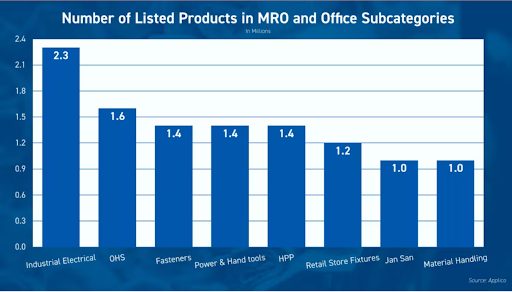 Amazon business lists over 2 million products in the industrial/electrical category and another 1.4 million in fasteners alone.
Clearly, the construction industry is inching towards online sales and there are already suppliers willing to help them.
Digitalization in the Building Materials Market
Research performed by the Boston Consulting Group found that offline manufacturers and B2B eCommerce for manufacturers of building materials lag when it comes to digitalization. Heavy side producers, such as those supplying aggregates are the least digitally evolved. This is in stark contrast to eCommerce for medical supplies, chemicals eCommerce, or FMCG eCommerce, where digital transformations, complete with B2B eCommerce, are well underway.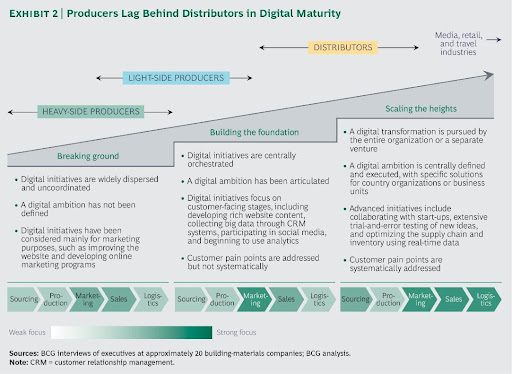 Companies like Home Depot that target retail customers, as well as building contractors, are successfully utilizing eCommerce as part of their digital strategies. While a typical big-box Home Depot store may carry 35,000 products on the shelves, their building materials eCommerce website offers over 700,000 products. 
W.W. Grainger serves the construction marketplace through an omnichannel approach that includes physical stores, print catalogs, eCommerce, and a mobile app.
Today, a residential remodeler can show a prospective client a new kitchen layout on an iPad and generate a materials list in just a few taps of a touchscreen. If your company wants to provide that remodeler with the cabinets, flooring, lumber, or fixtures they require for the job, you must be ready to take their digital order. 
Digitalization surrounds the building industry; the challenge is to develop a B2B eCommerce channel that supports how building materials buyers use technology.
For example, a buyer at a job site might not have access to a desktop computer and doesn't want to wait to return to the office to create an order.  On the contrary, they rely on their cell phones and tablets every day. So, if they are going to make a mobile purchase, they either need a website that is totally responsive in all ways or a mobile app that allows them to easily make purchases. 
How do you get offline customers to purchase online?
Find out with this comprehensive guide on digital adoption.
Tips for Successful eCommerce for the Building Materials Industry
Successful eCommerce for construction materials supports the digital needs of architects, engineers, construction managers as well as buyers. It also simplifies logistics and improves order management.
Comprehensive product information
Don't forget that the architects, engineers, and designers involved in residential or commercial construction or renovation are the ones that most likely specify the materials to be used in the project. This can be to reach energy efficiency goals, indoor air quality goals, or to meet a well-defined aesthetic. No matter the reason, they will turn to the internet to research materials. 
So, make sure your construction eCommerce website includes exhaustive product information. It's not enough to provide dimensions and weights, you need to offer installation information as well as Material Data Safety Sheets, Fair Trade certifications, and LEED certifications where appropriate. The website must support media-rich pages that include images, text, and video.
The more self-service information you provide, the more trust you generate, and the more likely your products will make it to their specifications.
Support for multiple projects
A busy construction manager or building consultant is juggling multiple projects at once. Make their job easier by offering tools to keep materials for each project separate. 
Allow registered users to create multiple shopping lists and keep each list separate. Make these lists shareable to enable easier collaboration between project managers and procurement professionals. These lists should easily convert to a digital request for a quote or a quick order form, ready for submission.  
The easier to make it to manage the purchases for multiple projects, the more your customers will love you. You help simplify the recordkeeping on the customer's end and reduce the chances of errors or mix-ups when they pay their invoices. 
Buy online pick up in store
If you sell to individual contractors or small construction companies, you know convenience is key to this segment.
Your construction material eCommerce website should allow a tired contractor to buy from the comfort of their couch at night and pick up at a later date. Let customers know what stock on-hand is now in store or if the item needs to come in from a different location. 
This convenience lets a contractor go to bed a night confident their materials will be ready for pick-up or delivered when needed. Logistics can be a headache for a small contractor, so convenience and efficiency are key differentiators for this market segment. 
Download the free RFP template
Know what questions to ask your shortlisted vendors.
Improving Relationships with Digital Technology
Digital selling improves your relationships with existing customers and helps you establish strong relationships with new customers in many ways. 
Reduced order errors
When you eliminate manual data entry, you eliminate the source of most order errors. Delivering what a customer needs when they need it builds strong relationships based on trust and reliability.
Smoother workflows
Accept digital requests for quotes and make purchasing that much easier. Combine digital RFQs with a robust pricing engine and you can digitize the entire quotation workflow. Potential customers will have a quote in their in-box before the competition has even begun manually processing the request. 
Digital RFQs reduce the workload on sales reps, freeing them to focus on building those personal relationships that are so important in selling building materials B2B. 
Enhanced transparency
Take your building materials eCommerce website, integrate it with your ERP or warehouse management system, and offer exceptional real-time transparency into stock levels. 
Buyers appreciate knowing if an item is out of stock before they attempt to make a purchase. For non-stock items, provide realistic lead times so construction managers can plan accordingly.
If you operate multiple warehouses or locations, provide an online store or warehouse locator and let buyers shop by location. 
Personalized pricing and products
Just because you utilize complex pricing structures doesn't mean you can't engage in eCommerce for building materials. Your B2B eCommerce platform should provide native support for multiple price lists that lets each customer see their individual pricing. If your product selection is different for different regions, only display the products available in each customer's location.
Contrary to what you may believe, B2B eCommerce makes it easier to personalize the relationship with your customer, as each interaction can be designed for their specific needs. 
Picking a Platform for Selling Building Materials Online
It's important to select your B2B eCommerce carefully. 
Native B2B functionality
When evaluating your B2B eCommerce platform for building materials, look for a solution that offers native B2B functionality without extensive modifications. You'll be surprised to find many B2B eCommerce platforms are repurposed B2C solutions that aren't geared to the needs of a B2B business.
Open for integration
In addition, consider how well the solution will integrate with your existing software, especially your ERP. Because the ERP is often the cornerstone upon which the architecture is built, it may be old and extensively modified.  An open-source solution with an API-first approach may provide maximum integration flexibility.
The best B2B eCommerce platforms comparison table
See how the top platforms stack up.
Rich ecosystem and community
Evaluate the ecosystem of partners and integrators. Look to see if the eCommerce platform is supported by an active community of developers and users. Are extensions, plugins, and widgets readily available?
Time to market
The faster you get to market, the quicker you achieve ROI. Look for a solution that customizes as necessary but offers at least 80% of the required B2B functionality you need right out of the box. 
Serving the Construction Industry Successfully Using OroCommerce
Still not sure how your company can implement a digital sales solution? Take a look at how two very different companies, selling very different products to the construction industry implemented eCommerce to much success.
Building Materials Distribution – BME France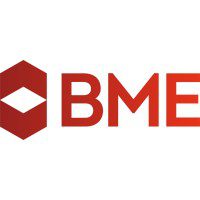 BME France, part of the global BME Group, needed to transform its digital presence to better serve customers and internal teams.
They needed better product information, cross-sell and upsell functionality, and better data to tailor offerings to their customer needs. 
They turned to OroCommerce for its native B2B functionality and easy integration with Akeno PIM. Now, customers shopping at their Busca and Raboni online stores get access to inventory levels and personalized price lists. Customers managing multiple job sites can set up shopping lists for each site to make recordkeeping easier.
Today BME France can operate two distinctly differently branded front ends from a unified back-end. Internal workflows are simplified, and the company has a better view of its KPIs. 
Heavy Equipment Rental – HKL Construction Machinery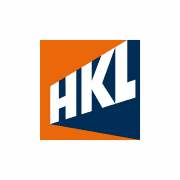 HKL Baumaschinen is a Hamburg-based company that rents heavy equipment to the building industry from over 150 locations. 
They previously used an online form submission to trigger a manual process to handle rentals. It was time-consuming and ineffective. Potential customers could see what equipment was available for rental, but not the location of the equipment. 
The answer was deploying OroCommerce as a B2B eCommerce platform for user-centered, fast, and transparent operations. Now customers have transparency into not only what equipment is available, but where the equipment is located, and the rental cost. They can book their rental and even add accessories.
Today HKL dispatches more efficiently and sales reps spend more time advising customers on the right equipment for their needs and less time chasing down equipment.
Build Your Building Materials Business with B2B eCommerce from Oro
The construction supplies industry is becoming ever more reliant on technology. As their supplier, you must keep pace.
Offering a digital sales channel with eCommerce, a marketplace and mobile ordering creates a way to meet buyers' needs for quick and easy purchasing. 
Oro offers B2B eCommerce solutions and a vibrant ecosystem of partners and community members to help you reach your digital sales goals. 
See first hand how we can help you improve your business
Test out the features that matter to you in an interactive demo.
Questions and Answers
Can you sell building materials with B2B eCommerce?
Absolutely! Using B2B eCommerce in the building materials industry involves careful consideration of what your customers need, how your company can better meet those needs with technology, and then selecting and implementing the right B2B eCommerce solution for your instance. 
Do contractors buy building materials online?
The National Association of Homebuilders surveyed its members to find out where they buy materials. Most members use a variety of suppliers (lumber yards for trusses and specialty retailers for flooring). Procurement professionals in all industries rely on online product research and want to make purchases online. Construction professionals are no different.
How do you pick the best B2B eCommerce solution for the building materials industry?
When researching the best B2B eCommerce platforms for the construction industry, look for a solution with a long track record of success. Select an eCommerce platform that provides the B2B capability you need and 80% of the functionality you require right out of the box. Use a B2B platform with an ecosystem of integrators and partners to help you with your deployment.