When we think of infrastructure, we imagine electricity poles, sewers, roads, and bridges. Digital commerce also requires infrastructure, but it is very different. Just as cities require more infrastructure to support their growth, businesses have increasing performance, scalability, and cybersecurity needs as they grow too. 
Choosing the right infrastructure helps you realize existing business goals and plan for the future. Selecting poorly and mismatched infrastructure will negatively impact your business. 
Customers experiencing a slow-loading website bounce and abandon shopping carts. Team members become less productive and more frustrated.
This article covers the elements of eCommerce infrastructure and why infrastructure planning is critical to every eCommerce business. You will discover the business and technical considerations that factor into making the right strategy, technology, and resource decisions when planning eCommerce infrastructure.
Finally, you'll see out how Oro's digital commerce tools support and empower businesses with leading eCommerce infrastructure.
What is Digital Commerce Infrastructure?
eCommerce infrastructure refers to the tools, services, and facilities necessary to operate an eCommerce business. Digital commerce infrastructure includes hardware, software, devices, networking equipment, and servers. It also encompasses the overall network of systems and processes to manage these resources.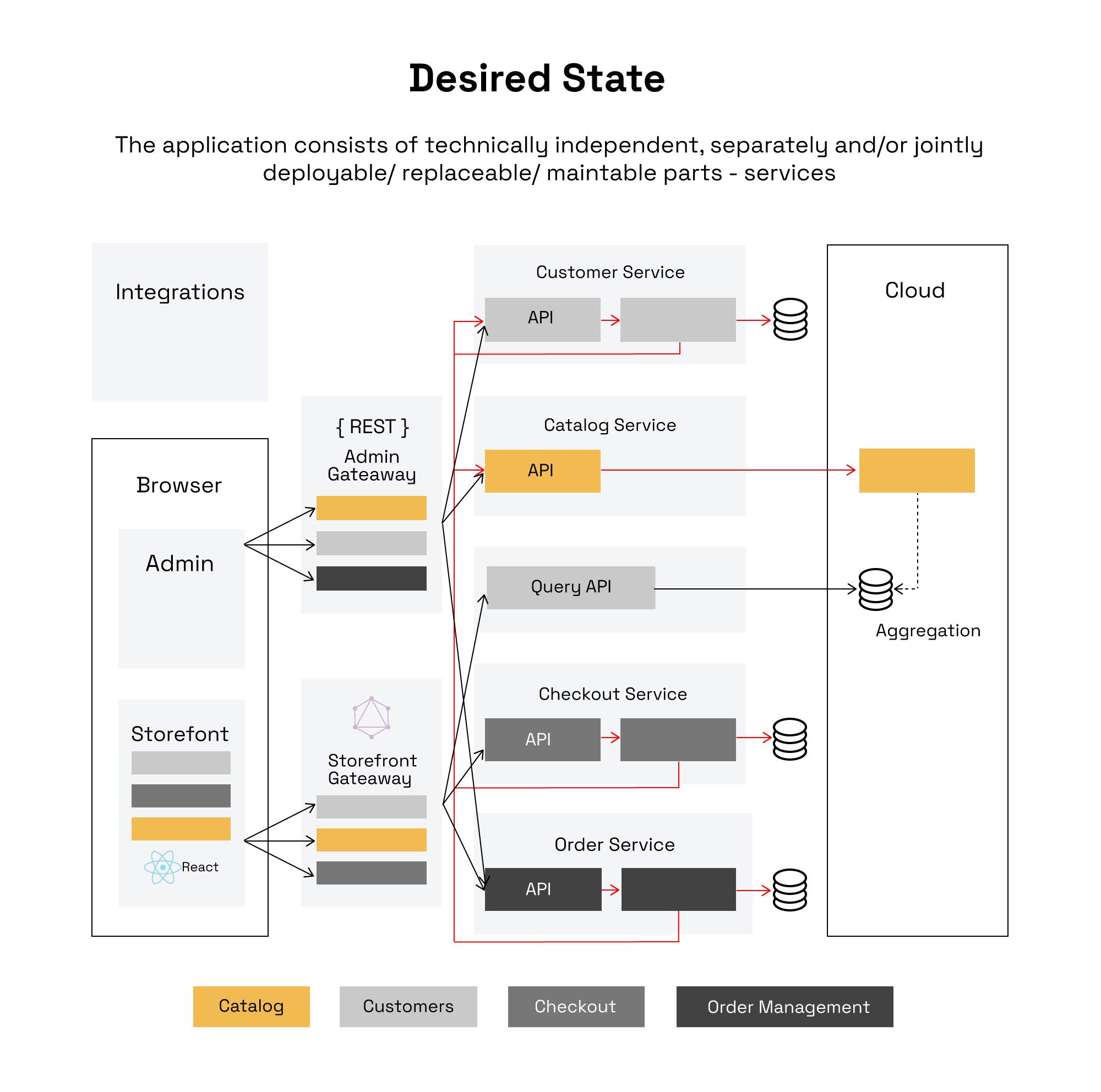 Your infrastructure supports your operations, so choosing the right infrastructure is necessary to maximize your performance, adjust to changing environments, and scale your business. Choose the wrong infrastructure, and introduce increased vulnerabilities and risks to your organization.
Why is eCommerce Infrastructure Important?
B2B buyers are an unforgiving bunch. According to McKinsey, Nearly 80 percent of B2B customers say they want performance guarantees for their loyalty to brands, including uninterrupted service, consistency across channels, and accurate product information. 
But without adequate, smoothly running infrastructure, eCommerce websites underperform during demand surges. Seasonal fluctuations, business expansion, or an unexpectedly large holiday rush all cause demand surges. Your infrastructure must handle today's traffic as well as what's around the corner.
Last year's buyer expectations report  found that nearly 38% of 100 procurement leaders and B2B buyers from the US and Canada found the lack of real-time information to be a top stumbling block. In other words, understanding customer needs is not enough. Businesses must have the technology and infrastructure to support real-time response to those needs.
"If suppliers learn about us and our buying patterns, and follow them with greater predictable accuracy, this will create a good buying experience," said a vice president at a consumer products company in the report.
Yet many businesses struggle to offer an effortless and stress-free buying experience. The solution lies in the careful selection of the right digital commerce platform and setting up proper IT infrastructure. 
Investing in human resources to ensure system security, performance monitoring, and standards and practices are followed is just as important.  This includes resources for  ongoing employee training, as well as performing industry specific IT audits.
Now you understand the basics, here's how to get started laying out your eCommerce infrastructure.
We surveyed 100 senior-level business buyers
Business Considerations
The first step in selecting the proper infrastructure for your eCommerce business is to match infrastructure capabilities with fundamental aspects of your business model.
Step 1: Business goals
Organizations pursue digital commerce for many reasons. Goals may focus on improving customer experience, optimizing back-office processes, or building resiliency to future-proof the business. Every aspect of your eCommerce infrastructure should align with your business goals.
Product needs
Customers want to know as much as possible about the products you sell. For example, if you sell replacement parts, offer fitment data, specifications, and installation recommendations. And, if you're using multiple software solutions, that product data must easily travel between your other software and your eCommerce platform. Robust product information requires infrastructure that emphasizes performance.
Pricing needs
If you sell commodity products where pricing is a key differentiator, your infrastructure should reflect your pricing needs. First, select a capable digital commerce software with rich pricing functionality and low total cost of ownership. Flexibility and agility are key. You want to keep fixed costs low and react quickly to market changes and competitive pressures.
Customer experience needs
If your goal is to exceed customer expectations with every purchase, you must offer customers self-service options, the ability to track orders, and more. To meet the performance expectations of your customers, your infrastructure should be able to honor quick turnaround times for both order fulfillment and support requests.
Sales needs
If your goal is to streamline back-office sales operations, then your infrastructure must support complex workflows designed to save salespeople time. For example, many B2B companies rely on complex product configuration or custom price lists. This data requires synchronizing with your ERP system through API calls or calculation with automation tools before display to the customer.
Data needs
If your goal is to centralize data from multiple sources for greater efficiency and decision-making, you need the infrastructure to support that too. Focus on B2B supply chain visibility, optimizing operations, and decreasing error rates. Your solution can involve a mix of investing in technology, integrating systems, and outsourcing infrastructure to experts.
Step 2: eCommerce channel strategy
Not all companies have the need or the capacity to support multiple selling channels. Customer expectations, industry requirements, or available resources may constrain organizations to specific channels, and, thus, infrastructure options.
Single channel
Years after COVID, eCommerce continues to lead in-person selling as the dominant selling channel. By pursuing only one selling channel, you reduce complexity, the total cost of ownership, and your time to market. At the same time, focusing on a single channel removes opportunities that alternative channels offer.
Multi-channel
A multi-channel experience, by comparison, offers customers multiple ways to purchase. Today, buying decisions happen in person, and via phone calls, email, website, app, chat, and social media. Providing a multi-channel experience requires corresponding infrastructure investments.
Omnichannel
Usually, B2B buyers move from one device to another across multiple platforms as they search for products. What's more, the omnichannel approach isn't merely concerned with starting transactions on one channel and ending it on another – it incorporates marketing, product, and post-sales communications between the brand, retailer, and customer. This level of customer engagement also requires a corresponding investment in infrastructure.
Step 3: Data management requirements
Any digital commerce environment involves data transfer to and from the digital commerce platform, which is governed by set guidelines, frameworks, and the involvement of service providers. The fundamental function of your eCommerce environment is to transfer data to enable services like user authentication, order validation, and payment processing. Not to mention – the general handling of customer and product data, some or all of which may be sensitive.
Many manufacturers and distributors don't operate in highly regulated environments. For example, industrial manufacturers and heavy machinery parts suppliers may not sell regulated items or deal with the hassles of exporting. If you don't have extensive in-house IT resources and seek a low cost of ownership and quick time to market, you can outsource part or all of your eCommerce infrastructure.
However, other B2B eCommerce businesses must adhere to data privacy, security standards, and export regulations. They may deal with sensitive information like patient healthcare data or operate in a highly regulated industry like chemicals trading. If you operate within a complex web of regulations, it means you will have additional physical, administrative, and technical infrastructure concerns.
How do you build a reliable eCommerce infrastructure?
Technical Considerations
Now that you've reviewed business considerations, it's time to tie them into technical considerations.
Step 1: What are your software and hardware needs?
Software
As a B2B seller, you probably rely on an ERP solution to manage inventory, pricing, supply chains, and business operations. To provide your customers with accurate inventory and pricing in real-time, you must integrate your ERP with the eCommerce platform.
Likewise, utilizing a CRM with eCommerce enables sales teams to better manage customer relationships and market products more effectively.
If you don't already have an ERP or CRM, starting with an eCommerce system can unify your data and act as a springboard to other solutions to better serve your business.
Learn more about eCommerce TCO
Hardware
Your eCommerce hardware includes physical servers that host, process, and manage data associated with your eCommerce store. Aside from allocating the space to accommodate these servers, you'll need to consider application servers, proxy servers, and firewall servers.
However, you can share the responsibility for your IT environment. Whether it's hosting, website security providers, firewall solutions, or SSL encryption services, you may keep services in-house or outsource to third parties.
With on-premise deployment, you're responsible for the physical IT infrastructure, including the monetary and human resources required to maintain and upgrade these systems.
Pros: With data stored on-premises, you control how it lives and travels between systems. You can access it without an internet connection and maintain ultimate flexibility in managing, backing up, and upgrading your systems. 
Cons: As your business grows, your hardware, implementation, and maintenance, as well as personnel needs, will also increase. These costs usually outweigh the costs of outsourcing the infrastructure and supporting activities. Managing infrastructure security, including firewall services, encryption, and anti-virus systems can be challenging along with keeping up to date with changing cybersecurity regulations and best practices.
With IaaS (infrastructure as a service), the vendor offers physical infrastructure through virtual machines, which is known as virtualization. You're in control of many infrastructure aspects, such as access management, operating systems, and virtual machines
Pros: Unlike on-premise deployment, the servers, storage, and networking are maintained by the vendor. That means there's no need to worry about server downtime, maintenance, and upgrades. Since you only pay for the resources you use, you can upsize and downsize based on your needs.
Cons: Since there's less control of infrastructure, there are more security concerns – mainly if the IaaS provider enables multiple clients to use their hardware. You must still hire network administrators to manage middleware and virtual machines.
With PaaS (platform as a service), vendors provide you with everything you need to develop, implement, and run applications. Aside from physical infrastructure and services (such as configuration, maintenance, and updates), they also offer middleware services.
Pros: Using PaaS, you can benefit from an enhanced developer user experience. It offers the flexibility of IaaS but with additional OS deployment, middleware, and security services. When deployed correctly, it's also a cost-effective alternative to on-premise and other cloud hosting options.
Cons: The PaaS system works on a shared responsibility model, which means you retain some responsibility for security. Defining responsibility is critical for reducing the risk of introducing vulnerabilities and security threats.
With SaaS, (Software as a service), vendors offer infrastructure and applications over the internet. This makes SaaS easy to scale, manage, and use.
Pros: The greatest advantage of SaaS is that users are not responsible for managing, maintaining, or upgrading any aspect of the hardware and software. For sellers that want to focus on selling, it's a cost-effective and time-saving option.
Cons: Without any control over the infrastructure, your SaaS solution is at the mercy of the vendor. This introduces a host of disadvantages, such as vendor lock-in, compatibility issues, lack of customization, or control over security measures.
Step 2: What are your connectivity needs?
Today's digital commerce experiences rely on integrated systems. They don't work in isolation and depend on multiple business assets like websites, software, hardware, warehouses, and point of sale systems. Keeping systems and software in communication is vital.
System integration
Create a data flow diagram that lays out your resources and how they interact. Start with specifying where your data is currently located and how it moves around the system. This way, you'll identify all integrations and wil better understand how new systems and resources impact the infrastructure.
VPN tunnels
A VPN is a way to encrypt internet connections. The VPN tunnel is the pathway that facilitates data transfer through this network. By setting up protocols to govern the speed and encryption complexity, brands can control how data travels between systems. Consider your data flow requirements and the number of connections in your VPN, since these tunnels are limited, as well as the bandwidth offered for the VPN as a whole.
Step 3: What are your business continuity needs?
Last but not least, consider the risks associated with business continuity when selecting infrastructure. Everyone saw how the pandemic disrupted supply chains and closed businesses. Natural disasters, geopolitical crises, and power outages can't be predicted. Cyberattacks pose a growing threat to B2B businesses, requiring investments in backup and recovery, network segmentation, infrastructure safeguards, and more.
How national pet food supplier manages multiple ERPs and warehouses with eCommerce infrastructure
How OroCommerce Supports Infrastructure Needs
OroCommerce is one of the few solutions that completely conform to your business requirements, including integration, architecture, and deployment needs. Here's how:
Security and compliance
Security and compliance are rapidly evolving aspects of digital commerce. There are numerous laws in different jurisdictions and conflicting information abounds. For example, if you need secure connections, VPN tunnels may be the answer. If you accept credit card payments, you need PCI DSS compliance. If you do business in Europe, you need to be concerned about GDPR, and even California has a set of privacy rules.
PCI DSS
If you accept credit card payments over the internet, you must be compliant with PCI DSS, or the Payment Card Industry (PCI) Data Security Standards. These standards keep customer credit card data secure during transactions, and apply no matter what types of payments you accept – in person, online, or over the phone.
When you deploy OroCommerce on OroCloud infrastructure, you are automatically PCI DSS-compliant. Depending on whether you host in a public or private cloud, the cloud provider may cover some PCI DSS compliance. On premise, deployments require that you take responsibility for compliance.
SOC2, GDPR and HIPAA
A SOC Type 2 audit is an independent, third-party validation that an organization's IT practices meet relevant security, availability, processing integrity, confidentiality, or privacy controls. GDPR (General Data Protection Regulation) was adopted in 2016 to protect user data by European Union citizens. Meaning, if you want to sell in Europe, it must comply with GDPR. Lastly, HIPAA (Health Insurance Portability and Accountability Act) governs an organization's use and disclosure of US individuals' health information. Covered entities, or service providers, must comply with these requirements.
While not every data regulation applies to every organization, Oro's compliance with SOC2, GDPR, and HIPAA means that Oro's products meet and exceed all data security and privacy requirements.
Minimal customization
The sheer complexity of B2B eCommerce businesses poses a challenge for systems integrators. And the larger your organization is, the more complex it gets. Whether you operate multiple business units or grew though mergers and acquisitions, complexity awaits.
Thankfully, OroCommerce is designed to accommodate diverse selling scenarios, including B2B, B2C, B2X, and D2C selling from one platform. It also supports enterprise marketplace selling.
With powerful B2B features built into the system, OroCommerce can accommodate any B2B eCommerce scenario from the ground up. That includes using corporate accounts, access control permissions, multiple catalog management, configurable products, and more.
Full control
Business needs change without warning. Purchase behaviors change, and what's in demand today may be forgotten tomorrow. Buyers expect intuitive and user-friendly experiences, while the back-office focuses on productivity and revenue-generating activities.
Thanks to the open-source architecture of OroCommerce, flexibility is built into the system. This includes the ultimate deployment flexibility (including on-premise or any cloud) and granular control of data flows. OroCommerce empowers you to deliver a laser-focused customer experience and back-office experience.
Supports growth
Digital commerce businesses need every competitive advantage in unpredictable environments. Successful B2B eCommerce projects account for macro external forces, as well as micro nuances in sales cycles, buyer journeys, and customer expectations. All the while keeping everyone on the same page. OroCommerce eanbles growth by:
Providing the flexibility to change and adjust to changing business needs

Empowering you with robust marketing and sales tools to fuel growth

Supporting limitless scalability to grow with your business

Building resilience and future-proofing your business
Grow Your Business With the Best eCommerce Infrastructure
We worked with hundreds of B2B sellers over the years and understand that every use case is unique. That's why Oro applications are designed for infrastructure scenarios that meet diverse business, industry, or legal requirements. 
To avoid making mistakes, lay out your goals, and match your goals to the appropriate technology. While your eCommerce platform could be the first step, it's just one of many applications needed to support your business.Your infrastructure must also support other systems and processes.
Many sellers can outsource their infrastructure, but those in regulated industries may be redquired  to keep a certain level of IT infrastructure, maintenance, and security capabilities in-house. No matter the business, needs are not static, and IT infrastructure and support resources needs grow with the organization.
Let Oro help you make the right eCommerce infrastructure decision for your business, now and in the future.
Build the right eCommerce infrastructure with OroCommerce
Let us show how to build a business for the future.
Questions and Answers
What are the components of eCommerce infrastructure?
Some of the layers of eCommerce infrastructure include the hardware, like servers, devices, networking equipment, software applications, and services like data management, security, maintenance, and upgrades.
How can you improve eCommerce infrastructure for a B2B marketplace?
How you improve your eCommerce infrastructure largely depends on the complexity of your business and your needs. For example, if merchants sell many products to many customers, the infrastructure must support speed and scalability. If you're in a competitive niche with pricing as a differentiator, you'll must focus on flexibility and low cost of ownership.
How can you build a scalable eCommerce infrastructure?
To build a scalable infrastructure, you must build with flexibility in mind. Consider growth scenarios such as expanding to new markets, new selling models, or business acquisitions. Identify all integration and compatibility options, customization potential, and minimize vendor lock-in where possible. Consider the complexity of your infrastructure, its total cost of ownership, and the ease of replatforming.