The pandemic has brought to light the importance of technologies such as eCommerce and B2B marketplace platforms that help businesses build resilience. As businesses start exploring the eCommerce B2B market, one of the first questions they'll consider is the purchase of a vendor-supplied B2B eCommerce platform versus creating a custom solution from scratch.
At first glance, it may seem that the obvious answer is to use a ready-made solution from a reputable software provider. But every business is different and not all boxed solutions work in all instances. Let's look at the pros and cons of building from scratch, buying a vendor-supplied solution, or creating a hybrid of the two.
When Building a Custom eCommerce Solution Makes Sense
Complex organizations such as those with intricate hierarchies or business models and businesses that sell to other businesses quickly find that many B2C repurposed platforms can't meet their requirements out of the box. So, instead of building workarounds to existing eCommerce platforms, they build a completely custom solution from scratch. These companies see building a custom solution as a long-term investment that better positions them in the market now and in the future.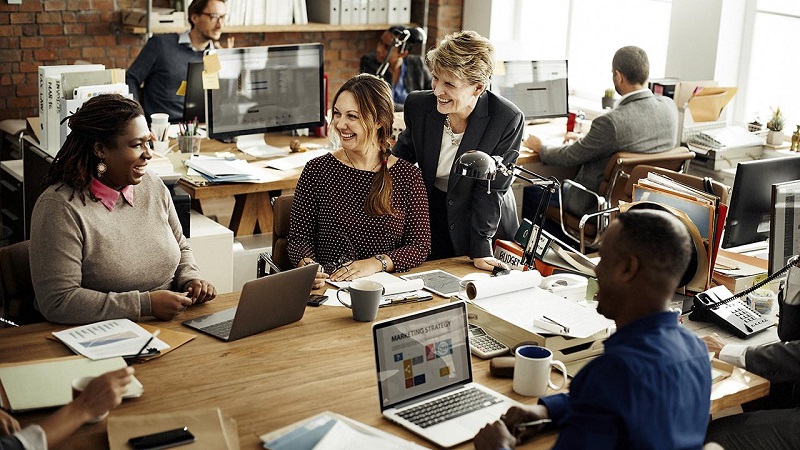 While the custom route has its critics, it also has plenty of supporters. Let's take a look at when building your own, custom eCommerce site may be appropriate.
You are in a highly regulated industry
Many businesses operate in and sell to highly regulated industries. For example, if you supply HVAC equipment or pharmaceuticals, you may be required to check the credentials and licensing of the purchasing company. Some products may not be approved for all markets. If you operate within a byzantine structure of regulation, a custom eCommerce site may be right for you.
You have complex corporate hierarchies
If your organization maintains offices in different locations, each responsible for a different product or serving a specific customer segment, an out-of-the-box solution may not work. Furthermore, your back-office requirements (internal hierarchies, access restrictions, approval processes, reporting) and customer-facing website requirements may be more sophisticated than the capabilities of a vendor-based solution.
You sell over complex selling channels
Many B2B sellers engage with buyers over complex selling channels in parallel. For example, a multi-channel eCommerce business can sell B2C and D2C as well. Similarly, marketplace businesses engaged in marketplace management will have even more diverse requirements such as monetization, onboarding, seller and buyer requirements, and much more.
You need to manage complex workflows
Some businesses sell configurable products or need to bundle products with value-added services such as installations or consultations. Others may require complex ordering or shipping rules that may vary from one customer to another. These configurations may not be easy to digitally replicate with a vendor-supplied solution. 
You need to connect multiple business systems
Many ready-made eCommerce solutions don't integrate with the wide variety of ERP, PIM eCommerce, CRM, procurement, accounting, and other systems commonly used. If you have developed one of these systems in-house, achieving integration may be impossible, leading you to consider building your custom eCommerce solution.
You want to offer alternative payment methods
Your customers may want to forego the credit card in favor of wire transfer, ACH, and other payment methods. Others may wish to pay with extended terms or credit. Building your own system can be attractive to B2B sellers who need more control over payment types. 
You require more CMS features
Your eCommerce content management system is the heart of your sales, marketing, and content strategy. If your eCommerce vendor has a weak CMS or cannot integrate with the CMS of choice, then building a solution that meets your needs, especially if you operate in omnichannel eCommerce, may be in order.

Custom eCommerce Solution vs. Vendor-Based: Pros and Cons
Custom eCommerce software
A custom eCommerce platform is best suited for companies that require total control of their eCommerce strategy. They may want to carefully craft personalized client experiences, develop an ecosystem of third-party integrations, or streamline internal operations via integrations with other enterprise applications.
Pros
Creative freedom.

There are no limitations on how you can design your eCommerce presence, as long as you are willing to invest the time and money. You can perfectly align your eCommerce solution to your business and customer needs and only build what you want without any extras.

Full ownership.

When you create your own solution, you own it completely. Meaning, there is no one between your software and your business. Having full ownership of your selling infrastructure gives you more flexibility to meet customer expectations, adapt to industry changes, and build resilience into your business.

No license fees.

Besides saving money on monthly license fees for your platform, you can also save money with an in-house development and support staff. It's beneficial for large businesses looking to preserve complete control over their eCommerce strategy, operations, and customer service.
Cons
Resource intensive. A custom B2B eCommerce platform requires a large commitment of time and human resources. Before you begin, you'll have to collect requirements, find experienced engineers, organize the software development process, test for quality assurance, and coordinate change management.
No warranty or support.

There's nothing worse than downtime in eCommerce. The faster you can fix any issue the faster you return to selling. When things go wrong (and they will), you'll need to rely on your staff, technology partners, and hosting providers for answers and solutions.

Maintenance.

As time goes on and your business grows, it can become difficult to scale your platform without running into implementation challenges. The SEO, marketing, payments, fulfillment, and other components of your website will constantly need to be tweaked and modified so that they work together.

Documentation. You will need a whole team of technical writers and business analysts to make sure the knowledge about how the system works is accessible and is not locked within the core team that developed it.
Development mistakes. An immense amount of work goes into developing an eCommerce platform. Developers will be faced with the monumental task of recreating many of the capabilities of an off-the-shelf B2B eCommerce platform. And, since many of these B2B features are highly sophisticated, the development process will be lengthy, increasing the possibility of errors and bugs.
Vendor-based eCommerce software
Why build a custom eCommerce software when platform vendors already possess extensive experience working with real-life customers and their needs? To stay competitive, vendors are constantly validating their features with the existing market needs and trends. Moreover, platform vendors are dedicated to creating world-class products that take into account a broad range of potential use cases you may not have considered.
Pros
B2B features out-of-the-box.

An eCommerce vendor's job is to build a solution that you can implement as quickly as possible. Thus, you won't have to deal with the research, development, and testing of the software.

Security, stability.

With a vendor-based solution, you don't worry about managing security, certificates, or fraud protection. It's great for your peace of mind and even better for customers who want to make sure they are dealing with a business they can trust.

Customer service.

Many eCommerce platforms use customer service as a powerful differentiator. Most vendor-based platforms offer support via phone, live chat, or email. Self-service such as video tutorials or community support are also available.

Reduced cost and time to market.

Building a custom eCommerce platform requires a significant upfront investment and takes a much longer time to market than vendor-based platforms. These months of delay translate into lost opportunities and slower customer acquisition.
Cons
Middleman.

A vendor-based solution places a layer beyond your control between your customers and your business. Price increases, feature rollbacks, or other limitations can thwart your growth plans.

Fees.

It's easy to overspend on an eCommerce solution by purchasing a plan with features you will never use. Costs can spiral to implement, integrate, hire in-house, or utilize a technology provider's services.

Flexibility.

Many B2Bs want to control specific of their eCommerce stores. If your vendor does not offer an integration, plugin, an API, or the ability to customize, you'll need to accept set parameters as you implement your project.

How to Get the Best of Both Worlds
What do you do if you need the flexibility of a custom solution but want the reliability and infrastructure of a vendor-based solution? Then you take the best of both worlds. 
You select a vendor-based solution that has the core B2B eCommerce functionality already carefully researched and built for you, but still gives you the flexibility to fine-tune and customize the implementation to meet your business needs. Popular eCommerce platforms initially built for B2C just can't service the complexity of B2B relationships. But platforms with an eCommerce architecture that was designed for B2B will instantly get you through 60-80% of your project requirements. These core universal B2B features include:

B2B corporate account management

Access controls, roles, permissions

Multi-org, website, and language capabilities

Multiple currencies and tax management

Multiple prices and shopping lists

Multiple, personalized catalogs

Multiple warehouses support

Content management system

Request for Quote functionality

Promotion management

Inventory management

Contract management

Email automation engine

Segmented, custom reports

Security features

API to integrate with any type of business software

SEO management tools

Mobile-readiness
OroCommerce is a perfect example of such an eCommerce solution. It was built precisely for B2B eCommerce. It includes every B2B-specific as well as eCommerce marketplace features out of the box, a flexible API set that supports PWA, headless implementation, integration with ERP, PIM, CRM, and other systems. If further customization is required, that is not a problem. As an open-source solution, OroCommerce offers a large marketplace and technology partner network to support the achievement of even the most demanding B2B ambitions and goals.

OroCommerce customers like Animal Supply have implemented uses that synchronize numerous ERPs through a single headless platform or created custom, highly flexible shopping and checkout workflows for separate B2B and B2C customers as Saltworks did with their installation. These installations might be very different, but both took less than 6 months to implement and get to market.
Comparing Options Based On Requirements
B2B eCommerce software vendor

Custom-built eCommerce software

Customized




eCommerce platform

(* based on OroCommerce capabilities)

Time to market

+

–

+

Implementation time and cost

+

–

+

Maintenance and upkeep

+

–

+

Yearly or monthly licensing fees

–

+

–

Performance risk, architectural deficiencies, bugs

+

–

+

Control over development and features

–

+

+*

Scalability and ease of growth

–

–

+
+ Indicates performs well
– Indicates performs poorly
*Community members can contribute to the open-source OroCommerce Community Edition. 

Customized eCommerce Solutions: a Perfect Fit for B2B
As sales move from in-person to online, it's never been a better time to select a B2B eCommerce platform. For the vast majority of businesses, that means turning to a vendor-supplied solution. Whether you choose to build a solution from scratch or customize a vendor-based solution, your decision should be based on the features, functionality, integrations, and customizations you require.
A customized eCommerce platform may seem like the answer if you're a large company in a highly regulated industry with a diverse customer base. But that may not be the case as some B2B eCommerce platforms like OroCommerce come already equipped with features you thought you needed to build.
For example,  businesses can run a global presence from one eCommerce platform when it supports multiple organizations, localized websites, currencies, and tax codes. Personalized self-service becomes a reality with mobile-friendly omnichannel experiences complete with catalogs, products, prices, ordering, and shipping features tailored to every customer.
OroCommerce also boasts extensive partner, technical, and developer communities that understand the full potential of OroCommerce. They can plan, design, and manage a truly custom eCommerce solution that works for any business need for less than the cost of a completely custom-built solution. If you'd like to learn more about the unique capabilities of OroCommerce, contact us for a discovery session or try our free demo.