No doubt about it, just the thought of replatforming your eCommerce store is frightening, and the actual migration process provides ample opportunities for things to go wrong. But as we discovered in Part One of this series on replatforming, you can't ignore the signals that the time for replatforming has come. Customers, marketing, sales, and operations all depend on an up-to-date solution to meet their needs. The benefits far outweigh the risks and the risks can be mitigated with careful planning.  The benefits of eCommerce replatforming include:
Improved customer experience including enhanced mobile ability

Enhanced security

Reduced maintenance costs

Scalability
Of course, the greatest benefit is the ability to grow your business with the tools provided by the latest technology. Avoid frustration and mitigate risks by making an eCommerce replatforming checklist and checking it twice before you start the migration process. 
Before committing to replatforming, it's crucial to ensure you choose the right platform to migrate to. Our eCommerce RFP template is a go-to resource for shortlisting and comparing eCommerce solution vendors efficiently.
eCommerce Replatforming Checklist
It all starts with a plan. The most trouble-free eCommerce replatforming projects are carefully planned before they are executed. Just the process of creating your migration checklist will help you identify potential pitfalls. At a minimum, your plan and eCommerce replatforming checklist should include:
Identifying all data sources and integrations affected

Deciding what legacy information will be migrated 

Deciding who is responsible for data migration (in-house or outsourced)

Selecting optimal time for migration (off-season is best)

Notifying all departments impacted in the weeks and days BEFORE migration

Creating a pre-migration website map of all URLs

Mapping out a plan for migrating one section at a time

Recording pre-migration KPIs and benchmarks

Training personnel in use of the new platform

Testing before and after replatforming to ensure solution is performing as planned
It can't be stressed enough that communication is important during the entire eCommerce replatforming process. Marketing, sales, and customer service should all communicate their expectations and these expectations should be addressed. If expectations are unrealistic, it's better to communicate this before the migration, not afterwards. For example, customer service may have an unrealistic expectation that after the migration, there will be fewer inbound calls and emails. Eventually, this will prove to be true. However, if the entire site has been redesigned as a result of the eCommerce replatforming project (not something we recommend) then there may be a temporary spike in calls and emails as customers are learning the new site. 
It's not a good idea to try to replatform your eCommerce site during the height of your busiest season. By executing your eCommerce replatforming during the slower months, you reduce stress on everyone. It also gives users a chance to not only become accustomed to the new platform but to explore what's possible with all that new power under the hood. Besides, if disaster strikes, the damage will be much less in the off season. 

Avoid the Re-Design Temptation
It's temping to completely re-design the entire website as part of the replatforming process. But unless its critical to modernize the site, it's better to keep the initial design changes to a minimum. That's because when you redesign and replatform at the same time, its hard to troubleshoot problems. If conversion rates suddenly plummet after a redesign and replatform, how would you determine the cause? You want to bring in new functionality and new features with the new platform, but major design changes should be undertaken on an incremental basis. 
The Importance of Staging and Testing
Your new eCommerce site will go through several stages before it is ready to launch. As you can see, in the beginning, developers begin work and testing without any data. Once they feel they have a minimally viable product, it's ready for testing. Initially there's no data input. But when data is added, it moves to the staging phase.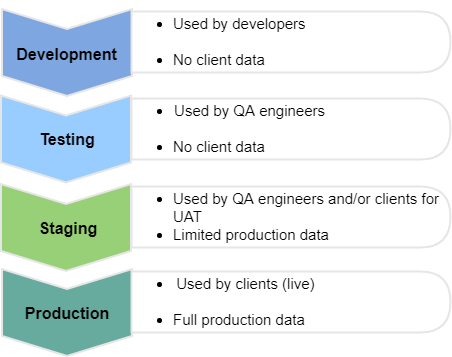 The more effort put into rigorous testing during staging process, the less likely you will find serious flaws once the new platform goes live. To get a better understanding of the differences between testing and staging, check out the blog on Testing and Staging Environments in eCommerce Implementation. 
In addition to functionality, you should be assessing the user experience (UX). A major goal of eCommerce replatforming is to improve UX and decrease friction in the path to purpose. It's important to ensure that the new eCommerce site architecture meets these goals. Grab an employee that's not involved with the project and ask them to simulate a purchase. Their feedback is invaluable. It's one way you can easily verify that you've made the path to purchase less complicated and not more. Also, verify that the mobile experience is enhanced as well. With more and more searches and purchases made on mobile, you can't afford to provide anything less than a superior experience. 
Finally, as part of this testing and staging, make sure you are not automatically creating duplicate content. It's critical that your new engine does not generate duplicate URLs as that will pose a problem with SEO. And speaking of SEO, that's a topic that deserves its own checklist. 
Planning for SEO After eCommerce Replatforming
One of the scariest things about eCommerce replatforming is the potential to take a big hit in search engine rankings. That's why your eCommerce replatforming checklist includes creating a pre-migration map of all URLs on the existing site.
See, when you replatform, URLs change. And that's bad for rankings. If your site is well-established, Google has been crawling your site for years and running your data through its algorithms to determine the value or rank of your content. Your SEO team and marketing crew have spent years working with partners and influencers to create backlinks to your site. When you publish your new site, those URLs might change, and those backlinks will no longer work. It means that your site will instantly lose credibility for Google, as backlinks are still one of the main ranking factors for it. But you can prevent organic traffic and rankings from dropping if you plan for your eCommerce migration with SEO in mind. You need an eCommerce replatforming checklist just for SEO. This checklist should include activities such as:
Comprehensive and extensive use of 301 redirects. You must map every old URL to its new equivalent. Every single one. There can be no orphans. None. 
Avoiding redirect chains. If this isn't the first eCommerce replatforming for your site, you probably have redirect maps from earlier migrations. Don't use those that map to redirect to the new pages. It is far better to connect the original source URLs in the old map to a new destination on the new platform. Yes, it's a pain but it's worth it to lessen the pain that comes with a substantial loss of ranking. Every new 301 redirect is diminishing the link juice passed to the destination page by roughly 15%, so it is worth spending time and double checking your existing redirects before setting new ones.
Generating a new sitemap. Too often only the top performing pages make it into the XML sitemap. That's a big mistake. You may be getting some backlink love that's lost if you don't map all pages. For big eCommerce websites it makes sense to create not only XML sitemaps, but also simple HTML sitemaps to accelerate the process of indexation. Check more about it in our post on advanced SEO tips for B2B eCommerce websites.
Staging a progressive migration. Keep the old and new site live with the new site hidden from search bots and crawlers.  Then move one section at a time. Test each section until the entire site is migrated.
Monitoring After eCommerce Replatforming
The data may be migrated, and the new platform live, but it's not time to enjoy a fruity drink on the beaches of the Cayman Islands just yet.
Over the next couple of weeks, it's critical to watch your Google Search Console closely. You need to keep an eye out for indexing issues and errors. This includes those dreaded 404 errors, excessive redirects, and gut wrenching 500 errors. Any single category of these error types can ruin your rankings, and in combination, they most certainly will wreck your rankings if left unheeded.  The honest truth is, no matter how careful you may be, something minor may still slip through the cracks. Immediately after the eCommerce migration and for about a week afterwards monitor crawl errors. Right after the eCommerce replatforming you will probably see a big spike in crawl activity. That's okay. However, if you continue to see high levels of crawl activity, you might have inadvertently created infinite crawl spaces. This might happen when auto-generated URLs are created by on-site search.
You should also monitor load speed and response times. People don't want to wait and if your pictures aren't optimized for fast loading or your CDN isn't handling the new site efficiently, your potential customers aren't going to hang around and wait. Fortunately, these issues are easy to spot if you are closely monitoring post migration performance. 
Surviving and Thriving eCommerce Replatforming
The key to surviving a migration and then thriving after eCommerce replatforming is planning, testing, planning, testing, then staging, and a bit more planning and testing. 
Seriously, this is one time that an ounce of prevention is truly worth a pound of cure. By identifying the data to migrate, what integrations are impacted, keeping everyone in the loop and relentless testing and retesting your eCommerce replatforming project can be completed with minimal frustration. And you'll be on the beach enjoying that fruity drink before you know it. Job well done!