Originally published June 15, 2020, updated May 11, 2021
Welcome to the post-lockdown era, where whole industries are trying to figure out the new landscape. Have you noticed that many businesses have been creating new products or quietly adapting existing ones to the new reality? Maybe you are one of those. Others are cautiously feeling the waters and still there are those who are patiently waiting for any signs of recovery in their industries. One question we all want answers to is what will the effect of reopening on B2B eCommerce be?
In this post, we share news and updates about businesses reopening, what B2B eCommerce businesses should expect, and how to prepare for the future going forward. Make sure to sign up for updates to get new, fresh, and relevant info every week.
This post is a part of our COVID-19 series that includes:
Reopening News and COVID-19 Updates
Just as 9/11 changed the airline industry and pushed nations to strengthen borders and beef up airport security, the COVID-19 pandemic will make a lasting impact on our lives. This old world will keep on turning and business will never be the same. Here's where we are:
Month Ending May 11:
Most B2B buyers make purchases online on a

weekly or monthly basis

, according to research by Digital Commerce 360.

Supply chains and eCommrece will not be the same in the

post-COVID world

, according to Entrepreneur.

As countries prepare for the summer holiday season, many

remain open for travel

, albeit with restrictions.
North America
United Kingdom
DACH region
APAC region

Week of February 15:
Week of January 25:
Week of January 11:
Week of December 14:
Week of December 7:
Week of November 30:
Week of November 23:
Week of November 9:
Week of November 2:
Week of October 28:
Week of October 21:
Week of October 12:
Week of September 28:
Week of September 21:
Week of September 14:
Week of September 7:
Week of August 31:
Week of August 24:
Week of August 17:
Week of August 10:
Week of August 3:
Week of July 27:
Week of July 20:
Week of July 13:
Week of July 6:
Week of June 29:
Week of June 22:
What Are the Reopening Challenges for B2B eCommerce?
The pandemic is far from over and continues to shatter confidence in the economy. In a study of 200 employers with nearly 2.5 million employees, over two-thirds of respondents (64%) are facing anxiety over job security. This anxiety is translated across multiple domains. For example, manufacturers and distributors are finding it difficult to accurately plan for inventory and labor needs. Without revenue, some brands are finding it difficult to plan for reopening, particularly if they are severely impacted and cannot return to old ways of doing business.
The challenges of reopening are greater for some industries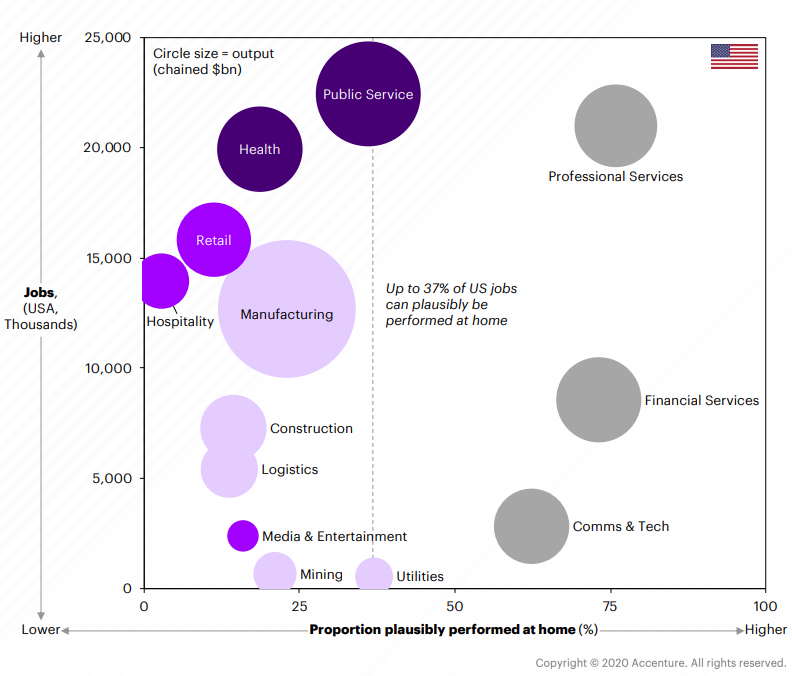 [Source]
At the same time, the pandemic taught business owners some valuable lessons. While physical stores may open soon, retailers are not planning pre-crisis levels of foot traffic. B2B sales opportunities and activities changed too. Over the last three months, digital technology has had a tremendous impact on sales. This trend will continue even when physical offices and stores are open.
Digital interactions have doubled in importance for B2B sales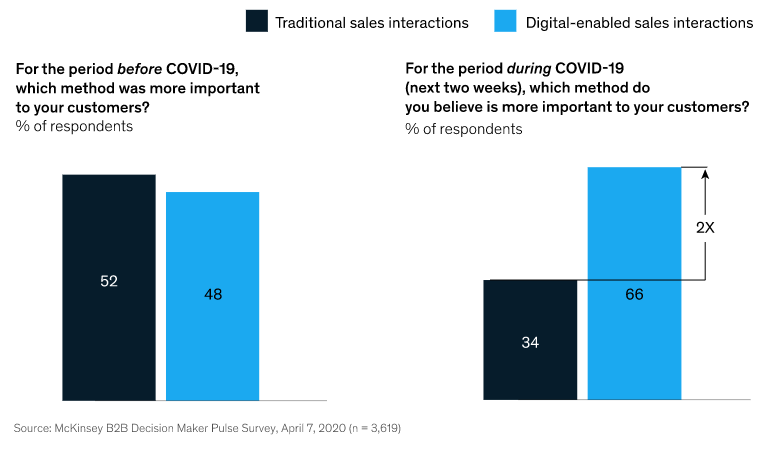 [Source]
Thus, another effect of reopening on B2B eCommerce will mean more opportunity to capture markets formerly held by brick-and-mortars.
4 Ways Reopening Affects B2B eCommerce
Investment into physical health assurances will be required
Cleanliness protocols
Manufacturers, distributors, warehouses and other B2B eCommerce businesses maintaining a physical presence will need to adopt cleanliness protocols as part of their KPIs. Businesses will need to establish these metrics and share performance with employees. This includes responsibilities and duties around cleanliness, disinfection, and inspection.
Health assessments
Physical businesses will need to invest in new disinfection processes that maintain hygiene. This could mean hand-washing, temperature checks, or introducing PPE (personal protective equipment). For equipment, it could mean new cleaning procedures for machinery For leaders, it could mean reinforcing behaviors, conducting regular health and safety meetings and reviews.
Building standards
Facility managers are evaluating workplaces, including upgrades to the ventilation system, air filtration systems, and modifications to the workplace like minimizing touchpoints and accommodating social distancing mandates. All this may impact the cost of finished goods for B2B eCommerce businesses.
Technology will play a larger role in B2B eCommerce
Individualization of work
Social distancing measures will force on-location B2B eCommerce employees to utilize their own equipment and maintain spatial awareness. There will be fewer shared computers, more shift rotations, and minimized in-person interactions, including less travel. These accommodations will be localized and complying with guidelines, recommendations or policies for each location will be a challenge for businesses that operate in multiple locations.
Working remotely
The crisis introduced new ways of thinking and operating for businesses. Skilled trades and labor shortage in manufacturing and distribution are driving businesses to more creative solutions. Remote working was made easier as tools like Microsoft Teams, Gsuite, Zoom, and Slack enabled employees to maintain communication channels and collaborate effectively.
Automation trends
The COVID-19 pandemic boosted interest in job automation, particularly in B2B eCommerce. Manufacturers, distributors, and retailers are beginning or restarting their digital transformation initiatives. Whether it's robotics, contactless technology, or AI to minimize human-to-human contact, the move to eCommerce automation will continue into the future.
Effect of reopening: B2B eCommerce supply chain flexibility
Resilient supply chains
The pandemic clearly demonstrated weakness that led to a supply chain crisis. Many brands have already seized the opportunity to manufacture, distribute, and deliver essential products by repurposing supply chains. In order to remain relevant and to build a better relationship between partners, businesses will need to demonstrate reassurances within their supply chains. Look for companies to develop parallel and duplicate chains to improve resilience. 
On-demand and insourcing
Flexibility will become a priority. To adapt to volatile demand and supply numbers, companies will further explore on-demand warehouse providers as an alternative to 3PL services. Similarly, businesses that have outsourced their fulfillment through large, international packers may explore bringing some capacity in-house, even if it means additional investments.
Greater last-mile control
Those who saw increased demand during the crisis recognized the importance of streamlining the last mile. Brands will seek to add more fulfillment options to their networks or utilize underused warehouses or locations as mini-fulfillment centers. Physical B2Bs will be more open to using their stores as warehouses: for both holding inventory and as an additional fulfillment channel.
Business Customers Have New Expectations
Prepare for the long-term
Economists predict that customer demands will rebound slowly, and customer habits set today are likely to outlast the immediate crisis. For example, Chinese shoppers have continued to rely on eCommerce long after the crisis subsided. Similarly, B2B eCommerce companies in the manufacturing, distribution and warehousing sectors that reacted quickly experienced growth, not contraction. 
Role of physical stores
As brick-and-mortar B2Bs reopen, their relationship with B2B eCommerce will change. Physical stores will change to adapt to the digital experience. BOPUS (buy online pick up in store) is already offered at many locations and will increase in popularity. More brands will leverage geolocation and AI technology to offer omnichannel experiences.
New customer values
During the pandemic, we learned that consumers, including B2B customers value products and services that reduce their anxiety and risks while providing safety. For B2B sellers, this means adjusting their market and distribution model, holding direct conversations with industry leaders, and focusing on their most valuable customers and their changing needs.
Effect of Reopening on B2B eCommerce & Beyond
Start embracing uncertainty
During uncertain economic times (think 2000 and 2008) survivors think like start-ups. Embrace quick decision making and execution and emulate the lean companies around you. Innovate quickly and act on opportunities as they arise. As nations reopen, the most innovative and agile-thinking businesses are best positioned to react to changing customer needs.
Recognize and meet new demands
It's hard to make many educated guesses about what customers will demand right now. One news cycle can change everything. Luxury goods have not started their recovery and demand is still high for PPE supplies. Steady demand for sanitizer benefited major personal care players, alcohol producers, and chemical companies. Anheuser-Busch InBev utilized its breweries to create disinfectants from surplus alcohol and continues to donate them to the most impacted hospitals and frontline workers.
Accelerate digital initiatives
For some B2B eCommerce retailers, the rapid increase in sales caught them ill-prepared, others were able to weather the storm smoothly. One French manufacturer and distributor of garden products, for example, has set up their eCommerce business for both B2B and B2C. As a result, they were able to maintain sales on-line with their B2B customers, even as in-person B2C sales fell while their physical locations were closed and consumers were forced to stay-at-home.
Is Your B2B Commerce Business Ready for Reopening?
A reopening won't mean reverting to old ways. The economy is different, employees have adapted to new ways of working, and your customers have new concerns and expectations. These changes may be here to stay. B2B eCommerce businesses that continue to innovate through the crisis, who anticipate customer changes, habits, and requirements will build stronger relationships. For some it will be a reinvention and a revisioning and for others will be a  brand new beginning.
This post will be updated with more information as soon as it becomes available.