According to a study by the IHL Group, North American retailers lose over $349 billion because they don't have what customers want to buy on hand. The endless aisle solves this problem. This inventory tactic enables sellers to carry a wider product assortment without holding every product in inventory at every store.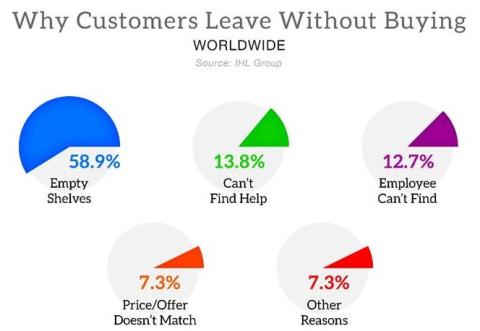 In this article, we dive deeper into the concept of the endless aisle, analyze its advantages and disadvantages for businesses engaged in B2B commerce, offer several examples, and provide recommendations and tips to ensure your endless aisle strategy is executed properly.
What is Endless Aisle?
Endless aisle is a retail tactic that uses digital technology to showcase a broad range of merchandise, enabling customers to browse products beyond the store's physical inventory. 
With endless aisle, retailers allow customers to order out-of-stock items that aren't immediately available but can be shipped or picked up later.
The digital component allows retailers to:
Promote products not available in store

Send purchases directly to the customer

Bundle in-store items with virtual products

Reserve in-store space for best sellers while keeping slower-moving items online.
Endless aisle not only expands the product selection, but also enhances the shopping experience with more purchasing options and increased personalization.
Why is Endless Aisle Important for Manufacturers and Distributors?
McKinsey's research has shown that the majority of B2B customers will leave suppliers if their five core needs are not met, and endless aisle helps satisfy two of them:
The ability to see true product availability online.

The ability to order on alternative channels like mobile.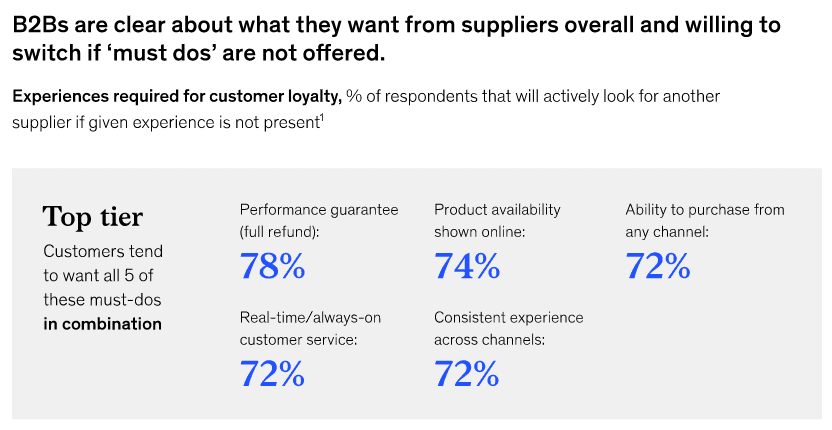 But better customer experiences are just one part of the story. Endless aisle is important because it helps strengthen business ecosystems and assists selling partners in succeeding. 
By implementing endless aisle, manufacturers and distributors boost information-sharing and enhance relationships with selling partners, who can pass on these benefits to their customers.
Selling partners benefit from added product assortment, deeper supply chain capability, and the assurance that they'll never run out of stock. 

End-users finally have access to products that were previously unavailable from their seller. Or, they can purchase products that are not available within their geographic location but are available elsewhere.
As physical and digital experiences become more intertwined and omnichannel takes on a greater role, endless aisle will play a more significant role, too.
How Can Manufacturers and Distributors Offer Endless Aisle?
Endless aisle for manufacturers and distributors is all about building deeper partnerships with suppliers, vendors, retailers, and end-customers. They can offer endless aisles by:
Creating custom-branded digital platforms for retailers to allow them to pass on a unique shopping experience to their customers.

Supplying retailers with high-quality product information for use on their own websites.

Offering dropshipping options, that is, shipping orders directly to customers on behalf of the retailer.

Expanding to new selling channels, like marketplaces, partnering with other sellers, or selling directly to consumers.
The Pros and Cons of Endless Aisle in B2B eCommerce
The endless aisle offers many benefits, such as increased sales, better inventory management, and improved customer loyalty. Let's take a closer look at these benefits and understand how manufacturers and distributors benefit from offering endless aisles to retailers.
What are the benefits of an endless aisle?
Increases your sales
The biggest benefit of the endless aisle is that it minimizes the risk of not fulfilling retailer requests. In the B2B world, buyers demand more and have specific requirements that need to be met. With the endless aisle, you can offer more options and increase the likelihood that you offer the product they seek. This not only satisfies their needs but also helps you to retain their business and prevents them from switching to your competitors.
Offers more choices to customers
Offering more options goes beyond offering more products and services. To make decisions that make sense for their business, your retailers need a range of fulfillment options, from different purchasing methods to a diverse selection of delivery or pick-up locations. More fulfillment options lead to a more satisfactory shopping experience.
Reduces purchasing friction
When you make it easier for retailers to purchase from you and help them reach their business goals, you establish a sense of familiarity and reliability that encourages repeat business. For manufacturers and distributors, maintaining this level of trust is critical to growing market share and remaining on top in a competitive environment.
Enables faster growth for partners
By offering endless aisles, you increase the likelihood of meeting your retail partner's needs, which improves their business outcomes. By positively impacting their business, you fortify your partner ecosystem and stand out from competitors. Besides, having a robust partner ecosystem can help you navigate supply chain uncertainties.
Fewer incorrect orders and returns
With a wider selection, there's less uncertainty during ordering. This lowers the risk that the retailer and end-user will end up with the wrong product. The end result is greater satisfaction and likelihood of repeat purchases. There are also fewer costs associated with customer support, suggesting workarounds, and managing returns.
What are the challenges of the endless aisle?
With all the benefits of the endless aisle, you may be wondering if there are any downsides. Like with any new technology, there are some obstacles to keep in mind.
Technology and integration challenges
One of the main challenges is the lack of technical capabilities, such as data processing, integration of inventory systems, and real-time updates. Digital commerce software and enterprise resource planning (ERP) tools can help handle all these tasks. However, if they're not set up properly, you can experience serious inventory headaches. So, it's important to make sure you have the right tools in place to keep things running smoothly.
What is the best B2B eCommerce platform?
Explore our comparison of the top platforms on the market.
Educating retailers and sales associates
To ensure a successful endless aisle experience, retailers must invest time and resources into training their sales associates. This includes teaching them how the endless aisle works and how to assist customers with their purchases. It's also not uncommon for retailers to encounter some resistance from their associates. Managers and sales teams must work together to overcome these challenges.
Delivering complex customer experiences
For B2B businesses, customer experiences are rarely straightforward. You've got to manage multiple supply chain participants, analyze data, and reliably deliver personalized customer experiences. A big part of that means getting an understanding of the customer – their pain points, their expectations, and what and how they want to purchase.
Managing ongoing investment
Your endless aisle experience isn't a set-it-and-forget-it exercise. To stay relevant for your intended audience, you must continually tweak and improve. This means keeping up with the latest technology advancements and adapting your approach to maximize results.
The Essential Guide to Technology Change Management
How Animal Supply Company Maximizes Value for End Customers
Animal Supply Company (ASC) is on a mission to make shopping for pet supplies as convenient as possible. With over 7,000 retail customers and more than 15,000 retail outlets across the country. They wanted to improve the ordering experience for both retailers and end customers.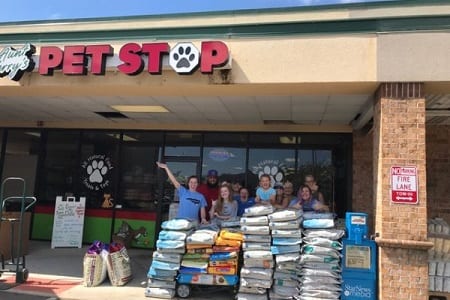 To achieve this, ASC already had an eCommerce platform and mobile app in place. But they knew they could do more. So they launched Animal Supply Connect – a digital eFulfillment and delivery solution that made direct-to-consumer retailing possible.
Thanks to Animal Supply Connect, customers can now enjoy direct shipment to their doorstep from ASC's warehouses, while retailers get a cost-effective way to fulfill orders from both digital and in-store sales channels.
But ASC didn't stop there. Their endless aisle strategy provides retailers with real-time updates and inventory accuracy, keeping customers informed about their orders. This strategy also allows ASC to offer a wider selection of products to shoppers in its retail partner stores, providing a broader range of options for pet owners.
Best Practice For Endless Aisles For Your Business
Are you looking to replicate the endless aisle in your business?  Here are some things to consider:
Robust eCommerce integration
Your eCommerce platform is the centerpiece of your sales technology. Aside from the features and capabilities to support your selling needs, it's important to ensure your platform integrates with all software in your tech stack, such as ERP, product management, inventory management, payment, and shipping systems, to ensure accurate product availability and status. It also needs to integrate with your partner's tech stack as well. 
Customer-centric focus
Your endless aisle should enhance the customer experience, not hinder it. Think about how your selling partners and vendors purchase. They shouldn't face friction or have to abandon their carts due to complicated payment gateways or fulfillment options. Ensure an intuitive search, navigation, product information, ordering functions, and mobile-friendly operation for on-the-go sales reps and customers.
Real-time data and order processing
Make sure your partners, salespeople, and vendors have access to 100% accurate information. This makes real-time data and order processing essential. Logging information in your order management system, sending out automated order confirmations, and shipment tracking information is key to keeping customers in the loop.
Flexibility and room for changes
Flexibility is also crucial, as you need solutions that can adapt to changing needs. Aside from workflow automation, user segmentation, and customization options, look for a modular architecture, support for headless eCommerce, and a powerful API that can connect with external systems.
Build trust post-purchase
Finally, don't forget about what happens after the purchase. This is your chance to truly inspire and delight your customers, and leave them feeling thrilled about the experience with your brand. You can achieve this by keeping track of their order history and making it simple for them to reorder. This demonstrates that you understand their needs and are committed to keeping their business running smoothly.
Start with the Right B2B eCommerce Solution
The B2B technology space offers numerous solutions to adapt to these endless aisle trends, but finding the right platform for your business requires considering three critical capabilities:
Robustness to support multiple selling channels, product lines, and scalability.

Support for your business hierarchies and structures of your partners.

Integration with your technology stack for real-time data retrieval and processing.
Besides that, the platform should be able to automate complex business processes, provide an intuitive shopping experience for customers, and adapt to changing customer and market needs. OroCommerce is a B2B-focused eCommerce platform that meets all these requirements.
With an open-source and API-first approach, OroCommerce offers customizable pricing engines, checkout workflows, segmentation, and reporting features. It also boasts an experienced partner ecosystem to help enterprises launch digital commerce stores that are robust, scalable, and flexible to deploy.
Seize the Endless Aisle Opportunity Today
It's not your grandfather's shopping experience anymore. With endless aisle technology, you can provide customers with an unbeatable procurement experience and strengthen your partner ecosystem in the process.
However, technology alone isn't enough. Your approach is just as important. At Oro, we know that no B2B business is alike. That's why we prioritize empowering our clients with full control over their endless aisle narrative. We work closely with them to achieve a customized and unique experience that fits their specific needs.
We want to hear about your endless aisle needs, so don't hesitate to get in reach out. Let's work together to bring your vision to life and provide your customers with the modern shopping experience they want, and deserve.
Get in touch with us to see how we can help!
Questions and Answers
What is endless aisle in eCommerce?
The term endless aisle refers to the practice of offering brick-and-mortar store visitors more products than are physically present in the store. This is achieved through the use of eCommerce interfaces accessed via touchscreens such as displays, tablets, and interactive kiosks strategically located throughout the store. Through these touchscreens, both consumers and sales representatives can interact with the expanded product inventory and make purchases beyond what is available in the physical store.
Does endless aisle work in b2b eCommerce?
Endless aisles can work for B2B brands like distributors and wholesalers that wish to improve the purchase experience for their customers. These benefits can trickle down to retailers and reseller partners that sell to consumers. However, it's important to realize B2B customers have more specialized needs and may require enhanced functionality, permissions, and personalization.
How much does it cost to implement an endless aisle?
The cost of implementing an endless aisle strategy varies widely depending on the industry, store size, product offerings, technology stack, and business goals. It typically includes hardware, software development, integration, including marketing integration, and ongoing maintenance and support. Costs can range up to hundreds of thousands of dollars.