This post was contributed by Jake Rheude from Red Stag Fulfillment
If you haven't seen it yet, take a second to read this poem. It's not Shakespeare or Robert Frost; it's called First lines of emails I've received while quarantining and it speaks volumes about how repetitive and cliched marketing emails have been as the COVID-19 pandemic has changed our lives and literally defined what is an essential business and what is not.
Is B2C and B2B eCommerce marketing in the age of social distancing, shuttered retail businesses, and skyrocketing unemployment easy? No, and you'd be crazy to argue otherwise. But it's still possible to get your message out there. In fact, some companies are doing a phenomenal job of reaching their audiences right now without sounding tone-deaf or resorting to trite expressions such as "in these trying times." Let's take a look at them.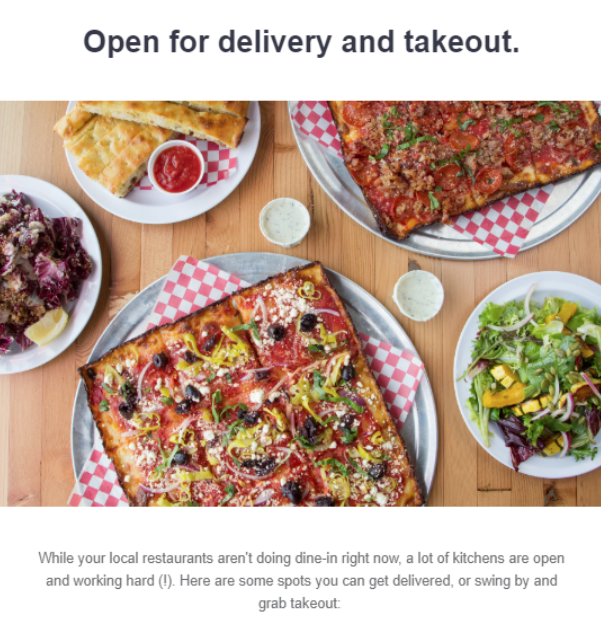 Caviar: Casual and Relevant
Caviar already has a leg up by being a service that people are already interested in – it's going to be a lot harder to sell people on lockdown trendy spring dresses or a great hiking backpack than food delivery. They know you miss eating out and want to support your favorite local restaurants, and they can make that happen for you.
They also know that you're worried about contamination. Further down in the email, they emphasize contactless delivery to alleviate those fears. Overall, Caviar spends less time talking in circles and bemoaning the situation and more time getting right to the point with a solution.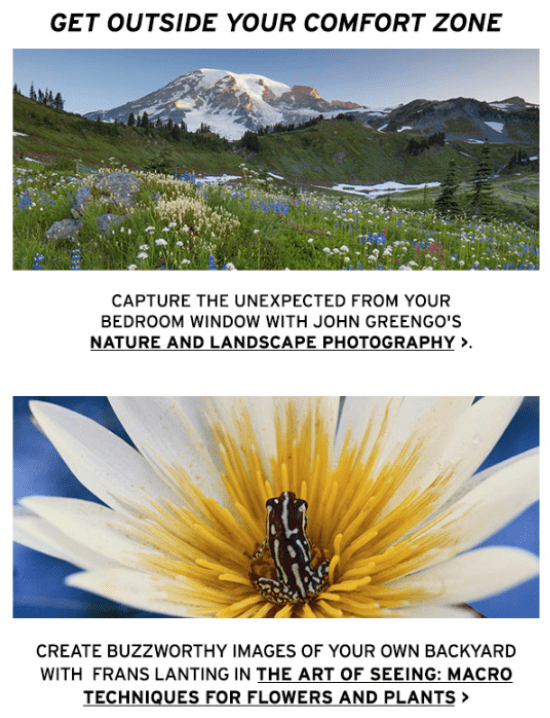 CreativeLive: Explore from Indoors
Like Caviar, CreativeLive is a great example of a relevant business positioning themselves as a source of potential comfort, distraction, or inspiration. They know that a lot of people are looking around a little aimlessly for something to do – and learning a new hobby or building some skills can be a great productive distraction from all that annoying existential dread. 
What makes this email especially poignant and understanding is that they don't just throw up an overwhelming list of classes you could be taking – learn watercolor! And pottery! And how to stand on your head! – they narrow in on one class and show how it can be applied creatively. When you would usually associate amazing photography with traveling the world, CreativeLive shows you that you have a wonderful view to take advantage of right outside your window.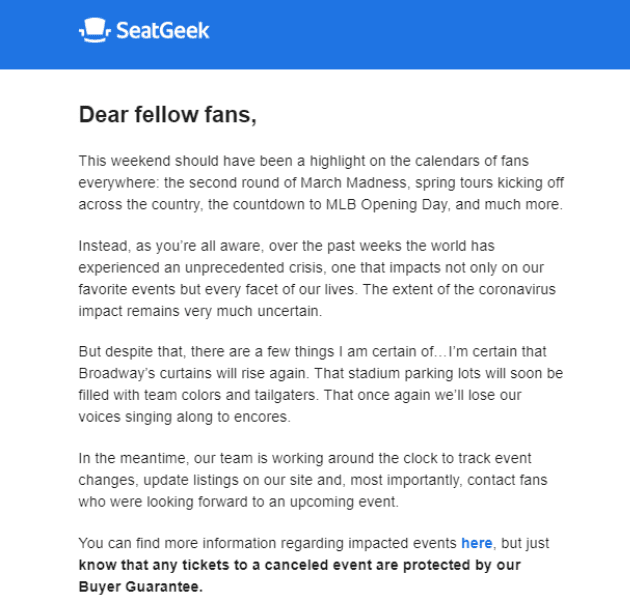 Seatgeek: Heartfelt and Reassuring
There are few industries hit harder than big live events, and Seatgeek sells tickets to basically all of them. How do you market to your customers when you have nothing to sell? You speak to them from the heart. This genuine email from Seatgeek's founder (subject line "from one fan to another" speaks volumes on its own) speaks to things we're all feeling right now – sadness, loss – and also points to hope for the future. He also reassures everyone that their tickets will be refunded for all canceled events, which is clearly at the top of a lot of fans' minds.
Brand awareness matters. Connecting emotionally with customers is a huge marketing win, even if you can't make a sale today (or this week, or this month). We all know that marketing isn't a sprint, it's a marathon and this type of connection matters for all those future sales.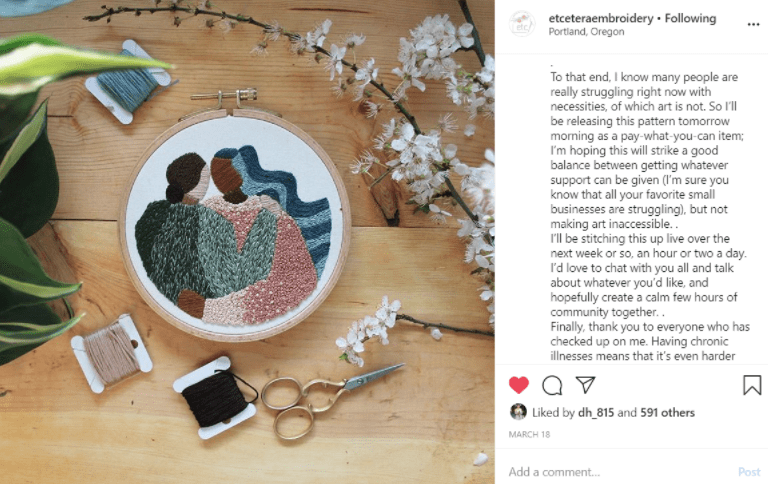 Etcetera Embroidery: Meaningful and Accessible
Another struggling segment: artists. How can people justify paying for art when they have bills and may be out of work? Many artists are trying to figure out how to make their own living while being sensitive to others' financial struggles.
Caitlin Rethwish, the artist behind Etcetera Embroidery, decided to meet this challenge with a pay-what-you-can embroidery pattern that she released for her followers, which allowed them to pay between $4 and 10 dollars. She recognized that many people were interested in learning embroidery because they suddenly had an abundance of free time, but also were stressed about financials. "I normally sell my patterns for $10 each, and implementing a pay-what-you-like pricing structure took my average order amount to $9. This also ended up being my third most-popular pattern of all time in terms of number of orders, and it's still getting regular sales" Rethwish says. "That indicates to me that, while my average order is slightly lower, I most likely got more sales than I would have if I had released it at full price only. I also received messages from customers who said they had been wanting to learn embroidery but couldn't afford most patterns on the market – they appreciated a thorough pattern in their price range."
As an artist, connecting with your fans is crucial, and a pay-what-you-can system is a creative way to make your art more accessible to others, but trust that enough of your audience will be willing to pay full price. Even if they don't, a goodwill gesture like that can be invaluable.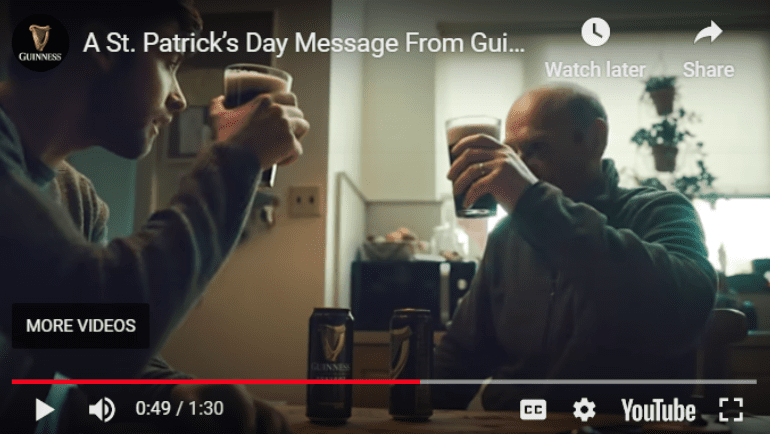 Guinness: Clever and Encouraging
Guinness and St. Patrick's Day: is there a more iconic pairing? However, on an unusually parade-less holiday, Guinness had an opportunity to spread a message other than visit your local pub to drink and be merry. Instead, they used their ad spot to create a clever and touching ad that encouraged viewers to consume responsibly from home, and remind them that there are better times ahead. 
When you're a large brand like Guinness you typically have a bit more financial leeway, and it can be well worth your time and marketing budget to create a clever PSA and genuine well wishes. Not only did the Saint Paddy's video garner well over 600K views–for reference, Guinness has a little over 13K subscribers on their channel–its engagement was overwhelmingly positive, with 2.6k likes, only 52 dislikes, and 208 comments. The top comment: "This has to be one of the most wholesome advertisements I've ever seen."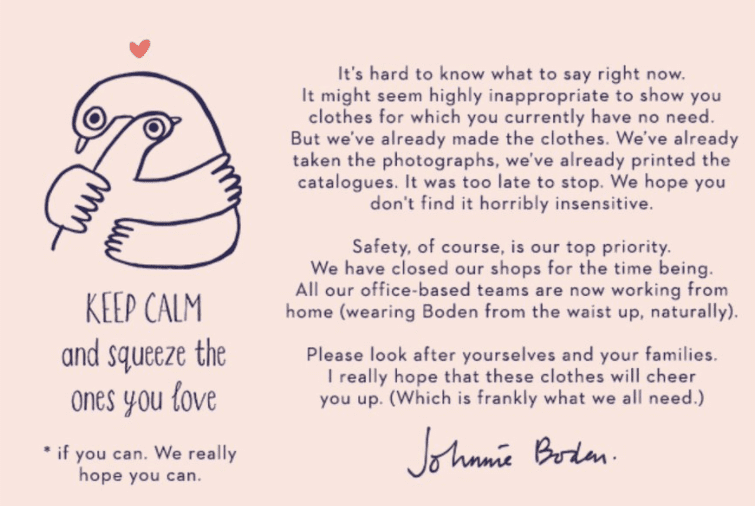 Boden: Endearingly Straight-Forward
Emails from companies can sometimes feel a bit too polished, formal, or disingenuous; buy this thing! Click here! 
Instead, Boden took the opportunity to write an email that felt like it was written straight from the heart of a real live person. It had a lot of honesty and just the right dash of endearing humor. They acknowledged how weird it felt to send out a marketing email with a new clothing line in the midst of a pandemic, but that the clothing was already made and the photos already taken. They also, very smartly, used the opportunity to stress that they were keeping their employees safe, which is a main concern for many consumers.
Ultimately, it can pay off to take a more low-key approach. Instead of heavy on the sales-y tone, acknowledging the elephant in the room (in a non-cliche way) and just saying that the products are there if the readers are interested, can at the very least endear your customers to you and make them feel less like they're being shouted at by hawkers through the screen.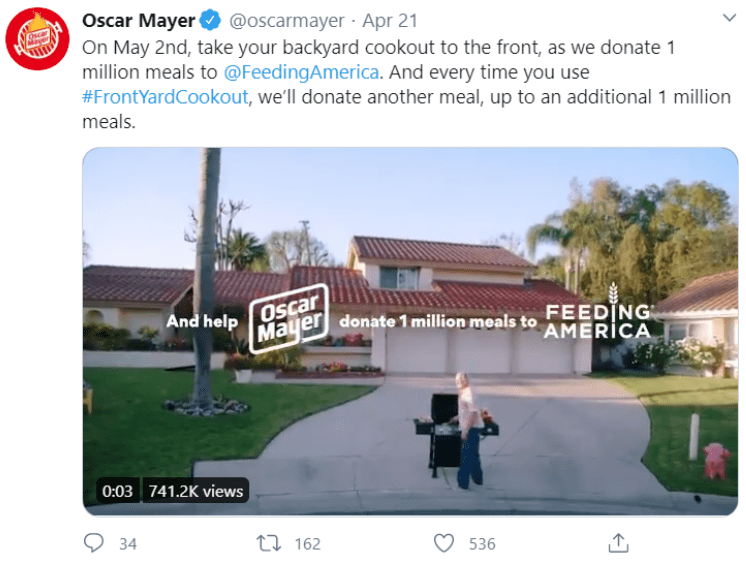 Oscar Mayer: Hashtag Generosity
What is a cookout without a crowd of friends and family surrounding us? Infamous hot dog company Oscar Meyer had to confront this very question – at a time when we'd usually be out grilling hot dogs at parties, we're inside wondering if the 4th of July BBQ should finally be cancelled.
They decided to promote a new vision: a socially-distant cookout. In and of itself, that's not groundbreaking, but they paired it with a meaningful giving season action: they donated 1 million meals to the nonprofit Feeding America, plus challenged followers to use their hashtag #FrontYardCookout and donate another meal every time it was used. They managed to combine a feel-good advertising campaign with a major signal-boost to an important non-profit in a way that didn't feel tacky or obnoxious. Oscar Meyer's video was viewed 4.3m times on Twitter, the post was retweeted 1.2K times, and food banks around the country benefited from this win-win social media ad.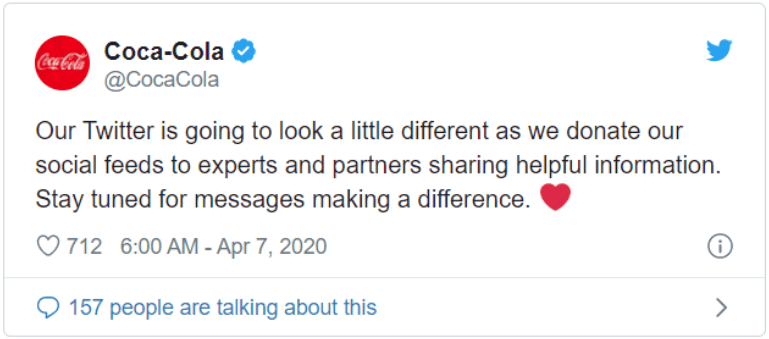 Coca-Cola: Meaningful Social Media
What can brands donate besides (or in addition to) money? And how much can you really tweet about safety guidelines and appreciating frontline workers before it just doesn't really have an impact? Coca-Cola has come up with a great solution to both of those issues.
Of course, brands can (and do) donate money, and can use their social media platforms for good things. But Coca-Cola actually donated their social media channels to nonprofit organizations like Feeding America and the Salvation Army, who can benefit from the incredible reach that Coca-Cola has. The intangible benefits of getting access to such a huge audience are almost unquantifiable.
The best part is, promotional messages from nonprofits who are directly helping during the crisis don't come off as exploitative or salesy, but instead necessary and important. And the PR boost Coca-Cola gets in the process sure doesn't hurt either.
So How Do You Market Your Company Right Now?
That will depend a lot on the industry you are in and the perception of your company, but you actually have lots of options. Amidst the ads that are cringey, over-the-top, or just pretend like nothing is happening, there are some great examples of marketing that you can draw inspiration from. Hopefully this list inspires you to come up with some new ways to emotionally connect with your audience and hit the right note.
About the author: Jake Rheude is the Director of Marketing for Red Stag Fulfillment, an eCommerce fulfillment warehouse that was born out of eCommerce. He has years of experience in eCommerce and business development. In his free time, Jake enjoys reading about business and sharing his own experience with others.