Loyalty programs, discounts, and other promotions are an intelligent marketing tool to drive revenue by encouraging targeted customer behavior. In 2017 alone, 84% of organizations surveyed plan to employ promotions during the year.

Oro understands the importance of promotions. That is why the Promotions functionality was introduced in OroCommerce 1.3. Here's a brief overview of how to structure effective promotions and how to make use of the Promotions function in OroCommerce.
New Promotions Function in OroCommerce
Deploying a tool to manage promotions has been a priority for Oro. OroCommerce 1.3 includes a powerful promotions engine that supports several promotion options. Currently, B2B sellers can configure promotions by:

Order

. The discount is applied to the total order amount.

Line Item

. A discount is applied to the line item's total.

Buy X Get Y

. Buyers order a minimum quantity of product (X) to receive a discount on item (Y). The discount can be calculated separately or on the total of both X and Y products. For buy one get one free offer, set the discount for Y item to 100%.  

*Teaser: In OroCommerce 1.4 to be released this fall, we are going to add one more discount option that will be applied to Shipping.
How to Configure Promotions in OroCommerce
Discount value
Discounts can be either a fixed amount (e.g. $20) or be calculated as a percentage reduction in the line item price or the order total (10%).

Schedule
You can easily set up the date and time to automatically activate and deactivate promotions. What's more, you can build a strategic schedule that includes multiple dates and times to run promotions. You can get as granular as setting your promotions to only run on weekdays during lunch.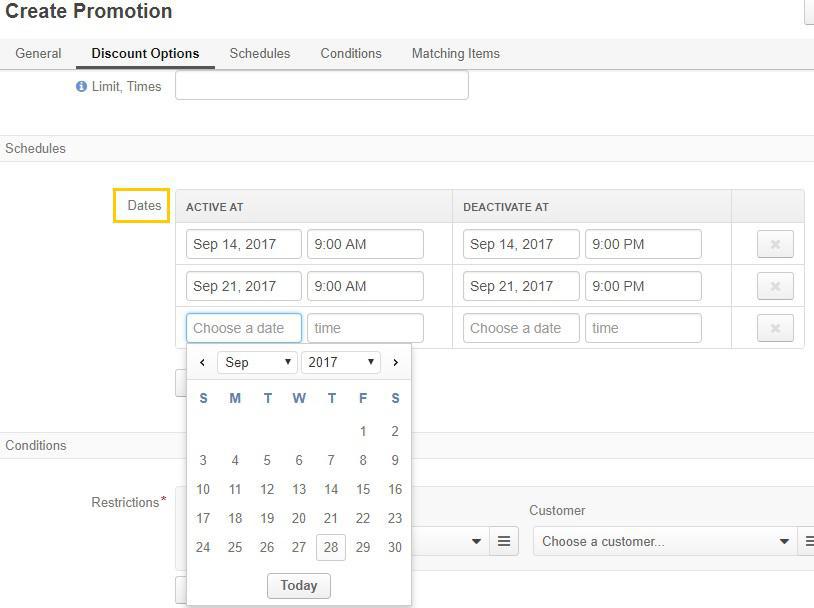 Restricted visibility
Promotions are displayed for any customer or any customer group by default. You can set visibility to target specific customers or customer groups. For example, you can segment and RFM-analyze your customer base to identify clients that buy high-margin products and offer them a discount without taking a hit to the bottom line.

Discount strategy
When configuring promotions, it's possible to choose a discount strategy to be applied to all promotions across the system. You can use all discount options in combination by selecting the Combine All Discounts strategy or select Best Value Discounts Only to apply a promotion that provides the best value to a customer or a customer user.

Priority management
When creating a new promotion, you can define its priority among other promotions applicable to the same product. The lower the number you specify, the higher the priority of the promotion. You can exclude promotions with lower priority to prevent combining of promotions. For example, you run three promotions for the same item with priorities of 1 to 3. If you enable the Stop Further Rule Processing option for the promotion with sort order 1, promotions 2 and 3 will not be triggered.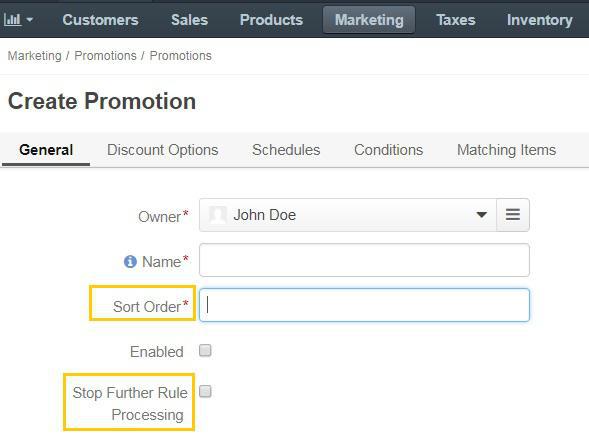 Detailed information on how to set up promotions is included in the Promotions section of the OroCommerce Documentation.
Using Discounts Effectively in B2B eCommerce
Promotions are not to be confused with sales. A sale is a temporary discount to reduce inventory levels or clean out old inventory. Whereas a promotion is a way to drive traffic, increase conversions, and induce the desired customer activity. Discounting is an essential marketing tool that can be strategically applied to meet corporate goals. Just slashing prices doesn't add value to your business. As this case from the Boston Consulting Group shows, discounting can backfire if not structured properly. A global medical company that sells custom products offered substantial discounts for large orders. As a result, customers held off ordering until they had an order large enough to qualify for the maximum discount. This led to large, infrequent custom orders which in turn challenged production. The answer? Restructure discounts to reward standing orders with delivery dates staggered throughout the year.
Effective promotions motivate buyers to act in a manner that ultimately adds value to your business.
These could be promotions that:
Move the purchase to higher margin products.

Switch the purchase to channels with the lower cost of Customer Service.

Result in a standing order that creates predictable demand.

Activate cross-selling of related products.
In a Nutshell
Promotions can be a powerful marketing strategy when deployed properly. Make sure your discounts work as intended.
Reward one specific pattern of buyer behavior.

If you aim to encourage first-time buyers, segment your client base accordingly and offer free product samples that compliment the first purchase (use the Buy X Get Y option in OroCommerce). Choose a Line Item discount on higher-margin products to reward repeat customers.

Limit the number of discounts.

This will make discounts look more exclusive and impactful. Configure an appropriate discount strategy and prioritize your promotions.

Ensure discounts deliver value.

Make sure that any discount will result in enough sales volume to maintain or increase your gross margin.

Source: http://www.business.vic.gov.au/money-profit-and-accounting/pricing/Discount-strategies
Harness the power of OroCommerce. Upgrade to OroCommerce 1.3 and start using the Promotions engine. Utilize the segmentation capabilities of OroCommerce to identify buyers with similar behavior and build promotions. Maximize your business by maximizing the power of OroCommerce.