B2B vendors traditionally build long-lasting relationships with verified buyers that make repeated and regular purchases at predictable intervals. Typically they didn't allow unregistered site visitors to view product catalogs or place orders. But with B2B buyers more demanding and the B2B marketplace more crowded, sellers must take a fresh approach to best the competition. Giving visitors the ability to interact with a webstore as a guest user is a highly-effective B2C tactic that can give B2B vendors a competitive edge and improve their outreach.
OroCommerce Enhances Guest Users Support
We are constantly enhancing OroCommerce's B2B functionality to meet the market's changing needs. That's why we have added a host of new features that support guest user activities.
In previous versions of OroCommerce, sellers could restrict the ability of unauthenticated site visitors to view product catalogs using customer segmentation in the backend.
With OroCommerce 1.3, we've introduced Guest Access Management functionality to give B2B vendors deeper control over guest user activity.
Here's what changed:
Different levels of guest access for site visitors can be configured in the backend;

Guest users can create guest shopping lists on the front end.



Coming in OroCommerce 1.4 and 1.5 ( to be released in Q4 2017),
Unregistered users can complete checkout as a guest and register afterwards;

Guest users can submit quick order forms and RFQs.
Here's how it works.
Configurable Guest Access
B2B businesses may choose to completely restrict guest access to their websites for many reasons. They may want to conceal products and prices from competitors. Or they may want to pre qualify buyers by order volume,  shipping territories or certifications.
In OroCommerce 1.3, store owners now have the flexibility to restrict access of anonymous visitors to the web store. Unless guest access is enabled in the system configuration, only customers who are registered, enabled and signed-in can view the website.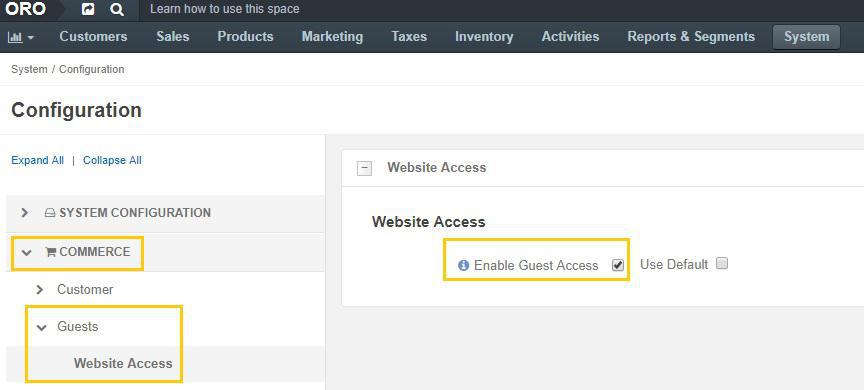 Three different guest access levels can be defined: global (shown in the screenshot above), per website or per organization.

If you disable guest access, new users can still register (if the self-registration option is active), but, the only page that is accessible is the login/forgot/reset password form page.

Learn more about defining different levels of guest user access in the OroCommerce Documentation.
Don't forget that  you can always manage the visibility of specific product categories or separate items to non-authenticated visitors using Customer Groups and Product Visibility features.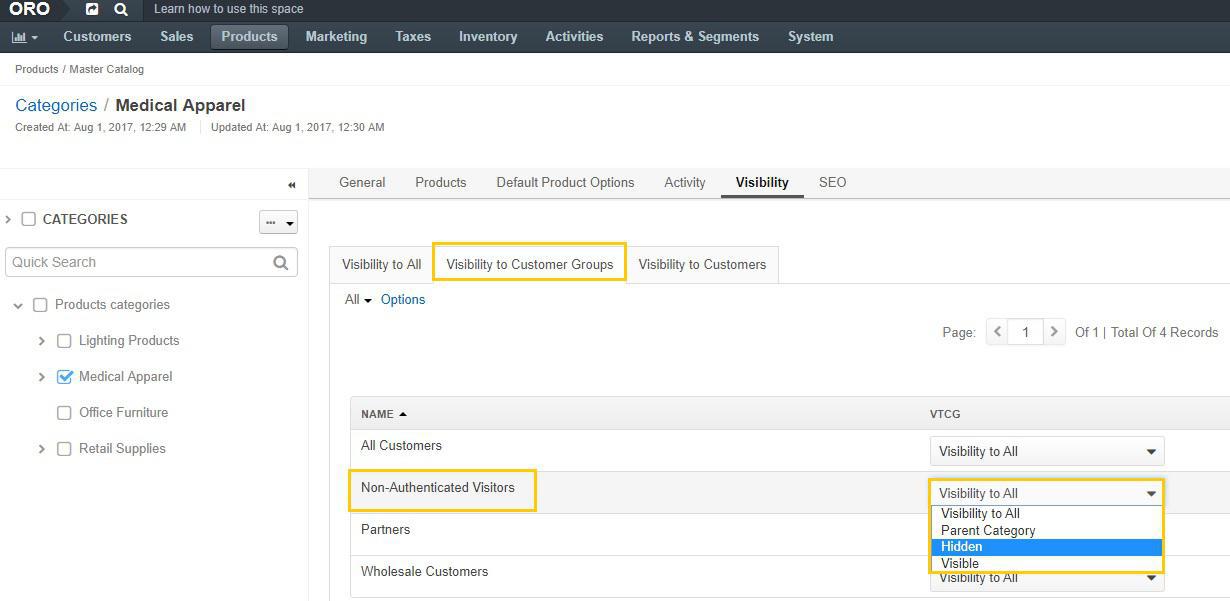 Limiting product visibility is much easier if you first unite the products in the same category. For example, create a category "Special Offers for Retailers", and then only enable the Retailers segment to view these premium products, deals, or prices.
Learn more about managing product visibility in the OroCommerce Documentation.
Guest Shopping Lists
You can allow site visitors that haven't  registered to select goods and add them to shopping lists. This option is disabled by default, it must be activated.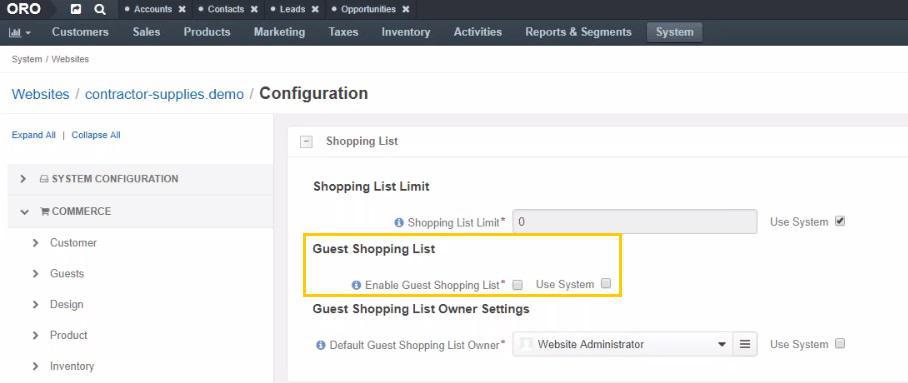 Similar to website guest access, access to guest shopping lists can be configured globally, per organization or per website.
Guest customers can use shopping lists the same way as authenticated buyers with a few restrictions. By default, a guest user can have only one shopping list per website and browsing session. The shopping list can be stored up to 30 days in a single browser. 
This is a nice feature to have when your operations or production teams are very sensitive to workload. You can still attract traffic to product pages and guests can evaluate your product offerings, prices and the total of a future purchase based on the shopping list they can create while sheltering production from an unexpectedly large order that can destroy your ability to promptly fill orders.
Additionally, because OroCommerce preserves information on site activity and interactions by guest users, you can use this data to anticipate orders from new users or adjust your marketing campaigns accordingly.
Learn more about creating and managing guest shopping lists.
With the release of OroCommerce 1.5, unregistered users will also be able to complete their orders with the Guest Checkout feature.
Coming Soon: Guest Checkout in OroCommerce
Almost three-quarters of shopping carts created are abandoned before checkout. 14% of web buyers abandon carts when they cannot check out as a guest. So, offering guest checkout may have a positive impact on cart abandonment rates. With the release of OroCommerce 1.4 and 1.5, B2B vendors can offer guest users complete checkout and minimize abandonment in the final stage of order submission.

The checkout flow for guest users is similar to the checkout by registered users. Your guest visitors will be able to checkout straight from a shopping list without sharing personal or business information.
Guest checkout will also be configurable globally, per organization or website from the system settings.
The storefront will enable unidentified customers to make fast purchases using a guest quick order form or submit guest RFQs on items in which they are interested. All the data on potential sales can be then processed and acted on by sales reps. Both guest quick order form and guest RFQ will be as easily enabled and configured as the guest checkout functionality.
Did you know that 30% of visitors exit the checkout flow when asked to register or sign up in the middle of the checkout process? With the implementation of OroCommerce 1.5, we suggest creating a guest checkout scenario that doesn't  interrupt the purchase. Guest users will be able to place an order with the option to register an account after they complete checkout.
Is Guest Access Right For Your Business?
There are pros and cons to allowing guest access. If steady, regular production or sales are key to your business model, guest access may pose a problem. Order volumes and frequency may be less predictable.  Customer satisfaction levels may dip as a result. However,  if your goal is to engage new customers and increase your average order value, giving site visitors the option to checkout as a guest could be a powerful tool.
Potential Business Impacts of Guest Access and Checkout
Allowing guest user access impacts your marketing and B2B sales strategy. Before making this important business decision consider the following.
With guest access and check out:
You can't verify user data before the purchase;

You can't capture  customer data for marketing purposes such as targeted email campaigns or abandoned shopping cart reminders;

Guest users won't have access to order history and associated data;

Guest order and history tracking are less convenient in the backend.
Without guest access and check out:
Your marketing outreach potential is limited, as the mandatory registration of an account has proven to increase cart abandonment;

The sales process must rely heavily on the efforts of the sales reps. Guest users won't have access to the self-serve model that typically completes 

50-90%

of the buyer's journey before they reach out to sales.
Fortunately, OroCommerce has the B2B eCommerce and marketplace website features allowing guest access as you want it. Easily customize very nuanced levels of guest user interaction and define how guests view the products, create shopping lists or checkout. Changes are so easy,  you can allow guest user access for the low production periods and restrict it again when the workload gets heavier.