February started off with supply chain challenges not resolved in January. Surging prices for semiconductors, raw materials such as steel, rising inflation, and worker shortages continued to pressure manufacturers and distributors. A ray of optimism glowed as the US-Canada border crossings reopened after being shut down by truck driver protests against COVID mandates.
But in late February, life for many changed drastically. When Russia invaded Ukraine, it affected everything from energy prices to the flow of raw materials while snarling supply chains, logistics, and financial markets. All major non-Russian corporations closed their operations in Russia and suspended eCommerce sales. 
In this round-up, we'll talk about new challenges faced by the B2B world, from supply chain disruptions to global financial challenges, energy prices, sanctions, trade bans, and more. We'll also look at how B2B eCommerce is evolving and explore how some B2B companies are digitally transforming their business.
Oro Stands with Ukraine!
The unprovoked Russian invasion of Ukraine wrought catastrophic suffering, fear, and terror on the civilian population. Oro has deep ties to Ukraine and we stand with her people. During this crisis, we are dedicated to helping our colleagues, friends, their families, and the people of Ukraine. Oro has been collecting donations to help Ukrainians fight back this aggression and support refugees seeking safety. 
If you would like to offer support but aren't sure what you can do, start by joining Oro in their stand against Russian aggression.
B2B And Business News
Russia invades Ukraine: impact on US business
When Russia invaded Ukraine, the impact was felt around the world. And it also shines a light on the far-reaching impacts of global trade. The American International Traffic in Arms Regulations and similar EU rules make it very difficult for Western companies to supply components for Russian military equipment but as the Ukrainian government is finding out, these components still make their way into the Russian war machine. US manufacturers are realizing they have little control once parts leave the plant. 
At the same time, US manufacturers like Boeing and GM are scrambling to find new sources for materials such as nickel and titanium previously purchased from Russia. 
IndustryWeek is curating stories from various publications about the effects of the conflict on B2B businesses, their operations, supply chains, and digital commerce.
Bookmark the IndustryWeek page and check it regularly for the latest updates.
Distinguishing Signal from the Noise: B2B eCommerce Trends for 2022 that Matter
To help B2B brands navigate the complexities of B2B eCommerce, we created a live, interactive, unscripted video podcast. The B2B Commerce Uncut podcast is a no-nonsense discussion with leading industry peers about everything B2B eCommerce-related. The first episode is in the can, but you can still subscribe to future episodes and even suggest future topics for upcoming podcasts. Every podcast includes a live Q&A session, so listen and get your questions answered.  
Listen to the premiere episode, Distinguishing Signal from the Noise: B2B eCommerce Trends for 2022 that Matter and subscribe.
Companies forced to take a stand
These days, what brands say and do matters. Millennials want to do business with companies and brands that align with their values. This is not only true for consumer-facing businesses but B2B businesses including technology companies. Companies are suspending operations and cutting their ad spend in the region. Messaging is crucial. The World Federation of Advertisers is urging brands to review and reconsider their media and marketing in light of the conflict.
Read about how brands are responding.
B2B eCommerce News
Major eCommerce slowdown in Russia and Ukraine
While eCommerce sees widespread international growth, the war in Ukraine is disrupting Russian and Eastern European markets. By the end of February, Russian eCommerce sales dipped 53% compared to the beginning of the month. At the same time, eCommerce sales to customers in Ukraine have dipped a staggering 96% since the beginning of February.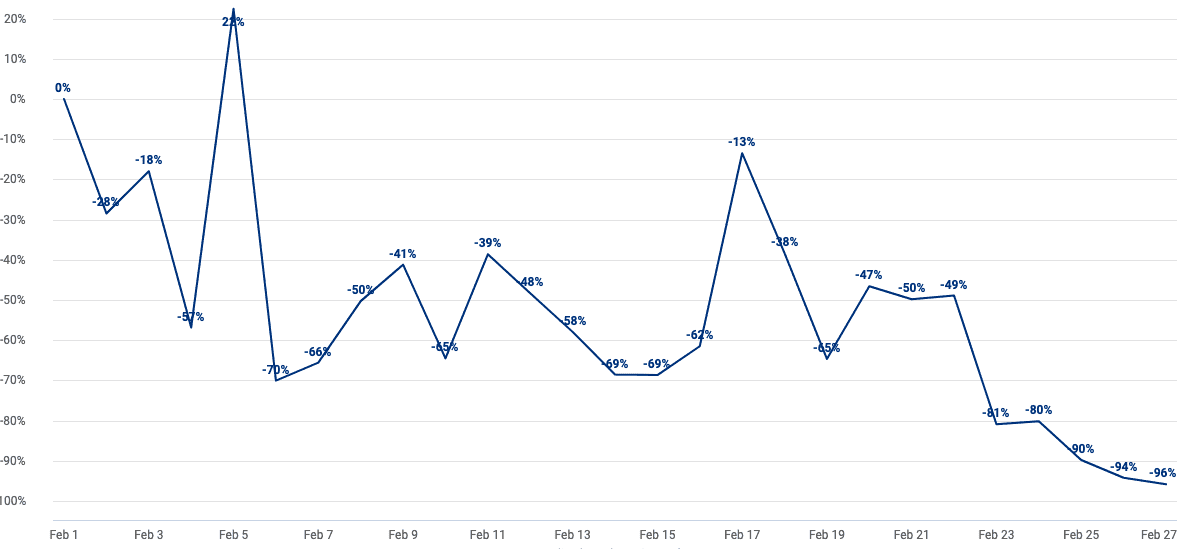 Read the article at FreightWaves.
Amazon suspends activity in Russia and Belarus
The digital commerce giant has suspended its retail shipments and cut off video streaming services in Russia and Belarus. This includes services such as AWS, Prime Video, and other multimedia streaming services. eBay followed suit, leaving the two countries without access to the world's largest retail giants.
Learn the full details of the Amazon ban here.
Digital commerce is top of mind among B2B sellers
According to a recent Digital Commerce 360 report, investing in eCommerce remains top of mind for B2B sellers. Businesses are increasingly allocating more resources to digital channels, and digital commerce platforms top the technology list. Survey results confirm that most sellers rank eCommerce platforms as their top area for investment.
Explore the findings in this recent Digital Commerce 360 Report.
Customer Experience News
Free Report: 2022 B2B Buyer Expectations Report
Business customers are purchasing online and for many B2B companies, digital channels represent a significant percentage of revenue. However, B2B sellers still hold many misconceptions about digital selling and what buyers really want. To get to the truth, we surveyed 100 senior-level business buyers and procurement professionals to determine their purchasing expectations and their actual experiences.
Supply Chain News
What's in store for global supply chains
The war in Ukraine will impact the global supply chains in ways the pandemic never did. While supply chains were already in crisis in the aftermath of the pandemic, resulting in shortages and disruptions, the war in Ukraine and ensuing Russian sanctions have introduced new fears and disruptions that dwarf pandemic-era concerns.
Find out how fuel, food, natural resources, and transportation are all impacted by war-related supply chain disruptions.
8 tips for exporting goods in 2022
On the sidelines of the Natural Products Expo West, PackWorld talked to Allan Christian, a senior international trade specialist. They discussed some of the best practices exporters should follow. One of these is being familiar with parties prohibited from engaging in trade or financial transactions with the US. He warns that the list includes more than just foreign entities but is also includes US entities that violated regulations.
Discover the full list of tips and takeaways.
Payment News
Today in numbers: corporate losses due to Russia exit
The list of multinational brands announcing their departure from Russia grew to include virtually every type of business, large and small. While top-line costs like loss of market share are significant, they pale in comparison to potential losses due to global economic slowdown and the cost of public condemnation for companies that decide to stay.
Here are the costs some of the largest corporations bear.
Visa and Mastercard blocked in Russia
According to Reuters, US government sanctions worked swiftly to cut Russia from global banking networks. Visa, Mastercard, and American Express dropped multiple Russian financial institutions from their networks. Reportedly, they are prepared to comply with any future sanctions. Other remittance providers like Remitly have also suspended transfers in Russia.
Learn more about the impact of war and sanctions on remittances across Europe in this eMarketer article. 
Workplace Safety News
Labor shortages won't be solved with technology alone
Productivity in 2022 remains challenged by ongoing labor shortages. As companies continue to turn to technology, it's becoming clear that without proper planning and managing implementation, benefits may be elusive.  EHSToday explores various best practices, considerations, and recommendations to overcome risks when implementing new technology to offset labor shortages.
Read the complete EHSToday article.
B2B eCommerce Success Stories
Government B2B marketplace CoProcure nets $22m
CoProcure is a San Francisco-based B2B GovTech marketplace that saves public agencies time and money during the purchasing process. Digital commerce is not just for B2B businesses – local and state governments are moving more activities on digital platforms. A big part of that is digital commerce. Aside from helping governments in their procurement efforts, the platform is also designed to allow adjacent agencies to piggyback off these contracts.
Indian construction giant embraces B2B eCommerce
Construction giant Larsen & Toubro launched a new B2B eCommerce platform for industrial products and services. The company aims to address inefficiencies in the Indian supply chain and assist small to medium-sized enterprises to digitally source their industrial supplies online. The online store hosts products spanning 40 categories across the pan-Indian region. It also offers customers seller tools, delivery options, and negotiation capabilities within the platform.
Ukrainians are fighting for their right to live free and in peace on their own land.
We'll be updating the page and sharing more information as it becomes available.