The COVID-19 pandemic has had a significant impact on the world's economy and businesses. As a result of the restrictions and lockdowns, businesses had to close offices and factories and move to remote work. This sudden shift to a virtual workplace has led to an increased reliance on eCommerce for purchasing goods and services, especially in the B2B sector. And we're finally beginning to see the results of this transformation.
In 2022, businesses achieved record-breaking sales through digital channels, indicating a growing recognition of the value of eCommerce in today's business landscape.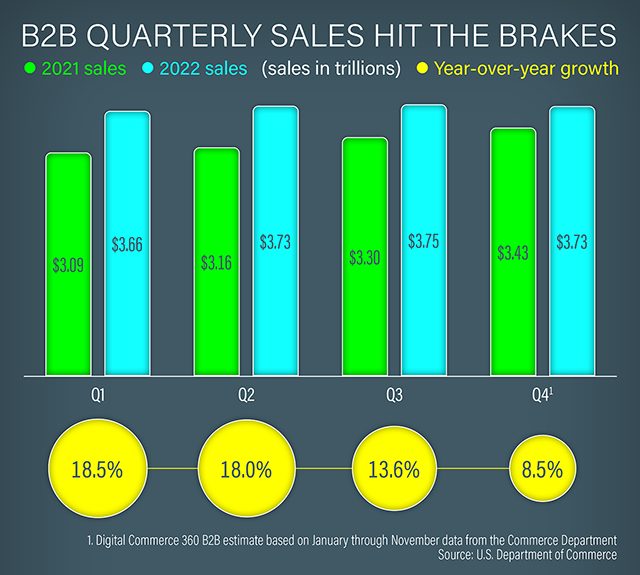 However, what is driving this trend is the evolving patterns in consumer purchasing behavior. Digital commerce platforms are quickly replacing traditional shopping experiences, and customers expect personalized experiences that cater to their specific needs.
According to Statista, 61% of Gen Zs expect all shopping to take place online within the next decade. Moreover, 45% of them are likely to leave a website if it fails to anticipate their preferences accurately. These preferences have significant implications, not only for how businesses structure their online presence but also for their ability to meet customer expectations. As these trends continue to develop and become more established within the consumer sector, they will make their way into B2B commerce.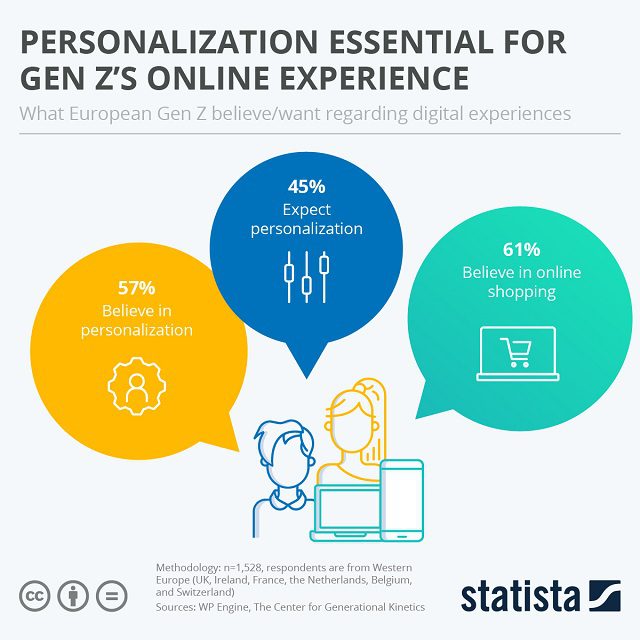 B2B eCommerce News
The numbers are in: 2022 was the best year for marketplaces
According to Digital Commerce 360 research, overall online sales on B2B marketplaces skyrocketed to $112 billion in 2022, doubling the figure from the previous year, which was recorded at $56 billion. Their research also revealed that the United States saw a remarkable rise in the number of new marketplaces. In just a few years, over 400 B2B marketplaces were created, up from only 100 just a few years ago.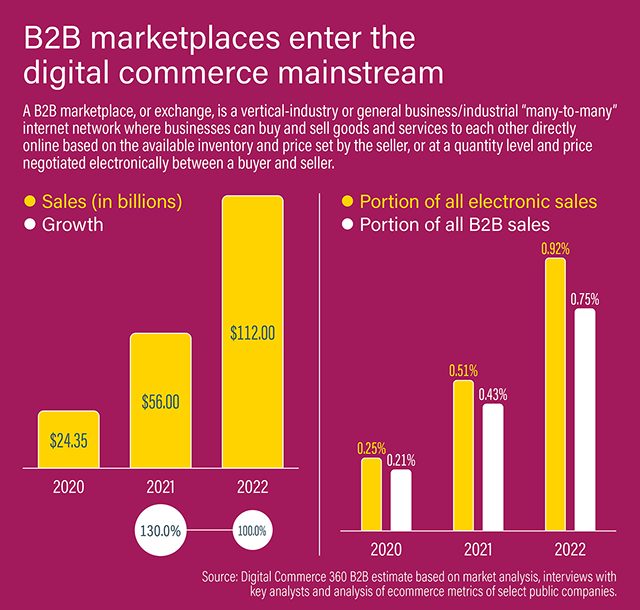 Read the full article on B2B marketplace trends.
PBEXPO 2023: Digital technology in aviation
Held from March 9 to March 10, PBEXPO 2023 is the ultimate technology trade show for the aviation and aerospace industries. This year's event promises to be bigger and better than ever before, featuring more than 75 speakers who will be covering a range of digital innovation topics in the industry – including the role of digital commerce tools in aviation. Nearly 2,000 companies will be present and more than 5,000 visitors are expected to attend.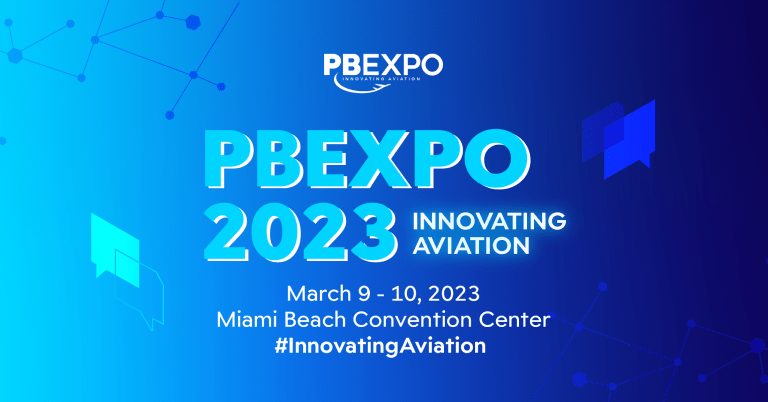 Find out more about PBEXPO 2023: Innovating Aviation.
Younger workers at odds with companies over value systems
The labor market and economy faces an uncertain future ahead, and younger workers aren't sure how they fit in the picture. EHSToday's article examines how Gen Z's career choices and work habits differ from those of older generations, and the implications for companies as they navigate a changing workforce.
Learn more about work trends at EHSToday.
B2B Manufacturing News
Is it time to end Chinese access to American technology?
With Beijing's recent balloon flight over the continental United States causing concern among policymakers, many are wondering about Washington's long-term strategy towards China. In a recent IndustryWeek piece, William J. Jones provides his insights on the matter. He analyzes the strategies the US government can potentially adopt to limit Beijing's capabilities in the technology and manufacturing industries at large.
Read the article on IndustryWeek.
What eCommerce strategies work for manufacturers in 2023?
Curt Anderson, a seasoned veteran of the B2B eCommerce industry, is also the founder of B2Btail, a resource guide that helps manufacturers take their digital strategies to new heights. During the interview, Curt shared some of his valuable insights on what really works (and what doesn't) for manufacturers, including the most effective digital strategies and essential tips to keep in mind.
Read more in this article from Thomas.
B2B Distribution News
The five trends of robotic innovation in factories
According to the International Federation of Robotics, the number of operational robots worldwide reached a new high of approximately 3.5 million units in 2022, with installations valued at around $15.7 billion. Moving forward to 2023, IFR has identified five significant trends that will influence the development of automation and robotics in the upcoming year.
Read the article on the Packaging World website.
How will diverse workforces help industrial brands?
Lisa Block, the chief revenue officer of Hybrid Manufacturing Technologies, recently discussed with an interviewer the gender gap in additive manufacturing and the potential benefits of a more diverse workforce for America's manufacturing sector. Block is an advocate for diversity, equity, and inclusion and serves on the board of directors for Women in 3D Printing.
B2B Marketplace News
Two fintech firms team up for B2B marketplace payments
Trustshare and Two are two fintech firms that promise to shake up the industry with new marketplace finance and payment services to help out small and mid-sized businesses. Their timing couldn't be better – it comes after B2B marketplaces in the US saw a 100% year-over-year growth, with sales reaching a whopping $112 the previous year.
Read more about the success story here.
B2B eCommerce Success Stories
How an engine parts manufacturer succeeded with eCommerce
To cater to the needs of their small and mid-sized distributors, Dayco has come up with an innovative solution. They've developed a B2B eCommerce site called the "Dayco Digital Garage" which can be found at DaycoAftermarket.com. This platform provides a helpful and user-friendly way for their customers to purchase a wide range of Dayco products, including engine belts, front-end drive system components, hoses, and tools.
Read the success story about Dayco here.
Moroccan B2B e-commerce startup Chari banks $1m from Orange Ventures
Chari, a B2B eCommerce startup that specializes in fast-moving consumer goods (FMCG) and provides embedded financing, has just secured a major investment of US$1 million as part of its latest funding round. This investment was made possible by Orange Ventures, a leading global venture capital firm that is committed to supporting innovative startups in emerging markets.
Read the success story about Chari here.
How eCommerce shields Latin companies from economic downturns
As a response to the rising demand for more efficient supply chains and the increasing digitalization of the economies in Latin America, there has been a significant increase in the number of business-to-business (B2B) marketplaces in the region.
This trend has gained popularity, driven by the need to improve cross-border trade and enhance the prominence of businesses in the global eCommerce market. As a result, many companies in Latin America are now actively seeking opportunities to expand their operations and reach new markets.
Are you a mid-market distributor looking for more actionable advice?
Download Case Study: How Midmarket Distributors Compete With The Goliaths.