B2B eCommerce has never been more essential. Even before the COVID-19 pandemic drove more purchasing online, leading analysts were predicting tremendous growth in the B2B eCommerce sector. Prepandemic estimates put global B2B eCommerce at $6.6 trillion this year and US B2B eCommerce at $1.2 trillion by 2021. Seeing the positive results from early adopters, other B2B biz owners are investigating their own digital transformation to start reaping the benefits of moving sales online.
But like all investments, decisions center around questions about the return on investment (ROI). From wondering what is a good ROI for eCommerce to determining appropriate eCommerce ROI benchmarks, uncertainty about the technology spend abounds. To help out, we've put together this bird's eye view of the B2B eCommerce ROI model and even provided an easy-to-use eCommerce ROI calculator to help you assess your company's numbers.

Factors Affecting the eCommerce ROI Model
Determining B2B eCommerce ROI should be a straightforward financial analysis to determine if a website will be successful and how long it will take to achieve the desired results. But you can also use eCommerce ROI calculations to estimate the projected increased revenue that will be generated by selling online.
The eCommerce ROI model represents a comparison of the gains from investment to its costs. The higher your eCommerce ROI, the greater the payoff in investment in digitizing sales. The basic B2B eCommerce ROI formula is: 
(Profit from the Investment – Investment)
_______________________________      X 100
                     Investment
Using the eCommerce ROI model properly requires gathering data and creating assumptions. You must calculate the total cost of ownership of the eCommerce platform and compare it to the total potential cost savings, revenue gains, and business efficiencies. Here's how to factor the different elements of B2B eCommerce ROI. 
Determining the Total Cost of Ownership
When comparing the many different B2B eCommerce platforms, don't focus solely on the acquisition cost. That's only a portion of the cost and to properly calculate ROI for eCommerce you need to know the Total Cost of Ownership (TCO). This is the cost to acquire, implement, and operate the B2B eCommerce platform. So, in addition to the software purchase price, you must factor in the costs associated with implementing the software and maintaining the system including future operating expenses such as upgrades, installations and integrations.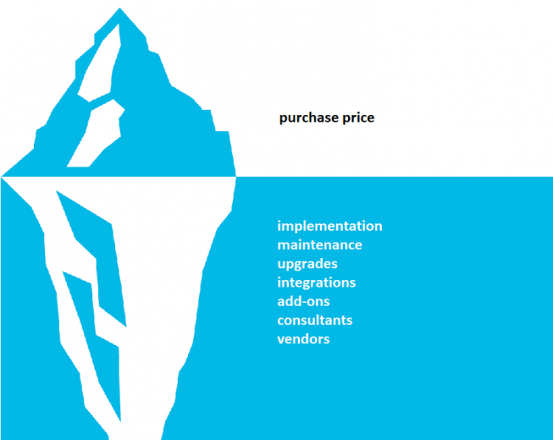 eCommerce TCO is more than just the annual license fees. Often that initial license fee doesn't represent the true acquisition cost. There can be extra charges from vendors for services or capabilities you may assume to be included. When comparing products, it's important to fully understand what's included and what's extra. Ask if there are limits to the number of SKUs, orders, transactions per month, integrations, users, or bandwidth for SaaS solutions. Get a detailed list of the features and services that are included with the license. Find out what additional services you will need and their associated costs. For example, is 24/7 customer support included or extra?
Now determine the costs to set up and maintain the eCommerce platform. For on-premise solutions, add in costs for building and maintaining the necessary infrastructure and staff to operate the installation. If you aren't interested in expanding your IT resources, then a cloud-based B2B SaaS solution might be better for managing hosting, upgrades, maintenance, and security. Cloud solutions may simplify operations, but these services do come with a cost. Make sure you have a detailed list of all associated costs. 
Once you determine this portion of the eCommerce ROI model, it's time to estimate the sales, benefits, and savings that enter into the rest of the equation.
Benefits of B2B eCommerce
Moving to online sales improves efficiency and reduces costs. Here are some factors you should consider when calculating the profit from your investment. 
Ease of scalability and growth
By digitizing commerce, sellers extend their domestic and global reach without investing in new offices and additional personnel. Best in class eCommerce platforms allow management of multiple organizations and brands as well as supporting multiple sites from a single central admin console. When you decide to expand to international markets, different time zones won't be an issue for foreign customers. Because your site works around the clock, customers outside of your geographic location or time zone will be able to order online 24/7/365 without waiting to interact with your salesforce during working hours. Your operating and revenue-generating hours can increase by up to 200% without the need to invest in new brick and mortar locations, new staff, hiring, and training. 
Reduced costs per order
The cost for a B2B company to take and process an offline order can be anywhere from $50 to $150. Implementing a B2B eCommerce solution can reduce these expenses by an average of 25% while providing customers the self-service model many of them want. Modern eCommerce sites allow customers to see real-time item stock availability, place and edit orders, track order shipping status, and quickly reorder products without assistance from the sales or customer service staff. While businesses reduce the labor costs related to order management, salespeople evolve from order takers into product experts and advisors and focus on new revenue-generating opportunities.
Decreased operating costs
Because B2B eCommerce sites allow buyers to self-serve, businesses can minimize the costs associated with errors in manual order entry and processing. Wrong products, shipping to wrong locations, and incorrect item quantities are just a few examples of profit-wrecking mistakes that are easily avoided with online ordering.
Decreased marketing costs
With a B2B eCommerce platform in place, you can slash spending on production and distribution of hardcopy marketing materials. Instead of printing and mailing expensive paper catalogs and marketing brochures that are not tailored to the buyer's preferences, you create highly personalized web catalogs that are easily revised and updated in real-time.
Increased number of orders and average order value
Digital commerce allows you to gather data to increase the number of orders you receive as well as increasing the average order value. Both of these factors contribute to positive eCommerce ROI. By tracking customer buying patterns and preferences, you'll collect data to develop personalized marketing plans. Most clients respond positively to personalized products and promotions. Automated cross-selling and up-selling grows the average order value (AOV) and generates additional revenue. 
Oro's B2B ROI Calculator Makes Planning Easier
Deciding to go digital is an important strategic decision. In the post-pandemic economy, it's a decision that can't be delayed. Getting your eCommerce strategy implemented will require an injection of capital, but in a world that makes no-contact transactions essential, it's an investment in survival. Implementing a purpose-built B2B eCommerce platform unlocks numerous sales opportunities. To stay competitive and meet customer expectations you must sell online. Take the first step in doing so with our calculator.

To help you evaluate the economic impact of going digital, assess projected revenue increases, and estimate the time to ROI, we've built a smart, interactive B2B eCommerce ROI calculator. This easy-to-use tool calculates results for your specific business environment.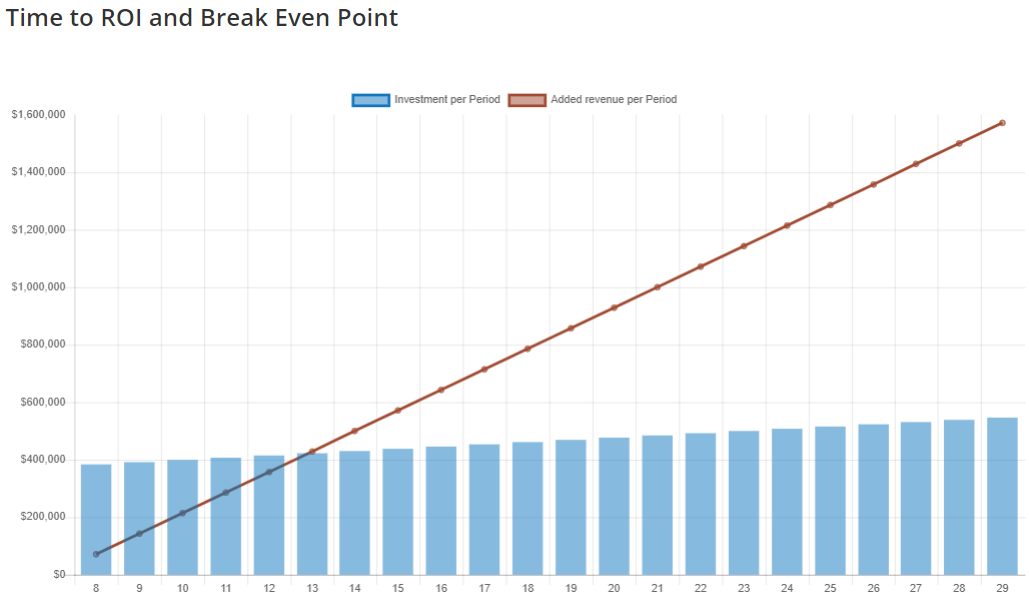 Start with basic projection calculations then drill down to evaluate other factors that influence your B2B eCommerce ROI. Estimate new revenue opportunities, potential cost reductions, and savings along with improved operations productivity. Use the tool to set eCommerce ROI benchmarks when you are ready for implementation.
This B2B eCommerce ROI calculator can estimate the ROI for Oro's digital commerce and marketplace management solutions. It can also be used with custom calculations for other implementations. Just use the default numbers or enter your own data to adjust and fine-tune the results. It's perfect for evaluating multiple solutions to help you select the right eCommerce platform for your company.