Changing times is a defining moment for leaders and organizations. The moves made today will enable them to sail past competitors and emerge stronger after the storm passes. In other words, making the right investments in technology is more important than ever.
Founded in 1979, Gartner Inc grew to become the leading research and analyst firm helping businesses and IT professionals in their strategic technology decisions. Every year, the company publishes the Gartner Magic Quadrant, a famous and often-cited graphic targeted at various IT product categories.
In this post, we explain everything there is to know about the Gartner Magic Quadrant for eCommerce Platforms, how it works, how to use it, how Oro's position changed during the years, and why we believe we were recognized.
Understanding the Gartner Magic Quadrant for Digital Commerce
Ask anyone in the IT industry about "the latest MQ report," and they'll know exactly what you're talking about. That's because the Magic Quadrant is the most often referenced report in the software vendor and buyer circles.
The Gartner Magic Quadrant for Digital Commerce Platforms ranks key players in the eCommerce space on their completeness of vision and ability to execute. Every year, Gartner selects vendors based on several factors, including their revenue, product capabilities, customer focus, etc. These companies fall into one of the following four quadrants or categories:
The upper right section is the "leaders" quadrant, which features companies that Gartner believes have demonstrated a high ability to execute, a strong roadmap, and understanding of the industry.

The upper left section is the "challengers" quadrant, which includes vendors that are leading in their industry so far, but might miss the mark on what customers will demand in the future.

At the lower right is the "visionaries" quadrant, which represents businesses that understand where the industry is headed, are quickly innovating, but may not execute the vision well.

At the lower left is the "niche players" quadrant, representing vendors that focus on a small segment of the market, and may not offer a clear vision and execution.
How to Use the Magic Quadrant for Digital Commerce
The Magic Quadrant is an easy-to-read snapshot of the eCommerce vendor market. It helps buyers analyze vendor positions in relation to their competitors, enabling them to make informed decisions. 
When reading the Magic Quadrant, buyers should take the following into consideration:
It's important to note that a highly rated vendor in the Magic Quadrant doesn't necessarily mean that their products and services meet the needs of the market. Nor does it mean it will meet the requirements of every sales model, salesperson, or customer.
Secondly, how vendors are positioned relative to one another, as well as the criteria upon which they're evaluated on may not fully align to every organization's needs.That's why being recognized as a "Niche Player" is not inherently undesirable. In fact, Niche Players are often the best choice for organizations with highly focused platform needs.
Thirdly, vendors may be added or removed from the Magic Quadrant as the market trends, market needs, and customer expectations change. Gartner discourages comparing vendor positions year-to-year, as the industry evolves, new vendors get included while others dropped, and vendors can adjust their strategies and vision.
Why Gartner Recognized Oro In the Magic Quadrant and Other Gartner Industry Reports
A Visionary in the 2022 Magic Quadrant
Garnter published their latest Magic Quadrant for Digital Commerce in August 2022.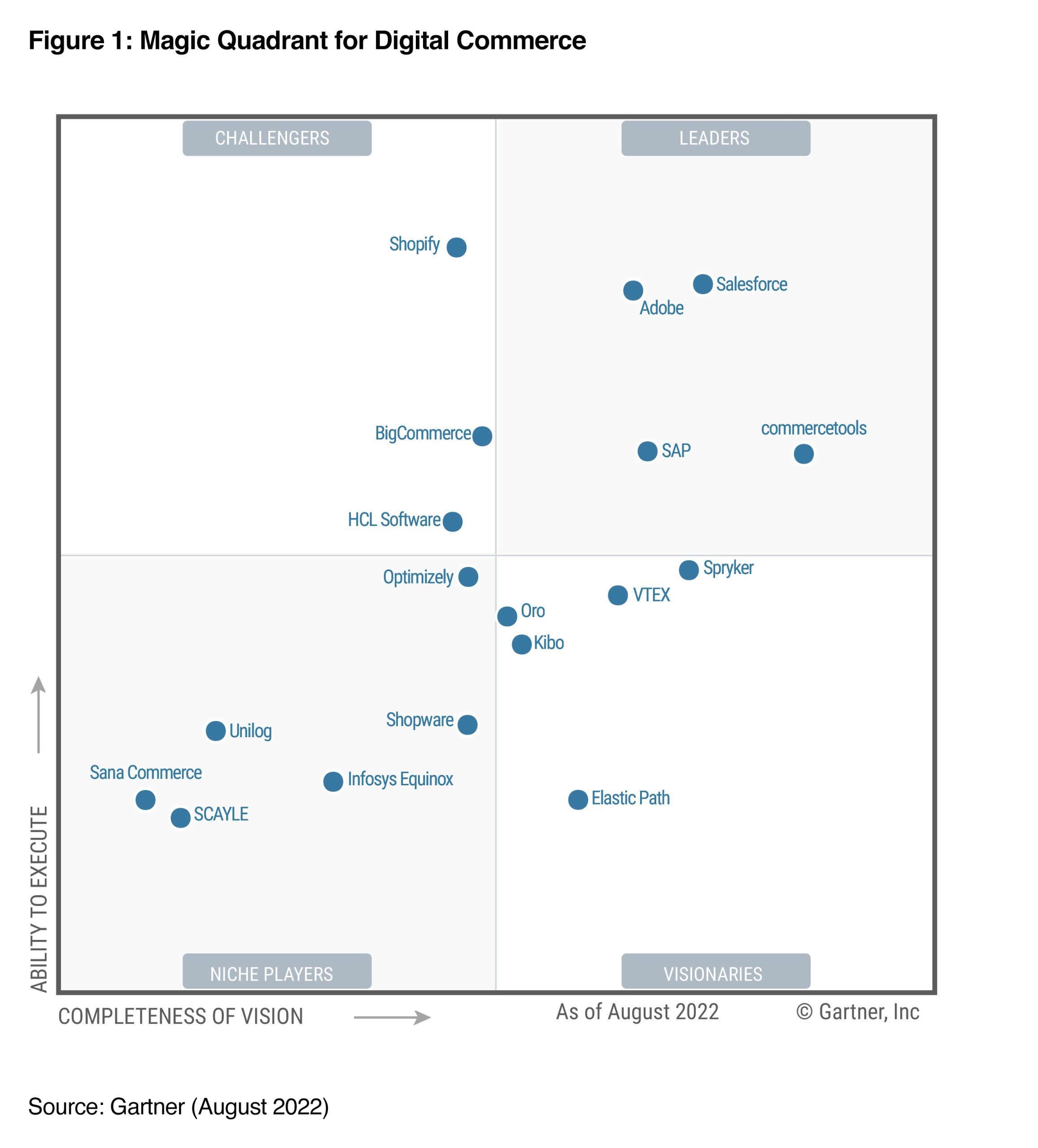 Oro was placed in the Visionary quadrant for the first time – the third consecutive year Oro was recognized in the report. We at Oro believe this recognition is due to our focus on the B2B buying journey, B2B seller needs, and capabilities that matter to B2B businesses. These include:
B2B eCommerce
Oro's solutions were built for B2B businesses from the ground up. Corporate accounts, granular control permissions, product catalog management, and flexible asset management are some of the functions that come out of the box.
Integration with CRM
Oro is one of the few solutions that come with a built-in CRM to complement the eCommerce platform. The in-depth integration results in stronger lead management, reduced time-to-market, and implementation costs.
Open-source flexibility
Oro offers virtually limitless flexibility due to its open-source architecture, as well as some of the most advanced B2B features on the market – all without sacrificing performance and reliability.
Workflow automation
Oro's workflow engine powers many enterprise processes, including lead management, request for quote (RFQ), configure price quote (CPQ), approvals, checkouts, and order fulfillment.
Diverse selling scenarios
Oro is designed to accommodate B2B, B2C, B2BX selling, multiple selling scenarios out of a single platform, as well as enterprise marketplaces. 
Internationalization
Oro is perfect for cross-border eCommerce, as it supports multiple branded websites, warehouses, geographies, languages, currencies, and location-specific payment options.
Customization potential
The platform's customization potential is evident by its diverse developer ecosystem and customers in medical supplies, chemicals, electronics, automotive, FMCG, and more.
Additional Gartner recognition in 2022
The Gartner Magic Quadrant research is accompanied by Gartner Critical Capabilities research, giving technology buyers even greater insight into eCommerce product and service offerings.
While the eCommerce Magic Quadrant is a broad look at where vendors fall in the market, Critical Capabilities examines vendors based on their capabilities according to distinct use cases. The goal is to help sales professionals identify high quality vendors and make the best purchase decision.
In the second year of its inclusion in the report, Oro placed #2 in the B2B eCommerce Use Case, ahead of vendors like HCL Software, Adobe, BigCommerce, and 14 other eCommerce platforms evaluated. Oro was placed in the upper range for B2C and B2B Digital Commerce on the same Platform.
2022 Gartner Critical Capabilities for Digital Commerce
Discover why Oro was recognized for B2B Digital Commerce Use Case for the second year in a row!
Oro was also ranked highly for two critical capabilities: Complex Environment and Globalization. We believe this recognition is due Oro's ability to:
Support B2C, B2B, and B2B2X commerce scenarios from one platform.

Accommodate complex corporate structures and multiple warehouses.

Manage configurable products, multi-level quotes, and approvals.

Support for multiple websites, languages, locations, and currencies.

Utilize a workflow engine for pricing, promotions, and taxation rules.
Additionally, Oro was included in the 2022 Gartner Market Guide for Marketplace Operation Applications report. Just in time for OroMarketplace's one-year anniversary, we were thrilled that Gartner has recognized Oro in the second consecutive year.
What's more, Oro is only one of three vendors recognized both in the Magic Quadrant for Digital Commerce and the Gartner Market Guide for Marketplace Operation Applications this year.
Previous Oro Mentions in Gartner Reports
In the upper range of Niche Players for 2021
For the 2021 Magic Quadrant report, Gartner analyzed 17 digital commerce platform vendors. It was the second consecutive year Oro was recognized as a Niche Player in the eCommerce quadrant. This time, however, Oro was recognized in the high-end of the Niche Player quadrant in both completeness of vision and ability to execute.
The standout news of the year? Oro nabbed the #1 spot for the B2B eCommerce Use Case in the 2021 Gartner Critical Capabilities for Digital Commerce. The recognition was a testament to everyone's hard work, dedication, and vision up to that point, and we're incredibly proud of this achievement.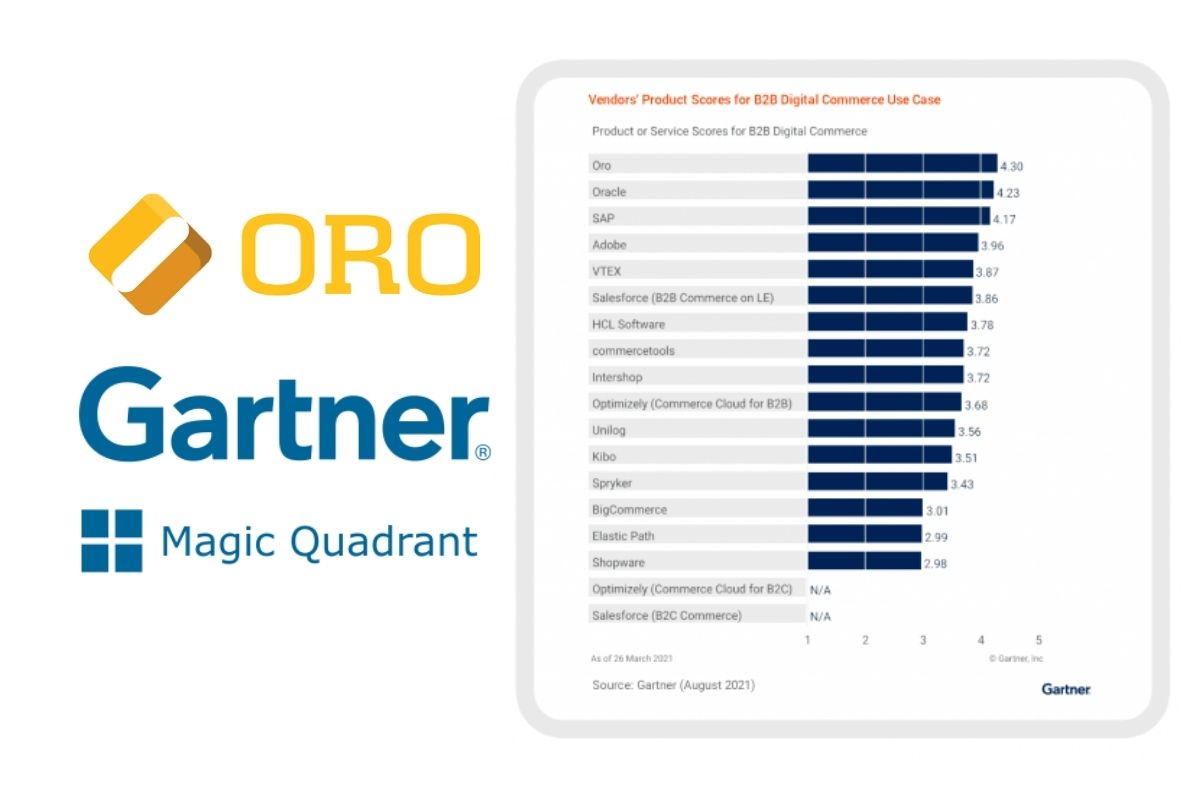 It was also Oro's debut appearance in the Gartner 2021 Market Guide for Marketplace Operation Applications. In its first-ever report of its kind, Gartner selected a small number of marketplace vendors based on their ease of setting up, operating, and maintaining an enterprise marketplace.
Oro debuts in the 2020 Magic Quadrant
OroCommerce was released in 2017, marking Oro's foray into digital commerce. Gaining a spot three years later in the 2020 Magic Quadrant for Digital Commerce was nothing short of extraordinary. In fact, OroCommerce was the youngest vendor to enter the Magic Quadrant that year, which speaks volumes of the leadership, vision, and the hard work of Oro's founders, teams, and ecosystem.
In being recognized as a Niche Player, Oro secured its place as a unique B2B eCommerce player in the competitive market – one that understands the needs of manufacturers, distributors, and other B2B sellers, and knows how to help them achieve success in their industries.
In a 2020 interview with CMS-Connected, Motti Danino, Oro's Chief Operating Officer, talked about Oro's Niche Player recognition at the time.
"Gartner's Magic Quadrant celebrates the top players in the digital commerce space, and Oro's inclusion cements our position at the very highest echelons of our industry."
"The decision to invest in B2B was underpinned by a need for B2B eCommerce functionality", recalled Motti. Oro's B2B-focused functionality help businesses optimize their sales process, future-proof their business, and deliver industry-leading customer experiences.
Why Does the Gartner Magic Quadrant for Digital Commerce Matter?
Gartner has done great things for many industries, and the digital commerce industry is no exception. The Magic Quadrant for Digital Commerce aims to accurately and comprehensively represent the digital commerce platform market. 
Gartner ascribes to the highest ethical standards in their digital commerce research and analysis while retaining their independence and objectivity. As world-recognized analysts, they stay at the forefront of where the market is going, the needs of technology buyers, and how vendors respond to these needs.
After a rigorous screening process against objectively defined criteria, the top vendors with positive customer growth, pace of innovation, and demonstrated understanding of the market get included in the report. Gartner's findings are then published in an impartial, informative, and easy-to-understand graphic (known as the Magic Quadrant) and corresponding report.
We are proud that Oro has been recognized in the last three editions of the flagship Gartner eCommerce and B2B eCommerce report. We gained the Niche Player recognition in the first two, and a Visionary recognition in the 2022 edition of the report.
We are determined to move up and to the right in the years ahead.
Questions and Answers
How do you get the Gartner Magic Quadrant?
The latest Gartner Magic Quadrant research can be accessed by logging into your Gartner account.
How does the Gartner Magic Quadrant work?
The Gartner Magic Quadrant is a graphical representation that helps technology buyers meke sense of various digital service providers. Vendors are positioned in a quadrant, which helps buyers understand their vision and ability to execute on various needs.
What are the Gartner Magic Quadrant categories?
The Garnter Magic Quadrant research methodology positions vendors into four quadrants: Leaders, Visionaries, Niche Players and Challengers.
How often does the Gartner Magic Quadrant get updated?
Most research is released on a 12-month cycle, but that is not always the case. Some technology industries are updated once every two years.