Digital commerce businesses deal with mountains of data, with each piece of data more important than the last. In B2B eCommerce, product offerings are in the hundreds of thousands, buyers place large orders and frequently purchase in bulk. What's more, new customer and sales information gets generated on a regular basis.
Google Data Studio reports can help eCommerce businesses make sense of where visitors come from, what marketing channels are the most effective, and what products sell better than others. Google's reports present this data in an easy-to-read and digestible format in the form of a dashboard.
Earlier this fall, we published a post about Data Studio Reports for B2B eCommerce with 16 great eCommerce report templates you can use. As promised, we're excited to announce that the Google Data Studio Extension is finally live on the OroCommerce marketplace.
What Is the Google Data Studio Extension?
This extension allows you to create your own or use existing Google Data Studio reports and embed them into your OroCommerce dashboard. After installing this extension, you'll be able to interact with your reports and share them with other team members.
Google Data Studio reports will help you answer many important questions related to B2B eCommerce performance metrics. For example, you can measure and identify gaps in organic search performance, conversions, cart abandons, and campaign performance.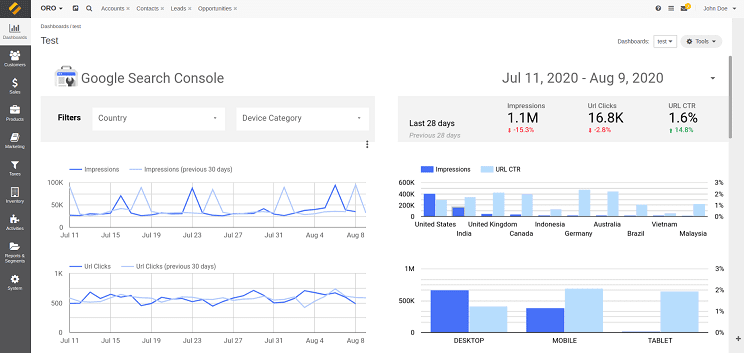 How Data Studio Reports Help B2B eCommerce Teams
Google Data Studio is used by marketing, sales, and eCommerce teams to create reports, graphs, and tables with data that matters to them. It's great for client or stakeholder presentations, as well as for personal use. These reports can help answer questions like:
How does your site perform?
As more and more B2B buyers congregate online, they head to Google. Thus, it's imperative to track page performance, visitor behavior, where conversions happen, and how that impacts your sales.
What advertising channels perform best?
Google, Facebook, and LinkedIn campaigns all tend to perform differently. Keeping track of how well you're doing helps you divert spending from poorly performing channels and double down on well-performing ones.
What products convert the best?
Not every landing or product page will generate the same sales numbers. By understanding which products do well, you can identify elements and techniques to apply to underperforming products.
Why don't customers proceed to checkout?
If shoppers are viewing product pages but not proceeding to checkout, they may lack sufficient media, descriptions, or social proof in the form of reviews. Another culprit can be unclear pricing and shipping information.
Why do customers abandon their carts?
Reducing cart abandonment can significantly boost your conversions. If customers face friction after adding an item to cart (such as long forms), modifying these steps can be an easy way to increase revenue.
Adding Data Studio Reports to Your OroCommerce Dashboard
The OroCommerce Data Studio Dashboard pulls in your Google Data Studio reports right into your dashboard, allowing you to keep an eye on essential data without switching programs and windows. Business owners and managers can also share reports with teams directly in OroCommerce.
For example, sales managers can track what type of traffic generates the most sales. Marketing teams can monitor acquisition, retention, and churn. With Data Studio in your OroCommerce dashboard, it's easy for managers to share these reports with team members and key stakeholders.
Enabling Data Studio in OroCommerce
In your Data Studio report, select File > Embed report, and "Enable embedding" dialog. Copy the link and head to OroCommerce's manage dashboards page. Set Google Data Studio as type and paste the link in the Embed URL dialog.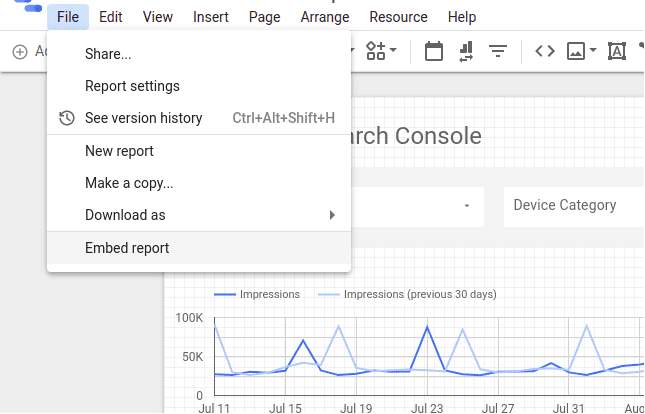 Next, once in your OroCommerce back-office, create a new dashboard. This is done by heading to the Dashboards > Manage Dashboards page.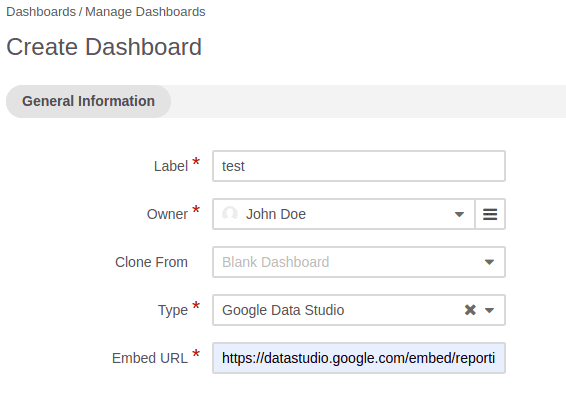 Download the Data Studio Dashboard for OroCommerce
Google's Data Studio is a powerful tool that allows you to either use an existing template or create your own reports. The OroCommerce Data Studio Dashboard is a simple and effective way to get these reports to your marketing and sales teams for better decision making.
Ready to utilize the power of your Google Data Studio dashboards without leaving your OroCommerce? You can download and install the Google Data Studio extension from the OroCommerce marketplace.