eCommerce continues growing by leaps and bounds. According to Digital Commerce 360, US eCommerce grew 44% in 2020 and accounted for more than 21% of retail sales. And since franchises make up 40% of all retail sales in the US, it's not surprising that franchises are increasingly interested in eCommerce. 
Franchises are a massive contributor to the global economic output. Before the pandemic, the World Franchise Council Survey revealed that franchised businesses provide over 19 million jobs around the world, generate over $1.75 trillion of total revenue per annum, and countries like France can attribute almost 12% of their GDP to franchise sales.
[Source]
What's more, this industry is growing in leaps and bounds. According to the Franconnect State of Franchising 2021 report, 79% of US franchisors plan to expand this year, with 11% opening more than 25 units. They also predict record-breaking sales in 2021 – that is, if COVID-19 remains contained.
Where there's growth there's an increased interest in technology to improve the customer experience and internal productivity. Many franchises already rely on various types of franchise management software, POS systems, and marketing tools to improve productivity and grow sales. With the popularity of omnichannel retail and B2B eCommerce on the rise, digital commerce systems are quickly becoming a must-have for franchising, too. They enable franchisors to provide effective communication and procurement tools to their franchisees.
The Growing Role of Millennials
The rise of B2B eCommerce was a reaction to a change in B2B buyer behavior. As digitally native millennials moved into managerial and decision-making roles, the demand for convenience, ease of doing business, and self-service increased. Millennials now make almost three-quarters of all B2B purchase decisions and a third of those are the sole decision-maker.
Savvy franchisors see the worth of enterprising millennials that value the freedom of being their own boss more than any prior generation. They now make the hottest audience for the franchise operators, as they know digital marketing well and can successfully represent their brands online or on-premise.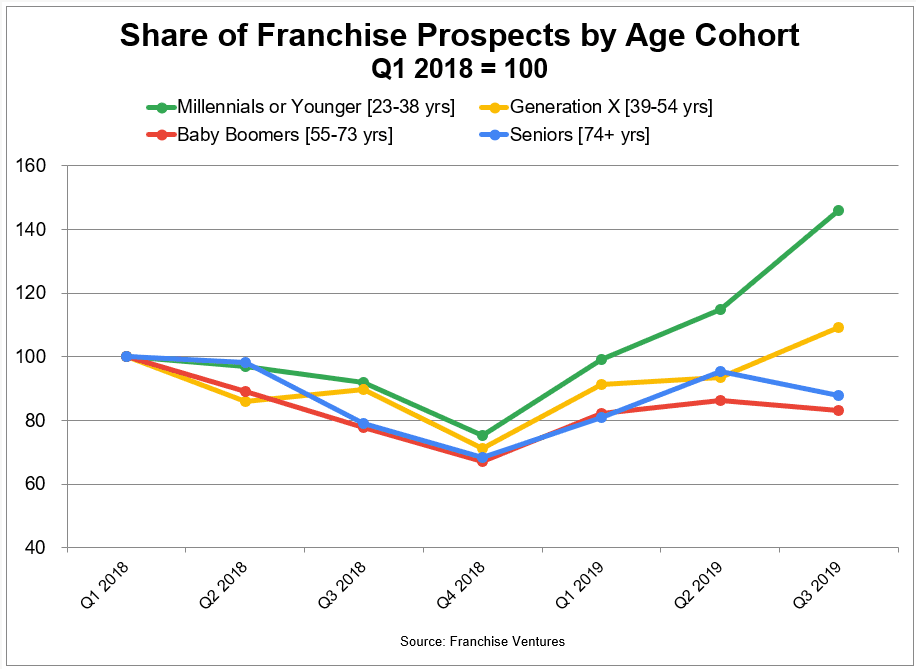 [Source]
Yet franchisors are either slow to recognize the ability of millennial franchisees to lead their businesses into the future or reluctant to market to this audience.
According to the International Franchise Association, millennials make great franchise owners because:
Millennials think outside the box

. Millennials find creative solutions to complex problems. This quality may scare some franchisors, but it can also help modernize their brand.

Millennials understand risks

. According to a Deloitte Millennial Survey, almost

70% of millennials

reject traditional work for entrepreneurship. They are comfortable with risk-taking and ready to take responsibility for their endeavors.

Millennials want to change the world.

Millennials are quick to give up unfulfilling jobs and careers. They want to make a difference with their work and they want their contributions to matter. 

Millennials are digitally savvy.

Millennials prioritize freedom, expression, and equality, and promoting brands on social media comes naturally to them. They know digital tools and understand the audience.

Millennials are hungry for knowledge. Millennials are a driving force of the e-learning market. This generation loves to learn new things and appreciates mentoring and good leadership.
As millennials move into the franchising space, they will increasingly demand eCommerce options to scale their business and support an omnichannel experience.
How eCommerce Facilitates Franchise Relationships
For a successful relationship between franchisors and franchisees, franchisors need eCommerce tools that help them communicate effectively, stay productive, and reach mutual goals.
Franchisors should look for an eCommerce platform that supports their unique franchise structure, streamline the ordering and fulfillment process for their franchisees, and improve the experience for end-customers.
Even though there are many popular eCommerce solutions on the market, only a B2B-focused eCommerce platform can meet the diverse needs of franchise businesses. A B2B eCommerce solution provides franchisors the necessary B2B features out of the box and a degree of flexibility that B2C solutions often lack.
Unlike standard eCommerce solutions, a B2B system supports omnichannel selling, multiple sales channels, multiple warehouses, various payment and shipping options. This centralizes order management for franchisors and streamlines franchisee buying journeys and user experience, enabling both franchisor and franchisee to get more value out of their relationships.
Key B2B eCommerce Features For Franchise Businesses
A B2B eCommerce platform should offer both the franchisor and franchisee certain features to help them succeed in their roles. Here are some of the more significant ones franchisors should consider when exploring their platform options.
Franchisee customer portal capabilities
In the past, franchisees used to rely on catalogs, phones, or fax to communicate with the franchisor. Today, they want to be in control of their activities, from purchasing products to checking the shipping status, and they want to do it on their terms.
Smooth self-serve experiences remove friction in the franchisee's procurement process. They can procure necessary items any day, any time without even picking the phone. This, in turn, translates into more efficient franchisee operations and thus better experiences for the end consumers, increasing brand loyalty.
Key elements and benefits of customer portals include:
quick ordering, CSV upload, and reordering functions

accessibility on any mobile device

request for quote (RFQ) capabilities

powerful search to fetch results by product name, attribute, or SKU

ability to add multiple shipping and payment methods

ability to create multiple shopping lists

personalized prices, promotions, and product catalogs
Organizational structures and account roles
Franchises require an eCommerce solution that supports both franchisor and franchisee hierarchies. Many franchisors operate within complex structures that include sub-brands, divisions, and business units. They need to adjust various parameters for their franchisees, from the websites they can view, the products and prices available to them, or their payment terms. Similarly, franchisees should be able to manage their employees independently and assign unique permissions to them.
Franchises often employ various roles in their value chain. Procurement specialists are responsible for identifying necessary products. Purchasing managers approve purchases and ship them to the warehouse. Account managers handle payments. The automated eCommerce solution must cater to these franchisee corporate roles and streamline and automate their tasks where possible.
Multi-vendor capabilities
Many franchisees are obligated to procure, use and sell products and services dictated by the franchisor. The franchisor may either supply franchisees with their own products or provide them with approved suppliers from which to purchase.
The latter scenario requires an eCommerce solution that supports adding third-party vendors, essentially creating a marketplace of sorts. This setup offers suppliers some control over their product listings and prices made available in the marketplace. Franchisors, too, need visibility into vendor activity to ensure they operate according to supplier arrangements.
As mentioned before, the objective is to streamline the procurement experience for franchisees, so the eCommerce system must display the right suppliers to franchisees based on their account, business unit, or location.
Localization and scalability
Franchises often span across different regions. For franchisees operating in various jurisdictions, the eCommerce system should also support personalized and location-specific websites, landing pages, and customer portals.
This is where multi-organization and access control features come into play. They help franchisors support local offices in charge of local business. Each local office operates as an independent unit with its own organizational structure, franchisees, product catalogs, taxes, price rules, suppliers, etc. 
At the same time, the head office maintains visibility and access to its subsidiaries. This delivers a predictable and productive experience for employees and a consistent customer experience at the local level, helping accelerate growth.
Integration options
Many franchises take on some aspect of the procurement and fulfillment processes of their franchisees. In this case, ERPs and WHMs (warehouse management systems) should synchronize inventory data with the eCommerce platform in real-time. Other candidates for integration include PIM eCommerce, punchout, eProcurement, payment gateways, and accounting systems.
Since every franchise network and its structure is different, the integration method will vary according to the use case and applications involved. For example, you may choose to implement a real-time API integration with your ERP to deliver accurate inventory numbers to every franchisee, but use a scheduled SFTP data sync with your financial systems for invoicing activities. Franchisors should consider an eCommerce solution with diverse integration methods to better accommodate their franchise network as it grows.
Automation features
A franchise in one location can charge different prices and offer different payment and shipping options compared to a franchise in another area. Purchase paths, including approvals and checkouts, can also vary from one business unit to the next. 
An eCommerce pricing engine lets franchisors create pricing rules that calculate prices in different ways. For example, prices for one franchisee may reflect the supply and demand cycles of the local market, while a volatile cost of raw materials in another could warrant a different pricing approach. Lastly, you may need to change prices dynamically in your eCommerce portal based on who is buying.
Automation doesn't begin and end with pricing. The right solution will enable you to automatically display additional checkout steps for large orders, high or low-stocked products, automate quote approvals, send notifications, and much more.
How Liquor Franchise V and B Maintains Better Relationships
France-based V and B is a unique take on wine, beer, and spirits sales. A fusion of the German Biergarten, English pub, and a French wine cellar, V and B allows the after-work crowd to either shop online, in-person, or enjoy drinks on location. With more than 210 franchise locations carrying over 3,000 products, a company-wide digital transformation was a necessary step to future-proof their business.
To ensure their ordering process is more efficient and gain greater visibility into their B2B2C business, they leveraged a number of technologies. These included cloud integration between ERP, product information management (PIM), their point-of-sale (POS), and order management systems (OMS).
B2B eCommerce: Next Step For Franchise Relationships
Franchise networks are unique in that they involve many interconnected relationships and rely on well-honed communication channels to succeed. The stronger the individual franchisee and its relationships within the ecosystem, the stronger the entire franchise system. Thus, a vital ingredient of any franchisor-franchisee relationship are the digital tools that improve the experience for both sides of the franchise equation.
If you're looking for an eCommerce solution for your franchise business, reach out to us today and discover how Oro's product suite can get your franchise ready for the future.
How do top midmarket brands use technology?
Forrester shares real-life case studies from leading business sellers.
Questions and Answers
How can eCommerce in franchising be used?
ECommerce is commonly used by franchise networks to augment their in-person buying experience. However, eCommerce can also facilitate franchisor-franchisee relationships, and improve the procurement process for franchisees.
What is the difference between an eCommerce franchise and a marketplace?
The biggest difference is that franchises use pre-approved suppliers, while third-party marketplaces invite and onboard external sellers. Franchise eCommerce platforms help connect suppliers to franchise locations and streamline purchasing.
Should franchises use a B2C or a B2B eCommerce platform?
While franchises can work in B2B and B2C sectors, all franchisor-franchisee relationships are ultimately B2B relationships. Franchises require B2B-focused eCommerce solutions with out-of-the box B2B features such as multi-vendor capabilities, corporate account management, and flexibility options.
Do franchises need CRM software?
Franchisor-franchisee relationship management is complex and prone to errors. CRM software helps franchises onboard franchisees, manage these relationships, track sales performance, communications, agreements, royalties, and generate reports.
Do franchises need sales enablement software?
Franchise sales enablement refers to equipping sales teams with the right resources to cultivate leads and close deals. At the heart of sales enablement is careful alignment between marketing, sales and support teams with CRM and eCommerce software.