A version of this article was previously published on Industry Today.
As B2B eCommerce becomes an essential part of any B2B business, major analyst firms such as IDC, Gartner, and Frost & Sullivan have been deep-diving into comprehensive reports that evaluate top eCommerce platforms.
One of the biggest takeaways from these reports is that many eCommerce solutions are not specifically designed for manufacturers, distributors, wholesalers, and multi-channel brands. There were very few options that offered an open-source B2B eCommerce solution that is tailored for B2B businesses. Below you'll find an in-depth comparison of some of the top solution providers.
Key questions to ask B2B eCommerce vendors
The amount of eCommerce solution providers can be overwhelming and it can be difficult to determine which solution is best for your business. Creating a Request for Proposal (RFP) helps narrow down your selection of eCommerce vendors when choosing a new platform. 
An RFP includes a wide range of technical questions that should be asked when selecting a vendor. An RFP should also reflect business priorities for the present and for future growth. Having a thorough RFP that addresses every departmental need as well as global company needs will help businesses choose the best eCommerce solution for their exact needs. 
Here is an example of an effective and thorough RFP template that is the perfect starting point to help narrow down B2B eCommerce vendors. Simply send this template to your potential eCommerce provider and they will respond with how they plan to meet your specific requirements.
Must-haves in a B2B eCommerce solution
A structured list of the B2B eCommerce features includes pricing, catalog management, marketing capabilities, checkout flows, multichannel eCommerce capabilities, and more.  Since the CIO will be involved in the decision-making process there must be questions answered regarding security, technologies used, and IT infrastructure required to support the system.
You should also be sure to ask about pricing, licensing costs, and additional expenses to avoid running into hidden costs down the road.
Comparisons of B2B eCommerce vendors and features
Below is a chart of top eCommerce vendors that have been evaluated by top analyst firms.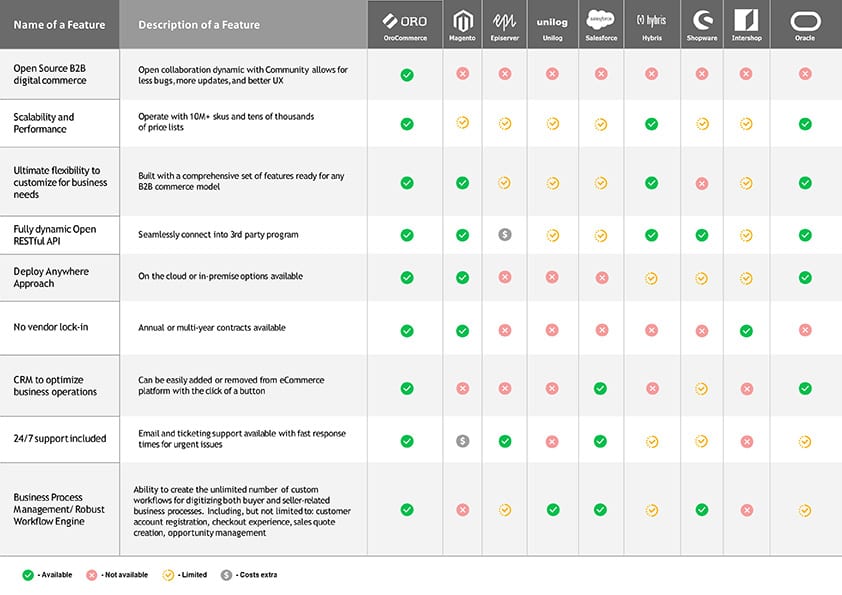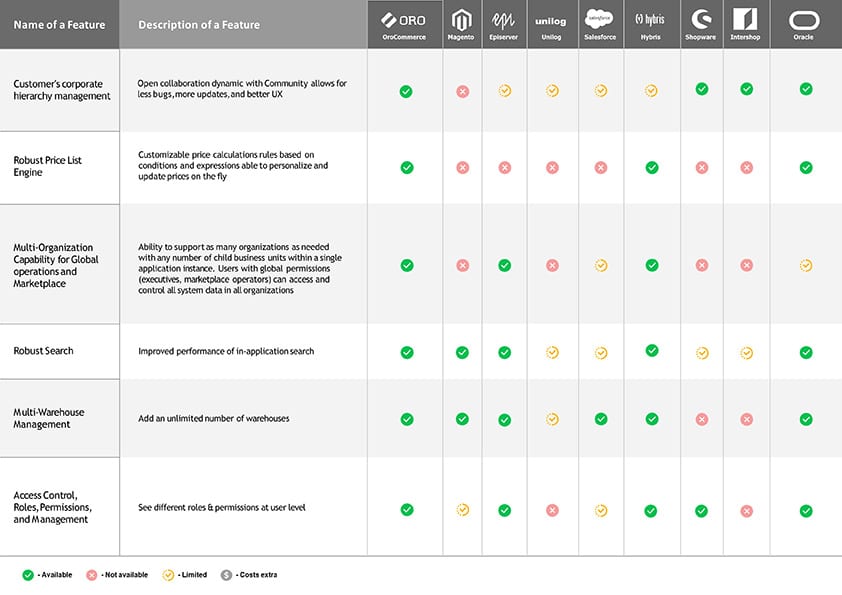 B2B sellers are investing in highly flexible software because the workflows used today may not be relevant next year nor the year after that. As customer expectations and business requirements change, automation technology platforms must have the capacity to adapt changes by building new workflows or adjusting existing workflows. 
A flexible workflow engine is what gives this flexibility, otherwise a piece of code can also automate business processes. But as businesses and processes evolve it would be cheaper to maintain and create new workflows using a workflow engine rather than writing new code every time.
Flexible B2B eCommerce workflows are a powerful way to help increase productivity and profitability. This is directly translated into increased customer satisfaction, retention and improved business performance.
Selecting Your B2B eCommerce Solution
Choosing the right B2B eCommerce solution can take months- and rightfully so! Choosing the wrong solution can lead to failed projects, poor performance, poor customer feedback, and loss in profits. Having a thorough understanding of the top eCommerce vendors and their features will help in your decision making for selecting the right platform for your business needs.