Put simply, workflow automation in eCommerce is a sequence of steps through which a piece of work passes from initiation to completion. They are often created in order to automate or standardize complicated, multi-step processes across an organization. In the B2B eCommerce world, for example, a workflow could be used to guide the checkout process from order submission to payment, or to simplify the process of submitting a quick order form or a request for a quote, as well as much more.
Why it's important in B2B eCommerce
There are many processes within the eCommerce world (and specifically in B2B eCommerce) that should be managed by a flexible workflow engine in order to support the exact needs of a company. In contrast to B2C eCommerce, where processes and flows are dictated by the seller, the processes in B2B eCommerce workflows (including those that determine how users checkout, request quotes, submit proposals, fill out quick order forms, and much more) are all dictated by the buyer. In addition, there are many B2B eCommerce use cases where certain actions, such as overdue invoices and un-submitted orders, trigger unique workflows that are nonexistent in B2C eCommerce.
To illustrate this point, let's take a look at a purchasing/checkout workflow. In B2B eCommerce, different business buyers may have very different purchasing and approval processes. In one company, for instance, a buyer may be able to go through the entire purchasing process with no reviews and/or checkpoints. However, a buyer in another company may have to first send his order to his manager for approval if the total order cost is above a certain amount. To simplify this process, their manager/admin user can create a customized workflow that will prevent the buyer from continuing without first sending the order out for approval. Only after the manager has received the request and approved the order will the buyer be able to continue the checkout process.
Other companies may want to create a workflow for an entirely different reason. For instance, say a buyer has created an order valued at more than $50,000, but they still have not proceeded with it, even though a week or longer has passed. In response, a company can configure their system to trigger a workflow that sends an alert to the seller reminding them to follow up with that buyer and help him complete their order.
How B2B eCommerce workflows are done in OroCommerce
Both B2B buyers and sellers rely on multiple processes and workflows each day to make sure their job is done correctly. The seller must allow buyers to work in accordance with their own corporate processes, as well as make sure they have the workflows in place to support them. Even more importantly, the buyer must give each of his customers and their business units the ability to follow the exact workflow they require in order to complete their tasks.
With OroCommerce, the seller can create unlimited workflows for each of their customers. To do so, they only need to navigate to the System menu, then select 'workflow.' The screen will then display all of the available existing workflows. At this point, the user can create as many new workflows as they require, each with as many steps as they need. Selecting a workflow will display the entire sequence of steps and transitions in both a table and an interactive diagram format.
Workflow list

Create workflow

Workflow details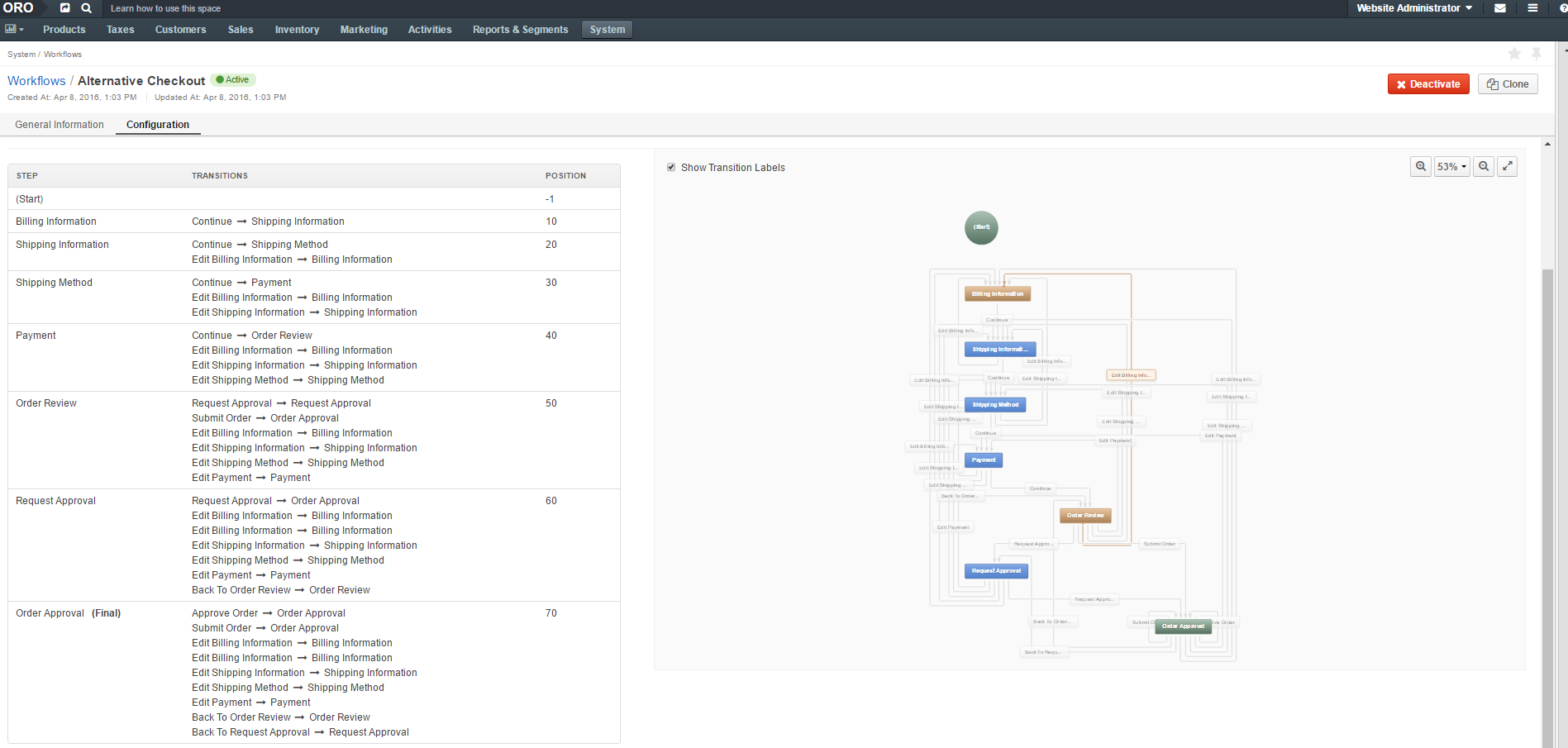 Conclusion
Oro's philosophy is that no two businesses are alike, which is why OroCommerce is built with the ultimate flexibility in mind. Even as we incorporate a robust list of out-of-the-box features, we are still making it possible for businesses to extend and customize them according to their own exact needs. The B2B eCommerce automation workflows feature is no different. If your business needs these powerful workflow capabilities, consider OroCommerce the only B2B eCommerce platform designed specifically for you.
You can test this feature, as well as the rest of OroCommerce, by logging into our demo. We are always eager to get your feedback, so feel free to leave a comment below.
Thank you!
The Oro Team