Digital transformation adopts new technology to transform and redefine businesses. A digital transformation isn't about merely deploying new technology or upgrading existing solutions. It's a rethinking of every facet of the business and how technology can make man and machine work more effectively and efficiently.
As recently as 2021, manufacturers made dramatic increases in technology investments and understood that digital transformation was essential for success.
But what is industrial digital transformation and what does it look like in real-world applications? Use this guide to better understand the nature of the digital transformation of industrial companies, the benefits and challenges of digital transformation, the digital transformation implementation process, and see real-world examples of industrial companies transformed by technology.
What is Industrial Digital Transformation?
Industrial digital transformation represents a paradigm shift in industrial operations. It enables companies to adapt to the ever-evolving technological landscape and remain competitive in the digital age. Digital transformation technologies provide the tools people need to work smarter. They also free human assets from routine and mundane tasks, giving people more time to do what they do best: interact and collaborate with other people and think creatively.
The technologies frequently involved in industrial digital transformation include:
Internet of Things (IoT)
eCommerce
Artificial intelligence (AI)
Big data analytics
Cloud computing
Automation
Increasingly, digital transformation trends combine multiple technologies. For example, a digital industrial transformation may use a cloud-based B2B eCommerce application to automate ordering on the front end and order processing on the back end. This frees the buyer to concentrate on improving purchasing functionality and the seller has more time to develop relationships and cultivate leads.
Benefits and Challenges of Digital Transformation for Industrial Companies
The digital transformation of industrial companies provides digital tools and data-driven insights so that companies make more informed decisions, optimize supply chains, improve product quality, and create personalized customer experiences. These benefits are great, but they don't come without challenges.
Benefits of industrial digital transformation
Implementing a digital transformation at industrial companies offers benefits such as:
Improved productivity: Cloud-based computing allows employees to work more productively. They don't need to be in the office to access digital tools and programs to do their jobs. In addition, AI and automation eliminate the need for teams to do data entry or some data analysis. Instead, human assets focus their efforts on high-value activities.
Increased operational agility: IoT recognizes problems before they happen. Production can switch quickly so maintenance is performed before equipment fails. Big data analytics recognizes trends as they begin to ascend and descend so companies react quickly.
Creation of new business models: Industrial digital transformation with eCommerce allows companies to easily create new business models. Move from pure B2B to B2B2C, DTC, or even create your own marketplace. Digital tools allow manufacturers to set up websites for their distributors and retailers empowering them to benefit from eCommerce.
Challenges to industrial digital transformation
Benefits are only possible when you overcome challenges. Here are some challenges you may face on your transformation path.
Outdated Tech: Often, industrial companies are hampered by legacy systems that don't support new technologies. Your existing infrastructure and legacy systems may not be compatible with new digital technologies. Integrating and upgrading these systems can be complex and costly and requires careful planning and product selection.
Discover best practices for migrating to a new B2B eCommerce platform
Data Management and Security: The very digital technologies that provide so many benefits often do so by generating vast amounts of data that must be kept secure. As cyber threats continue to evolve, data privacy and security are crucial. And once data is collected, it must be managed so that meaningful insights are extracted.
Change Management: Digital transformation creates significant changes to workflows, processes, and sometimes even the structure of the organization itself. Managing this change effectively, including gaining employee buy-in, addressing resistance, and fostering a digital culture, requires strong leadership and effective change management strategies.
Overcoming these challenges requires a strategic approach, involving thorough planning, collaboration with technology partners, effective change management strategies, and a long-term vision for digital transformation. Industrial companies need to carefully assess their specific challenges and develop a roadmap that aligns with their business objectives and resources.
How to Implement a Digital Transformation at Industrial Companies: Step-by-Step Guide
Digital transformation in manufacturing not only makes changes that are relevant for today, but it positions the company for success in the future. Here are the steps to take on the way to continuous transformation.
Roadmap: Like any journey, you need a digital transformation roadmap. Build a roadmap based on your business goals. This ensures your transformation is aligned with where your business wants to be. Begin with an inventory of where you are in terms of digital maturity and the technology that is currently in place. Next, determine where you want to be and the level of maturity to hope to achieve in 3 to 5 years. This process allows you to identify the gaps that must be filled.
MVP Approach: Transformation doesn't happen overnight. But it does happen when you build success upon success. Adopt the minimum viable product (MVP) approach to your transformation. In other words, start by setting achievable goals, and then test, launch, gather feedback, iterate, and repeat the process over and over again. The MVP approach minimizes risk and cost while allowing you to validate new technology and processes.
Download the comprehensive guide to using the MVP approach
Create an integrated environment: To get the most from your digital transformation, systems and platforms must be integrated. This eliminates data silos and allows information to flow freely through the company and into the hands of decision-makers. Make integration a key in selecting your technology. Look for solutions with APIs that make connections easier. ERPs, eCommerce platforms, CRMs, PIMs, and other solutions must be able to share data if you are going to automate tasks.
Use data and analytics: Make use of the data and analytics made available by the processes you've transformed digitally. Transformation makes available more data than ever, so be sure you make the most of it through dashboards and analytics. Apply advanced data analytics to sales data and gain valuable insights into customer behavior, market trends, and demand patterns and improve the ROI of marketing campaigns. Improve purchasing practices, better control receivables to improve cash flow, optimize inventory management, and plan production accordingly.
Scale: The digital transformation of your manufacturing company shouldn't be confined to the floor. Scale solutions incrementally across the company. The digital transformation should include back-office functions as well. A CRM can streamline sales processes, enable better customer data management, and provide insights for targeted marketing and sales strategies. Use workflow automation to streamline processes, reduce errors, enhance productivity, and free up employees' time to focus on higher-value activities.
Examples of Digital Industrial Transformation and Their Impact
It's one thing to read about industrial digital transformation in theory and another to see the results achieved by companies that put theory into action. Here are a few examples of companies and their transformation projects.
Additive manufacturing
German railway company Deutsche Bahn uses 3D printing for over 100 use cases and has created over 10,000 parts ranging from headrest frames, coat hooks, and Braille signposts to parts for the coffee maker.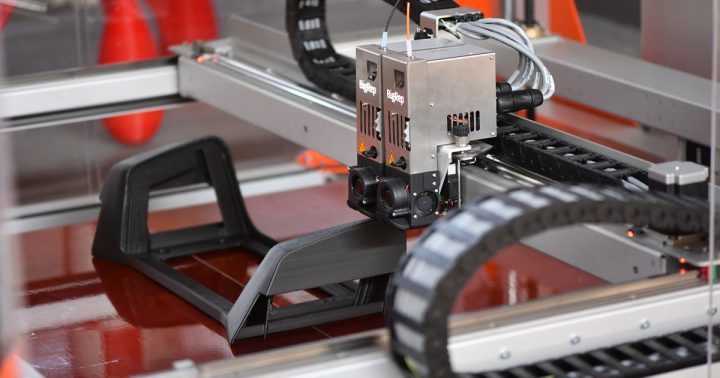 When they needed a wheelset bearing cover for a Class 294 locomotive produced in the 60s and 70s, they didn't search for a supplier. Deutsche Bahn just created the part using 3D printing technology. They produced the 13kg part in just 7 hours, far less time than they would have spent searching for a supplier and waiting for the part to be delivered.
IoT, data analytics, and automation
GE's Brilliant Factory approach to manufacturing is clearly on display at the Mumbai factory in India. The factory builds parts for 4 different GE businesses under one roof. The multi-modal factory can build everything from locomotive parts to components for jets. By connecting the machinery with IoT technology, production lines are digitally connected to supply, service, and distribution networks to maintain optimal production.
Now, production adjusts to demand automatically. Machines are better utilized, and new product production requires less set-up.
Get inspired by these digital transformation examples
AI and cloud computing
Amazon's warehouses are famous for their use of technology, but AI and cloud computing are what power the seamless experience customers now demand from every eCommerce experience. By analyzing consumer browsing and purchasing data and comparing it with like consumers, Amazon better predicts what customers want before they even know they want it.
eCommerce integrated with ERP
Dunlop Protective Footwear uses the power of B2B eCommerce integrated with ERP to make it easy for customers to place and track orders 24/7 online. Customers and sales reps get higher visibility into inventory through integrated systems and the new customer onboarding workflow is automated.
The MVP approach allowed Dunlop to create a website, deploy it, and then iterate and roll out 12 additional websites, one for each global market. They now enjoy higher order values and conversion rates.
Industrial Digital Transformation Solutions: OroCommerce Case Studies
OroCommerce provides the tools industrial companies, packaging companies, construction companies, and all other B2B sellers need to implement a digital transformation with eCommerce.
Traditionally offline companies such as specialty food ingredients companies and chemicals companies are selling online through the flexible yet powerful OroCommerce eCommerce platform. These are just a few of the many industrial digital transformations where OroCommerce plays a role.
ADDEV Materials
ADDEV Materials is a chemical company specializing in high-performance material transformation processes including converting films, adhesive solutions, and custom packing solutions for the aerospace, defense, transportation, and construction markets.
The goal of the digital transformation was to reduce order processing costs and bring more value to customers while strengthening relationships.
With OroCommerce, they created 3 websites managed by a single back end. Request for quotes and quick order forms provide customers and leads with rapid responses. Marketing automation features improve upsell and cross-sell. Today, 16% of their online business comes from new customers, allowing them to build a larger and stronger customer base. Customers enjoy a frictionless customer experience and employees enjoy better data analytics and automated workflows from integrated ERP and payment systems.
Azelis
Azelis provides specialty food ingredients and chemicals to customers worldwide.
The goal of the digital transformation was to provide their increasingly younger and more tech-savvy customers with the B2C-like experience they demanded in this traditionally offline industry.
With OroCommerce, they found a solution that could service their global presence through robust localization features right out of the box. Customers now enjoy a full self-service shopping experience while maintaining the option to talk to a sales representative at any time.
Conclusion
Industrial digital transformation uses digital technologies to optimize processes, enhance efficiency, and drive innovation. By using the Internet of Things (IoT), artificial intelligence (AI), cloud computing, process automation, and eCommerce, operations make the most of human and technology assets.
Companies embarking on a digital transformation need a roadmap to start and should take an MVP approach to create an integrated environment. Companies must make use of the data and analytics they gather and scale their successes across the company.
Frequently Asked Questions
How do you prepare for digital transformation at industrial enterprises?
Prepare for a digital transformation in industrial enterprises by assessing your current technology, developing a roadmap, and then acquiring the necessary technology. You'll need to build the digital skills of your team and create a digital culture in the company. As the transformation is underway, you'll need to monitor progress and adjust where necessary.
How much does the digital transformation of industrial companies cost?
The cost of digital transformation varies widely depending on the size and complexity of the company, the scope of the transformation, and the technologies involved. There is no one-size-fits-all answer. A transformation may cost tens of thousands or tens of millions.
Will my business profit from industrial digital transformation?
Yes. If performed properly, the company will benefit from increased efficiency and better use of resources.
How do you calculate the ROI from digital transformation?
To calculate the ROI you must determine the total cost of ownership and the value of the benefits reaped from the transformation. To help, Oro has developed this ROI Calculator.
Where do you start with a digital transformation in the manufacturing business?
A digital transformation in the manufacturing business starts with an assessment of company goals. Then you identify the technology you have and the technology you need to reach your goals. Your roadmap will fill in the gaps.