Last year, B2Bs faced their biggest test to date. They had to make quick moves to digital, deal with the supply chain crisis, shortages, or sudden spikes in demand. It's also clear thsat top performers didn't waste time implementing and scaling their digitization initiatives during the crisis. A recent survey by McKinsey demonstrates that over 96% of companies that scaled digital technologies such as B2B eCommerce in 2020 believed it allowed them to adequately respond to the crisis. Out of those that avoided implementing digital technologies, only 19% believe they responded well.
Companies that lagged behind cite a range of challenges, such as difficulties in maintaining operations due to lockdowns and switching to remote working. Financial and human resources constraints were a close second. As the pandemic diverted resources to other, more urgent issues, brands found it difficult to focus on digitization projects. 
Overall, COVID-19 continues to push many business transformation initiatives ahead. Half of those surveyed expect their manufacturing and supply chain to recover in about six months. Another third are expecting their recovery to take a year or more:
Our January 2021 B2B eCommerce news roundup is our monthly brief on the latest news in manufacturing, distribution, supply chains, as well as B2B eCommerce. We'll also share what's going on in the world of B2B marketing, customer experience, AI in eCommerce, B2B marketplace, and multichannel eCommerce.
January 2021: B2B eCommerce growth, Economic Uncertainty, and Optimism
2020: US GDP's biggest drop since WWII
The US economy is still "a long way from a full recovery," warns Federal Reserve Chair Jerome Powell. Last year marked the first annual decline in GDP since the 2007-2008 recession and the biggest GDP drop since 1946. Also, 2020 saw the lowest consumer spending numbers since the Great Depression.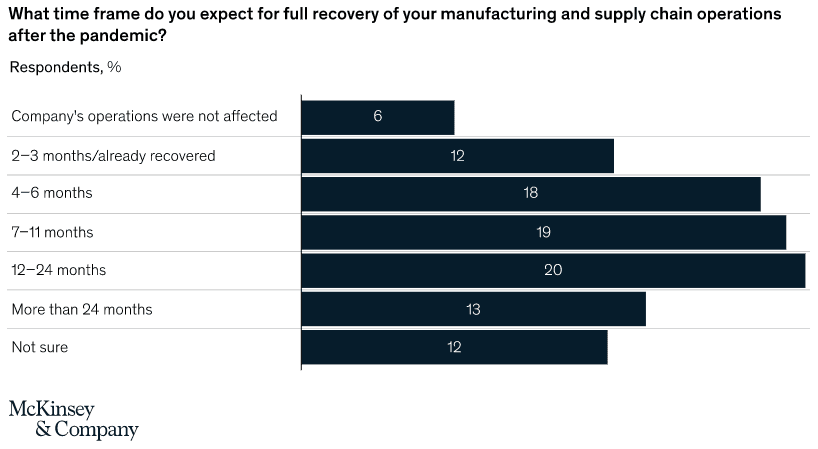 US eCommerce saw ten year's growth in three months
This month, McKinsey published "The Quickening." It's a striking collection of facts and visuals to remind us just how 2020 has changed eCommerce and how we can prepare for the future. As eCommerce takes over former physical selling channels, these changes are not going away.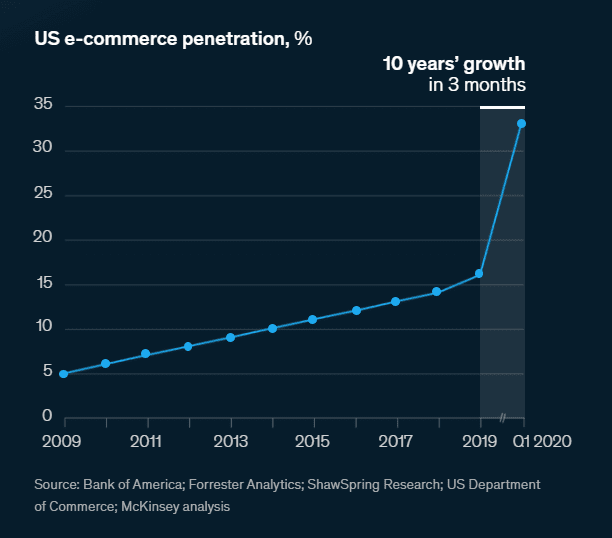 A brighter future: Middle market leaders less pessimistic
Middle market ($10m to $50m) organizations feel more optimistic for the year ahead. While over 43% of executives agree that the pandemic will have adverse effects on revenues in 2021, just 1 in 10 expect major revenue concerns. And over the past ten months, almost half of them changed their outlook from negative to positive.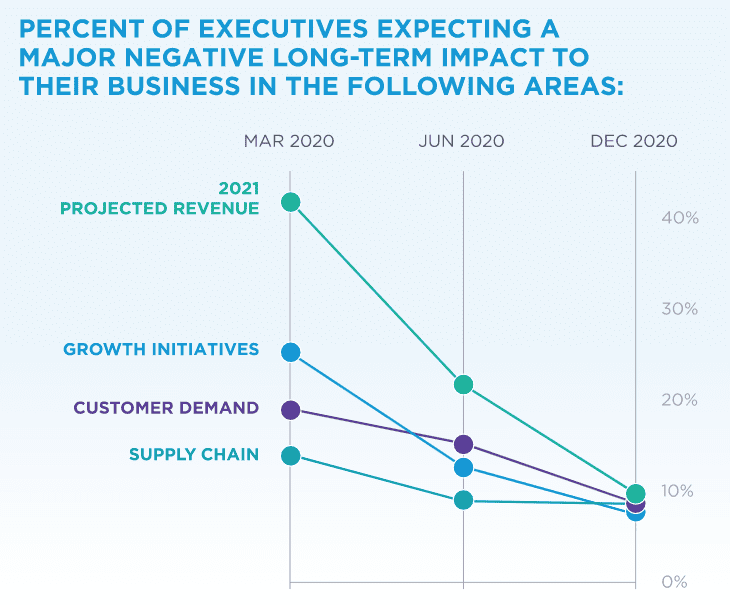 Permanent Channel Shift in CPG and Retail
Michelle Evans of Euromonitor International reveals that goods bought online globally grew by 24% while stored-based sales declined by 7%. In just five short years, online sales will account for 21% of total retail spend. She projects growth across geographies and industries regardless of their stages of eCommerce maturity.
6 B2B eCommerce websites to help you sell in more 2021
Research by Net Solutions indicates that over 80% of B2B brands plan to invest in an eCommerce platform this year. Thomasnet shares six unique B2B eCommerce websites that help manufacturers, distributors, and suppliers maintain excellent partner and customer relationships.
The value of a minimum viable product in B2B eCommerce
Is the idea of moving your B2B online enough to give you cold feet? Yoav Kutner, the Founder of and CEO of Oro, Inc., shares the benefits of the minimum viable product (MVP) approach and how it saves time, money and ensures your B2B eCommerce project is a success.
Marketing and Customer Experience in B2B eCommerce
ECommerce top investment in 2021 among US C-Level executives
In a recent survey of C-level executives, eMarketer revealed that the front-end customer experience and eCommerce remains a top investment for 2021. Evolving customer preferences and increased competition in unpredictable environments is forcing brands to focus on customer relationships.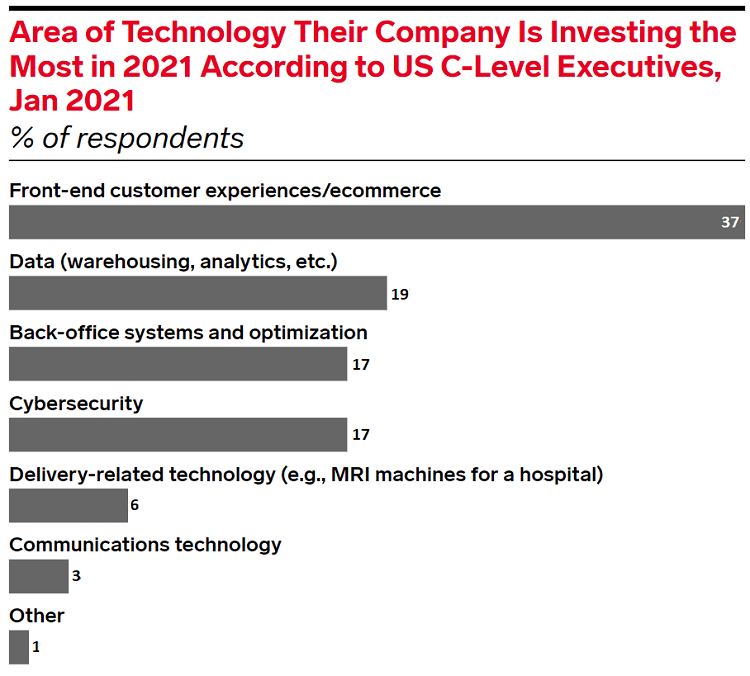 The importance of customer experience for B2B sellers
Most B2B professionals are consumers in their off time. Thus, their consumer-level experiences influence their decisions as B2B customers. This month's MITSloan Review article explores how consumer expectations and omnichannel trends shape B2C, and by extension, B2B eCommerce.
Manufacturing News in B2B eCommerce
Keeping workers safe from COVID-19 is still a priority
Worker safety in manufacturing continues to be a hot-button issue. Thankfully, brands are using innovative technology to adapt to a new way of working. They're finding it easier to comply with government regulations and guidelines for social distancing through the use of wearables, digitized processes, and predictive analytics.
Supply Chain News in B2B eCommerce
Overcome supply chain agility barriers with digital technology
Agility is central to responding to supply & demand shocks, acting on emerging opportunities, and restoring operations after a crisis. Digital platform enabled systems must be inseparable from your digital supply chain strategy.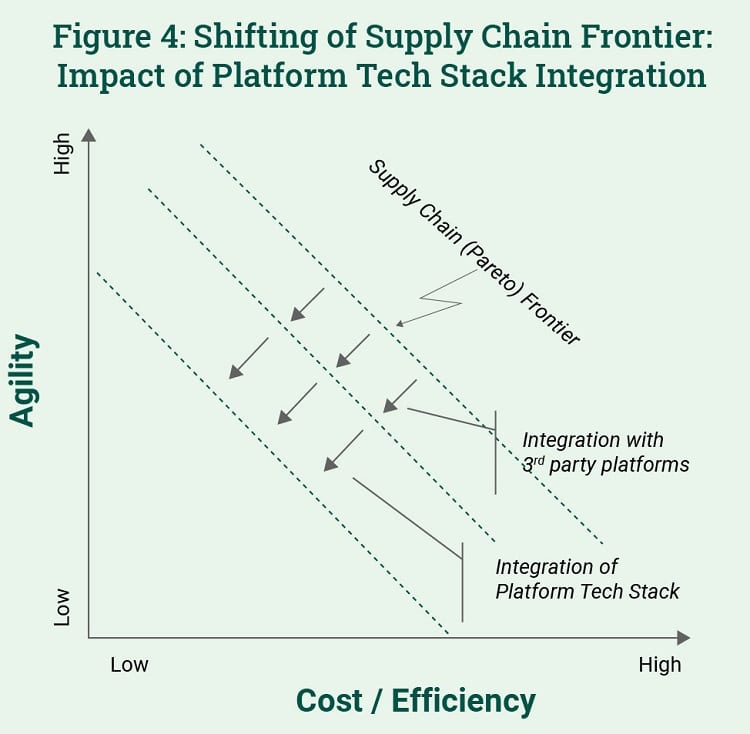 B2B Marketplace and eCommerce Success Stories
We hear some exciting news out of Southeast Asia. Both India and Pakistan are attracting attention (and money) for their B2B eCommerce startups.
India's Udaan raises $280 million, valued at $3.1 billion
Amod Malviya, the co-founder of the Indian B2B eCommerce platform Udaan, believes his solution is at the forefront of the market. It's leading the uniquely Indian, mobile-heavy, business-to-business eCommerce opportunity – and investors seem to agree.
Pakistan's B2B eCommerce Startup Bazaar Raises $6.5 million
With the largest seed round in the MENA region, Bazaar is now one of Pakistan's best-funded startups. Bazaar hopes to digitize the disconnected B2B market by helping businesses source inventory from manufacturers, wholesalers, and suppliers.
Global reusable packaging platform Loop launches in Canada
Loop is a zero-waste food packaging provider with partner stores in the US, UK, and France. It just launched with Canada's Loblaw, the country's largest grocery retailer. The partnership includes some of the biggest brands and Loblaw's white-label President's Choice.
Seattle's startup Yesler raises $3.3 million for B2B marketplace
Founded in 2019, Yesler streamlines operations throughout the supply chain by replacing spreadsheets, phone calls, and faxes that dominate today's lumber operations. The startup aims to accommodate various buyers, sellers, lumber products, and the industry's dynamic pricing needs.

Hope You Enjoyed Our January 2021 Roundup!
We hope you found this month's B2B eCommerce roundup informative. If you'd like to contribute an article or think that we've missed an exciting story, let us know. You can get in touch with us on Facebook and Twitter or in the comments. Keep checking back on the OroCommerce blog for more updates!