There was no post-holiday slacking in the B2B eCommerce space. Manufacturers, wholesalers, and distributors continue to deal with supply chain woes, the impacts of inflation, and changing workplace regulations. 
January news proves that digital continues to play a key role in B2B business success (and busts many common myths) as eProcurement breaks the trillion-dollar mark, drives marketing strategies, and even spawns a new podcast devoted to the topic. 
In this round-up, we focus on how B2B sellers are achieving new milestones, branching into new areas (like B2G), facing challenges such as inflation and supply chain snarls, and look at the ways 3 B2B companies are disrupting their industries with digital and AI in eCommerce. 
B2B eCommerce News
eProcurement to reach $1 million
eProcurement and punchout catalogs allow buyers to make digital purchases on websites and marketplaces without leaving their own eProcurement application. This flavor of B2B eCommerce emerged as one of the fastest-growing digital channels in 2021. This trend, driven by the continuing COVID-19 pandemic and the propensity of Millennial buyers to prefer digital drove eProcurement sales up 17% last year. Digital Commerce 360 projects that total eProcurement sales in 2022 will top the $1 trillion mark.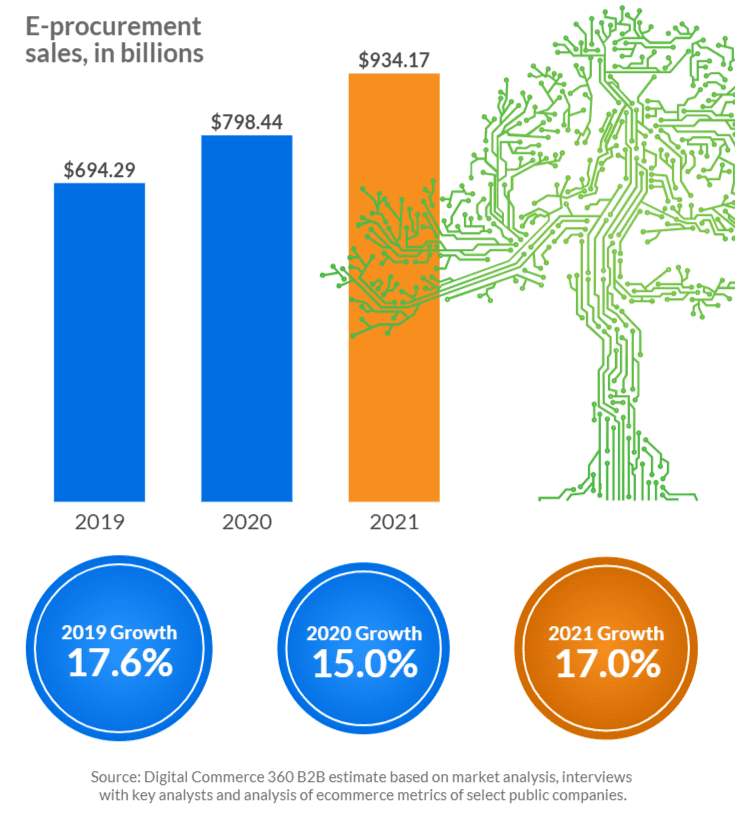 Busting eCommerce myths
The B2B buying process is no walk in the park. McKinsey & Company's recent Pulse busted many of the myths and misconceptions holding B2B sellers back from digital selling. Many believe that industrial sales can't be performed with eCommerce. It's just not true. McKinsey found that two-thirds of corporate buyers are relying on digital and remote channels throughout their purchasing journey.  B2B sellers are now more likely to offer digital channels than in-person selling.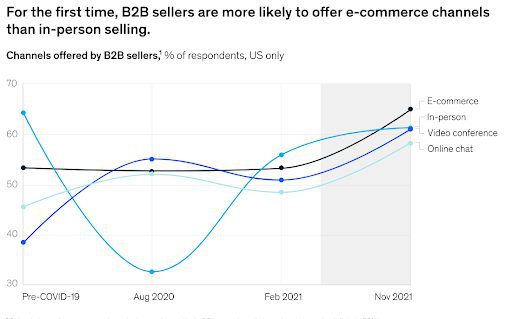 Read how McKinsey and Company bust the 5 biggest myths in B2B eCommerce
Pros and cons of selling to Uncle Sam
The US government spends $7 trillion each year. For the manufacturers, wholesalers, and distributors willing to untangle the redtape, it's a highly profitable market. Contracts often run for several years and buying policies favor small and medium-sized companies and minority and woman-owned businesses. B2G sales are complex, but they are highly lucrative and can be a great way to grow your business.
Learns about the pros and cons of selling to the US government
New B2B eCommerce podcast
Ready for some honest talk about what's really happening in B2B eCommerce? Then you are ready for B2B eCommerce Uncut. It's the new interactive podcast from Oro, Inc. Real people working every day in the digital B2B space discuss the topics that matter most to you. Subscribers vote on the upcoming topics and each episode includes a real-time questions and answer session.
Learn more about the B2B Uncut podcast and subscribe 
Supply Chain News
Just because it's a new year doesn't mean old problems won't persist. Supply-chain woes aren't going away. Sellers will need to continue to revise their forecasts and shorten their supply chains. And when it comes to deliveries, it's time to diversity with backup last mile and parcel delivery options.
See what leading experts predict for supply chains in 2022
The role of packaging in the supply chain
Packaging plays a pivotal role in the supply chain. This unsung hero protects your product and materials while in-bound on containers, across the country on trucks, in your warehouse, and on the way to your customer. 
To reduce breakage and loss, supply chain mangers are reassessing how products are packaged and the materials used. If you are increasing inventory as a buffer against future disruptions, it may be time to review packaging as well. 
Learn more about what supply chain disruptions portend for packaging
Payments
Getting the sale is great; getting paid is even better. About 47% of B2B companies say the pandemic has affected their payment acceptance capabilities, according to the Global B2B Payments Playbook. As B2B companies leverage their selling abilities with eCommerce, they must also integrate payments tools or technologies such as instant payment networks or automated invoicing to make paying as easy as buying.  
Learn how eCommerce is impacting payment processing
Upward pressure on inflation exacerbated by supply chain woes
Supply chain issues are creating more problems than just empty shelves. They are exerting upward pressure on inflation in the US.  It costs more than three times what it did a year ago to send a standard metal container from China to the U.S. West Coast. These costs are expected to remain elevated at least through June adding to already painful annual inflation readings according to the Freightos index.
Manufacturing
The supply of semiconductor hips in the U.S.has hit a critical low. The demand for chips is 17% higher in 2021 than it was just two years ago but supply is not keeping pace. In response, Intel announced plans for a $20 billion semiconductor manufacturing campus outside Columbus, Ohio. However, much is contingent upon Congress passing the CHIPS act now stalled in the House of Representatives. 
Read more about how the CHIPS act could spur domestic chip production
UK government looks to reskilling workers for business growth
In the UK, research shows 80% of manufacturing employees have a desire to upskill in 2022. The UK's Skills for Life program aims to help employers upskill their workforce in preparation for a post-pandemic economic boom. According to David Flochel, Managing Director of Heinekein UK, his company is already onboard. "A focus on skills which are transferable across roles, employers and industries are a top priority for the development of everyone in Heineken."
Learn more about upskilling for manufacturing employees in the UK
Health & Safety
After vaccination mandates were dealt a death blow by the Supreme Court, OSHA is changing it's priorities in 2022 and looking at the post-pandemic working environment. Expect more focus on noise-hazards and heat-related conditions in the working environment in the coming year. 
Learn about OSHA's new priorities for the workplace in 2022
Marketing trends
Even as more remote workers come back into the office, digital marketing will continue to take center stage. Having a user-friendly website that loads quickly on all devices and is accessible by those with vision or dexterity issues continue to be important. It's also wise to keep an eye on rising trends in technology, especially those that impact communication and purchasing. These are just a few of the key trends for 2022.
Learn about 5 key eCommerce marketing trends to follow in 2022
B2B eCommerce and B2B Marketplace Success Stories
ACV Auctions is a B2B Marketplace that's disrupting the wholesale auction of used cars in a big way. The Buffalo, NY based digital marketplace has 400 employees in the home office and another 1,000 nationwide. Traditionally, auto dealers rely on small, local auction houses for their inventory of used cars. ACV Auctions has moved the auction process on-line, increasing the options for dealers looking to sell and buy used vehicles. In addition to handing the sale, ACV Auctions offers B2B SaaS products such as title transfers and transportation logistics to further smooth the process. What was once a traditionally physical transaction is now completely digital.  
Mountain Tarp recently increased their website traffic by 8 fold while improving their customer journey and smoothing back-office workflows. The subsidiary of Wastequip needed to streamline their ordering process and smooth the buying process for their customers. An eCommerce webstore allows them to easily manage content, customer pricing, and shipping rules on the backend while offering customers an easy-to-navigate website. This successful project is the springboard for Wastequip to add eCommerce to all 12 of their brands. 
In January, Bay Supply created the first marketplace for fasteners. By getting down to the nuts and bolts of fastening products, Bay Supply eases the purchasing process for industrial buyers who previously had to visit a dozen or more websites just to get the right combination of parts. The new marketplace makes it easier for buyers to find products, for distributors to respond to RFQs and for manufacturers to sell direct to customers.
What's Happening at Oro, Inc.
2021 was a year that saw Oro, Inc. garner industry recognition, form new partnerships, add new customers, and help existing customers grow their digital business. But we don't rest on our laurel, there's plenty new to come in 2022.
We're reaching out in more ways than ever this year. Our bi-monthly tech talks are informative webinars designed by developers specifically for developers. Topics covered in our Tech Talks include design, coding, best practices, and time-saving strategies.
Learn more about Oro Tech Talks and register to attend
January also saw the release of OroCommerce LTS 5.0. This year's major release focuses on providing the tools and technology you need to improve customer experiences, increase security, and improve backoffice productivity and workflows with Microsoft Office 365 integration.