Rising case numbers all over the world point to the somber fact that the COVID-19 pandemic is far from over. Many countries remain in prolonged lockdowns, partial lockdowns, and recessions. The United States, by comparison, can consider itself to be out of the recession, according to a recent announcement by the National Bureau of Economic Research or NBER.
According to the NBER, a recession is a significant and prolonged decline in economic activity spread across all aspects of the economy. Based on this definition, the recession caused by COVID-19 is arguably the shortest economic downturn in US history.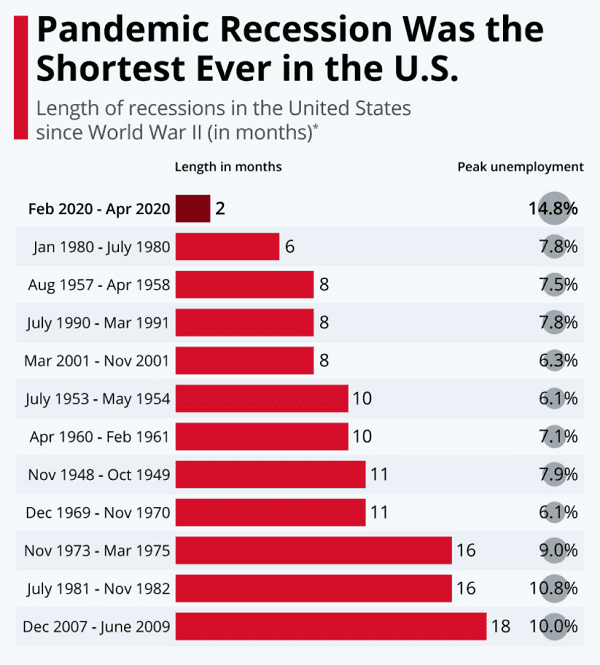 But how do eCommerce and recession work – does one impact the other?
In this month's B2B eCommerce news roundup, we take a look back at July 2021, and explore the news around B2B sales, marketplaces, manufacturing, distribution, and more. We'll touch upon various industry news, customer trends, and share some success stories.
What Happened with B2B eCommerce In July 2021?
Software and technology purchases remain a top B2B purchase, according to the recent 2021 B2B Buyers Survey by Demandbase. Among the respondents were 257 B2B marketing, sales, and IT professionals in high tech, professional services, and business service sectors.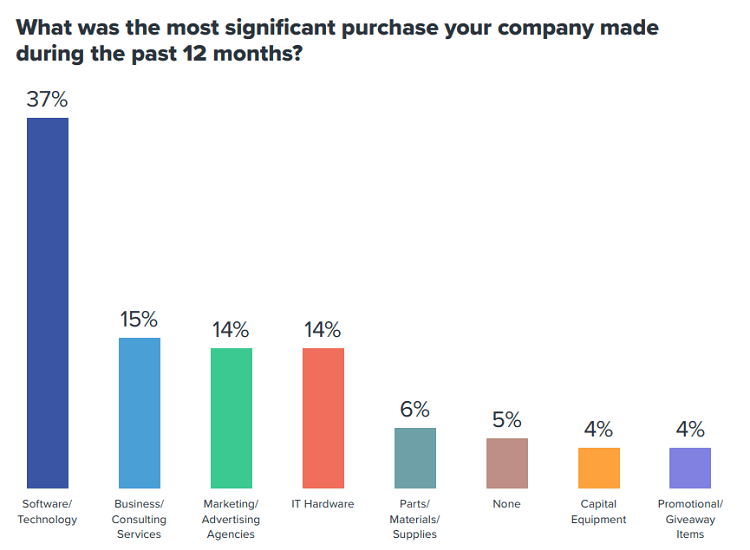 But why is this?
Manufacturers, distributors, and other B2B sellers saw firsthand the impact of lockdowns and supply chain shortages on their operations. They've seen how buyers flocked online to purchase products they need. They also realized that taking calls, managing orders manually, and meeting in person could be replaced entirely with digital technology.
Additionally, B2B marketplaces have seen a spectacular rise. B2B sellers and buyers are drawn to these platforms to cement their market share and build relationships with trusted suppliers in various industries. No wonder that according to DHL, B2B marketplace and digital commerce sales are expected to grow to approximately $20.9 trillion.
Amazon's Q2 sales: growth slows, third-party seller share increases
The Q2 numbers are in and Amazon's growth rose by only 26.4% when compared to nearly a 40% spike during the same time last year. Third-party sellers, however, now account for a larger share of unit sales – 56% versus 53% a year ago. Increased competition means that Amazon's position in the market (and advertising revenues) will only increase. These and other statistics attest to the marketplace model's resiliency and a source for growth post-pandemic.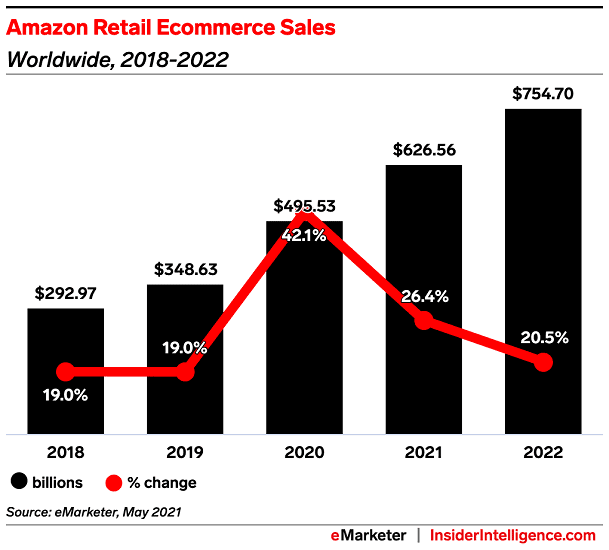 Manufacturing News in B2B eCommerce
Top manufacturing states from IndustryWeek
As manufacturers reel in from a turbulent year, IndustryWeek looks at what's happening on the ground. Its US 500 report pits states against one another according to their attractiveness to manufacturers and how much the sector contributes to each state's GDP. Find out what share of manufacturers calls each state home in this slideshow report.
Manufacturing pains: solved with digital transformation
According to recent research by Cleo, virtually all manufacturers have experienced at least one disruption last year. The good news is that 2/3 of these disruptions can be resolved with modern, integrated technology such as B2B eCommerce software, which drives digitization in manufacturing.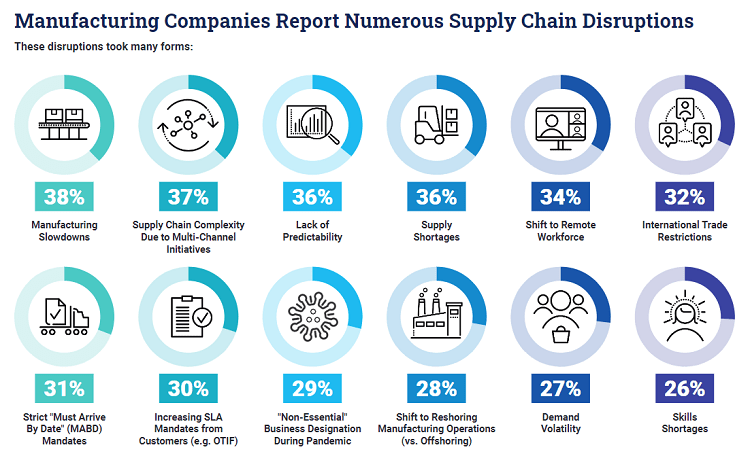 Packaging World's 5 B2B eCommerce packaging design trends
In the digital world, brands are less worried about how they look on the physical retail shelf and more concerned about the digital experience. But what happens when the package gets into customers' hands? This podcast explores some of the trends in the eCommerce packaging industry and how it applies to B2B eCommerce sellers, warehouses, and manufacturers.
B2B sales platforms: key to revenue for manufacturers
Last year, a survey asked numerous US manufacturers which B2B sales technologies were expected to generate the most revenue over the next five years. Most manufacturers responded with B2B eCommerce and B2B marketplace platform solutions. In third place came EDI in eCommerce, followed by email, phone, and fax.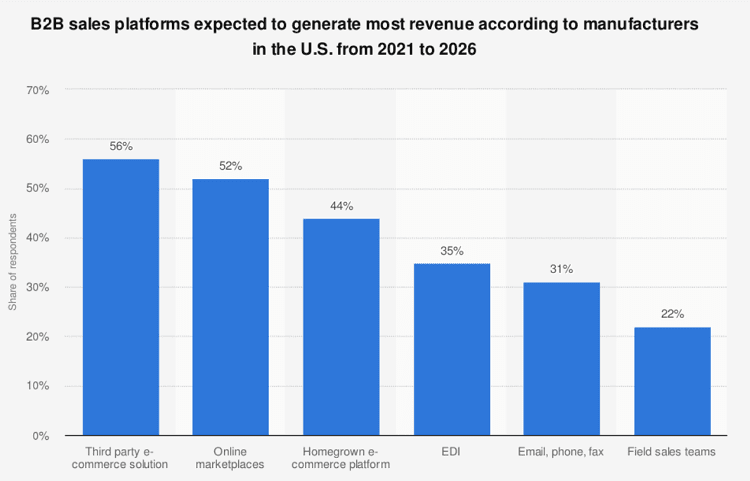 Distribution News in B2B eCommerce
How distributors can succeed with B2B eCommerce: A 3-pronged strategy
Considering the neverending boom of B2B eCommerce and B2B marketplaces, distributors entering the space are facing an increasingly competitive online presence. In order to differentiate themselves, get noticed, and gain customer trust, B2B distributors must take a "three-pronged" approach to their B2B eCommerce strategy, says Susanne Adam of SAP PE.
Top 8 supply chain technology trends for 2021
Despite a positive economic outlook, a good 38% of supply chain leaders are not confident their supply chains will withstand the challenges of the next few years. In this article, Thomas explains the technologies and trends shaping the industry, and where organizations can expect to focus their spending in the near future.
B2B eCommerce and B2B Marketplace Success Stories
Leading medical supply marketplace changes hands
The healthcare eCommerce market is expected to reach $643 billion in 2025 at a CAGR of 17%. and Bain Capital is looking to capitalize on this growing industry. Recently, Bain Capital purchased PartsSource, a B2B marketplace for medical equipment.
B2B manufacturing marketplace Fashinza raises $20 million
Fashinza, an Indian fashion and apparel manufacturing marketplace has raised $20 million in funding. The B2B marketplace startup addresses supply chain challenges and payments issues through its buy now and pay later program.
Wacker Chemie AG's pricing engine key to better customer experience
Price negotiation is an inherent part of most B2B buying processes. It's also a complex topic for chemical manufacturer Wacker Chemie AG. Its prices are not available on the website and are negotiated on a case-by-case basis. Wacker implemented a B2B eCommerce price quoting and personalization engine that relayed the right prices to customers across all sales channels.
Thanks for Reading Our July 2021 Roundup!
That's all for July 2021. We hope you found our monthly roundup informative. If you'd like to contribute a tip or interesting story, let us know by email or social media. Please bookmark the OroCommerce blog to stay on top of the news and developments in the B2B eCommerce space.