The line between Amazon and Walmart is getting blurred, especially as companies chip away at each other's share. This time, however, Amazon is facing some unique challenges. For example, Amazon recently sued 10,000 Facebook groups for generating fake reviews. In eCommerce, reviews are a valuable commodity and trusted by consumers – stars directly correlate with sales. Fake reviews, on the other hand, give some products an unfair advantage, making it difficult for consumers to determine which products are worth buying.
But on a global scale, not every country or culture trusts reviews the same way. For example, more than half of Italian customers trust reviews, while Swiss customers are definitely more skeptical: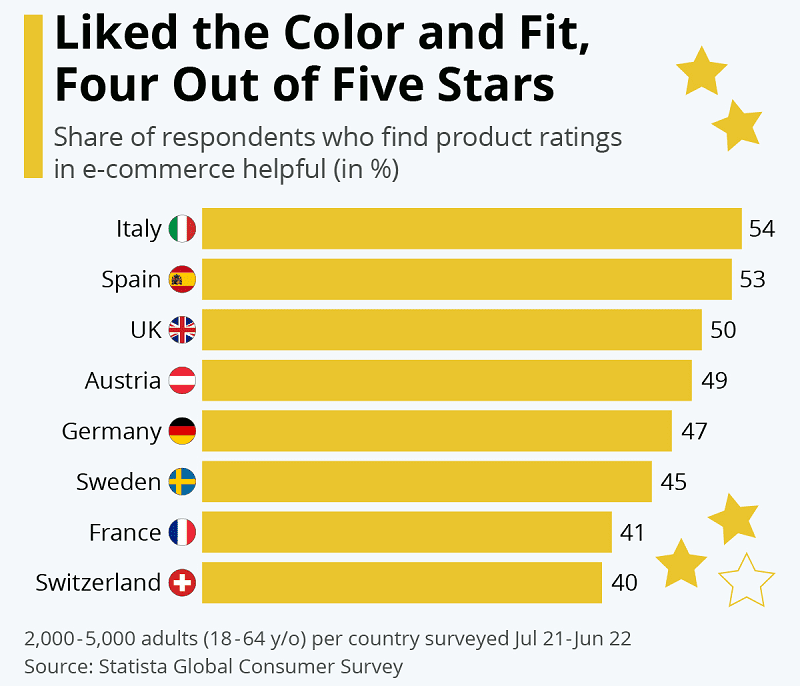 Even though Amazon added a lot of perks to its Prime membership, it's proving difficult for the retail giant to keep shipping costs down amid challenging supply chain conditions and rising fuel prices. In fact, Amazon's logistics costs have been steadily increasing over the past decade. While Amazon's revenue also grew during the same period, it's not enough to offset the surge in logistics costs, which lately translates to higher Prime membership fees for customers.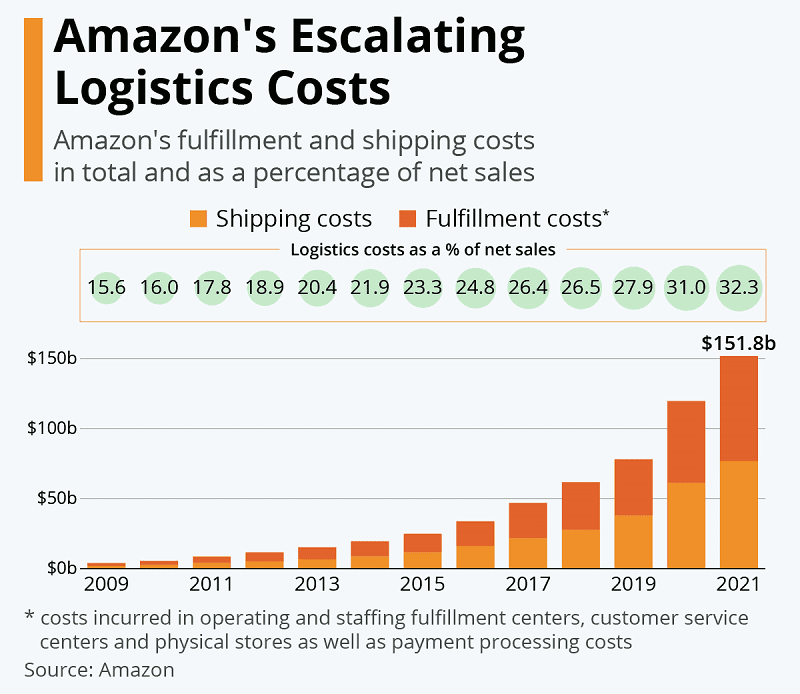 At the same time, it's not the first time Amazon faced these types of challenges. Despite short-term hiccups, Amazon has a track record of decision-making and investments that usually pay off. 
In this July 2022 B2B eCommerce News Roundup, we'll explore what's going on in the world, explore the supply chain challenges, and issues facing manufacturers, distributors, and B2B brands. We'll also talk about trends in marketplaces and how B2B businesses are keeping up.
B2B eCommerce News
How businesses can survive the next downturn
We see a contraction in the economy, but consumer spending and corporate cash balances are healthy. However the current economic situation plays out into the future, McKinsey is predicting a long-term rebound that could play out via the following three scenarios: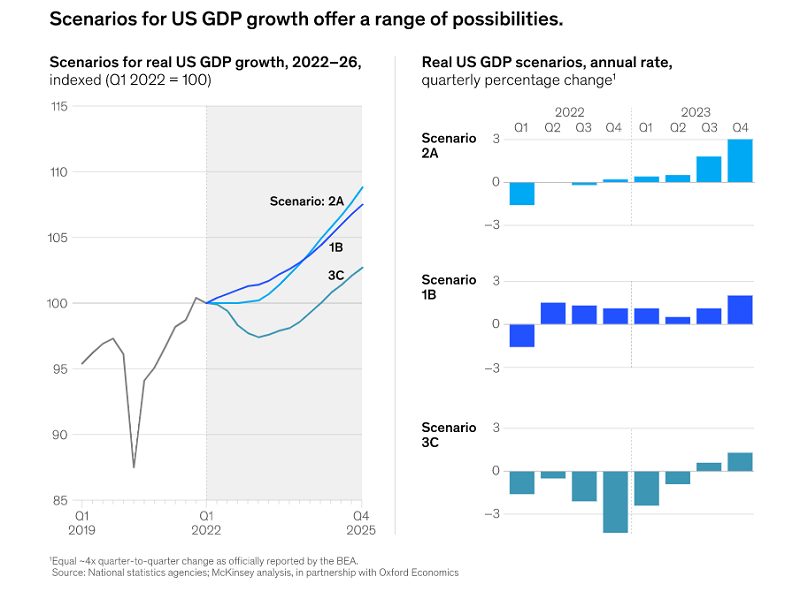 Explore Mckinsey's findings here.
How to optimize the buying journey with B2B eCommerce
Despite the popularity of eCommerce among consumers, B2B companies don't always give eCommerce the attention it deserves. B2B buyers, however, don't give second chances – they are willing to drop brands that don't live up to their buying expectations.
Unilever's big bet: eCommerce
The largest consumer brand in the world grew its digital commerce sales 25%  compared to the first half of 2021. According to Digital Commerce 360, it means that Unilever digital sales increased by more than $1 billion – from $4.03 billion to $5.039 billion, to be exact.
B2B podcast: customer adoption
Episode 4 of B2B Commerce Uncut was all about customer adoption. What can go wrong, and what needs extra attention? We sat down with two individuals who led digital transformation in their companies: Andy Wagner, Executive Director at AAXIS Digital, and Jason Vagnozzi, Global Director of Additive Manufacturing for Braskem.
Listen to the podcast and read the summary here.
B2B Supply Chain News
Will the supply chain crisis continue through 2023?
According to a survey by procurement firm Ivalua, 97% of 233 procurement executives from the United States and the UK are experiencing "significant disruption". What's on the table for manufacturers, distributors, and B2B brands to bolster confidence for the future? 
Discover the key survey findings here.
B2B Payment News
Digital payment services in the United States
PayPal takes the first spot as the most popular online payment method, according to Statista's survey. In fact, PayPal is twice as popular as the second provider on the list, Venmo, which, incidentally, is part of PayPal's network.
B2B Manufacturing and Distribution News
Industryweek 500: The largest manufacturers
Industryweek 500 is a collection of key performance metrics of America's manufacturers. Published annually, it's an exclusive ranking of revenue statistics of some of the largest publicly traded companies.
Download the report (email required).
A $52 billion boost for US semiconductor manufacturers
Over the last few years, China rapidly expanded its production of computer chips and is on track to become the third-largest producer behind the US and South Korea. The new bill hopes to rebuild US manufacturing capacity to remain competitive with China.
Learn more on Supply Chain Dive.
B2B Marketplace News
Bowery Capital, a New York investment firm, ranked marketplaces by size in its recent report. When we consider the size of marketplaces based on how many employees they have, it turns out that many B2B marketplaces employ a significant number of eCommerce employees.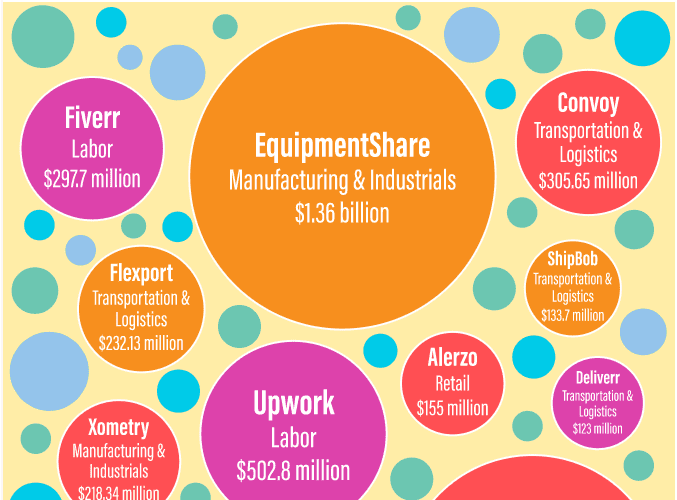 Learn more about these findings.
B2B eCommerce Success Stories
Balance, a B2B payments platform, secures a $56 million round
Balance is a B2B marketplace and eCommerce payment providor. They recently secured a $56 million fund, bringing up the total funding to $87 million. The company says its tools allow companies to work with any payment method, and get instant payouts and net terms financing.
Cartona, an Egyptian  B2B marketplace platform, raises new round
Cartona brings together players in the traditional commerce market. From mom and pop stores to wholesalers and distributors, the company helps merchants reach each other and transact securely. So far, Cartona has raised $12 million in Series A funding.
Construction management startup Tracecost raises $2.5 million
TraceCost is a construction software designed for project managers, contractors, and architects. From finances to estimations to inventory, the system allows participants to optimize project costs and delivery timelines.