While some countries are easing restrictions and getting vaccinated, many others are experiencing further waves of infections. June 2021 has seen a continuation of this trend, as a rapid spread of the Delta COVID-19 variant engulfed numerous countries. 
After first being identified in India, the variant quickly re-established itself in the UK. Today, it remains one of the top concerns for the EU as Portugal and Germany contend with various forms of lockdowns. Other countries that exhibit a high share of the Delta variant include Russia, Indonesia, and Uganda, which remains the largest hotspot in Africa.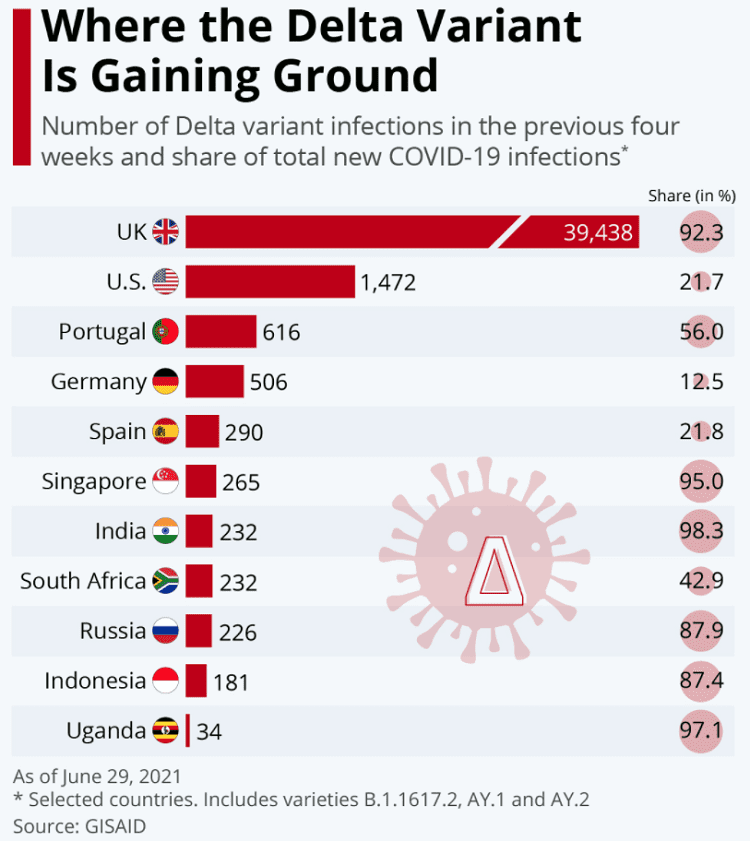 We're taking a look back at June 2021 with our B2B eCommerce news roundup. Is there anything new in manufacturing, distribution, warehousing, and B2B sales? Today, we explore various customer trends, industry news, security, workplace, and marketplace developments.
Here's What Happened In B2B eCommerce During June 2021
As we recover in 2021, we expect B2B brands to continue balancing in-person and digital commerce sales. The pandemic taught many B2B eCommerce brands to take the customer experience seriously, respond to rapidly changing needs, and keep a close watch on supply chain performance. The next stage will be blending the physical retail experience with digital – from in-store digital screens to augmented store navigation to digital shelf labels.
One of the biggest reasons for this change is the emergence of 5G networks. As the next evolution of wireless networks, 5G smartphone subscriptions project to cross the 500 million mark this year, more than double from 2020. In the years that follow, that number is expected to double once again.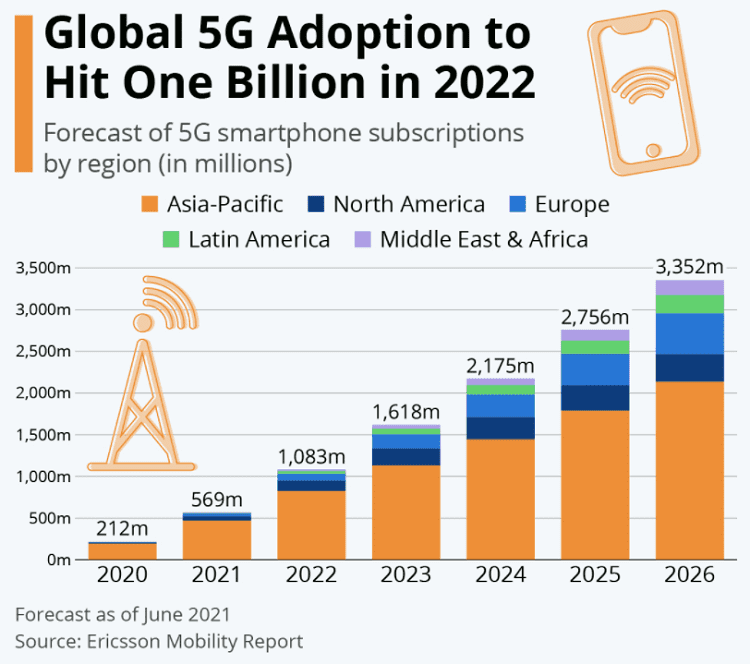 As digital transformation morphs from a priority to a prerequisite, B2B brands will be under even more pressure to offer seamless connections between physical and digital. Executives must understand that while 5G is still in its early days of deployment, the future is just around the corner.
Amazon's Prime Day demonstrates strength of marketplaces
This June, all eyes were on Amazon's Prime Day. Unsurprisingly, sales were up 7.6% compared to last year's event. What's more remarkable is that Amazon's marketplace offerings continue holding their own. According to data by Digital Commerce 360, Amazon's marketplace sales grew 12%, compared to 5.3% growth of Amazon's own collection.
Despite its enormous successes, Amazon also faces numerous challenges. These include ongoing legal issues, from antitrust accusations to questions about merchant and customer data usage. What's more, selling on Amazon Business is not so cut-and-dry for B2B merchants and fraught with pros and cons.
Convenience important, but not the only factor
The pandemic prioritized convenient buying experiences, but as the report by YouGov demonstrates, there are other reasons why we shop online. In fact, almost three-fifths of consumers say the key motivation for online shopping is the ability to receive deliveries at the place and time convenient to them.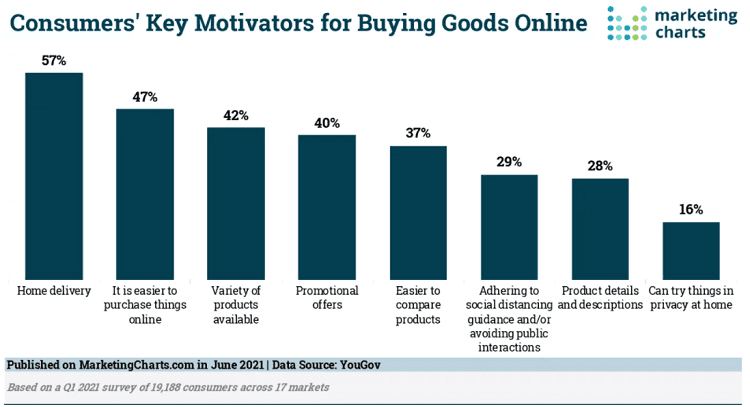 Content marketing tactics for B2B eCommerce
With the digital commerce market valued at over $12 trillion and more growth on the horizon, it's important for B2Bs to take their content marketing seriously. Entrepreneur shares the five best content marketing tactics to take advantage of in 2021 for brands to get on their customer's radar.
How to get sales at the center of digital transformation?
B2B customers are increasingly moving to digital, and brands are not prepared. The reason is simple: sales is often a neglected component in digital transformation. To future-proof their business, brands should consider the following:
Why do customers care about omnichannel?
From using mobile wallets to shopping online and picking up in-store, to buy now and pay later, customers want to have it all. Trying to be everything to everyone is really hard, but it's the only way to succeed. Follow the link for more Retaildive survey results.
Security News In B2B eCommerce
How do you prevent supply chain attacks?
A supply chain attack is a cyberattack targeting complex processes and resources shared between organizations. These types of attacks usually remain undetected and require coordination between different parties to reach a solution. Thomasnet explores ways to mitigate the risk of such attacks.
Workplace News In B2B eCommerce
How to address workplace generational gaps?
For the first time ever, up to five generations find themselves working side by side. As workplaces get more diverse, the role of technology increases, and older generations retire later, how old one feels may play a bigger role than their chronological age. MIT's Sloan Review has more.
Masks: still a requirement for on-site workers?
The majority of US adults believe masks should be a requirement of on-site employees. However, most employees are divided on this issue, so employers must understand how to carefully navigate these attitudes when crafting policies. Refer to EHSToday's slideshow for more.
B2B Marketplace News
How do you build a B2B marketplace?
Although the benefits of the marketplace are quite straightforward, planning your marketplace, evaluating vendors, and bringing your ideas to life can be anything but. This guide goes over the process of building a marketplace for sellers and buyers from start to finish.
What can marketplaces offer DTC brands?
The disruption caused by COVID-19 and changing customer tastes have given rise to marketplaces. While B2Bs and D2Cs see massive benefits of listing on marketplaces, some challenges remain – and this offers incredible opportunities to marketplace operators.
B2B eCommerce Success Stories
How Kellogg's benefited from B2B eCommerce
Kellog's B2C and B2B businesses both benefited from digital commerce during the COVID-19 pandemic. Digital ordering enabled them to understand their retailers better and pinpoint strong and weak selling items. Read on for more information:
Egyptian B2B marketplace raises $3 million
The Cairo-based B2B eCommerce marketplace Fatura sells FMCG products to grocery retailers. Currently, it has over 500 sellers such as manufacturers, distributors, and wholesalers. Egypt's FMCG space makes up 5% of the market, meaning there are lots of opportunities for growth.
Thanks for Reading Our June 2021 Roundup!
And that's a wrap for June 2021. We hope you found our monthly roundup informative. As always, if you'd like us to include your contribution, let us know through our channels such as email or social media. Don't forget to bookmark the OroCommerce blog to stay on top of the news and developments in the B2B eCommerce space.