The digital commerce market is heating up globally, and nowhere has this been more true than in Africa. In fact, Africa is forecast to surpass half a billion of eCommerce users by 2025, with the growth almost exclusively in mobile web traffic.
Jumia, Africa's leading eCommerce company, has been connecting merchants and buyers across 11 countries for ten years now. Modeled after Amazon, Jumia allows customers to purchase a broad range of products, from electronics to makeup. The company also helps facilitate these transactions with homegrown payment tools like JumiaPay and an impressive network of fulfillment partners.
Ultimately, the logistical challenges of the African continent may limit Jumia to the largest and most lucrative markets, but developments in drone and autonomous driving technology can change that.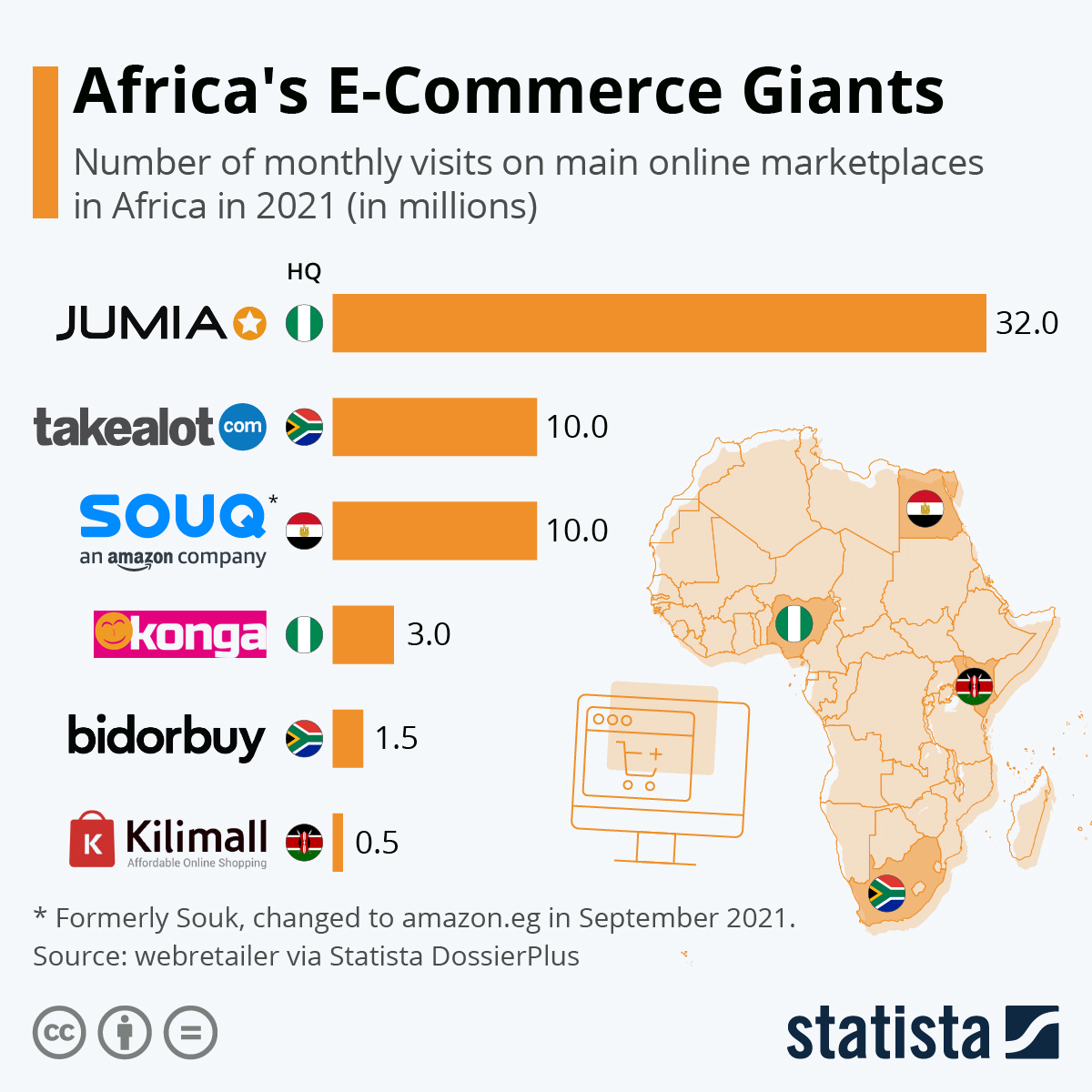 While many African consumers are connected and mobile-based, whether or not African businesses will embrace B2B eCommerce to the same degree is yet to be seen. After all, the global B2B eCommerce market is five times larger than B2C eCommerce. As populations and consumption rise, so will B2B transactions on B2B marketplaces and distribution websites.
In this June 2022 B2B eCommerce roundup we explore how B2B eCommerce is evolving, the challenges faced by sellers, and how geopolitics, global economy, and supply chain issues impact eCommerce. Towards the end, we'll take a look at some B2B eCommerce stories resulting from their digital transformation.
Let's support Ukraine together!
The world economy entered 2022 with hopes of a strong recovery. However, the war in Ukraine changed the global economic outlook dramatically. All major international organizations, including the IMF, World Bank, and rating agencies like Moody's, reduced their global forecasts. As long as the war continues, most companies will experience stunted growth, higher inflation, and material shortages, depending on their economic ties with Russia and Ukraine.
We want to help support Ukraine in its fight for freedom, democracy, and a bright future free from death and destruction. While the news about Ukraine may sound repetitive, we should not forget about Ukraine's fight. Please help us support Ukraine by going to the page below.
Global eCommerce is growing
The world is grappling with economic and geopolitical uncertainty, supply chain issues, and post-COVID shocks. However, according to Morgan Stanley, several key trends indicate that the global eCommerce outlook remains optimistic.
Many factors are driving growth, including connectivity, innovation in logistics, mobile device ownership, and the appeal of marketplaces. These will sustain the global eCommerce boom and offer businesses multiple expansion opportunities across verticals and regions.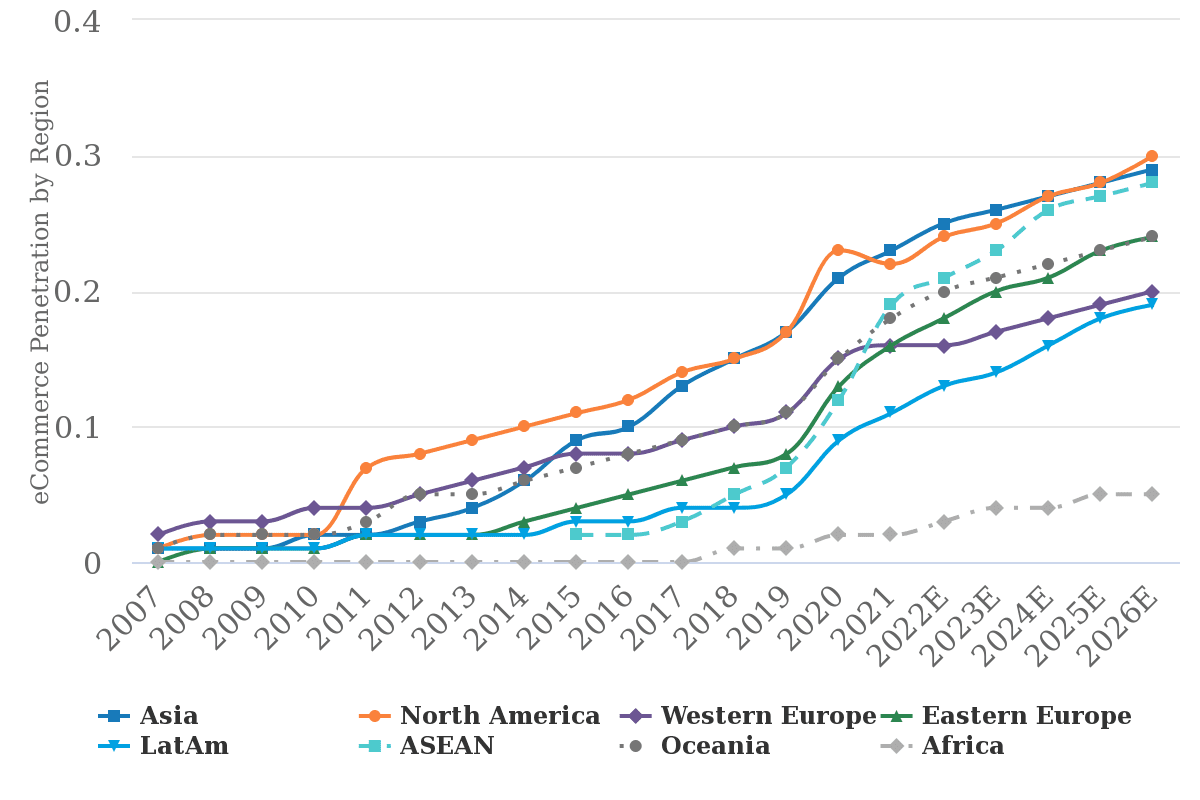 Read the Morgan Stanley article here.
Updated US B2B eCommerce growth projections
In early June Forrester readjusted its long-standing B2B eCommerce forecast. Before COVID-19 hit, they predicted that US B2B eCommerce would hit 1.8 trillion by 2023. However, we've already crossed that mark. In the updated projection, Forrester anticipated that US B2B eCommerce will now reach $3 trillion by 2027.
Learn more about these and other findings.
B2B eCommerce Adoption: B2B Commerce UnCut #004
What are the ingredients of successful internal and external B2B eCommerce adoption? Our host Jary Carter sat down with Andy Wagner and Jason Vagnozzi, both veterans in digital transformation and customer adoption to talk about what it's like to manage organizational change.
Read the podcast recap and summary here.
The C-suite may join the great resignation
It turns out it's not just employees frustrated with working conditions. Executive-level business leaders are also struggling with their work-life balance – and they're not happy about it. The recent Deloitte Survey performed with Workplace Intelligence explores workplace health among C-suite executives.
Read about these findings at EHSToday.
B2B eCommerce Manufacturing News
Dealing with product data challenges
Digital commerce in manufacturing is accelerating, but the same can't be said about product data management. In fact, product information is an area with big gaps between companies that are successful and ones lagging behind. When Iriver surveyed 100 companies, here's what they found.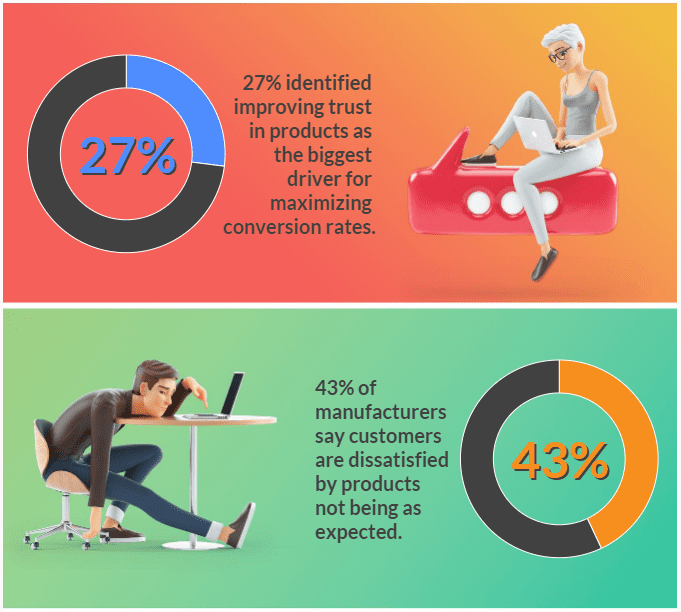 Find out more at Digital Commerce 360.
The 2022 manufacturing industry outlook
Deloitte published its 2022 Manufacturing industry outlook summary. According to the report, manufacturers with high digital maturity before the pandemic, or those that accelerated digital transformation during the pandemic had more resilience compared to companies who had low digital maturity.
Read the summary of the report here.
How US workers lost their independence and livelihoods
In this article from IndustryWeek, the author criticizes the "postindustrial service economy", which has created winners, but also losers among those unwilling and unable to transition to the service economy. This transition has become a rough road for many, and the government isn't doing much to help.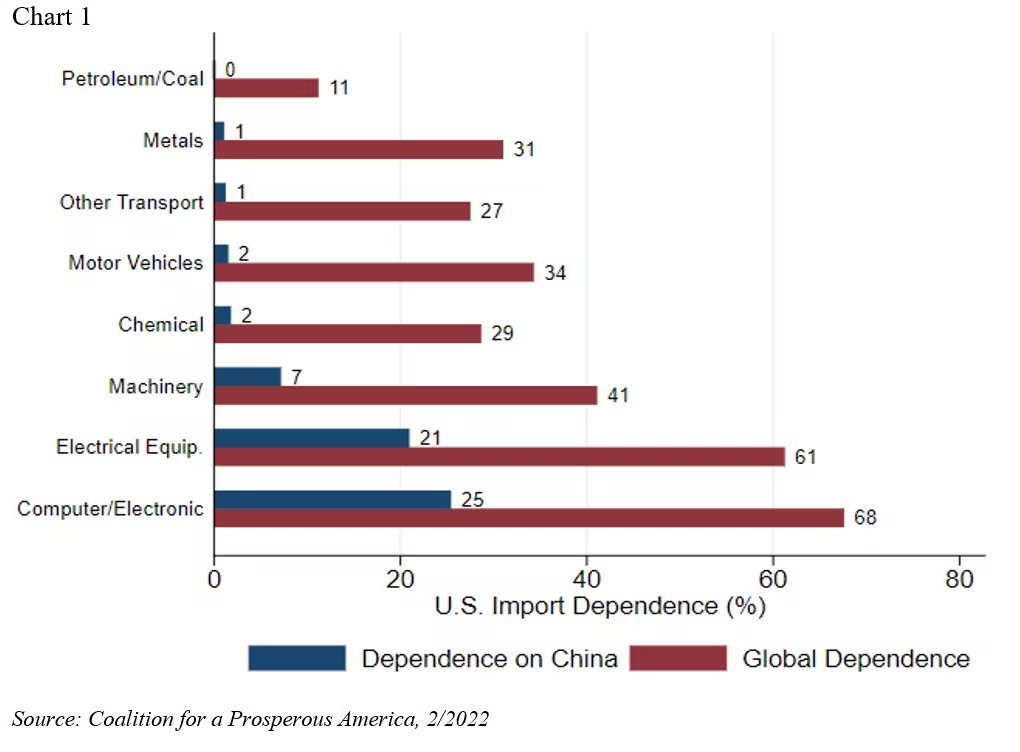 Learn more in the article here.
B2B eCommerce Distribution News
The warehouse robotics market expected to reach $51 billion
According to Thomas, the warehouse robotics market is expected to grow to $51 billion in sales by 2030. This can be attributed to Amazon's interest in the sphere, as well as VC funds turning their attention to warehouse and eCommerce automation startups.
Find out more in the article on Thomas.
B2B eCommerce Supply Chain News
What to consider when making changes to supply chains
By now, most supply chain leaders are aware of disruptions and understand the importance of optimizing their supply chains. They're changing their manufacturing processes, warehouses, suppliers, or transportation networks.
Read more at Supply Chain Management Review.
"Don't ship air by air" – insights from DHL Supply Chain
Automation is the next big thing in packing. Warehouses increasingly use automatic palletizers, cartoners, and robots. Alicemarie Geoffrion, VP Packaging Operations, says the result of that is packages with "a lot of air – you have a small product in a large box, and a lot of fillers."
Read more about DHL Supply Chain at PackWorld.
Marketing News and B2B eCommerce
For 2022, Gartner surveyed several marketing executives to determine their budget and strategy priorities. During times of uncertainty, marketing leaders must prioritize programs, marketing channels, and resources to remain competitive and efficient.
Read more about Gartner's marketing insights for 2022.
Success Stories in B2B eCommerce
It turns out that buy now pay later is all the rage in B2B eCommerce.
India's Solv raises $40 million for its bay now pay later offering.
Founded in 2019, Solve is a B2B marketplace aimed at suppliers and business buyers in India. It offers numerous product categories in the FMCG sector, from apparel to groceries, electronic accessories, to home and garden products.
Hokodo Raises $40M Series B For B2B BNPL
A London-based BNPL technology startup Hokodo raised $40 million in Series B round. The company offers BNPL services for businesses and will use the funding for product development and expansion within the region. Currently, the company operates within the European continent.