For those who may be new to our community or just starting to learn OroCommerce, the Oro team has developed a comprehensive online course that covers all OroCommerce basics. Take our new free Fundamental OroCommerce course to leverage the application's B2B features and get the knowledge you need to setup your B2B eCommerce store and start selling online.
General Course Information
How to access the course. Our new eLearning course is available 24/7 through the online course catalog. You can find it in our OroAcademy.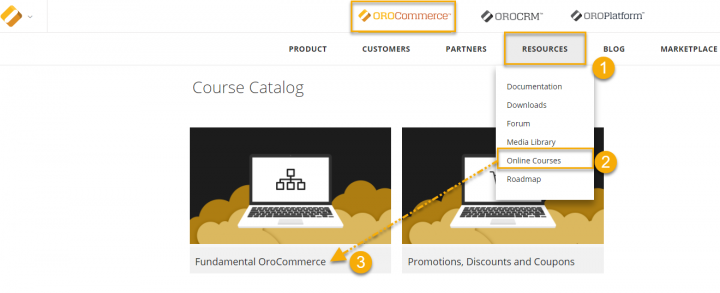 How to enroll in the course. Unregistered users will have to first sign up for an account to enroll in the Fundamental OroCommerce course. Previously registered users only need to log in to their existing account.
Study at your own pace. Course takers can either follow the suggested course agenda or navigate through which lessons they'd like to take. Our website is mobile-friendly, so you can even study the Fundamental OroCommerce courses on the go.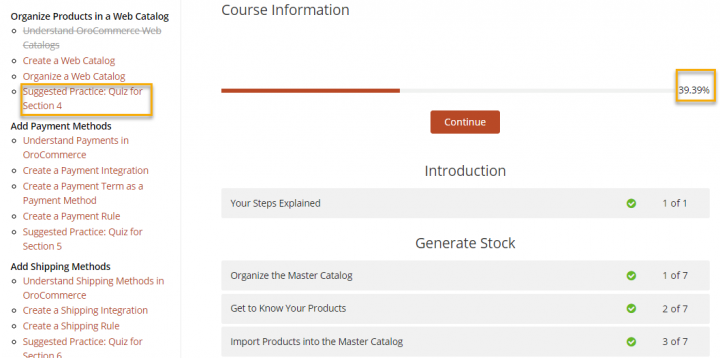 While taking the course, students can track learning progress and test knowledge gain.
Here's What You'll Learn
The Fundamental OroCommerce course will guide you through every step of setting up an OroCommerce store including adding inventory, setting prices, creating and managing web catalogs, and working with payment and shipping methods. The course also provides insights into storefront operations such as starting a customer registration, creating a request for quote (RFQ), and submitting an order through a single-page or multi-step checkout.
Let's briefly overview the learning material each course section covers:
The Generate Stock section will teach you about simple and configurable products as well as product attributes and families. It also explains how to set up a master catalog, create its categories, and add and import products. You will also learn how to create and manage warehouses, import product inventory levels, and manage the quantities of products available in stock.
In the Set Prices section, you'll learn about the price list management essentials including different types of price lists, currencies, price tiers, price list calculations, and more. Read this section to understand how to import prices into price lists.
The Organize Products in a Web Catalog section breaks down the basics of creating and customizing OroCommerce web catalogs with the help of different types of pages available in the application.
In the Add Payment Methods section, you'll find out what B2B eCommerce payment solutions are available in OroCommerce. You'll learn how to set up things like payment integrations, payment terms, and payment rules.
The Add Shipping Methods section overviews shipping methods supported by OroCommerce and teaches how to configure shipping integrations and rules.
The Explore OroCommerce Storefront section will walk you through the storefront processes as if you were a customer, from registration to checkout. You will explore the customer registration flow from the perspectives of a buyer (in the storefront) and a sales manager (in the backend). You will also learn about different ways customers can create an RFQ via the storefront and how sales reps can respond to it using Oro's management console. Besides, you can see how customers use quick order forms to quickly upload products for checkout.
The Follow Up section offers several interesting practice tasks based on what you've just learned. This is where you can practice your OroCommerce skills! All that's needed to complete the tasks is an OroCommerce instance and the knowledge you gained from the course. Alternatively, you can deploy a virtual machine with OroCommerce application demo instance in Oracle VM VirtualBox if you need an instance.
Enroll in the Fundamental OroCommerce course to quickly leverage product catalogs, price lists, shipping and payment methods, and other vital OroCommerce functionalities that facilitate successful B2B eCommerce. We hope our Community will find the new self-led training useful. Feel free to share your feedback in the comments below.