The pandemic has accelerated the pace of change in the business world. Business leaders are adapting to operate in an ever-evolving landscape where the only certainty is change. Are there any lessons to be learned from all this?
If recent experiences have taught us anything it is that a spirit of resilience and the ability to adapt are keys to operating in the new normal.
Now more than ever, digital tools such as B2B eCommerce play an instrumental role in protecting your business from future disruption and are a stepping stone to digital transformation.
This post is a part of our COVID-19 series that includes:

Lessons Learned by B2B Commerce Businesses 
Even the most prepared businesses couldn't plan for the fallout from the pandemic. Disaster recovery plans tend to be heavy on recovering from natural disasters and data loss and not loss of business through disease.
But businesses are acting and reacting, and there are lessons to be learned. They are embracing technologies and new processes that maintain continuity and even enter new markets. We asked B2B businesses their lessons learned thus far and how they've adjusted to new ways of doing business.
1. Flexibility and resilience are key
The business owner that comes through this crisis is the one that learns to adapt. It's not enough to monitor the situation and look for ways to cut losses. You must think creatively, exercise agility, and take advantage of opportunities as they present themselves.
Granted, for some businesses, online is not an option. "It's difficult to build trust solely over a Skype call," admits William Pinson, a B2B consultant in the energy industry. What helped traditionally remote teams like Buffer is their focus on trust, autonomy and responsibility. This means timely recognition of goals reached, hands-off approach to management, personal relationship-building initiatives, transparency, and even displays of vulnerability.
Some businesses are taking the opportunity to adopt new technologies and learn new skills. They are reflecting on their ability to adjust to new norms, to consider how to better meet customer needs, and even reevaluate how they do business.
"During the outbreak, business owners who were accustomed to face to face interaction are now realizing another route is needed," believes Jeff Moyer, Director of B2B design agency Advance Web Solutions. "This especially applies to the 50 and over crowd who have resisted more modern means of communication." Now, these employees must adopt digital technology such as video conferencing to remain effective.
2. Always look for new sales strategies
We're all focused on selling and staying on the cutting edge of our industries. For some, the crisis has changed the way they view the customer relationship. Even before the pandemic, the modern seller was focused on solving problems. It's a B2B sales strategy that's taking hold in all corners of the business. "We are mentoring, inspiring, educating [throughout] social media, email, outreach, and content programs", explains Steve Hammer, President of B2B digital marketing agency Rankhammer.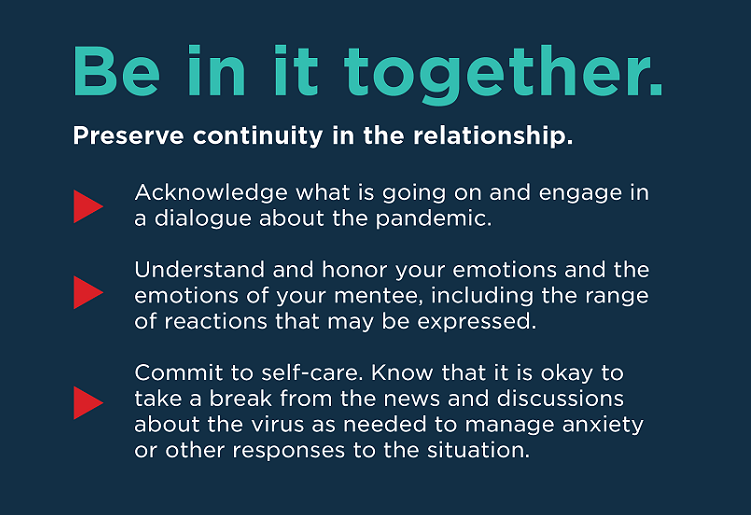 [Source]
"Prospects want to be ready for when normal returns and be the first to show value."
The economic downturn is a time to get closer to customers. Now is the perfect time to strengthen existing relationships and work on efficiencies. "We'll all come out stronger on the other side, and we need to give customers service that matches or exceeds their expectations," thinks Andrew Maff, Founder and CEO of marketing consultancy BlueTuskr.
3. Having an online presence is essential
While some B2Bs were already capitalizing on digitization initiatives such as B2B eCommerce software, others were caught off guard. Companies that shied away from the investment due to slow decision making or channel conflicts are forced to play catch-up just to start selling online quickly.
Those seeing growth in their online performance are likely to continue to see growth. "If it's working now, it's going to work better as the world returns to its new normal," admits Hammer.
For many businesses, the current budgeted costs will be moved to later periods in the year. When they start buying again, clients will expect real performance. It's a big shift in mentality, where digital investment received little attention in B2B. But if there's any lessons learned, it's not to let up on what works.
4. Stay connected and listen closely
When times are difficult, cooperation and collaboration with other people – even if they are not your customers or in the same industry – can get you on everyone's radar. Nellie Akalp, CEO and Founder of B2B document filing service CorpNet.com did just that.
"We went back to the basics and simply asked everyone how we can help."

[Source]
With some powerful feedback from clients, we are able to find loopholes and opportunities to come out with new products, she continues. "This approach will allow us to stay open through this pandemic and also create long-term new revenue for when the country, and world, gets back up and running."
5. Siloed data and processes are dangerous
In times of crisis, your decisions are only as good as the data you use to make them. That's true for any other day of the week, too. But in a rapidly evolving environment, those who detect trends first can better plan for contingencies and create alternative pathways for the management of people, goods and services. If data is siloed, then the right customer, inventory, supply, and demand data may not be in the right hands. 
Post-crisis, businesses will focus on improving the resiliency and efficiency of their infrastructure. "While strengthening our virtual systems and tools is an effort to improve how efficient our internal processes are," says Siddhartha Gupta, the Chief Executive Officer of B2B online assessment software Mettl, "we also realize our business messaging can be disrupted even further into the future."
6. Learn how to effectively work remotely 
Many jobs in manufacturing and distribution simply cannot work remotely. But for employees that can, it's important to help them to do their job better as they work from home. This may include arranging deliveries of equipment to their home or adjusting work hours. These moves may have felt huge just months ago, but not anymore.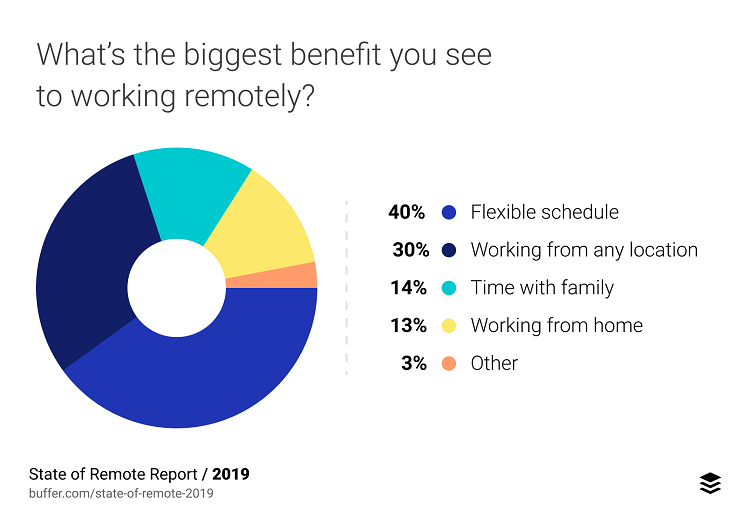 [Source]
"Employees and employers will be comfortable with working from home around 50% of the time", predicts Melissa Cadwallader of public benefit corporation ZenBusiness.
Now that even the most old-school have seen firsthand how their companies kept operating with employees working remotely, Cadwallader believes the business world will be more welcoming to these changes.
7. Explore new marketing tactics
Fewer businesses are advertising so that means less competition. At the same time, more people are staying bigger at home on the internet providing a larger audience. Now's the time to build brand awareness with digital marketing tactics! The lack of expos and tradeshows may reduce your networking opportunities, but with digital marketing at least your competitors aren't standing right beside you.
"Marketing through the internet is, after all, a great way to maintain social distancing!" says Lonny Kocina, Chief Executive Officer of Media Relations Agency. 
"As the crisis continues, there's going to be a market for stories that take people's minds off their troubles", he continues. Instead of worrying about protecting themselves or when toilet paper will be available again, people are seeking out fun, interesting stories as a means of relief.
8. Rethink your supply chains
Aside from the human factors brought on by the stay-at-home orders, the crisis also highlighted a lack of capability to manage supply chains. Businesses relying on tier 1 suppliers have been working with limited visibility in inventory, production, order and fulfillment status. Secondly, sourcing alternate supply sources has been slow.
The pandemic accelerated pre-existing plans to reduce supply chain dependency on China, particularly in the medical and manufacturing spheres. As we return to a normalized state, the talk of homegrown alternatives to Chinese manufacturing will continue.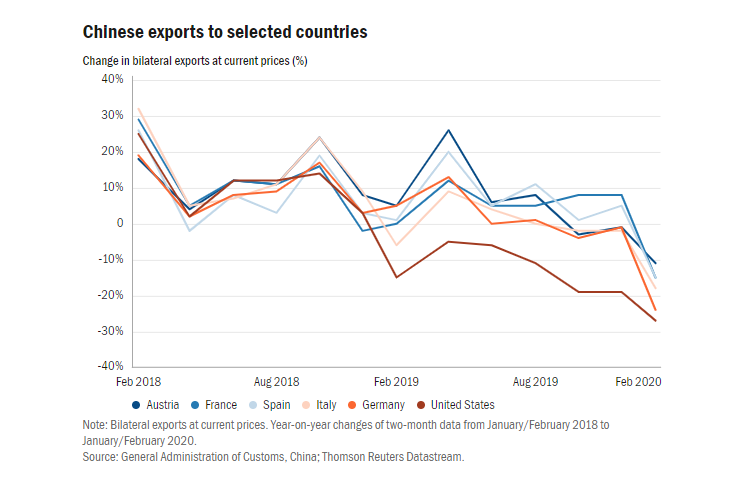 [Source]
"The imperative for greater supply chain resilience versus the attractiveness of China as a manufacturing location is the defining tension that [brands] will need to navigate", explains Manisha Mirchandani, Director of Strategy at Atlantic 57.
In either case, businesses should stay alert during rebound. Companies that move quickly will take advantage of demand that their competitors might have overlooked. Businesses will need to keep a close eye on unexpected costs and logistics disruptions while maintaining profitability.
Is your B2B eCommerce platform ready?
Let's face it: eCommerce has become the sole channel for ordering everything from essentials to services, including B2B products. Businesses that survive will start exploring new markets, business, and selling models such as B2B2C, D2C, and B2G eCommerce. Lessons learned? Now is the best time to review your existing B2B eCommerce processes in light of higher customer expectations.

B2B Customers prefer mobile-friendly shopping, ordering, and payment experiences, especially if they are coming online for the first time.

Customers tend to leave stores with loading speeds greater than two seconds. Make sure every page is optimized for fast loading speeds on all devices.

As inventory changes, make sure it is quickly and accurately reflected in the storefront. Inaccurate stock, pricing and shipping data will drive customers away.

Sales reps that do not have access to customer accounts or cannot easily locate customer data may have trouble supporting their accounts.

A single source of truth helps companies maximize efficiency and stay productive. Digital commerce systems must integrate and synchronize between ERP, PIM for eCommerce, and CRM applications.
Lessons Learned: Ready to Leverage B2B eCommerce?
While the ongoing pandemic has given brick and mortar businesses many reasons to turn to eCommerce, established online merchants are also realizing that having a simple web store is not enough. 
Businesses are realizing that their platforms must not only help them sell more efficiently, but it must also help their customers and their customers' customers purchase efficiently too. Most importantly, this crisis presents opportunities to expand to new local and global markets, and sell to new customers using B2B, D2C, B2B2C, and other eCommerce models.
So what can we expect in the future?
Returning to business as usual will be a difficult proposition in the immediate post-coronavirus era. Leaders must carefully assess entire business systems and plan for the actions that will put the company back on the path to growth.
For B2Bs, eCommerce will remain a revenue-generating lifeline and a way to maintain relationships and customer experiences that brick and mortar wholesalers, distributors and manufacturers on their own cannot.