As per a report by McKinsey, digitization in a warehouse can help optimize the floor plan and improve efficiency by up to 20 to 25 percent.
Material handling and logistics, being the backbone of this value chain, hold the highest importance when it comes to digitization. Any information discrepancy in these segments will lead to inaccuracies in operations. And at the same time, a flow of accurate information to decision-makers positively impacts the warehouse's efficiency. 
In the wave of mass customization, manufacturing firms are pressed against tight deadlines. Any delay in production causes unaffordable losses to these companies and the operations become hassled. 
These uncertainties can be eliminated by digitizing logistics and material handling. The sensors and other tracking devices help generate an enormous amount of data that can be analyzed through advanced analytics tools to get insights that are more than just numbers. 
Here we bring you ways in which digitization is impacting logistics and material handling and the benefits that these areas have realized through it.
Top 10 reasons why you should digitize logistics and material handling   
1. Visibility into the supply chain
For smooth functioning and reduced hassle, warehouses must know how many units every product; quantity of material, etc. is stored at distribution points. It allows the warehouse managers to plan the logistics well in advance and consciously avoid delays.
Secondly, the digitization of warehouses empowers retailers with stocktaking and order status even remotely. You get to respond to your customer better with all information access anywhere. 
It gives you visibility across your supply chain for all critical data, insights on demands and supply, stocks and inventors, and much more to keep inventory under control. As per a report by GS1, the interviewers said that inventory accuracy improved by over 50% with 93-99% accuracy when digitized with RFIDs. 
2. Reliable and safe operations
According to OSHA, "Slips, trips, and falls constitute the majority of general industry accidents. They cause 15% of all accidental deaths." These are very common in warehouses.
These accidents have laid upon stricter regulations in warehouse operations and guidelines increases day-by-day. To ensure you follow the bylaws, you have to train your resources, upgrade their knowledge and make sure your processes are in line with the safety guidelines. It requires investment in time and resources and if the warehouses fail to meet, they are penalized.
Alternatively, deploying drones and Automated Guided Vehicles [AGVs] guided and driven by sensors and programming saves you from all the hassle. They increase safety in more than one way and impart operational efficiency by eliminating human factors.
For instance, handling hazardous material for humans or working in extreme conditions is a major roadblock faced. With drones, most operations can be performed easily while your human resource sits remotely. While AGVs accelerate the work and operations can be performed smoothly as compared to forklifts driven by men. 
All in all, if you are looking to automate your warehouse, AGV vehicles are the technological choice that must be added to your existing system with proper calibration. From reducing labor costs to enhancing functions, AGVs save overall project costs.
4. Enabling Just-In-Time [JIT] manufacturing
Organizations have rigorously pursued the vision of operating lean or Just-In-Time [JIT] manufacturing. However, due to expensive technology, it has remained a farfetched idea in full-scale for most. But increased digitization across the supply chain has become a major benefactor in implementing JIT.
With the advent of AGVs, automation was introduced in material handling big time. Leveraging AGVs in collaboration with a central Warehouse Management System [WMS] gives an edge over the forklift. The integration eliminates silos to regulate inventory scheduling, especially during fluctuating demands.
Also, the warehouse manager can track down the orders, material, movement, etc. at any time from anywhere. It cuts down unnecessary material-man movement and saves loss of time, costs, and boosts productivity.
Digitization further helps in implementing and adopting a lean operational approach specifically for warehouses. Whether you are considering Takt time, 5S or any other lean manufacturing tool that fits your organization the best, digitization enables greater control over decision making by giving insights about your inventory know-about.
4. Enhanced connectivity by removing silos
With growing commercialization, supply chains also grow and so do moving parts. More functions across the supply chain are becoming dependent on each other. For instance, the beginning of manufacturing and dispatch of packaged goods to diminution centers depends upon the timely receipt of raw materials.
In a setup like this, if every department has its tracking system and software, tracking and knowing the order status becomes clumsy for the manager. By deploying a centralized WMS, one can combine all these functions and the timelines in one place. It removes data silos and integrates all functions to give enhanced clarity on operations and schedules.
Information sharing across departments becomes easier. Sometimes, there are provisions in WMS to automatically send emails to a third party, for instance, a distributor. 
Akustica, having third-party warehouses and factories in the USA, Europe, and Asia, needed control over inventory and processes. By collaborating with a subsidiary of Dell, they connected their organization's ERP data with Oracle's NetSuite to achieve visibility. It resulted in real-time visibility of data and the company could schedule inventory every six months to a year with 100% accuracy. Further, it ensured that the physical stocks matched with the data in software which was a relief for the C-suit.  
Single digitized inventory management software gives access to real-time data for all functions and shares information across departments. Sometimes, this information can also directly be shared and emailed to a third party, for instance, a distributor as soon as the product or raw material is dispatched from a location.  
5. Avoid accidents and hazardous situations
A leading inventory management software firm leveraged barcode on inventory for one of its clients having 400+ warehouses. The digitization helped them to track goods and automatic scan of large pallets and reduce labor work. 
Digitization like this at the warehouse enables significant control over errors across logistics due to flawed decision-making. Data-backed decision-making is ideally less erroneous as compared to the ones made on whim or guesswork.
Many times forklift drivers do not see obstacles until they run into one due to fatigue and extreme work hours. It not only increase accidents but also damage resources, delays timelines, and result in monetary losses. But since AGVs are driven by sensors, lasers, markers, wires, and intelligent vision cameras for navigation that can sense obstacles way in ad advance and forestall accidents.
6. Shorter lead times and faster deliveries  
Time and speed are the most critical factors for any business and elementary to logistics. Simultaneously rising eCommerce also invites using external B2B 3PL platforms tracking for logistics. Although third-party logistics eCommerce software has pros and cons both, their use is increasing. To make the most of this software for logistics, digitization becomes the stepping stone.  
Simultaneously, the industry is also witnessing the rise of mass customization where timelines between order receipt and delivery of packaged goods are short. As a result, the use of Configure Price and Quote [CPQ] software has become prominent. CPQs have an advantage when connected with inventory software, WMS, or ERP to expedite delivery. In the same way, digitized logistics data come in handy.
7. Real-time inventory management
As per Retail Dive, overstocks and out-of-stocks situations are costing about $1T to company revenues. Such ordeals can be avoided with insights into inventory and building a resilient supply chain. 
Warehouse digitization is the first step and the biggest leap in this direction. Currently, warehouses are seeing digitization at various levels and in different forms.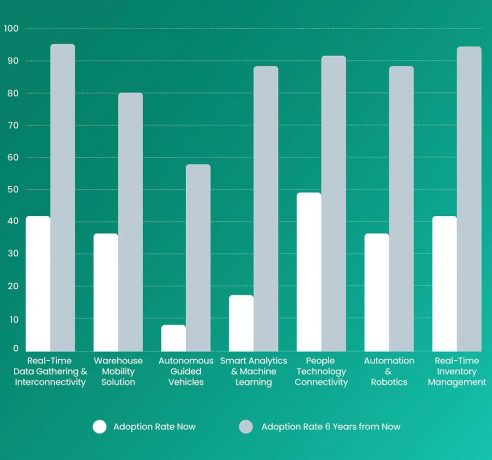 Source: Cyzerg
Amongst these ways, digitized platforms for real-time inventory management have proven to be the most efficient. They pull out accurate reports for every component and help track performance. You can track, record, and have optimum storage, with a digitized warehouse.
8. Better cost management
Digitization is disrupting old techniques in logistics and material handling and replacing them with sophisticated ones. For instance, an inventory management platform with advanced data analytics ensures a digitized platform that generates reports and dashboards to have a 360-degree view of the entire supply chain. It speeds up the movement in the supply chain and impacts cash flow.
We are confounded by the idea that modern projects do not have impressive ROIs but with digitization, this myth is slowly being busted. Digitized logistics and material handling reduces labor, ensures higher performance, optimizes inventory and SKU, and more. These factors directly impact expenditure and improve cost management.  
A Boston Consulting Group analysis found that using advanced robots can reduce conversion costs by up to 15%, and combining advanced robotics with other technologies, can yield savings of up to 40%.
9. Establish a customer-centric supply chain with demand forecasting  
The customer-driven and bespoke nature of the manufacturing industry also boosts dynamics that govern the demands. Guesswork doesn't work anymore and forecasting demand becomes difficult. But digitization has eliminated guesstimates and brought in sure short estimates with analytics.  
Today, most products and raw materials are enabled with tracking data giving the CEOs a clearer picture of their logistics. They can also view historical data, sales patterns, budget allocation, inventory, pricing data, etc. through a multi-channel CRM solution.
Data from both these when analyzed through advanced data analytics techniques help you understand the patterns and stay agile by accurate forecasting. You can pull out reports for seasonal variations, analyze competitors' strategies, know geography-wise demand, and more.
10. Leverage wearables for overall increased warehouse efficiency  
Wearables have gained significant importance with data connectivity for better operational efficiencies. Permission of using wearables to global warehouses is increasing and the companies are not backing off from leveraging them more.
For instance, smart glasses powered with sensors provide better functionality and appear to be the most radical factor in boosting warehouses' efficiency. They assist navigation, picking and placing, and labeling of products. Like smart glasses, we have wearable computers, voice headsets, gloves, tracking anklets and bracelets, and numerous other devices with a higher degree of ease for remote working.  
Conclusion
All in all, an effort to digitize the warehouse can ensure digital transformation across the organization. Digitization and eCommerce automation offers enhanced connectivity between warehouses and other related functions such as inventory, pricing, and offering customer-centric services. 
The benefits of digitization warehouses, especially logistics and material handling are many and they have rippling effects across the supply chain. But reaping them takes attention from top executives. Demonstrating the value it delivers builds the confidence for C-suit to make the transformation happen. 
Further, to achieve excellence, giants like Amazon Web Services and Oracle have developed cloud-based software solutions that go beyond just digitization. They empower top executives to access the data and get insights anywhere, anytime, and on any device. They have removed barriers in sharing controlled information between clients and partners for robust decision-making. 
Data collaboration and sharing through cloud technology for enhanced warehouse management are going to be the next big thing. They have come a long way and see a long way ahead in disrupting the warehouse management approaches.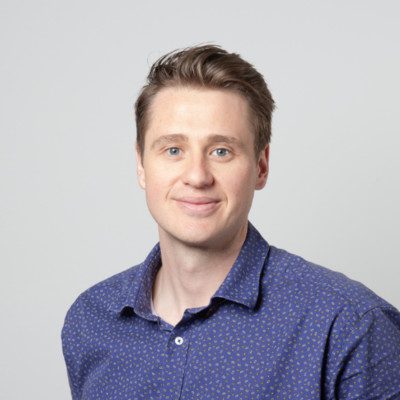 Luke Goodwin is an experienced marketing manager with a demonstrated history of working in the logistics and supply chain industry. Currently, he works as a CMO at
FlexQube
. To learn more about FlexQube and see more articles from the industry you can visit their news website.