Originally published July 20, 2017, updated March 4, 2022
Manufacturers using eCommerce and selling direct to consumers (DTC, or D2C) are becoming more common. That's because direct sales can be a powerful way to increase profit and strengthen control of your brand, but it isn't without risk. 
This post will go over the pros, cons, and risks of selling D2C and highlight some examples of manufacturers that sell direct. We'll also look at how manufacturers can use online channels to develop their D2C strategy. 
What Is Direct-to-Consumer Selling?
A direct-to-consumer business model involves manufacturers selling their products directly to end customers, skipping third-party retailers, wholesalers, and distributors. 
D2C is a significant move away from the traditional model, where manufacturers sell to wholesalers to distribute to retail stores. While the latter model may still be alive, the Internet, rising consumer expectations, and the pandemic have turned it on its head.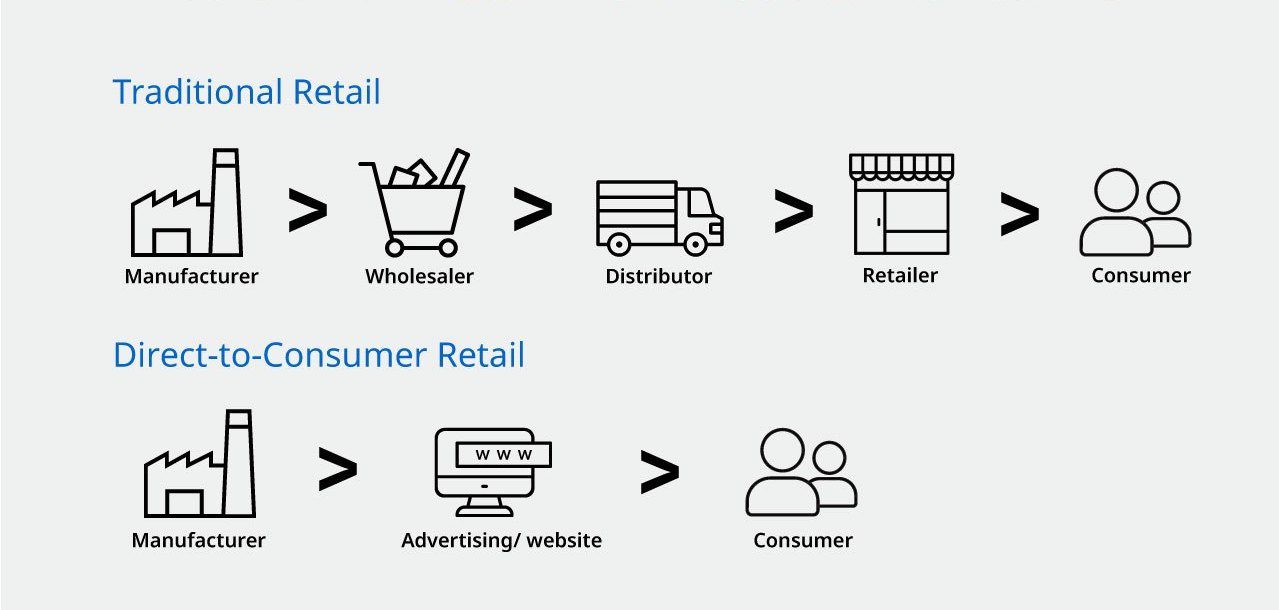 Digital commerce and marketing opened new channels of reaching the consumer and distributing products, and the marketplace evolved. As a result, manufacturers ramp up their investments in a direct-to-consumer strategy, as more and more customers prefer to buy directly from them.
Manufacturer's Benefits of Direct Selling to Consumer
But isn't it bad for brands to compete against their wholesalers and retailers? What are the benefits of breaking the traditional manufacturer > wholesaler > retailer > consumer model?
Here are our top five advantages of direct sales by manufacturers to consumers:
Brand control

: Brand image isn't subject to distortion or dilution by third parties.

Price control

: Direct selling allows you to reinforce MSRP (manufacturer's suggested retail price) and communicate directly with consumers about price points.

Expanded selling base

: Brands can make their own sales without fully relying on retailers to finalize transactions.

Faster time to market

: Instead of the long traditional retail sales cycle that requires locked-in product development well in advance of order and delivery, you can prototype, test, and move to market quickly. Agility is a critical differentiator in competitive industries.

Potential to build stronger customer relationships

: When customers buy direct, you collect a goldmine of data. There's a massive opportunity for brands to use this information to create personalized promotions and marketing campaigns to build ongoing relationships with consumers.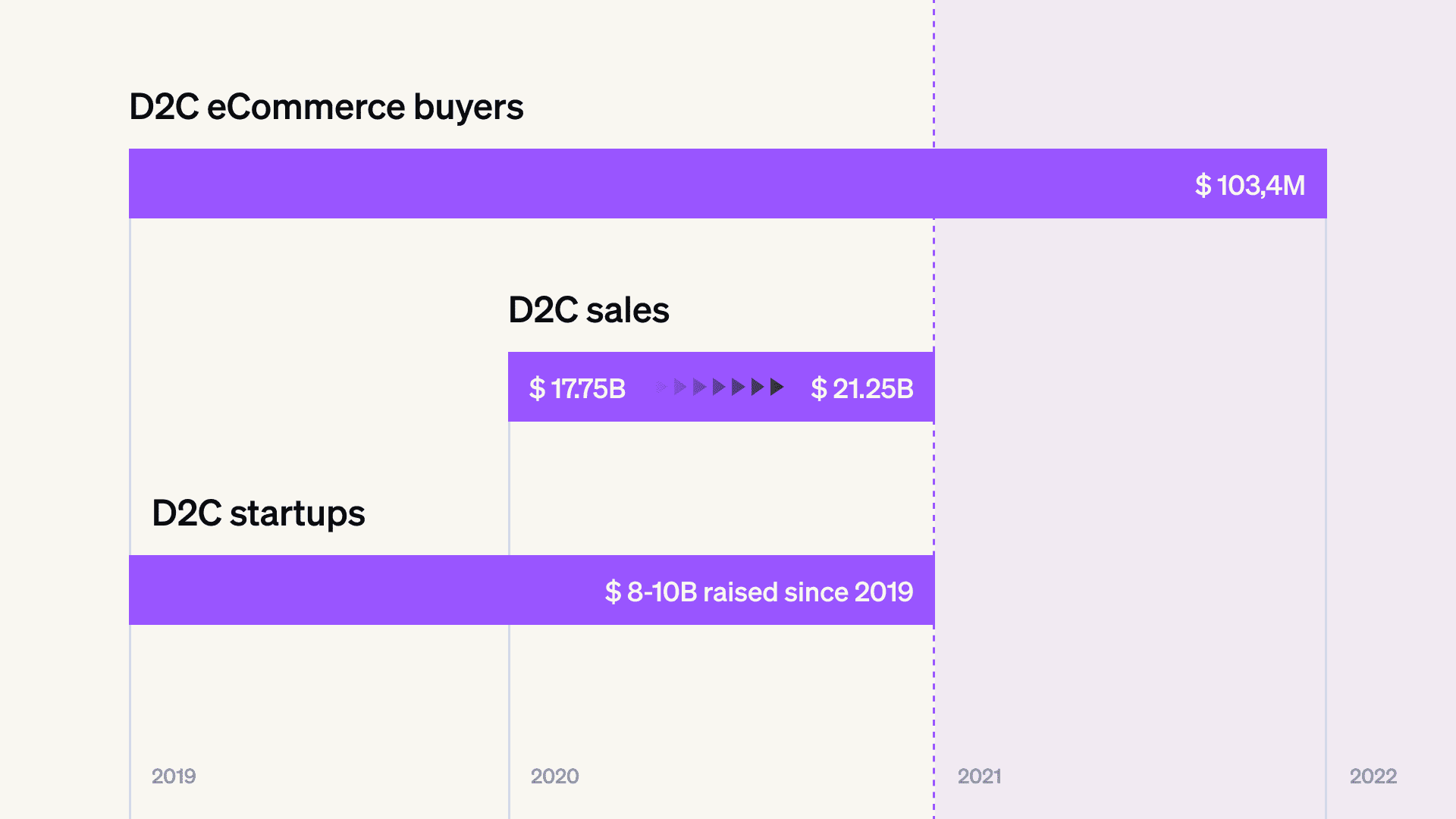 There are still some disadvantages of implementing a D2C business model. A product goes through a complex route from manufacturer to consumer. A D2C manufacturer has to take on all aspects of this complexity, including marketing, order processing, B2B packaging and shipping, and customer support. However, the bright side is that a manufacturer receives a marked increase in B2B customer retention rates.
Consumer Benefits of Direct Selling
While the advantages for manufacturers selling direct to consumers are clear, why would consumers prefer D2C, even if the products are more expensive when buying directly from a brand?
Here are three key reasons: 
Customers love buying directly

: Experiencing a positive, personal connection with a brand makes shoppers more likely to purchase and come back.

They are confident they purchase the authentic product

: Consumers are assured that they won't buy counterfeits when shopping on a branded website. 

Broader product assortment

: Selling D2C as the brand enables you to offer your entire inventory to customers. Every product option or replacement parts are more likely to be available on your brand site than most online retailer stores or sites.
Why Manufacturers and Distributors Must Move Online
How Can Manufacturers Sell Direct to Consumers?
Computers, shoes, shaving gear, even cars – today, there are so many products that are sold directly to consumers by the manufacturer. But it wasn't always so easy. Previously, for a manufacturer direct to consumer selling meant a massive capital investment in physical stores and additional employees. 
Now the investment is much smaller, and it is in digital transformation and technology. Online shopping provides a way for consumers to go to the store without leaving home. A single eCommerce-enabled website is the equivalent of a store on every corner in every city. Digital marketing gives brands a greater reach and a personalized communication channel with current and potential customers. Advances in distribution allow faster, doorstep deliveries.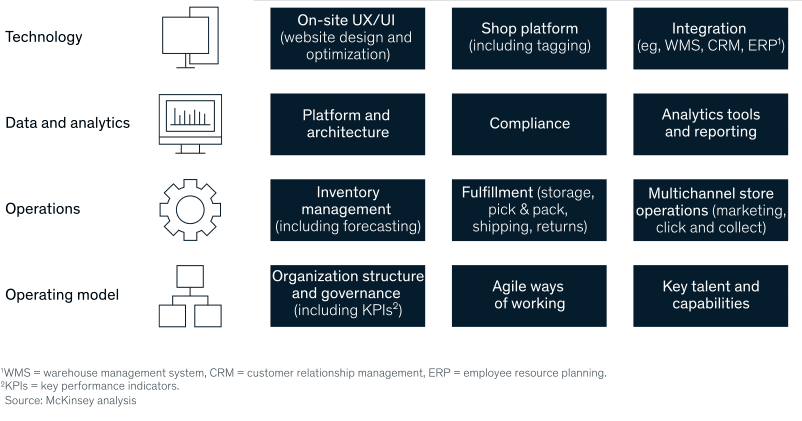 The building blocks of D2C eCommerce. Source
The key is a strategy that enables the different elements to work together to deliver digital experiences your customers want.
Ecommerce MVP technology is playing a significant role in this. But don't stop at just providing product search, ordering, and checkout. Consider advanced eCommerce solutions that allow you to meet consumers' high expectations in terms of customization, localization, payments, and delivery.
Picking the Right Channels
Once you're ready to reap the benefits of direct selling to consumers, you'll need to determine which channels are appropriate. You may limit sales to one channel or take advantage of all three.
D2C Website. When using this channel, your unique website will be the online representation of your brand. Consumers will interact with the brand directly. Sales are made directly on the site. On the plus side, you control the revenue streams and keep all the customer data collected with each visit to the website and each sale. On the downside, you assume the risk for credit card fraud and must achieve and retain high rankings on search engine results to maintain website visibility.
Marketplaces. Long-established marketplaces like eBay, Sears, or Walmart have a loyal following. When you sell your products on these marketplaces, you immediately tap into the following. In the case of Sears and Walmart, your items appear on their branded website. For eBay, you can participate in actions or sell for a set price. The advantage of selling on a B2B marketplace is access to an established customer base, and the marketplace assumes the risk for fraudulent transactions. The disadvantage is the marketplace isn't free. Monthly fees, commissions, and interchange charges eat into profit.  Discover what you can learn from successful marketplaces on the example of the Alibaba marketplace model.
Amazon. Amazon is a marketplace that offers such significant opportunity and risk that it deserves separate consideration. Amazon CEO Jeff Bezos is famous for saying, "Your margin is my opportunity." When you sell on Amazon, your goods are part of a site that millions of people turn to for everything from toothpaste to TVs. That's a significant advantage. In addition, Amazon assumes the risk of credit card fraud. On the downside, the customer is never your customer; it is Amazon's. Amazon prohibits collecting customer data, follow-up marketing, and masks significant data such as email addresses. You may get sales, but you won't get customer data. Amazon may also require you to make products available for them to sell, competing against you.
Recommended reading: A Guide to Digital Marketing for Manufacturing
3 Examples of Manufacturers Selling Directly to Consumers
Numerous brands are experimenting and succeeding with the D2C model. What can you learn from them? 
Dollar Shave Club: Making an everyday item affordable 
Dollar Shave Club offers a prominent example of taking advantage of the D2C strategy. The company saw an opportunity to disrupt the men's cartridge razor market, dominated by Gillette, by offering a more affordable solution through a cancel-any-time subscription model. 
This approach proves extremely successful: Dollar Shave Club managed to retain approximately 50% of customers after 12-month usage of the service, leading to high recurring revenue for the bottom line. 
Casper: Simplifying the mattress choice
Having many options to choose from is good, right? Not for a mattress company, Casper, which found out that the process of buying a mattress was confusing for many customers and came up with an exciting idea. The brand decided to offer one model of a mattress at an affordable price, delivering the product straight to your door.
By eliminating all the unnecessary purchasing friction, Casper could reinvent the consumer experience for their target market, achieving a $100 million revenue within the first two years.
Warby Parker: Generating free marketing through excellent customer experience
Similar to Dollar Shave Club disrupting the men's razor market, Warby Parker, the online retailer of prescription glasses and sunglasses, set out to change the way people buy eyewear.
The goal was to replicate the offline glasses buying experience in online shopping and make the product affordable. Warby Parker did this by integrating offline and online buying processes. The brand offers their clients convenience by giving them five frames to try. In turn, customers share the experience on social media, engage with the brand, and generate word-of-mouth publicity.
Digital Marketing for Manufacturers and Distributors
Assessing and Mitigating the Risks of Selling Direct
If you see the rise of online shopping and eCommerce as a catalyst for a strategic change in your company, mind the risks associated with direct selling to customers. These risks merit careful consideration and a mitigation plan.
The Risk. The first risk is damage to existing relationships. Retailers and wholesalers can react negatively to what they perceive as competition for the brand. It is imperative to openly communicate your plans before they are implemented. Transparency is the key.
The Mitigation. Squash the perception that selling direct is the opening salvo in a brand versus retailer/wholesaler war. Maintain focus on consumer satisfaction. If the customer isn't happy, nobody will be happy. Remind sellers that many consumers will continue to demand access to multiple brands, which you cannot provide. Do provide exclusive products to your wholesale/retail channels. These can be exclusive sizes, colors, or finishes that you will not sell direct.
The Risk. Manufacturers selling direct to consumers need to have a deep understanding of retail sales and customer expectations. A manufacturer that leaps into the direct market without the proper infrastructure and human assets will only damage their brand.
The Mitigation. Make sure you have the shipping and customer service infrastructure in place to support direct consumer sales. Incorporate features such as chat and click to dial in your website design to make it easy for customers to contact you. Your social media presence must be trained to listen as well as interact. Be prepared to ship quickly and handle returns flawlessly.
Reduce risk and save costs with an MVP approach
Making the Move: Selling Direct to Consumers
If you're joining the legions of manufacturers selling direct to consumers, you'll need a comprehensive digital strategy. The most important decision you make will be selecting the platform for your eCommerce operations to support both of your sales channels – B2B and B2C. It must be powerful enough to operate out-of-the-box and flexible enough to customize for your company's needs. You'll need to consider such logistics as:
Order fulfillment and tracking

Customer service management

Sales and marketing activities tracking

360° view of all your B2B and B2C customer interactions
Channel selection will drive many of the decisions. Remember to keep retailers and wholesalers informed. Manufacturers selling direct (or rather selling both ways) is the next big wave in commerce. Don't miss it.
How do top midmarket brands use technology?
Forrester shares real-life case studies from leading business sellers.
Questions and Answers
What is direct-to-consumer eCommerce?
D2C eCommerce is when the manufacturer sells its products directly to consumers from their online store. 
There are many ways to begin the D2C journey. For brands just dipping their toes in eCommerce, online marketplaces and established eCommerce platforms can be effective ways to learn about what works well online.
How do direct-to-consumer brands differ from traditional retailers?
Unlike traditional retailers, D2C brands don't rely on the middleman in many areas, including manufacturing, distribution, and marketing. D2C brands typically grow through eCommerce, making them more digitally-led and data-focused than their traditional counterparts.
What is the difference between B2C and D2C?
The D2C model differs from a traditional B2C (business to consumer) model in that manufacturers sell their own products directly to consumers in D2C. In contrast, in B2C, retailers usually step in and sell different brands. Amazon, Walmart, and Alibaba are examples of companies that rely on the B2C model.
What are the disadvantages of selling direct-to-consumer?
Going D2C isn't a panacea that will automatically drive business growth. Some of the disadvantages and risks of the D2C model include: 
Without a strategy in place, brands that decide to go a D2C route may cannibalize sales from existing distribution and retail channels.

With manufacturer direct sales, you need to be prepared to take full control of the entire consumer journey. If not done right, you can undermine brand loyalty and devalue your product.

As eCommerce is rising, many brands and large corporations are offering their products directly to their customers on their own websites; this means an extra challenge for a relatively small business trying to sell D2C.