"If you don't make stuff – there is no stuff"~ Elon Musk, 2020
As makers of "stuff", manufacturers are historically early adopters of new technology. But between Industry 4.0, the internet of things (IoT), customer demand for integrated products, machine learning, and artificial intelligence the current change rate threatens to overtake even the most forward-thinking companies. What's a manufacturer to do? A digital transformation may be what you need. If that's the case, a digital transformation roadmap for manufacturing will chart your path to success.
What Is a Manufacturing Digital Transformation Roadmap?
Sure, it's nice to take off on a Sunday afternoon for a drive and wander the back roads, but that's a strategy for relaxing, not a path to business success. 
Change is tricky if you don't manage it; change can destroy you. A digital transformation roadmap manages change in a highly coordinated way. Digital transformation is a journey. Like any journey, you must start with a complete understanding of your current location and a clear vision of where you want to be. Your digital transformation roadmap is how you get there. 
A manufacturing digital transformation is more than just making changes to your software stack or buying new equipment for the factory. It's a pervasive change that permeates every corner of the organization. The degree of transformation required depends on the legacy tools currently being used, the expectations of customers, the attitude of management, and the age and nature of your manufacturing company. 
Not Every Roadmap Looks the Same
Your industrial digital transformation roadmap for manufacturing is as unique as your business. Get a group of people from different areas together to brainstorm and the ideas will fall like rain. It's up to the C-suite, with support from IT, to strategically manage the technology elements used in the company. Your roadmap is a tool to ensure each of these elements align with the needs of the most important stakeholder, the customer. 
Manufacturers that are already using data driven manufacturing and are transforming to increase customer focus now and, in the future, have a different Digital Readiness Index than a company that hasn't already embraced technology-driven business processes.  According to McKinsey & Company research, most heavy-industry sectors are middle-aged when it comes to digital maturity.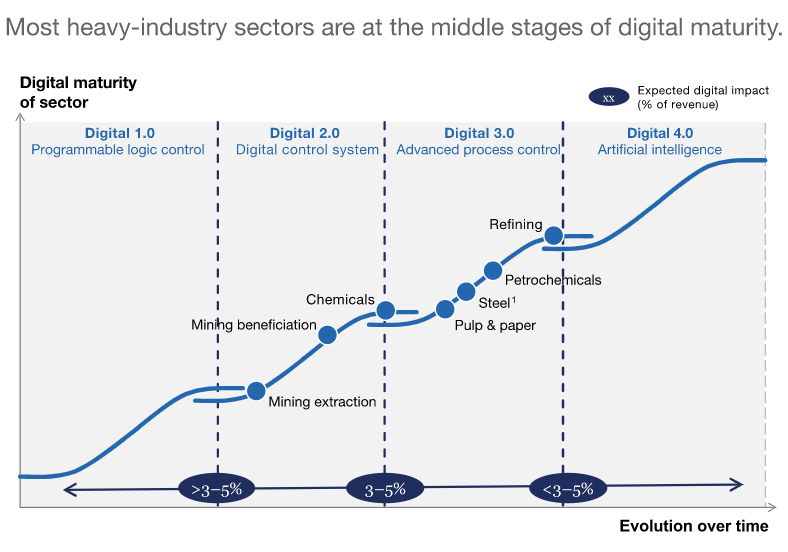 [Source]
For example, Braskem, a leader in the raw materials space, pioneered eCommerce in the traditionally off-line petrochemical and chemical market. No wonder Braskem was recognized as one of the world's 50 most innovative companies in 2014. Braskem's commitment to meeting the needs of its customers and creating value for shareholders led first to a small-scale test of a digitized marketplace then to adoption on an increasing basis.  Their roadmap would be vastly different from a manufacturer whose transformation is focused on improving supplier collaboration to diversify and strengthen the supply chain. 
While all roadmaps are unique, they do have common elements.
Elements of a Digital Transformation Roadmap for Manufacturing
If you read some digital transformation manufacturing case studies, you'll see manufacturing transforming in many different ways. However, in general, manufacturers are undergoing a digital transformation in three key areas:
Customer experience

Manufacturing/operations processes

Business models
Customer experience transformation may begin as an extension of prior investments in social media. Manufacturers are learning what customers really think about their products and how products are used once they leave the factory. On-line communities provide valuable insights and build brand loyalty. By integrating customer purchasing data, you can customize offers and products. Manufacturers that support multiple channels are transforming to integrate the customer experience across all channels. Apps and websites are providing the self-serve model customers want.
Manufacturing and operations processes are transforming on many fronts. From automating the R&D process to machine learning that eliminates material waste, technology continues to play a prominent role on the shop floor. By digitizing the design process, apparel companies speed prototyping time and reduce time to production. Self-monitoring equipment schedules its own maintenance and warns of impending breakdowns. Gathering data on internal processes allows management to make informed decisions, not decisions based on hunches or gut feelings. 
Digitally transforming the business model does more than change technology, it changes the way the company does business. For example, sports apparel manufacturers are offering GPS technology and, in the B2B food industry and beverage production eCommerce is enabling marketplace and direct-to-consumer sales. 
No matter the subject area, a digital transformation roadmap for manufacturing covers 3 key stages. 
Defining the Destination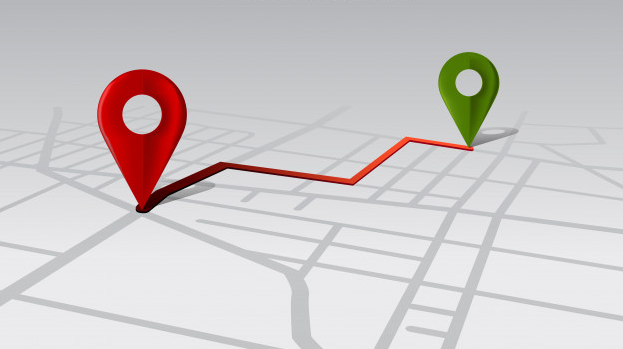 Know where you are going and clearly articulate where the destination lies and what it looks like. Start by assessing:
Current company performance

State of the market

Your market share

Your competitor's performance and their market share
Next figure out where the company lies on the technology maturity scale. Now you can begin to define your destination. Once your ducks are in a row you can compare current assets to the future you envision. This includes human assets.
You need the right people in place to begin the journey and get you through the transformation. More likely than not, you'll need to engage digital transformation consultants. If you can't articulate your vision for the company post-transformation, you can't even begin to strategize. Just complete this one step and you are already ahead of 50% of US manufacturing companies who lack a roadmap to ease the adoption of digital solutions. 
Conceptualize the Strategy and Plan
Once you know where you are and where you are going, you can begin the process of strategizing to fill the gaps. Your digital transformation strategy precedes your plan. Bring in representatives from all areas of the company. If you have hired digital transformation consultants, they may participate or even take the lead in a SWOT analysis.
Make sure this SWOT analysis includes your digital assets. Are there untapped opportunities hidden in your architecture? Can premise-based solutions be moved to the cloud for additional scalability? Identify the number of apps and platforms employees must use to perform their jobs and assess their level of integration. Can improvements be made in the technology stack? Are there areas ripe for automation?
Your roadmap should prioritize and monetize the goals of the transformation. As part of the planning process, identify goals and key performance indicators (KPIs). Your digital transformation roadmap for manufacturing must include regular stops to measure progress and success. Set milestones as well and celebrate their achievement. It helps keep project members motivated. 
It's Time to Execute
With your manufacturing digital transformation roadmap in place, it's time to execute. As you do so, don't be surprised that more than just technology changes. A successful digital transformation actually transforms the way people think.  Data and asset silos may be broken down and restructured or dispensed with altogether. 
Recommended reading: A Guide to Digital Marketing for Manufacturing
Why Do You Need a Roadmap?
As you can see, a successful digital transformation in manufacturing will involve a substantial investment in equipment, technology, and people. Because manufacturing is inherently cash-sensitive and operates in a highly dynamic environment, your roadmap provides a method for asset allocation.
By its very nature, a digital transformation will exert pressure on the existing IT stack. A roadmap identifies the pressure points and integration issues so they can be addressed before the execution stage. Your roadmap is also a valuable communication resource for onboarding employees and overcoming resistance to change. It can help increase enthusiasm and sustain internal support for the transformation. This is especially when human jobs are impacted.  
Without a roadmap, the best your company can hope to do is simply ride the wave of change. With a roadmap, you chart your own course and control your direction and speed. That doesn't mean you don't change as conditions change. To the contrary, your roadmap increases your agility. Real-time data fuels further planning and execution. This allows you to pivot early as conditions change. For example, when you connect your products, customer feedback about product experience forms the basis for continuous product improvement. 
Role of B2B eCommerce in Digital Transformation Roadmap for Manufacturing 
Does your manufacturing digital transformation roadmap include connecting with customers on-line? It should. Whether you plan on selling directly to consumers or just need to digitize your existing B2B sales, eCommerce must be a component of your roadmap.
Most B2B buyers start their purchase journey online. An amazing 40% of people use voice search at work. Buyers want as little friction as possible and eCommerce fills that need. 
With an eCommerce platform as part of your manufacturing digital transformation roadmap you gain:
ability to personalize the purchasing experience

insights into customer purchases and website interactions

marketing tools to increase average order value and lifetime customer value

greater accuracy in pricing and digitized RFQ workflows
Picking the right platform makes a difference. Just ask SaltWorks. In this digital transformation manufacturing case study of a manufacturing digital transformation, the company was an early adopter of technology, they just didn't pick a platform that could grow with their business.
SaltWorks supplies manufacturers, restaurants, gourmet retailers, and end consumers with gourmet salts. Their website was well-received, and customers loved the convenience of buying online. However, the back-end was a nightmare. 
They built their B2B eCommerce business on a platform that was designed for B2C sales. While Magento might have worked for the end consumers, it wasn't equipped for the way SaltWorks did their B2B business. The result was a never-ending series of workarounds, extensions, and customizations just to maintain B2B online sales. What SaltWorks really needed was a platform that provided support for the way they did B2B business as well as their B2C business. They were looking for features like:
Powerful pricing engine

Multiple catalog management

Rich content pages and robust product configurator
SaltWorks found all these features and more right out of the box with OroCommerce.  By replatforming with an eCommerce solution that handles B2B and B2C, they brought both channels under one easy-to-use and maintain roof. 

That's because OroCommerce was purpose-built for the way manufacturers do business. They could sell salt on-line by the ton or the individual grinder. They handled pricing for wholesalers as easily as the retail consumer looking for a gift. Both channels received the customer experience that met their needs while the IT infrastructure was incredibly simplified. 
B2B buyers loved the extended checkout that was customized for their needs. The workflow included options for LTL, UPS, freight quoting, and self-arranged shipping methods.
B2C buyers appreciated the option to purchase direct on the SaltWorks website or through Amazon with a custom "Available at Amazon" button. By directing some sales to the fulfilled by Amazon channel, shipping small quantities was greatly simplified. 
Reviewing the Roadmap
The question isn't if there will be change. The question is how you will manage change. A manufacturing digital transformation roadmap manages change in technology. And when it comes to manufacturing, the changes in technology will never stop. Each change builds upon the previous change in a long chain of change.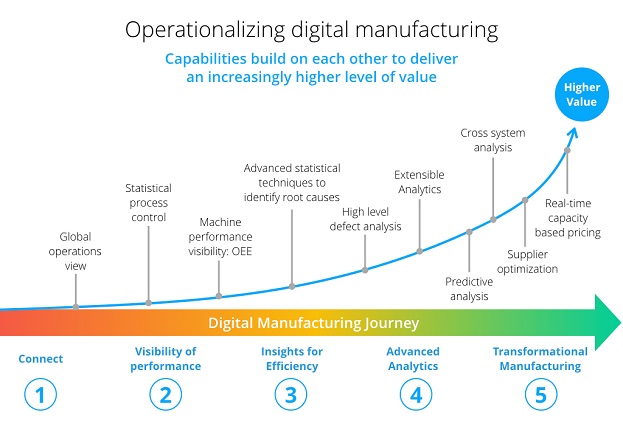 [Source]
It doesn't matter if you are implementing robotics like the Gantry Robot for touchless materials handling, deploying machine learning-driven platforms like FourKites to improve efficiencies of mission-critical deliveries in and out of the plant, or engaging in B2B eCommerce with a platform like OroCommerce, your roadmap guides the way and helps you build on past success.  
A digital transformation roadmap is your plan for managing changes in customer experience, business models, and processes and plants. 
The digital transformation roadmap for manufacturing assesses your digital readiness and serves as a way to articulate your vision for the future. By creating your roadmap you'll identify and allocate the resources and assets needed for the transformation, set key benchmarks to reach along the way, track KPIs to measure progress, and keep all stakeholders informed and enthused. From line machinists to major stockholders, everyone is on the same page. 
If the world is going to have things, companies must make them.  In today's world manufacturers will increasingly make them with technology. The roadmap will make sure they are successful.