Whether faced with shortages, exploding demand, or both, 2020 was a tumultuous stress test for manufacturers and distributors. As markets, factories, warehouses, and offices open up, the skilled worker shortage isn't going away.
According to June 2021 US Bureau of Labor Statistics data, manufacturing added 15,000 jobs but employment is still down by 481,000 from the February 2020 number. Warehousing and transportation added 11,000 jobs but the number of jobs is still 94,000 lower over the same time period. Deloitte predicts that if the manufacturing industry is unable to fill anticipated jobs by 2028, the annual loss of manufacturing GDP can reach $454 billion.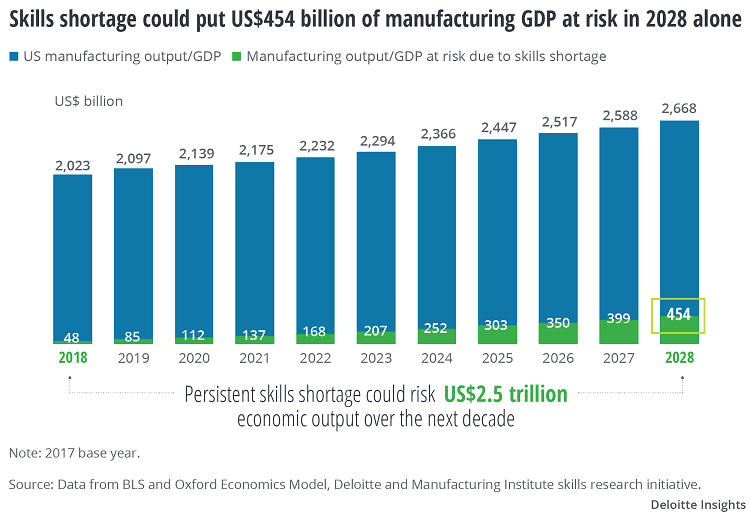 [Source]
No matter the root causes of the labor shortage, it is forcing manufacturers to get creative when it comes to hiring.  This post will explore how various B2B and B2B eCommerce businesses revisited their hiring practices and invested in employees in the face of a manufacturing labor shortage. We'll also touch upon how some leveraged technology to streamline processes, improve workplace productivity, and create an engaging environment for workers.
Facing an Uncertain Job Market
University of California at San Diego economist Jeffrey Clemens believes the pandemic caused changes in the way many workers view their employment. In a Washington Post interview, he states that the pandemic "broke many linkages between workers and their pre-pandemic employers and it introduced a broad set of factors that make it less attractive for people to be in the jobs that they previously held."
That's a problem because even with a near record pace of job openings, employers simply can't fill entry-level production positions, let alone hire highly skilled workers for specialized roles.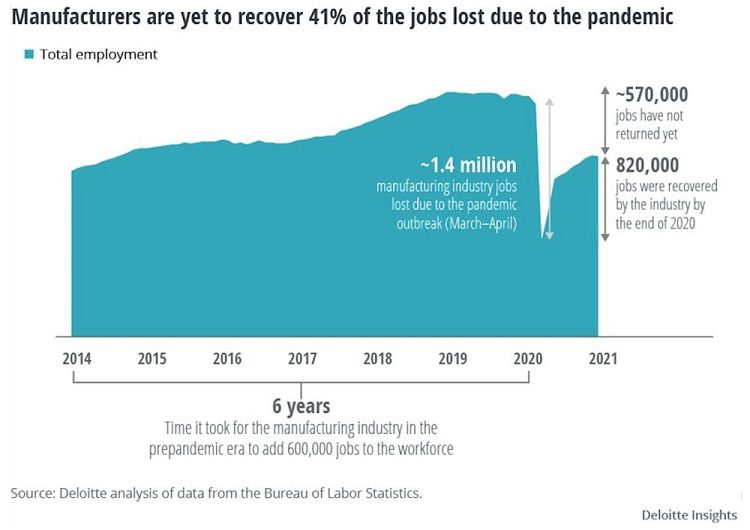 [Source]
The reasons vary. Manufacturing and distribution jobs are not considered a top career option for millennials and their younger counterparts. The aging workforce in these industries is retiring fast, shrinking the overall talent pool, and widening the skills gap.
Industrial hiring managers say that it's 36% harder to find talent now than in 2018, even though the unemployment rate is much higher today. Often they must compete for skilled talent with construction, raw materials, and technology industries that lure workers with higher salaries. 
Manufacturers must immediately implement strategies to keep seasoned, knowledgeable, and experienced people on the job, while actively acquiring and training a new generation of workers.
How Can Manufacturers Address Workforce Shortages?
The COVID-19 pandemic permanently changed the hiring situation for manufacturers and distributors. But manufacturers are creative, and already some brands are taking unique approaches to reducing worker shortages. They are employing three strategies: looking internally; boosting compensation; investing in technology.
1. Look to internal talent and pre-vetted candidates
Manufacturers historically used contract employees and temporary workers to address increases due to higher demand, seasonal changes, or new product lines. That's because searching for skilled or industry-specific positions is expensive,  time-consuming, and often best outsourced to a temp agency. Staffing agencies also save time by pre-screening and qualifying contractual and temporary workers.
For larger businesses, particularly seasonal ones, staffing agencies turn out to be the go-to solution. That's particularly the case for businesses where warehousing is a large, recurring operating expense and comprises a significant part of the budget.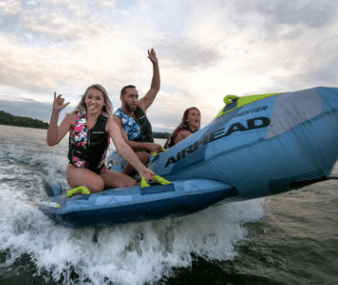 Caleb is the Supervisor at
Airhead Sports Group
, a manufacturer of inflatable tow tubes, floats, snow sleds, snowshoes, marine equipment, and accessories.
When Airhead's busy season hit, they needed to hire 12 different positions across the company. That's when they turned to a talent agency to help them find skilled warehouse workers. 
An existing relationship with staffing agency Gigsmart allowed Airhead to tap into 2,000 skilled local workers. To fill Airhead's positions faster, Gigsmart created numerous contract, temp, and gig positions within their network. They also supplied Airhead with an app to create gig postings when they need it.
This was an excellent strategy for Airhead. They were freed from sifting through applications, interviewing, and managing payroll. By outsourcing these routine activities, Airhead can focus its HR department on more valuable, strategic recruiting initiatives.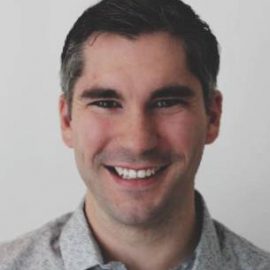 Aaron Alpeter is the founder of
Izba
, a boutique supply chain consulting firm focusing on omnichannel venture-backed startups.
In the startup and the small business environment, it's the networks built up over time that help businesses succeed. "However, there's always been a bit of an operational talent shortage in startups," admits Alpeter. "People who know what they are doing are in high demand and typically merit more than smaller players are able to afford." 
Indeed, smaller manufacturers are exposed to the same capacity risks, from driver shortages to competition for warehouse staff. Rising commodity prices and increasing transportation costs leave fewer resources for high salaries and sign-on bonuses.
The solution? Alpeter believes you should look inwards. "There are a lot of operators (myself included) who got their start because someone was willing to give them a shot, letting them do things they normally couldn't do otherwise." Look to your current employees who may not currently have the skills you need but can be trained to do the job you need to be done.
2. Sweeten job offers and invest in employees
Manufacturers embracing B2B eCommerce trends have to contend with increased competition in the online space. Amazon controls nearly half of the eCommerce market and is considered to be a trendsetter for warehouse labor rates and benefits. According to Supply Chain Dive, if competitors want to attract talent in high-demand roles, they must raise salaries by as much as 3.5%. While this may work for some distributors, others are finding more creative solutions to the problem.

In Spring of 2020, Visible Supply Chain Management rolled out a program offering higher hourly wages and full benefits on a worker's first day. Visible wanted to find out, through trial and error, how effective raising salaries and other traditional approaches would be. In an unusual move, Visible started offering free breakfast or lunch, which led to a boost in employee retention.
Another business, faced with a drastic manufacturing worker shortage at its Cincinnati location, desperately needed to fill empty positions. In the end, one unusual strategy netted them more applicants they could handle.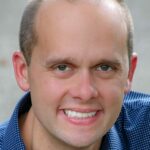 Eric Wellinghoff is CMO at
Nehemiah Manufacturing
, which produces consumer products such as washing machine cleaners, cleaning products, and dryer balls.
While most of their competitors struggle with 100% turnover, that's not the case with Nehemiah. In fact, Nehemiah's turnover rate is around 15%, with the majority of employees staying with the company for more than five years, shares Wellinghoff. 
Such success didn't come overnight, however. During the 2008 recession, Nehemiah used a hiring agency that suggested hiring ex-felons. Upon deliberation, founders Dan Meyer and Richard Palmer decided to give it a try.  Since then, the Second Chance program has grown to include a variety of hard-to-hire employees with a troubled past or substance abuse problems.
The results speak for themselves: Nehemiah earns $60 million in revenue and is in the top 20% of most profitable manufactures. Of the 110 employees in the production and warehouse operations, about 85% of them are Second Chance employees. The program was so successful that it gave birth to a new initiative, the Beacon of Hope Business Alliance. Since 2015, the non-profit has been sharing Second Chance best practices with other organizations and inspiring them to embrace the second chance philosophy.
3. Augment with technology and automation
Manufacturers discovered those who invested in digital technology prior to or during the pandemic were best able to adapt to changing environments and make the most of their opportunities.
This placed them in a better position to address their manufacturing workforce shortage, too. It's no surprise that according to the 2021 MHI Annual Industrial Report, manufacturers are increasing investment into digital tools to manage networks, cloud data, inventory, as well as digital and physical automation.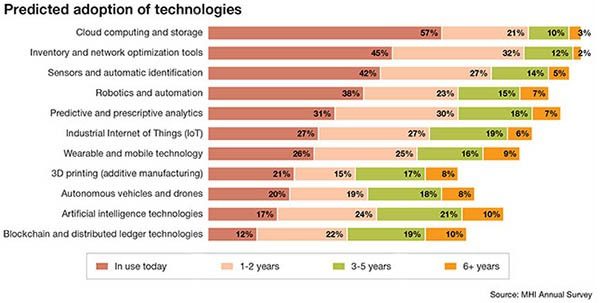 If manufacturers, distributors, and supply chain crisis leaders want to maximize operational efficiency, improve resilience, and unlock new growth opportunities, technology is the answer. Automation and robotics technology, off-the-shelf tools such as ERP, warehouse management systems, and digital commerce technologies all go a long way in putting a dent in various labor challenges. For many industries, the answer lies in both manufacturing optimization in B2B eCommerce and on the factory floor. It's the key to improving staff productivity, operational efficiency, and remaining competitive.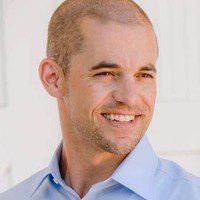 Travis Turner is Director of Business Development eCommerce and Supply Chain for
Hire Dynamics
, a warehouse talent recruitment firm with over 300 clients.
When it comes to order picking, we're seeing massive investment in physical automation, admits Turner. "This is essentially an order picking system that uses robots to interpret the data on the item purchased." This way, human talent can focus on taking care of packaging the item and sending it out.
"The manager we work with says this system has quadrupled its output,' continues Turner. "Fewer people are required to handle more orders and deliver more products in a shorter time. It also eliminated the need for further recruitment and overtime, not to mention overworking employees, which always carries the risk of hurting job satisfaction and increasing turnover. "
How Oro Helps B2Bs Address Skills Shortages
As a B2B eCommerce vendor, Oro is no stranger to the variety of difficulties B2B businesses face every day. We understand that robots won't soon replace your employees, but technology can surely take repetitive and time-consuming tasks off their hands. From giving managers real-time inventory and forecasting visibility to keeping workers informed, technology can go a long way to maximize production effectiveness, sales productivity, and even the customer experience.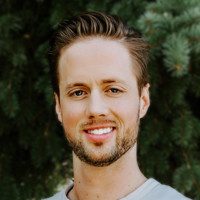 Sean McDonnell is the CEO of
TruPar.com
, a material handling parts and warehouse supplies distributor.
TruPar carries over 8 million SKUs across numerous warehouses and serves over 45,000 customers. Despite these numbers, TruPar manages its sales and marketing with a workforce in the single digits. That's because technology makes it easier to extract data, utilize it, and personalize the customer experience. "If someone is looking for a replacement part for a 1980 Hyster forklift, we know what customers with the same forklift are buying." says McDonnell. 
After implementing a B2B eCommerce platform and integrating with the ERP, TruPar relayed real-time inventory and pricing visibility to their customer portal. By digitizing their ordering functions, TruPar also grew their online revenue by 25% without increasing their sales and marketing headcount.
With data spread across sales, email, website, and other areas of the company, TruPar can better assign resources, including human resources, for maximum value. "About 85% of customers we never talk to. There's the other 15% that will give us a call and have questions. That's where we use knowledgeable customer service people to enable sales through the website."
Start Thinking About Your Workforce Needs Today
To survive and thrive, manufacturers must introduce new training programs, revisit their management styles and compensation structures, and think creatively about their labor pool. While every organization and workplace dynamic is different, positioning your company as the place everyone wants to work increases your ability to attract quality candidates.
The industrial labor shortage is here to stay. Companies can't afford to ignore changing workforce trends warns Louise Dickmeyer, President of People Driven Performance. If more than 5% of your workforce is scheduled to retire, that's a sign to take immediate action. Thankfully, there are many tools and technologies to help out. Manufacturers should focus on re-educating existing workers, engaging with the next generation, and leveraging technology to improve processes and prepare their business for tomorrow.
Questions and Answers
Is there a skilled labor shortage in manufacturing?
An aging workforce, growing skills gaps, and more recently, COVID-19 have all negatively impacted the labor market for manufacturers. Businesses must attract employees with better benefits, competitive pay, and attractive career growth prospects. At the same time, robotics, automation, and eCommerce technology can also help businesses do more with less.
How can the industry solve labor shortage problems?
Organizations can solve the manufacture worker shortage problems by looking inwards, including pre-screened candidates or promoting within the company and looking outwards at non-traditional labor pools. Secondly, brands should also invest in their employees, from rising salaries to sweetening benefits. Lastly, technology such as supply chain, ERP, and digital commerce software can help identify and resolve inefficiencies.
How can technology solve labor shortage problems?
Now, more than ever, technology can help with effective communication, real-time visibility, and timely information that allows employees to do their job better. Warehouse automation reduces the number of employees needed to pick and pack orders and IoT can reduce the size of maintenance staff teams. Technology can also maximize existing resources, eliminate data silos, and with automation, eliminate unproductive tasks and enable staff to focus on more valuable tasks.