More and more manufacturers and distributors realize that customers prefer to interact with them using digital tools. Industrial businesses recognize that their digital commerce channels make up a significant proportion of their revenues. As a result, digital commerce platforms see increased investment in virtually every industry vertical and geographical area.
As the world continues to feel various impacts from the war in Ukraine, businesses can expect further supply chain challenges ranging from rising costs in shipping to higher prices for raw materials and finished goods. In this month's round-up, we'll analyze what's been happening in March 2022, the challenges faced by the B2B community, and how we can prepare for the future.
In this 2022 March round-up, take a look at how B2B eCommerce is evolving, how B2B sellers are addressing challenges, and how environmental factors such as politics, the economy, and supply chain issues leave their mark on B2B eCommerce. Lastly, we'll take a look at some B2B eCommerce stories resulting from their digital transformation.
B2B eCommerce News
The war in Ukraine and its impact on B2B eCommerce
The global economy is already feeling the impacts of the war. Businesses, including B2B eCommerce businesses, are next in line. The quickly-developing nature of the battlefield is changing economic outlooks, financial markets, and supply chain projections. Many businesses will be affected, so it's important to act now to minimize potential negative impacts.
Practicalecommerce lists how the war will affect eCommerce businesses.
Increased interest in local supply chain strategies due to war
The war in Ukraine promises Russia and China to align further, complicating the exchange of energy, raw materials, finished goods, and more between the western world. According to HBR, the result will be greater emphasis on reshoring and seeking energy, transport, and goods alternatives internally. In either case, businesses will have to contend with rising prices, both for transportation and supplies, for the foreseeable future.
Read HBR's take on how the war in Ukraine is disrupting global supply chains.
The B2B eCommerce conversion rate report
Recently, Digital Commerce 360 surveyed over 1,100 US shoppers, and 51% said that website reviews are one of the biggest factors influencing online purchasing decisions. However, it's intuitive and quick-loading pages that keep visitors on sites long enough to make a purchase. Thus, it's not surprising that 50% will abandon websites that load too slowly.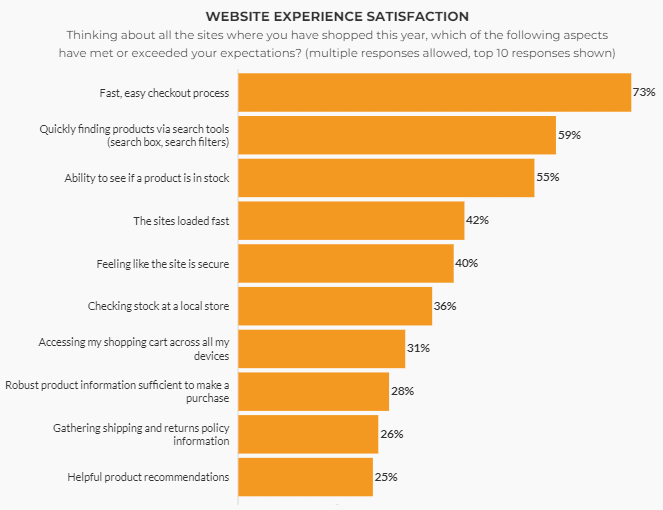 Discover more insights from the conversion rate report.
LIVE PODCAST: Data syndication and standardization in eCommerce
On April 8, 2022, we're hosting the second episode of B2B Commerce Uncut on the importance of data syndication and standardization. This episode will feature Joe Albrecht, CEO of Xngage, Ali Hanyaloglu, Senior Product Director of Akeneo, and joined by Yoav Kutner, Oro's CEO. Don't miss the opportunity to join this conversation live and ask questions that matter to you!
Register now to reserve your spot for the live podcast.
B2B eCommerce in Europe: Nearing the milestone
The European B2B eCommerce market is growing at lightning-fast pace. According to the US Department of Commerce International Trade Administration, Europe's B2B eCommerce sales will approach nearly $2 trillion as soon as 2025. That is despite the diverse political environment within the EU and the war in Ukraine.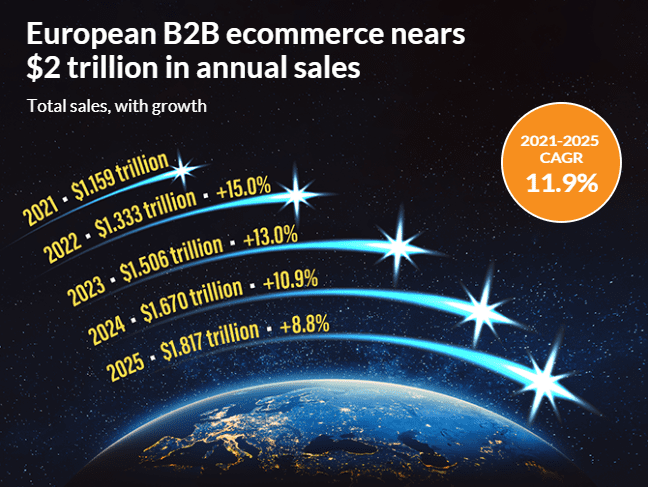 Read about the results of the European B2B eCommerce survey.
Tariffs have not forced China to change its ways
According to US trade representative Katherine Tai, Washingon's approach to China has been ineffective so far. The approach pursued by Trump and later continued by Biden must switch to more aggressive rhetoric. Tai believes that instead of merely "pressing China" we should " vigorously defend our values and economic interests."
The article on IndustryWeek talks about these and other insights.
Manufacturing News
Perception of manufacturing is changing, slowly but surely
According to a recent report by Deloitte and The Manufacturing Institute, 64% of those surveyed viewed manufacturing jobs as innovative. This is in stark contrast to 39% in 2017, which is the last time the study was conducted. Despite that, more work is needed to continue with the positive changes in the industry.
Learn more about how manufacturing is changing in this IndustryWeek article.
What's after industry 4.0? Bracing for Industry 5.0
Experts predict that the pandemic will accelerate the shift to Industry 5.0, which will focus on experiences where humans – not technology – are back in charge. What it means to the human element of manufacturing and other B2B industries is yet to be seen, but this article uncovers some insights.
Learn what is meant by Industry 5.0 and how will it change manufacturing.
Distribution News
How distributors can use disruption to get ahead in the digital world
Digital giants like Amazon Business, Alibaba, eBay, and Mercato use their technical expertise to break down barriers between industries and sectors protected by technical knowledge. McKinsey says the highly fragmented B2B market is ripe for opportunities to build distribution-center networks to expand their capabilities. 
Regardless of which segment they are in, all distributors, even those whose customer relationships seem invulnerable today, should craft plans to compete with digital disruptors.
Learn more about McKinsey's insights and which sectors to watch.
Guide to creating a perfect website for wholesale sellers
Like other B2B and B2C sellers, wholesale sellers depend on a powerful online presence that meets demanding customer needs. In this guide, we explore what makes a great website for wholesalers, what strategies to follow to build a great website, and show you some examples of class-leading wholesale websites.
Discover what makes a great wholesale website, with strategies and examples.
Payment News
Despite progress, businesses lack payment technology knowledge
Business leaders lack adequate payment knowledge to offer a better experience to suppliers and customers. According to a recent survey by Pymnts, over half of B2B payments are still done with paper checks – and that is despite our comfort with cell phones, apps, and digital commerce.
Read about these and other statistics in the recent Pymnts article.
B2B eCommerce Success Stories
Dunlop Protective Footwear wins ecosystem award
Dunlop Protective Footwear, a global manufacturer of footwear for extreme environments, won a Manufacturer Leadership Council award for Collaborative Ecosystems. This award recognizes select manufacturers for outstanding leadership and achievements, and Dunlop was selected winner shortly after implementing OroCommerce's B2B eCommerce platform.
Learn more about the awards and other companies that made the list.
A heavy equipment auctioneer keeps an even keel online
Ritchie Bros, a heavy equipment auctioneer, moved online with an eCommerce B2B marketplace to list equipment online, receive offers, and negotiate purchase agreements. Despite the slowdown in the construction industry and disruptions caused by the pandemic, their gross transaction value (GTV) grew 2% to $5.53 billion.
Learn more about the Richie Bros story on Digital Commerce 360.
Indonesian marketplace Ralali closes Series D Tranche
Made for manufacturers, distributors, and wholesalers, Ralali offers organizations a central, standardized location to interact and transact with other businesses. Last year, Ralali said it hoped to raise $50 million in Series D. At the time, the company had over 1.5 million customers using its platform.