Did you know that US Millennials are leading the charge when it comes to "buy now, pay later"?
Statista's research shows that a whopping 56% of those born between 1980 and 1994 are using payment options that allow them to make interest-free payments in installments. In comparison, only 36% of Gen Xers and 49% of Gen Zers said they've used such services. And participation was even lower among Baby Boomers, at just 26%.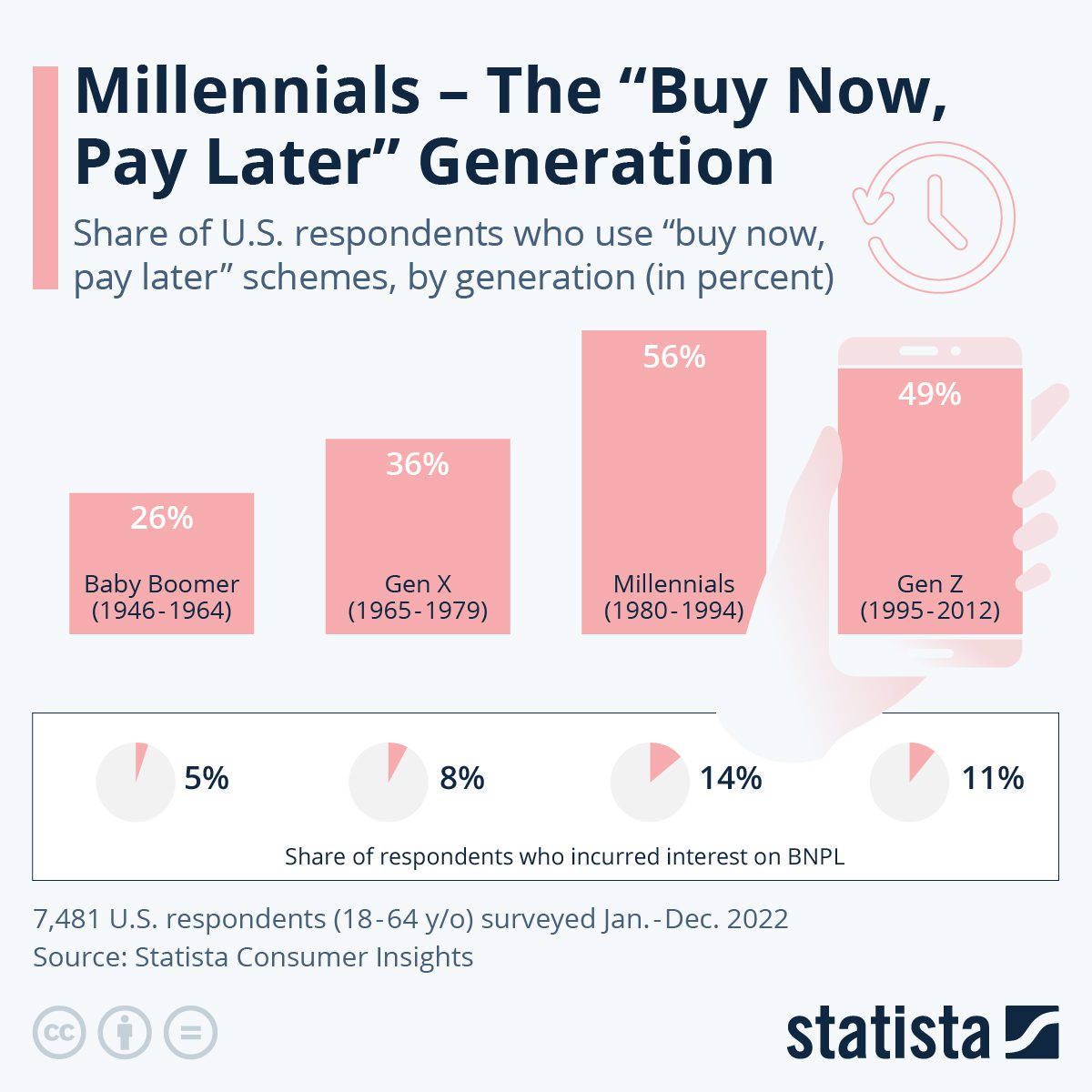 When it comes to the top players in the industry, Paypal has the dominant position, followed by Afterpay, Klarna, and Affirm. These BNPL options have become increasingly popular in B2C eCommerce, and according to behavioral economist Sarah Newcomb, it's because breaking up costs into smaller payments "feels smaller" and is easier for younger generations to handle.
But what about the B2B market? B2B buyers can also use shared B2B payment methods or payment by approved invoice to optimize their cash flow. 
Perhaps the most talked about news is Apple's entry into the market, which already makes up 39.8% of pay-later options at retailers.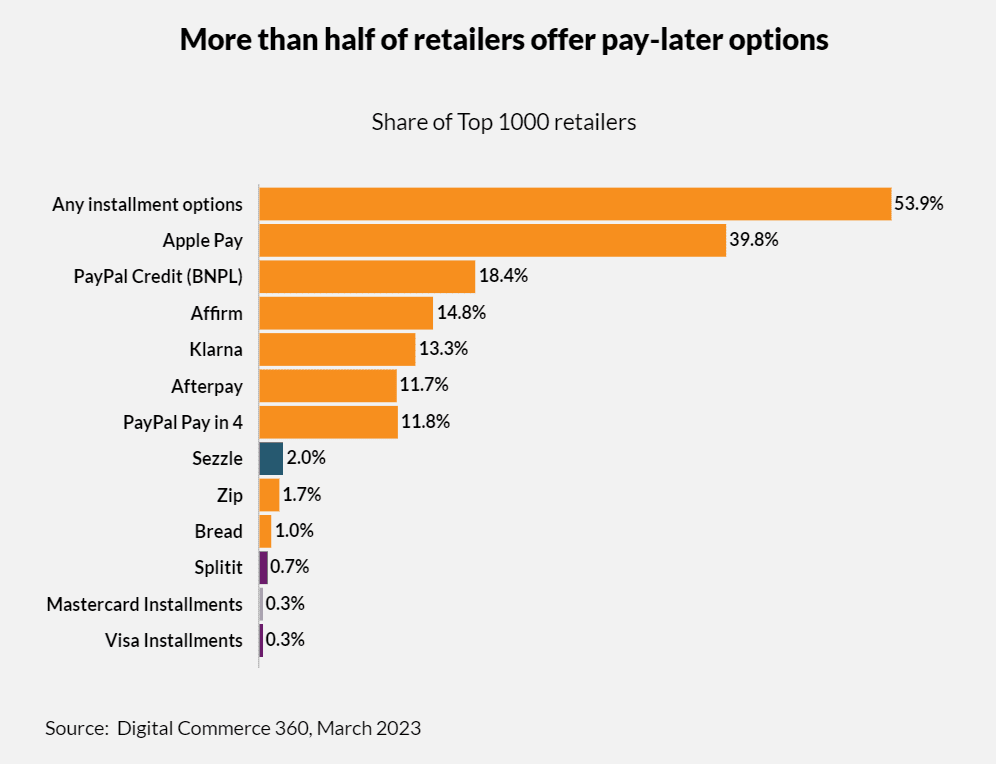 This allows Apple customers to spread out the cost of online purchases with merchants that accept Apple Pay.
The service also enables in-app purchases on iPhones and iPads ranging from $50 to $1,000. Payments are broken down into four payments over a six-week period without interest or fees, similar to other BNPL service providers. But unlike other services, Apple funds their own loans through Apple Financing LLC and performs its own credit checks.
With Apple entering the market, BNPL will likely remain even more prevalent – undoubtedly making its way into B2B eCommerce.
B2B eCommerce News
It's official: Younger buyers are directing purchasing activity
In a study of 14,000 B2B buyers, Forrester Research found that younger buyers are much more likely than their older peers to engage in digital self-service over traditional in-person options.
According to the report, millennials and Gen Zs tend to rely on sources that aren't controlled by the vendor, like tech info websites, as their most impactful interaction type. Meanwhile, older buyers still prefer in-person vendor sales.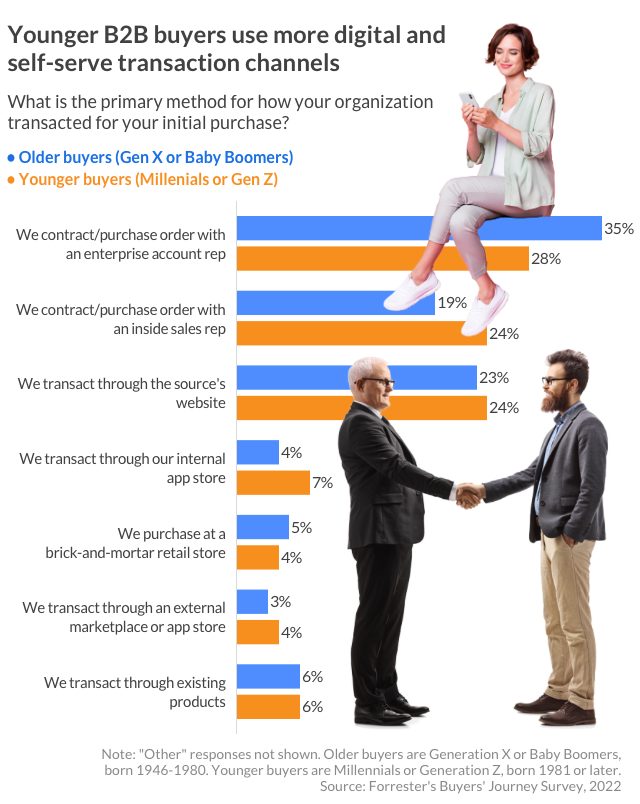 Learn more about these developments here.
Common friction areas in B2B eCommerce
It's no surprise that B2B customers, just like customers in other domains, expect smooth experiences. To remain at the forefront of customers' minds and stay ahead of competitors, brands must consider various customer experience elements and implement strategies that streamline the B2B eCommerce journey.
See the article for the full list of strategies to implement.
Why franchisors are embracing B2B eCommerce
Recent research has shown that there are a staggering 792,000 franchise businesses operating in the United States, employing over 8.5 million workers and contributing $827 billion to the economy. What's more, during times of uncertainty, franchise businesses are proving incredibly resilient. The Bureau of Labor Statistics reports that about 20% of independent businesses close after two years, while 92% of franchisees are still going strong after the same timeframe.
Discover the reasons why franchisors are embracing eCommerce.
How suppliers can overcome supply chain challenges
While eCommerce in the B2B space has boomed, it only makes up 17% of B2B sales. Statistics like these highlight the tremendous supply chain challenges that digital sellers face. Yet failing to adapt to the next generation of commerce is at the core of why B2B suppliers are failing to meet their customers' needs.
Learn about these supply chain challenges and how to overcome them.
Manufacturing B2B eCommerce News
What's happening in 2023: the outlook of automation
In the next three years, the global industrial automation market is expected to reach a whopping $265 billion. Indeed, automation technology has undergone some remarkable advancements. Benefits include lower operating costs, improved worker safety, better ROI, higher product quality, operational efficiencies, and competitive advantage.
Learn about the automation trends to know for manufacturers.
How to innovate during the production process
One manufacturer of commercial-quality umbrellas, cushions, and outdoor accessories, does everything in-house, from graphic design to production. Their customers get to communicate directly with representatives from the company throughout the process. It's helped them build some strong and long-lasting relationships with their clients too.
Read the interview with Thomas to find out the secret and strategies for their success.
Distribution B2B eCommerce News
Distributors must make it easier to do business digitally
It's no surprise that B2B customers, just like customers in other domains, expect smooth experiences. These points will help you grow your business while enhancing customer experiences
Learn more about what distributors can do right now to improve the customer experience.
What's going on? Supply chain snags or full steam ahead?
As we're moving along in 2023 after a difficult 2022, it's time to reevaluate what's been happening and what we should expect in the future. With an uncertain economy, logistics trends can take hold in unanticipated ways.
Read this article by Lauren Pittelli, the founder and principal of Baker Logistics Consulting Services.
B2B eCommerce Success Stories
PartsBase, the world's largest aviation marketplace, connects buyers and sellers with OroCommerce.
PartsBase Inc., a 25-year veteran in the aviation parts business, launched a new online marketplace platform designed with new procurement tools for the tens of thousands of monthly users who access its billions of aviation parts.
Read about the success story here.
An eCommerce-focused HVAC distributor catapults its business with B2B eCommerce.
According to Digital Commerce 360, eCommerce represents about 32% of Watsco's total sales. Its online channel grew 17% in 2022, the company says.
Read about the success story here.
Tire manufacturer for forklifts and industrial vehicles powers ahead with B2B eCommerce.
The new My TWS Hub gives the company's dealer network a faster search experience and greater access to inventory Services are available in 23 languages.