As May came to an end, June got off to a turbulent start. Protests and rioting in response to the death of George Floyd began just as communities began to ease restrictions on business and public life, raising fears of new COVID spikes.
All this comes against a backdrop of historic US declines in manufacturing output, and a continuing GDP downturn for the first quarter of 2020. Thankfully, the worst may be behind us as leaders are more informed than in the early days of the pandemic and protocols are now in place to mitigate the spread of the virus. Digital commerce continues showing steady growth rates, the future of B2B eCommerce remains bright.
In this May 2020 roundup, we're sharing the latest in marketing, customer experience, manufacturing, distribution, and supply chain management news. You'll even find some inspiring case studies of how some B2B sellers are using quick thinking, bold moves, and AI in eCommerce to succeed in an environment we're all getting used to. 
May 2020: B2B eCommerce, Coronavirus, and Reopening
New selling models to stay as optimism returns
McKinsey & Company is tracking the pulse of B2B decision-makers and their latest survey has some surprising information. Buyers now prefer self-serve digital transactions 2:1 over traditional methods. It's no wonder remote selling is now considered the norm and 48% are somewhat likely to maintain new selling models for 12 months or more. Optimism continues to be high with 45% of global B2B decision-makers expecting the economy to rebound in 2 to 3 months.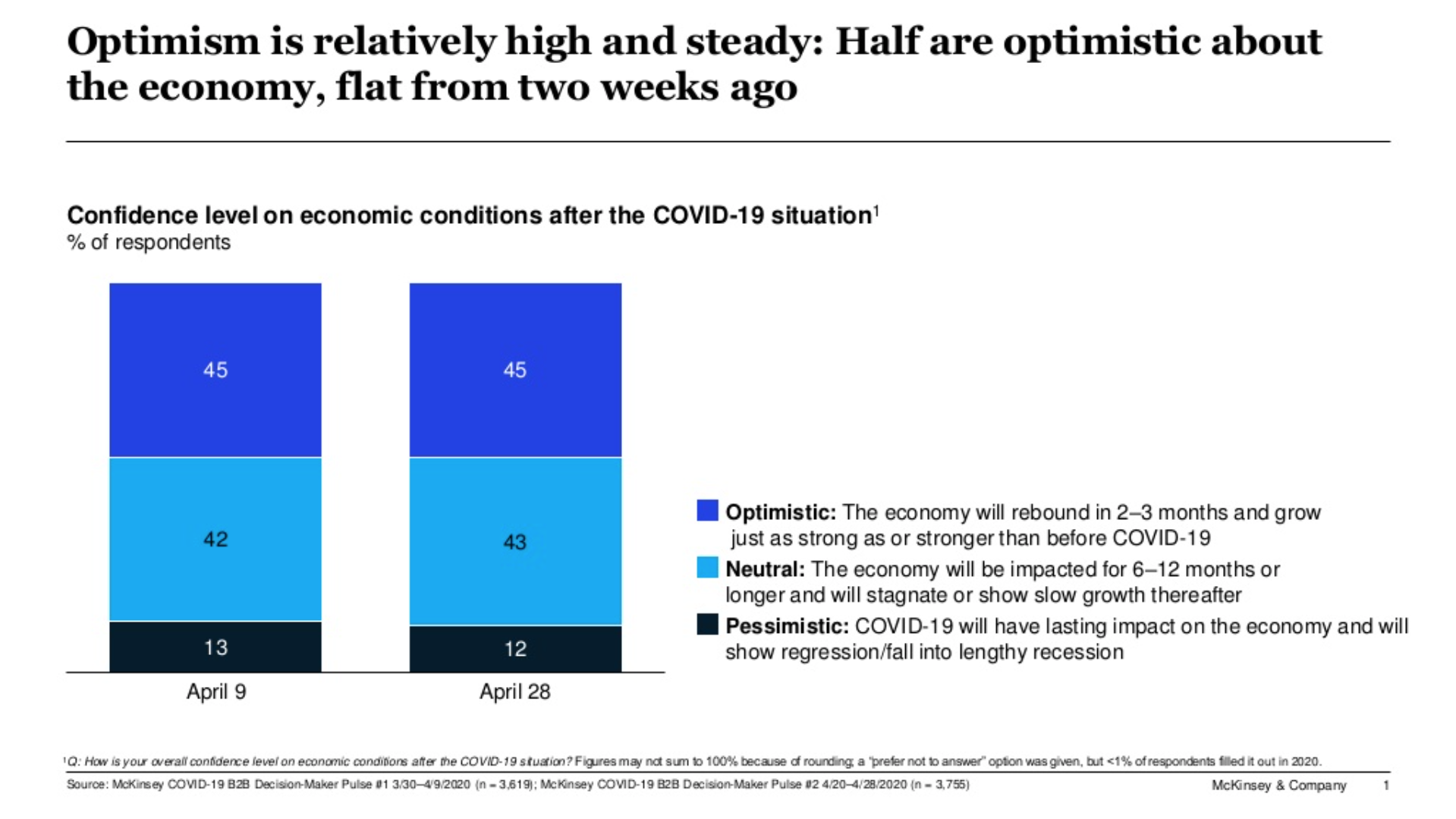 Economic woes continue within the United States
The Q1 2020 numbers are in, and US GDP declined by 5.0%, down from the preliminary estimate of 4.8% released in late April. Unsurprisingly, this contraction is the worst since Q4 2008, when U.S. GDP declined by 8.4% at the height of the financial crisis.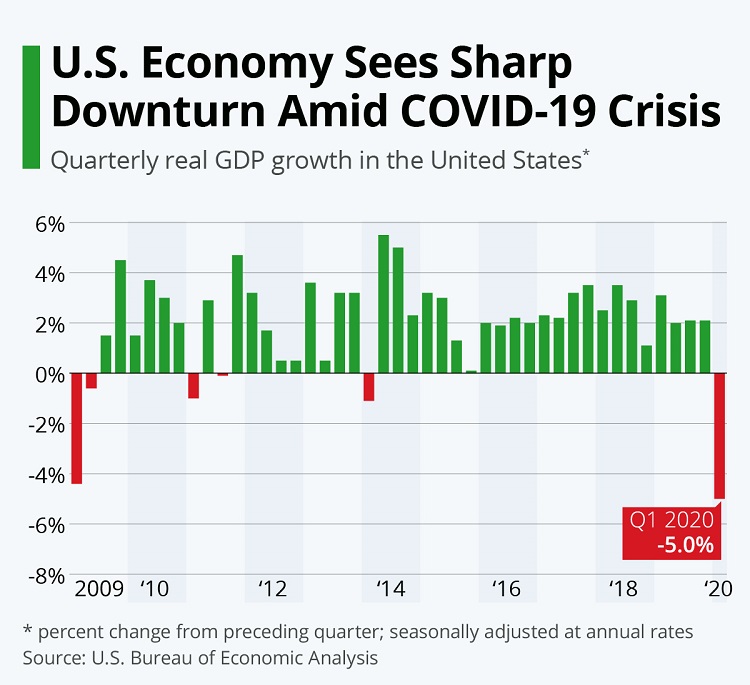 The iterative digital transformation process
Digital transformation is more than just a buzzword now. It's a necessity for survival. In its May-June 2020 issue, HBR offers a different take on the subject and new insights on identifying where digital transformation will be most impactful for your B2B business.
B2B eCommerce might be Amazon's biggest growth potential 
Applico claims that Amazon Business could be the biggest industrial distributor in the US as soon as next year. With Amazon attracting an increasing number of MRO (maintenance, repair and operations) products, DigitalCommerce360 reports, the giant is aiming to appeal to industries across many verticals.
Paving a road to recovery through B2B eCommerce payments
Brazil is one of the hardest-hit countries by the pandemic and also happens to have some of the most challenging national currency controls. B2B Pay, a payments startup, is aiming to make life easier for the Brazilian B2B eCommerce industry with a virtual bank account capable of managing foreign currencies.
SafeZone technology helps employees stay safe
As facilities reopen, businesses are under pressure to keep employees safe. Technology makes it easier than you might think. Kinexon's SafeZone sensors make maintaining social distancing easier and optional software aids in tracking infections.
How to plan for reopening
Thomasnet shares 8 tips for decision-makers in industrial settings to consider when planning their reopening strategies after COVID. When you start by putting your best foot forward, you increase staff safety and decrease the chances of surprises.  
Marketing and Customer Experience in B2B eCommerce
What are the lasting effects on customer behavior?
Smart B2B brands understand that what they thought they knew about their customers no longer applies. Widerfunnel explores how questioning your insights and investing in experimentation can help you appeal to the new customer and cement a new level of customer loyalty even as businesses cut budgets. 
B2Bs turning their resources on DTC to better appeal to customers
Targeting new customers during spikes in demand can pay off in the medical supply industry. ScienceSoft shares some of the challenges medical B2B eCommerce businesses face when expanding to new markets including how B2B eCommerce platforms can help.
In good times, you should advertise. In bad times, you must advertise
According to data collected by Influencer Marketing Hub, many online sellers, including B2B sellers have seen spectacular results in paid web traffic. BuyPower.com saw a 1250% increase, Veeam.com saw a 1086% increase, wpengine.com saw an 859% increase, and easybib.com saw a 852% increase. This stands in stark contrast to the 69% of brands that expect to decrease their ad spend in 2020. 
Supply Chain News in B2B eCommerce
Resource allocation as part of the new normal
OEMs, wholesalers, and retailers have all experienced the inability to serve all customers due to the supply chain crisis.  MIT Sloan Review provides practical advice for B2B businesses managing supply shortfalls due to supply chain disruption.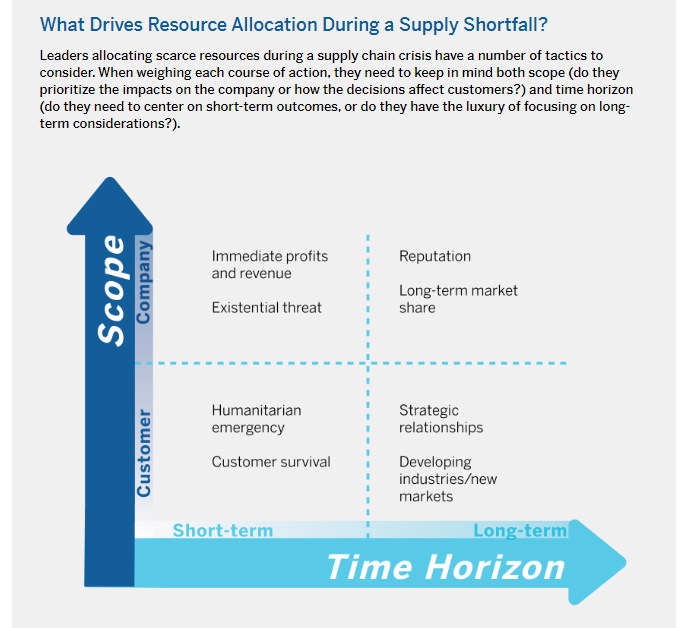 Supply chains and shifting customer behaviors
In an interview with Packworld, Abe Eshkenazi, CEO, Association for Supply Chain Management, discusses what retailers can expect as consumers buy more on-line and suppliers build more redundancies in their supply chain digital transformation. 
Distribution News in B2B eCommerce
PepsiCo introduces new sales channels
From conception to launch, it took less than 30 days for PepsiCo to premiere two new eCommerce outlets selling direct to consumers (DTC) and bypassing traditional distribution channels. The two websites, pantryshop.com and snacks.com provide convenient alternatives to purchase food and snacks for those staying at home.
Manufacturing News in B2B eCommerce
Manufacturing stays open, despite all odds
According to the May 2020 Manufacturing ISM Report on Business, manufacturing increased over the past month and cautious optimism prevails. New Orders and Production indices indicate positive business activity. Customer inventory levels are positive for future production. 
Success Stories in B2B eCommerce
Pet supplies distributor Animal Supply Co. embraces digital
By thinking ahead and implementing a B2B eCommerce strategy early on, Animal Supply Co. was able not only to survive, but thrive in the toughest times of the crisis. Their digital commerce arm of business is slowly growing and taking a larger share of the overall pie.
Packaging and product development go together for online cleaning retailer
At Truman's, an eCommerce cleaning supply, product development and packaging go hand-in-hand. Their approach to avoid selling water and shipping air has led to innovative products and packaging that take sustainability to the next level. 
Hope You Enjoyed This May 2020 Roundup!
We hope our May 2020 roundup was interesting and provided you with an informative snapshot of what's going on in the online B2B business world. If you have an interesting source or think we missed an important article or resource, let us know on Facebook and Twitter or in the comments below.
We'd love to hear your feedback about this new format. Let us know what you think below and keep checking the OroCommerce blog for more updates.