Technology has had a tremendous impact on the medical device industry. Wearable products such as the Freestyle Libre free patients with diabetes from daily finger pricks while patients with complete or partial aniridia have the option of a CustomFlex injectable artificial iris. So, while a digital transformation in medical devices is well underway, a digital transformation in the medical device industry is lagging. Wholesalers and distributors of B2B medical supplies are in the same boat. 
The medtech industry has taken a conservative approach to digital transformation to due security fears and the highly regulated nature of the industry. But medical device manufacturers, distributors, and wholesalers have an opportunity to differentiate themselves from the competition by engaging in a digital transformation focused on improving the customer experience. 
New technologies not only improve healthcare and patient outcomes, but they also serve as powerful tools to gather and analyze data, make new products more discoverable, and strengthen relationships with buyers at pharmacies, hospitals, clinics, and even end users.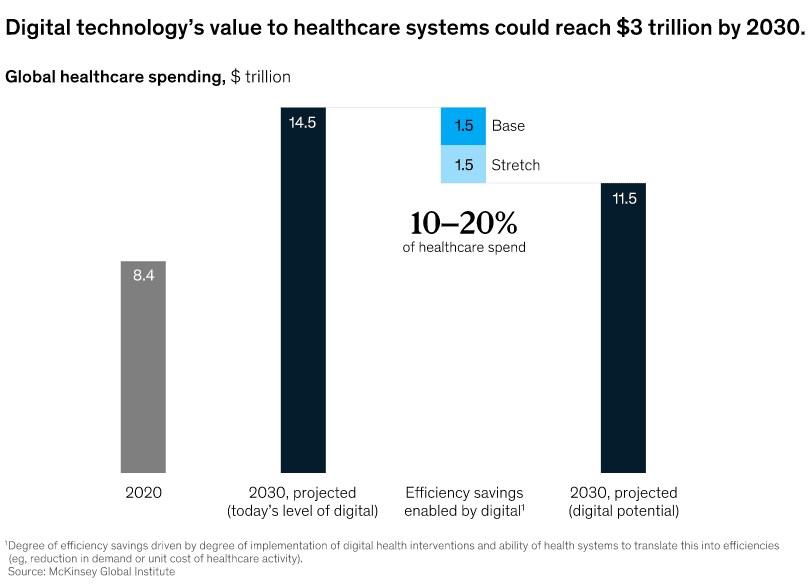 McKinsey & Company estimates that digital and technology transformation could enable efficiency savings of between 10% and 20%.
This article provides a look at the challenges and benefits of digital transformation in the medical device industry. It includes an overview of trends, and a peek at a few companies that are executing a med device industry transformation to great success. 
Challenges of Medical Device Digital Transformation
The medical device industry faces challenges on many fronts. Embracing a digital transformation doesn't solve every challenge, but it does help address the major ones. Digital technology may put data at risk, but it also provides the tools to harden security. It provides the agility to take on the non-traditional competition, maintain compliance in an ever-changing regulatory environment, and offers a way to profit from supply chain disruptions. 
Security
Security poses a challenge to the medical device digital transformation on three very different fronts. First, every device that features smart technology offers an entry point for hackers. This raises concerns about the possibility of a cyberattack at the most granular level – at the individual patient. In addition, patients want to know that the data captured, stored, and used by their device is secure. Encryption, two-factor authentication, and other security measures must be standard with every device.  
On a second front, smart factories using Internet of Things (IoT) technology pose a different security threat. Production lines are vulnerable to hacking as well. Data encryption as well as hosting these devices on networks that are separate from other data and machinery provides some level of security. All employees should be trained in cybersecurity and software should be continually updated.  
Finally, there is the problem of counterfeit products entering the supply chain. Fakes drain revenue from legitimate device manufacturers and wholesalers and put patient health at risk. Blockchain technology provides a way to validate the authenticity of a product. Each product can be issued an identifier in the blockchain and from there, any supplier or patient could validate the authenticity of the product. 
Non-traditional competition
The COVID-19 pandemic brought a rush of non-traditional competitors to the market. In the rush to meet the demand for ventilators, companies like Dyson switched from making consumer devices to medical devices. Amazon became the first source for PPE, and even clothes manufacturers entered the mask market.  
The rise of non-traditional ambulatory clinics in places like Walmart, Kroger, and CVS is also changing how patients access healthcare. Manufacturers who previously relied on the private physician's office or healthcare clinic to make product recommendations must now get a toehold in large retail establishments that aren't primarily focused on healthcare. 
A digital transformation that includes digital marketing, sales, and support puts medical device manufacturers back in front of buyers looking for an Amazon-like experience. Products are more discoverable by non-traditional buyers, and patients can get 24/7 answers to their questions from content-rich websites. Brand-focused websites allow manufacturers to control the brand image and message. 
Regulation
Navigating the regulatory waters continues to be a major challenge for the industry. Deciphering regulations, determining which regulations apply, and compliance are time-consuming and costly.  Medical Device Reporting regulation reporting and product labeling regulations add additional layers of regulation.
Additional regulations on the privacy of patient data under HIPAA must also be considered for any device that collects or transmits data about the patient or their condition.  
Picking digital solutions that conform to the highest standards for data security aids in regulatory compliance. 
Supply chain woes
Medtech companies aren't immune from the supply chain woes suffered by almost all manufacturers. Global supply chains have yet to recover from pandemic closures. Medical device manufacturers find their chains stressed by ports in China that close, open, and close again. Supplies of raw materials continued to be delayed or halted. More than 60 countries placed limits on Chinese materials in products, limiting where products can be sold for forcing manufacturers to seek supplies in new lands.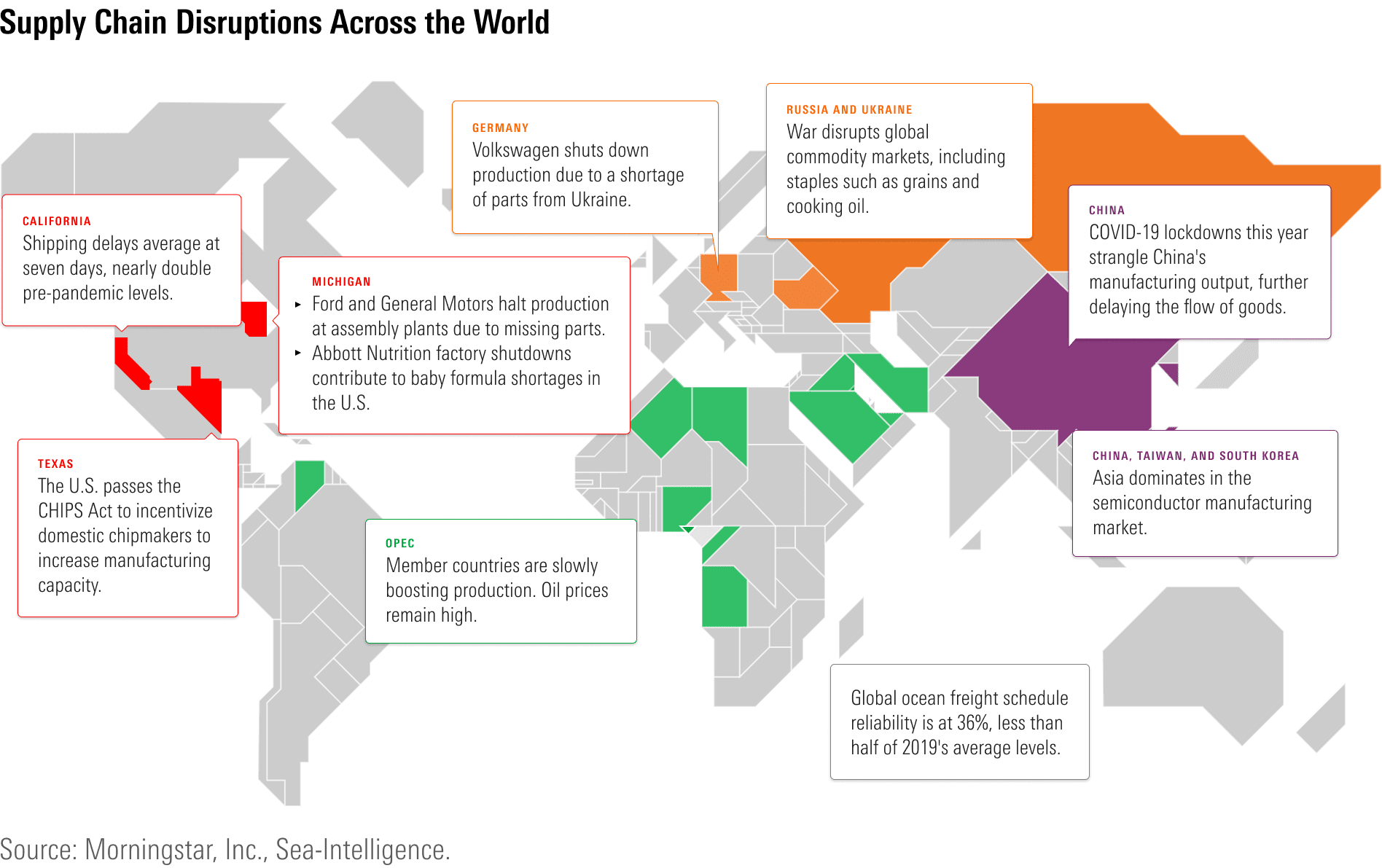 On the other hand, medical device buyers are looking to solve their own B2B supply chain problems. Manufacturers, wholesalers, and distributors that can provide transparency into their own supply chain let buyers know what quantities are available and from what warehouse they can ship. B2B eCommerce platforms that support multiple warehouses and locations and integrate with ERP and WMS solutions provide inventory transparency that improves the customer experience.
The Benefits of Digital Transformation for Medical Devices
Digital transformation in the medical device industry unlocks benefits from the production line to the back office and onto the bottom line.  
IOT and Automation
Automation, IOT, and robotics have a role to play on the line. New technologies like additive printing speed the time to prototype and iterate new product designs, while continuous manufacturing reduces reliance on human intervention. 
Not all automation occurs on the production floor. Workflow automation eliminates dual data entry and reduces order errors. automated eCommerce platforms and order management systems keep customers informed, so accounting services such as billing and receiving can be automated. Productivity increases as human resources are freed to do what they do best, innovate, and relate to other humans.  
Data
When McKinsey & Company surveyed medtech companies about their aspirations versus their implementations when it came to obtaining value from technology, it was clear there was plenty of data being left on the table.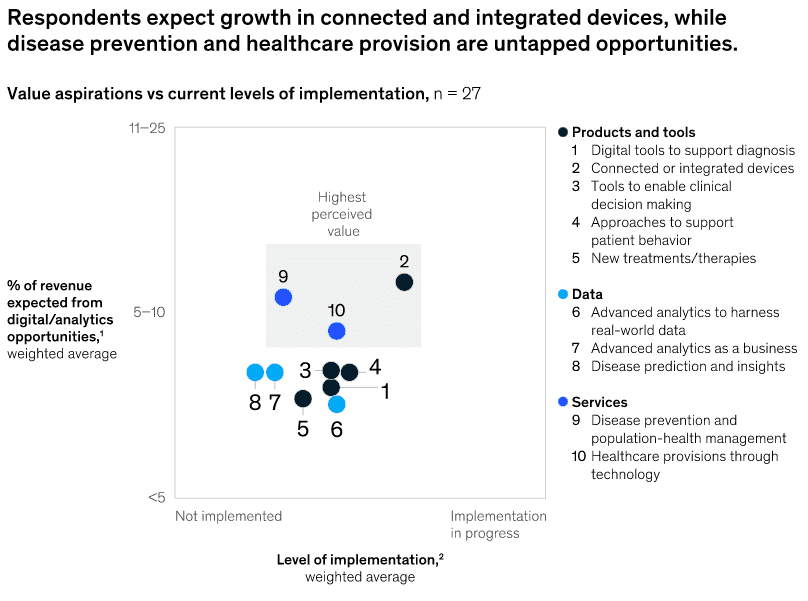 Not only are companies failing to take advantage of data to improve business operations, but data also isn't being utilized for disease prediction and insight. 
By simply optimizing the data already captured, medical device manufacturers can improve processes, products, and patient outcomes. 
Trends and Developments in the Medical Devices Industry
Technology plays a key role in the medical device industry. From new manufacturing methods to better ways to collaborate and sell, digital transformations are happening in every aspect of the industry. 
Additive manufacturing
Additive manufacturing processes such as 3D printing play a larger role in traditional manufacturing. Parts and prototypes are digitally designed, converted to G-code, and then printed with metal, plastic, or resin layer by layer. 
For one-off replacement parts or rapid prototyping, additive manufacturing increases profitability, keeps lines up and running, and can even reduce the time it takes to get a product to market.  method, which works by using digital 3D models to create parts with a 3D printer layer by layer. 
Smart factories
The IoT improves asset management by shifting from a repair and replace mode of operation to predict and protect. By continually monitoring plant assets, inconsistencies in performance are detected before they cause a problem. 
IoT can even control the environment to create the most productive working conditions for people and machinery. Lighting and temperature are continuously monitored and adjusted based on time of day and building loads. 
IoT also improves quality control programs by monitoring output and testing predetermined factors. 
Collaboration with drug manufacturers
In a digital world, collaboration becomes much easier. Medical device manufacturers are collaborating with drug manufacturers to create devices to administer novel drugs. Takeda Pharmaceuticals and Portal Instruments collaborated to deliver a new biologic drug that doesn't require a needle or a visit to a hospital for infusion. A pressurized liquid can be delivered in the comfort of the patient's home. 
Medtech and pharma are also collaborating to create devices and medicines to control diabetes and improve cancer treatment. 
Digital collaboration allows for the secure transfer of large amounts of data between partnering companies. 
Digital supply networks
Major increases in computational power, memory, and processing have ushered in the next era in the Industrial Revolution: Industry 4.0.  New technologies enable the fusion of the physical and digital worlds to create agile supply networks.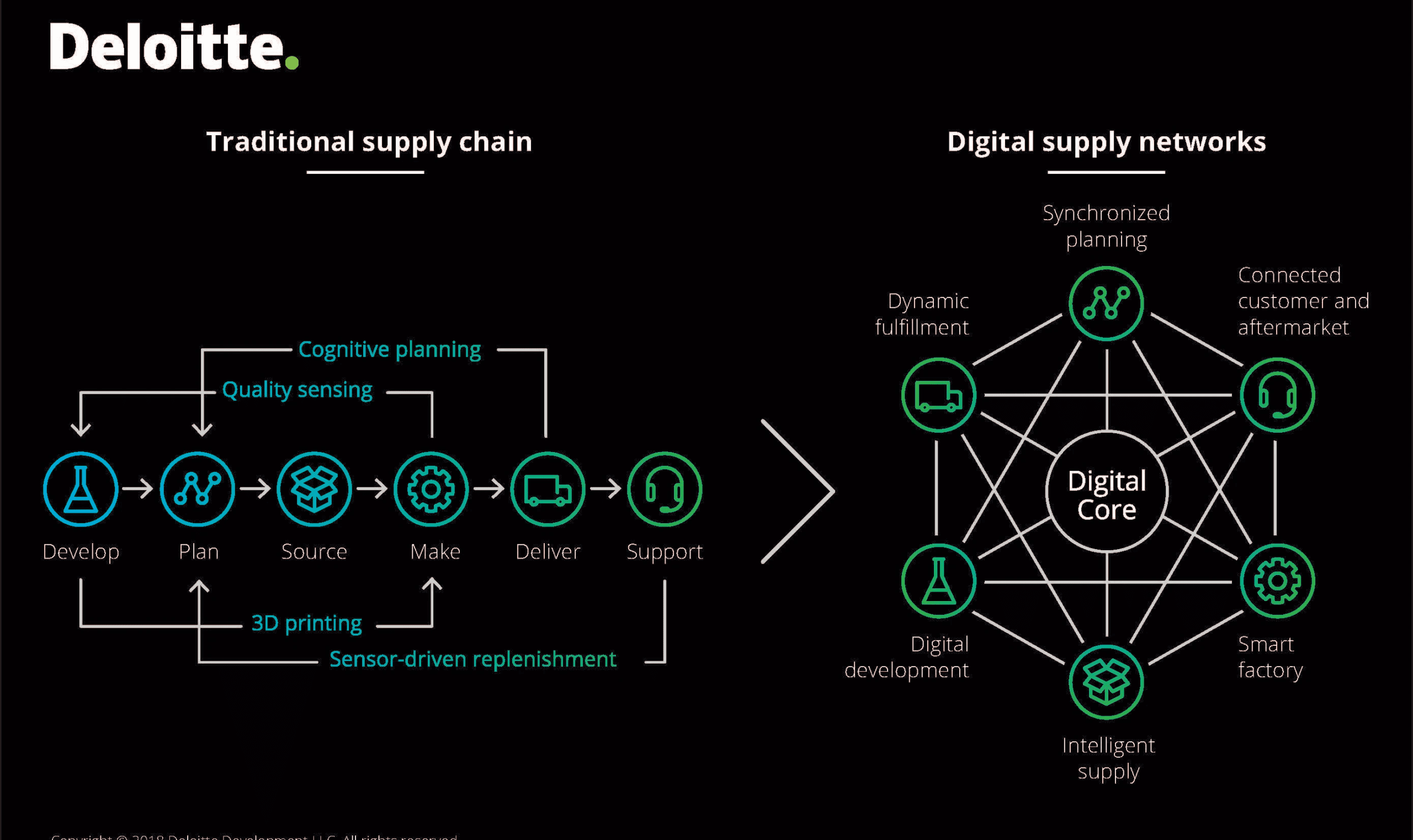 Instead of linear processes, manufacturing now takes place in an ecosystem. A digital thread connects information, goods, and services. 
Digital supply networks depend on integrated ERP, eCommerce, WMS, and 3PL systems. When selecting solutions, the ability to integrate is key. 
eCommerce
Medical device manufacturers, wholesalers, and distributors are using websites driven by powerful  B2B eCommerce platforms to meet B2B buyer needs. They are creating a B2B digital customer experience that feels like a B2C while meeting the unique needs of the industry. 
These experiences can only be created with B2B eCommerce solutions that offer custom checkout workflows, pricing rules, product data personalization, and the ability to configure products on the fly. Secure systems guard patient and buyer data to maintain regulatory compliance. 
Real-Life Digital Transformation Supporting Dental Practices
Midway Dental
Midway Dental is the fastest-growing full-service dental supply company in the United States.  They needed a way to better reach customers, an easier-to-use and navigate website and webstore, and tools for their sales teams.
"Oro is a wonderful company to work with because they have introduced such a flexible and dynamic web platform for the B2B industry." Keith Cooper, Director of Marketing, Midway Dental
They partnered with MindHarbor and OroCommerce to create a digital sales solution that integrated with the ERP, doubled the size of their digital catalog, offered a sales agent portal, and B2B2C functionality. The new web presence rapidly became the company's main sales channel and during the pandemic, they were able to launch a PPE-specific website in just 48 hours using their existing OroCommerce application. 
Midwest Dental
Midwest Dental Equipment & Supply offers dental equipment, supplies, and office design and consultation services. They maintain showrooms in three major Texas cities and a 36,000-square-foot warehouse. 
Their eCommerce digital transformation included scrapping a legacy eCommerce system that was slow, had inadequate security, didn't allow for custom pricing, and didn't support multiple users for a customer account. 
Midwest Dental implemented a new website with eCommerce functionality. They now support multiple checkout workflows and even incorporate approvals from multiple customer levels. Existing customers can scan a barcode to create and submit a quick order form when it's time to replenish their supplies.  The new system is secure, integrates with their existing ERP, and serves internal teams and customers well. 
Explore more digital transformation case studies in our guide.
Oro Digitally Transforms Medical Device Companies
Are you ready to start on a digital transformation? Whether you are launching your first website or replatforming an existing site, Oro is ready to help you every step of the way. 
Meet with an Oro team member and share your goals. We'll listen carefully and help you develop a strategy to meet your needs. And there's no charge for the consultation.
We'll identify key integrations to keep your data flowing and recommend development partners will knowledge of your industry.  Because we recommend an eCommerce MVP approach to these types of projects, you'll minimize the cost and time required to validate your strategy. 
Once you implement and soft launch, we'll be there to help smooth any bumps along the way. Oro continues as your partner while you iterate and improve. 
The Dynamic Nature of the Medical Device Industry
The medical device industry is dynamic. Technology continues to press new frontiers and disrupters frequently change industry dynamics.
Embracing technology from the factory floor to the sales team's laptops is the only way to stay competitive in this ever-changing industry. 
A digital transformation in one aspect of the business can improve performance in other aspects as well. As you enter the age of Manufacturing 4.0, look for solutions that integrate and future-proof your brands.
How do top midmarket brands use technology?
Forrester shares real-life case studies from leading business sellers.
Questions and Answers
What is the future of the medical device industry?
KPMG estimates steady growth, with global annual sales forecast to rise by over 5% each year to reach nearly $800 billion by 2030. Growth will come from new devices, increased demand for wearables and health data services. Manufacturers, distributors, and wholesalers of medical devices must be ready with digital sales and marketing experiences to meet the growing demand. 
What is digital transformation in the medical device industry?
A digital transformation in the medical device industry impacts how products are designed, sold, and delivered. IoT, robotics, and additive manufacturing processes change how medical devices are developed and produced. Digital transfer of information allows collaboration with pharmaceutical manufacturers and digital sales tools like websites and eCommerce experiences to get products into the hands of clinics, hospitals, pharmacies, and consumers.  
How can eCommerce help the medical device industry?
B2B eCommerce software empowers medical device manufacturers, distributors, and wholesalers to leverage the power of online purchasing to increase sales.
It creates the environment for the self-service model that modern buyers expect while offering sales enablement tools for reps in the field. 
Localization makes it possible for manufacturers to sell directly to consumers where allowed by law and direct other visitors to their local sales representative.