OroCommerce, the only eCommerce platform provider that offers a free public self-serve demo, has a new demo for you to try out. Experience true multichannel eCommerce with a test of OroCommerce's latest multichannel eCommerce solution. It's powerful and easy to navigate. And you don't even need to go through a sales rep to get access!
Why B2B Needs a Multichannel eCommerce Solution
B2C companies like Home Depot and OfficeMax operate B2B sales channels and have done so for many years. While Home Depot is best known as the big box store that sells to consumers, they also have a contractor program that is geared towards local general contractors and tradesmen that need to buy in bulk and make frequent purchases.  Amazon changed B2C shopping on the internet and played a large part in shaping today's buyer mentality. They're doing the same in the B2B sector with Amazon Business. This Amazon channel caters to small businesses with volume pricing, employee purchase authorizations, and even offers commercial terms. It only makes sense that B2B sellers would turn the tables and offer a B2C sales channel using a B2C commerce platform as well.  
For example,  B2B giant Grainger is known worldwide as an industrial supplier. But they also operate Zoro, which sells to small companies and individuals who may only need one item.
A B2C sales channel may be more than just an opportunity to create a small additional revenue stream. B2C commerce could be a means of acquiring new B2B customers as well. After all, it's not uncommon for a B2B buyer to make a small initial purchase as a B2C buyer. The buyer may want to obtain a sample before engaging with a sales rep, may be in a hurry, or might just be looking to avoid the hassles of establishing a B2B account.  Whatever their reason, these B2B buyers are looking to engage with companies through B2C channels in general and through B2C eCommerce platforms in particular. Since agile companies meet buyers when and where they want, offering a multichannel eCommerce experience deserves careful consideration. 
Adding a B2C channel can improve brand recognition and widen and deepen a seller's reach into existing markets and even open up new markets. It also allows B2B sellers to better support their wholesalers and retailers by offering a convenient way for end users to purchase accessories and spare parts. 
3 Multichannel eCommerce Strategies
There are 3 general strategies companies use to support multichannel eCommerce. The multichannel eCommerce solution you select should support the strategy you decide to employ.
B2B Only with Referral for B2C
When B2B first met the internet and embraced eCommerce, this strategy was the most common strategy deployed. General visitors to the web store could only access limited information. In order to get detailed information or pricing, visitors had to contact the company and establish a business account. Once the visitor had established an account, they had full access to product information and pricing. If a visitor didn't want to establish an account, they were directed to a retailer or wholesaler to make a purchase. In some instances, this referral was nothing more than a link to "buy on Amazon". The seller's website served as the primary channel and was geared towards B2B only while the B2C channel was nothing more than a link or a reference to another seller. This isn't really multichannel eCommerce software, but single channel software commandeered to be multichannel by embedding links. 
These shopping channels were completely walled off to non B2B customers. Potential B2C customers and B2B leads that had not established an account were frequently greeted with these messages.

Not only does this strategy turn away B2C consumers, it creates friction for B2B buyers as an account must be created to interact using the web channel. Using this strategy, you don't need multichannel eCommerce software. Software built for B2B eCommerce will do the job, but a platform for B2C commerce might not handle the complexities of B2B. 
B2B and B2C on the Same Website
With this strategy one website and a single web store is deployed. All customers and guest visitors can view the product catalog. In addition, B2B customers that have an established account can log in to access additional information. This may include support documentation, additional product information, or marketing materials for resellers.
The prices displayed on the site are MSRP vs MAP type – the manufacturer's suggested retail price or minimum advertised price serving as the default B2C pricing. A B2B customer that is logged into their account will see their wholesale or individually negotiated pricing. Depending on their status (B2B logged in or B2C guest), the same page may appear differently.
In addition, with this multichannel eCommerce approach, B2B and B2C will have different checkout and shipping options. No matter the status, all buyers generally have the default payment options of using a credit or debit card.  In addition, logged in B2B customers may have the option to pay by ACH check. Established accounts may even be able to buy on net 30 terms (or whatever terms are established). These options aren't available to B2C buyers. However, B2C buyers may have the option to use PayPal, ApplePay, or AmazonPay.  When it comes to shipping, B2C customers may not be presented with options while B2B customers may have the option of choosing their own carrier or billing freight to their own account. 
A multichannel eCommerce solution with a powerful workflow engine makes all this possible. That's because this type of multichannel eCommerce software allows you to configure website functions differently for different user classes.  For example, the registration process may be different for B2B buyers than B2C customers.
Or perhaps the Request for Quotation option is only available for B2B buyers. By distinguishing classes of users, multichannel eCommerce software can provide two different customer journeys that end up purchasing the exact same product. 
Standalone B2C Website
The third strategy is to operate a standalone B2C website. Because it provides a clean separation, you can more easily customize the path to purchase. After all, B2B buyers and B2C buyers have different expectations and needs and your marketing should reflect this reality.
A standalone B2C website allows you to offer multichannel eCommerce that is easy to manage and effectively market. 
A multichannel eCommerce solution should allow you to operate multiple websites, such as a B2B website and a B2C commerce solution with one eCommerce platform. With the right multichannel eCommerce software, you can run a multitude of stores and even offer the same store in different languages. 
OroCommerce for All Multichannel eCommerce Strategies
Whatever your strategy, OroCommerce is the multichannel ecommerce solution that allows you to do B2B and B2C commerce the way you want to do it. There's no need to change your company's approach to business to conform to your technology. OroCommerce allows you to operate a B2B-only eCommerce website that refers B2C to your distribution chain, a single website for B2B and B2C commerce, or two or more standalone websites from one platform. In  every scenario, the powerful workflow engine adapts to your company and not the other way around.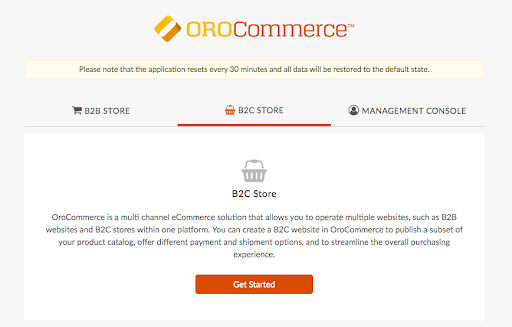 Check out the new OroCommerce B2C website demo today. It's public and it's self-serve. You don't need to talk to a sales rep until you're ready. Begin your demo today!