This post was contributed by Will Schneider of Warehousing And Fulfillment.
Having a good 3PL eCommerce partner in times of disruption can help boost the efficiency of your business in meeting the needs of customers, and reducing costs. And give you the time to focus on strengthening your business.
Below, we'll talk about why you should consider working with 3PL and how to choose the right B2B 3PL partner that can scale together with your business.
Reasons to Work with a 3PL for B2B
While enlisting a 3PL B2B partner may not look like the ideal choice to make in times of crisis, it is still an option you may consider if you begin to notice certain issues in your business.
Below are certain questions you need to answer to know if it is time for you to hire a full-feature B2B 3PL service:
Is your team overwhelmed?
If the workload for your employees increases and sorting out logistics-related duty is demanding more of their time, then you need to hire a 3PL. The focus of the managerial staff should be on the smooth running of business operations and not brainstorming on warehousing and logistics.
If a 3PL takes control of product delivery, you will have ample time to focus on other crucial areas that will improve your business.
Are your transportation costs increasing?
Have you noticed an increase in your transportation costs? Then there's is every tendency that the logistics burden of your business has increased and it is time to hand over to a 3PL.
Is there an increase in the number of complaints from your customers regarding shipping?
Are returned boxes beginning to pile up? Do you need to hire more hands or new storage equipment and facilities? If yes, you need a 3PL. The 3PL will handle the shipping of the products, improve the visibility of the order status, and promptly answer the questions of your customers.
The 3PL takes care of employee training, tracking tools, software, and infrastructure needed to give you the best logistics solutions.
Is your business moving to a new region or facility and you don't know how to handle shipping?
A 3PL will help you to not only locate a new facility but also assist to set up a new warehouse for you and move your products into the new facility.
Is your inventory inaccurate and laden with obsolete items?
Has low inventory accuracy and operational inefficiencies increased the safety stock of your company? These can lead to lots of financial challenges and your warehouse being filled beyond its capacity which can cause product damage. Hiring the service of a 3PL will eliminate these stock issues and also help to increase the distribution network of your company.
Types of 3PL B2B Partners
There are different types of 3PL companies based on the service they render. An understanding of the functions of these different 3PLs will enable you to know which one best suits the needs of your business.
Transport-based 3PLs
This type of 3PL shuttles goods between locations. The movement of the goods can be from your company to retail buyers or from the factory to your warehouse. Transport-based 3PLs can make both local and international deliveries based on their capacity.
FedEx, USPS, DHL, and UPS are common examples of transport-based 3PLs that shuttle goods internationally. UberRush and Postmates are examples of local couriers.
Warehouse/distribution-based 3PLs
These are the most common types of third-party logistics B2B service providers. Warehouse-based 3PLs take care of storing your products, offer Amazon Prime like shipping, and handle returns. They are also great if you want to shield yourself from the supply chain crisis.
Shipper/management-based 3PLs
This 3PL specializes in handling every aspect of shipping. They provide adequate technology such as integrated freight management services which help to eliminate the stressful aspects of shipping.
Key aspects of shipping like freight payments, accounting, freight data, and matrix reports are handled by this 3PL. AFS Logistics and Worldwide Express are examples of Shipper/Management Based Third Party Logistics Services.
Financial/information-based 3PL
Financial Based 3PLs will help you calculate and understand the warehousing costs of each item. And provide internal control of the financial aspects of your company's logistics such as inventory management, freight auditing, freight payment, cost, and accounting and tools for monitoring, tracing, and tracking inventory.
Full-service 3PLs
Full-service 3PLs are a great 3PL partner to have in times of crisis. They have a wide network of strategically located fulfillment centers nationwide that ensure the prompt delivery of products to the right location. These 3PLs can offer same-day fulfillment and also offer inventory intelligence to facilitate the quick arrival of products to customers.
Factors to Consider When Looking For the Perfect B2B 3PL
Staffing
The efficiency of a 3PL provider is often determined by the human resource they have.
You need to make sure that the employees of the 3PL are properly trained to carry out their duties adequately. Find out if the 3PL does background checks on the employees or if they employ people randomly.
This will help you know the people that will handle your products and how well they can be trusted to deliver the products to the designated destinations. Remember, if anything goes wrong, the customers will blame your company, not the 3PL, so you need to make sure that the B2B 3PL fulfillment employees do a good job.
Storage/warehouse
Storage is a big deal when hiring a business-to-business 3PL. You need to find out if they will share storage for your products, and what their storage policies are. You also need to know if the storage facility belongs to the 3PL company or if they outsource it from another company.
Always remember to research on the security of the area where the storage facility is and how inventory is tracked and monitored when it is being moved.
Shipping
Check to see if the 3PL offers freight forwarding services, which shipping carrier they use, and how reliable the carrier is.
You will also need to find out how quickly the 3PL can send tracking information to your inventory management system or the customer. Ensure that the 3PL is flexible enough to meet the demand of customers for faster delivery. Also tell the 3PL how you want returns to be handled, what services to use when returning products, and the costs associated with returns.
Pricing
It's not recommended that you go for a 3PL option with the lowest price, instead, look out for 3PLs that can give you good value for your money. Plus, if you haven't vetted their price structure, this could cost you a lot as they may charge you extra fees for storage, labeling or freight, and fees.
Make sure you are not being overcharged for services. And if a 3PL is giving you a price that is lower than what you expect, don't jump at it, take out time to investigate why it is cheaper, there may be something you are missing.
How to Choose the Right B2B 3PL Partner
Since there are different types of 3PLs, it's vital to carry out thorough research to know which 3PL is perfect for your business.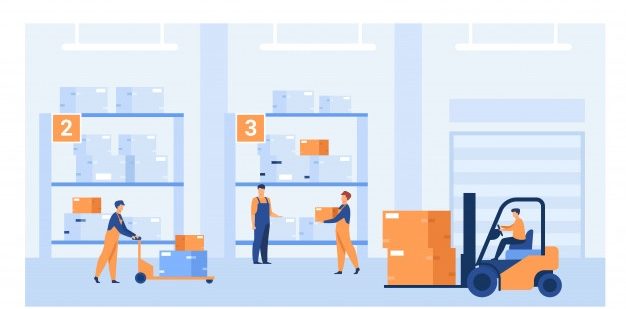 But before searching for a suitable 3PL for your business, you need to self-evaluate your company. This will help you know exactly what the needs of your company are and the 3PL partner that will be appropriate for your business. Here are certain factors you need to consider when self-evaluating your company:
The product your company sells
If the products your company sells requires specific warehouse conditions and handling, you need to look for 3PL providers that specialize in catering to the logistics needs of such products. Whatever 3PL you choose should have the expertise required to give adequate care to your products and keep them in good shape.
The image and reputation of your brand
It is essential to look for a 3PL that complements the image of your brand. This is because customers do not see the 3PL, they see your brand and if the logistics partner doesn't do a good job, your company will get the blame and this can ruin your brand's reputation.
The best way to avoid choosing the wrong 3PL is to research the reputation of the 3PL you intend to use. You can search to see the brands currently using the 3PL and the logistics reviews from their customers.
The growth trajectory of your company
It is important to choose a 3PL provider that is flexible enough to handle the growth of your company. If you don't have a growth plan, you need to outline one that spans over at least two years. This will help to predict the growth rate of your company.
If the growth rate is rapid, you need to hire a 3PL provider that is broad enough to contain the expansion. However, if the growth rate is slow, go for a small 3PL as picking a big one will cost you more.
Conclusion
Are there signs that your business may need to hire a 3PL provider? If yes, then conduct a self-evaluation on your company to see what type of 3PL you will need.
Recent supply chain disruptions have put both the eCommerce and logistics industries under a lot of pressure. And the only way to stay afloat is to partner with the best 3PL that will make your work a lot easier.
About the author
Will Schneider is the founder of insightQuote, a match-making service for B2B services, and writes informative posts about fulfillment services at Warehousing And Fulfillment. He is passionate about helping businesses find the right solutions to improve their operations. When not working, Will enjoys coaching youth basketball.
Scale your eCommerce store with OroCommerce
Let us help you future-proof your business
Frequently Asked Questions
What Is B2B 3PL fulfillment?
B2B 3PL fulfillment refers to third-party logistics services that manage the supply chain and order fulfillment processes for business-to-business (B2B) transactions.
Does your business need a B2B 3PL?
Whether or not a business needs a B2B 3PL depends on factors such as the size of the business, the complexity of the supply chain, and the volume of orders. It is best to assess the specific needs of the business and compare them to the capabilities of a 3PL to determine if it is a good fit.
What industries use B2B 3PL?
A variety of industries use B2B 3PL services, including but not limited to retail, eCommerce, healthcare, technology, and manufacturing.
Why should my business use 3PL B2B fulfilment?
Businesses may choose to use 3PL B2B fulfillment services because they can provide cost savings, increased efficiency, scalability, improved customer service, and access to expertise and technology.