Online coupons positively impact buying cycle, brand, and loyalty. Forrester claims that more than half of buyers (59%) named coupon codes as the top factor influencing their purchase decision. Coupon promotions help e-businesses boost buyer experience and improve customer satisfaction, but these are not the only reasons why you should use coupon campaigns. Coupons can encourage new leads to buy and incentivize returning buyers. Use coupons to promote or trial new products and discount old, excess, or slow-moving inventory. 
Oro is dedicated to providing merchants with tools to facilitate their online growth. That's why OroCommerce 1.4 will enhance the existing promotional engine with a powerful Coupons feature.
Overview of Coupons Functionality
With OroCommerce 1.4, B2B sellers will be able to:

Create standalone coupons;
Generate multiple coupons;
Mass edit or delete coupons;
Define how many times a coupon can be used;
Link coupons to specific promotions;
Limit the number of times a coupon can be used by the same buyer;
Limit coupon validity period;
Import and export coupons.
Starting with OroCommerce 1.4, coupons will be applied to orders on the backend by a sales rep. With version 1.5, buyers will redeem coupons when creating orders on the frontend. The order total will be automatically adjusted based on the coupon and no further assistance by a sales representative is required.
Сoupons must be linked to promotions to function properly. Before you set up coupons, enable promotions in the system. Also, be sure to enable the "Use Coupons" feature in the appropriate linked promotion.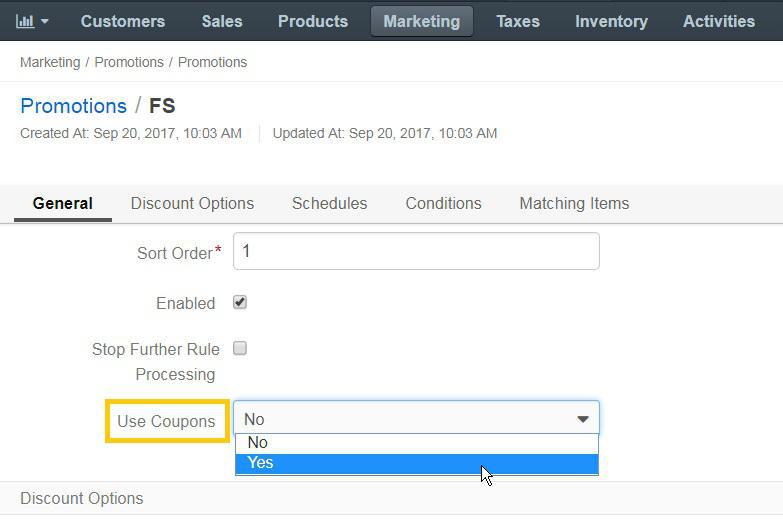 Creating and Generating Coupons
There are two ways to generate coupons. You can:
Manually generate individual coupons;

Automatically create batches of coupons.



Individual coupons are helpful to provide an individual discount to encourage a prospective customer to convert immediately or reward a loyal customer with an exclusive discount. Batch coupons support promotional campaigns where your goal is to increase your reach and increase sales volume.

To create an individual coupon with specific use conditions, navigate to Marketing > Promotions > Coupons in OroCommerce admin, and click Create Coupon.

To create a large number of coupons with the same value and conditions, simply generate a batch.
Whether you create coupons manually or automatically, the configuration is quick and easy. For individual coupons, enter a coupon code of your choice using alphabetic, numeric, or a combination of both types of characters. The codes for automatically generated coupons are created based on the code length and type specified. Select a promotion for the coupons, define the number of times the coupon can be used in general and by a certain buyer. Enter the ending date and time for the coupon promotion. Your coupons are ready to use!
Automatically generate batches of coupon codes to distribute discounts via email or in printed promotional materials. The code assigned to each coupon in the batch is unique. This minimizes the odds of discount code abuse and enables you to track coupon usage with high precision.
Use the code prefix and suffix fields in the setup form when creating a batch of coupons to instantly identify the associated promotion they are using. For example, that's how you could use code prefix and suffix for coupons providing a 15% discount valid through September:

You can also specify different code prefixes to differentiate between coupons used for online and in-store purchases. Once the campaign is underway, create custom reports based on the code prefixes to monitor and analyze each campaign's effectiveness.
Managing Coupons in Orders
OroCommerce 1.4 allows sales reps and eCommerce admins to manage coupons directly from orders. This functionality includes:
Viewing coupons applied to the order from the order page and viewing the details of the coupon.

Manually adding a coupon to the order. You can apply an unlimited number of coupons to the order as long each is linked to a different promotion.

Managing coupons while editing an order

(add, view, and deactivate coupon codes). When you deactivate a coupon code, its status changes immediately. You can reactivate the code at any time, as the system preserves the codes.
Things to Consider When Launching a Coupon Campaign
Like promotions, coupons are an effective marketing tool. Because coupon codes are easy to track, you can measure the success of coupon-tagged promotions more precisely than couponless campaigns. Because coupons do not automatically apply to every order, sellers can maintain margin better than with a couponless promotion.
It's common for eCommerce merchants to use coupons to capture and convert new buyers.
However, newly converted customers may become disengaged once the promotion ends. Diversify your programs to fully realize the potential of couponing. Motivate the buying behavior of new leads and returning customers. Use coupons to:
Spark interest when pre-launching new products or services.

Promote newly launched products or services and offer free trials.

Reward customer loyalty and improve retention.

Increase order volume.

Discount prices in exchange for referrals or product feedback.

Incentivize buyers to convert abandoned carts.
Now that OroCommerce supports website coupons, use this functionality to drive traffic and increase sales. Stay tuned for information on the availability of new releases and start planning your new promotion strategy today.