At OroCommerce, we realize that  it is common for companies to have their pricing data live in a 3rd party system, such as ERP systems like SAP, Netsuite, and Epicor, where price updates can be centralized across multiple business applications. This means if your company maintains price data on an external source and synchronizes the data with the eCommerce system, integrating the two systems will be extremely important for smooth business operations.
That's why we introduced this new improvement that streamlines integration between OroCommerce and external pricing sources. It will result in a lower Total Cost of Ownership for your enterprise application stack and speed up time to market to get online customer to start buying more quickly.
OroCommerce Pricing Engine at a Glance
To better understand how real-time pricing integration fits into the overall OroCommerce pricing feature, let us take a quick look into how prices can be added or updated on your OroCommerce-powered storefront.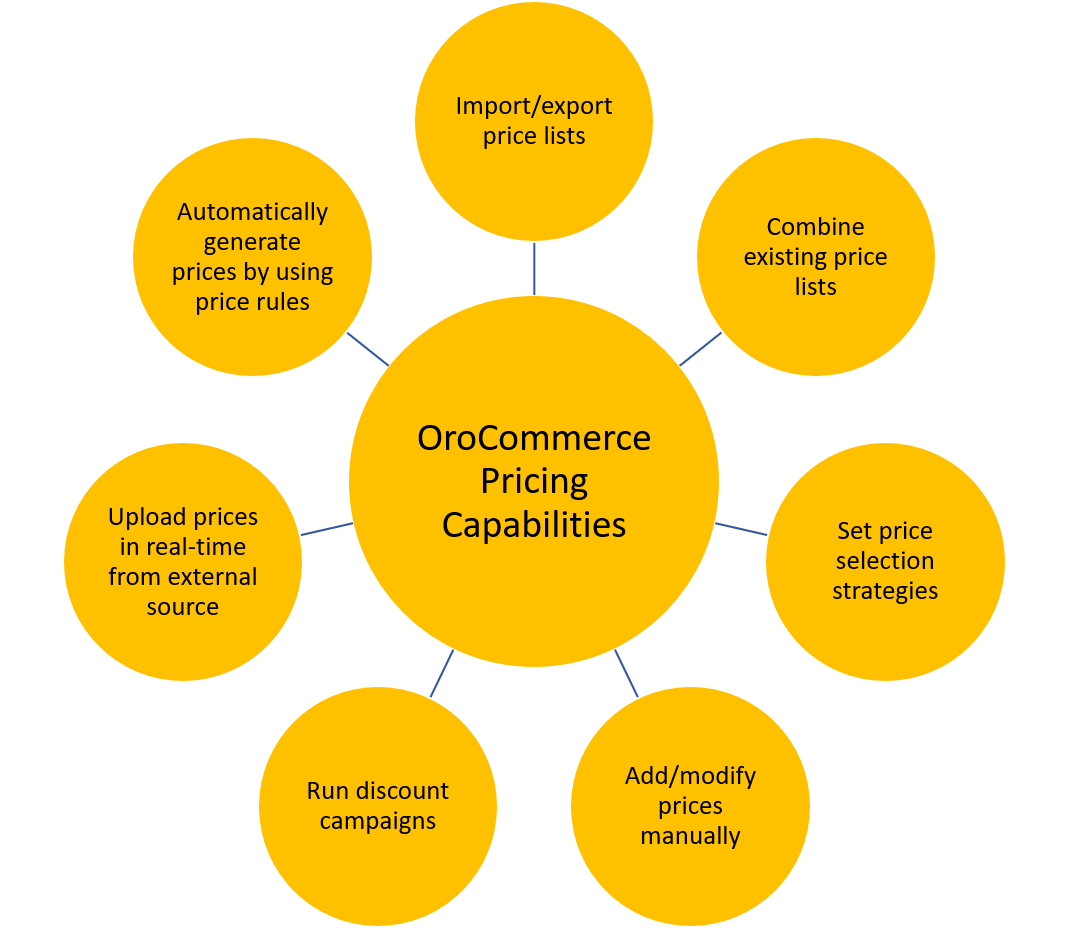 Generally speaking, our price synchronization methods can be put into four distinct categories, as follows:
You can

import your existing price lists

in CSV format

directly to OroCommerce

. While this is not a real-time integration, importing CSV price lists directly into OroCommerce is a quick and easy way to get started with pricing. This option is great for those who do not change prices often but have many prices to update once changes have been made.

You can

manually add or modify prices directly

from your OroCommerce-powered storefront. This offers a quick way to change prices via our user-friendly OroCommerce UI without having to import CSV files. This method is typically used to introduce minor changes to prices on an as-needed basis. After you've manually changed prices, you can always export your price list as a CSV file to keep that up to date as well.

OroCommerce offers a powerful dynamic eCommerce pricing engine

that allows you to automatically calculate new price lists based on existing pricing data and specified business logic. For example, you can set up rules on discounts for different customer groups, and according to those rules, OroCommerce will build dynamic price lists on the fly for each customer. Another common scenario for OroCommerce's pricing engine is when companies use

cost-plus pricing strategies

: they keep the "cost" part in base price lists and modify the "plus" part dynamically in OroCommerce. See a

few other examples

of how you can use our dynamic pricing engine.

The most often requested method for managing pricing when pricing information lives in an external source is real-time integration. Real-time integration with external pricing sources  allow your OroCommerce-powered storefront to

fetch pricing data updates in real time from your backend systems

. Let us further consider typical business cases for this type of price management.
Real-Time Integration with External Pricing Sources: Example Cases

The general case for building real-time pricing integration between your eCommerce store and 3rd party system is when prices are changed frequently, continuously, and in-bulk. For example, if you are a business where prices fluctuate every week across tens of thousands of products, then real-time integration may be the strategy for you.
The most common situation when real-time integration with an external pricing source is needed is when a company uses an ERP solution for centralized pricing data management. Replicating its business logic in an eCommerce platform would be too complex and spawn duplication of data between different systems. Thus, integration between eCommerce and ERP bridges their unique functions into a single unified workflow.
Another common case is when prices are dictated by external parties. For example, businesses that resell products typically base their pricing off manufacturing cost, which fluctuates based on the cost of materials. With base prices thus constantly changing somewhere on your supply chain, real-time integration with those parties' price sources may offer the best option to present accurate, up-to-date prices for your online buyers.
While the benefits are clear, the effort required for such integration is a different story, which largely depends on the eCommerce platform design and integration readiness. With this new improvement, OroCommerce makes real-time pricing integration easier than ever before.