Oro products are widely used by B2B sellers and developers in the US as well as worldwide. Such a global reach requires any application to be fully adaptable to various countries or regions. That's why from the first release, Oro products have included robust localization and translations capabilities right out of the box. Our goal is to meet global customer expectations before they even arise. That's why we make configuring the localization and language settings in every Oro product as painless as possible.
To make your jobs easier, we've added a new resource to the Oro Documentation Library. If you need to customize any Oro product for your country or region, be sure to check out the new System Localization and Translations Guide.
Who Needs the New System Localization and Translations Guide?
You don't need to be a tech-savvy superuser or a software developer to find the information in the Localization and Translations Guide highly useful. Whether you're an eCommerce manager or the Oro application admin, you will find step-by-step, user-friendly instructions on everything you should know about the localization process and adding translations and localizations to Oro applications.
How  the System Localization and Translations Guide Will Help You
Oro products can be customized as necessary to provide for a multitude of languages and regional customizations that adapt the installation at the global, website, and user levels. For example, the management can interact with the back-end in one language, while website visitors see content customized for their particular language and currency. The System Localization and Translations Guide will show you how to make this happen. It is divided into the following sections:
Languages

Translations

Localizations

Configure Localization Settings

Configure Language Settings
In the Languages section, you'll learn about viewing and updating the existing languages, as well as adding and enabling new languages. This chapter also explains how to import and export translations to the target language.
The Translations section includes information on adding and editing texts translated to the target language and teaches you how to cache translations.
In the Localizations section, you'll learn about binding languages and locale-specific formatting, which ensures smooth localization of Oro's system elements and messages displayed to users. In this part of the guide, you'll discover how to view all localizations and create a localization with a specific configuration.
The Configure Localization Settings section is where you find information about customizing localization settings globally, per organization, website, and user.
Refer to the Configure Language Settings to learn how to set up a language for the UI elements of the management console globally, per organization, and per user.
Need to Quick-Start?
Sometimes reading user guides may be a snore. Need to power your way through the application without falling asleep? Use the visual mini quick-start guide to walk through six essential steps to adding translations and localizations to the storefront and/or management console.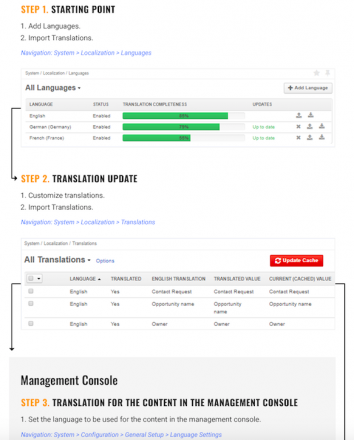 Did you find the new System Localization and Translations manual useful? Let us know what you think in the comments below!