With Thanksgiving and Black Friday behind us, it's clear that brick-and-mortar stores will play a much bigger role in holiday shopping for consumers than they did last year. While our last year's concerns about lockdowns and social distancing placed doubt on the role of physical stores, 12 months later these trends seem to be reversing.
Furthermore, concerns about supply chain delays force consumers to explore all shopping opportunities, including in-store ones. With omnichannel and unified eCommerce options like buy online & pick up in-store and curbside pickup, customers can have a more convenient and stress-free shopping experience.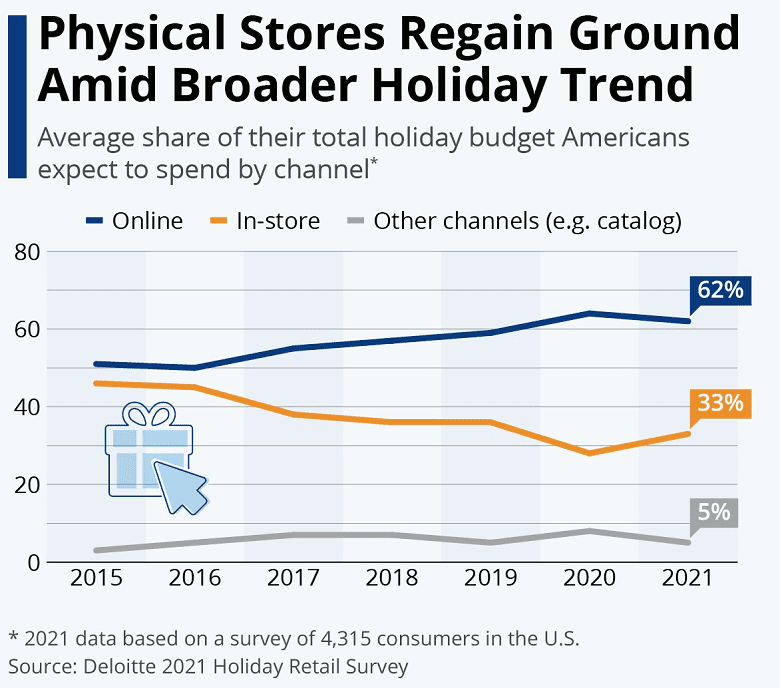 Payments are seeing numerous changes, too. While buy-now-pay-later isn't a novel idea, a growing number of eCommerce operators find success in offering credit during purchase. Adobe recently reported that the use of such services saw an uptick of 21 percent YoY and orders up 1 percent YoY, with another surge expected closer to Christmas.
The same report also revealed that mobile shopping growth is slowing. Many – especially during the height of the pandemic – predicted that mobile was set to exceed the 50 percent share of online sales. That failed to materialize, with smartphones accounting for just under 40 percent of online sales.
Welcome to the November 2021 B2B eCommerce news roundup. We explore the news and developments surrounding the pandemic, commerce, and supply chains. We also touch upon how B2B businesses and their customers are faring as they move into the holiday season.
November 2021: New Challenges to Unseat COVID
A recent IPSOS poll republished by Statista revealed that respondents believe that the economic situation and social issues are slowly taking precedence over COVID concerns. As vaccinations in many countries continue growing, the risk of widespread lockdowns remains low even as the Omicron variant makes headlines around the world.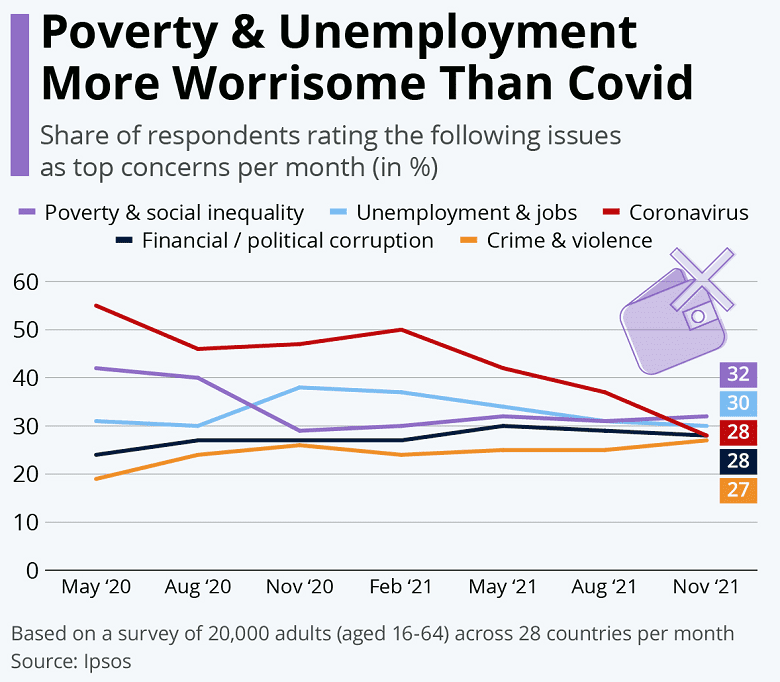 Holiday spending is expected to grow
While last year's holiday season was certainly not ordinary, the rapid rise in eCommerce and stressed supply chains impacted many manufacturers and distributors. The 2021 holiday season is upon us, and moderate sales growth is expected despite the ongoing supply chain crisis. In fact, Emarkter data predicted both eCommerce and physical sales to grow, with eCommerce holding a steady 18.4% of retail sales.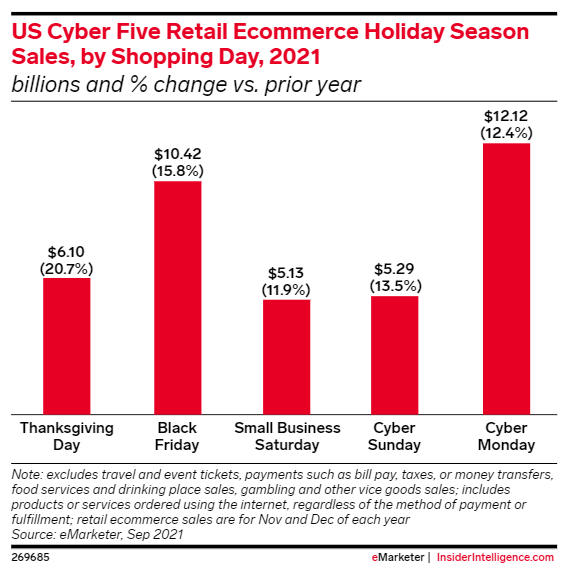 Discover more B2B eCommerce marketing statistics
Last-mile delays continue to impact carriers
As the holidays approach, carriers are preparing for the upcoming surge in volume. Low staffing rates and a difficult supply chain environment are pressuring last-mile carriers. According to data from Convey, it's yet to be seen which one of the major carriers will boast the higher on-time delivery rates amid ongoing challenges.
Read the entire article on Retail Dive
B2B eCommerce: continued investments
Business-to-business sellers are ramping up investments in digital technology. According to a recent Digital Commerce 360 survey, more than half of B2B sellers are prioritizing B2B eCommerce platform investments, with the rest focusing on digital marketing, order fulfillment, and other areas.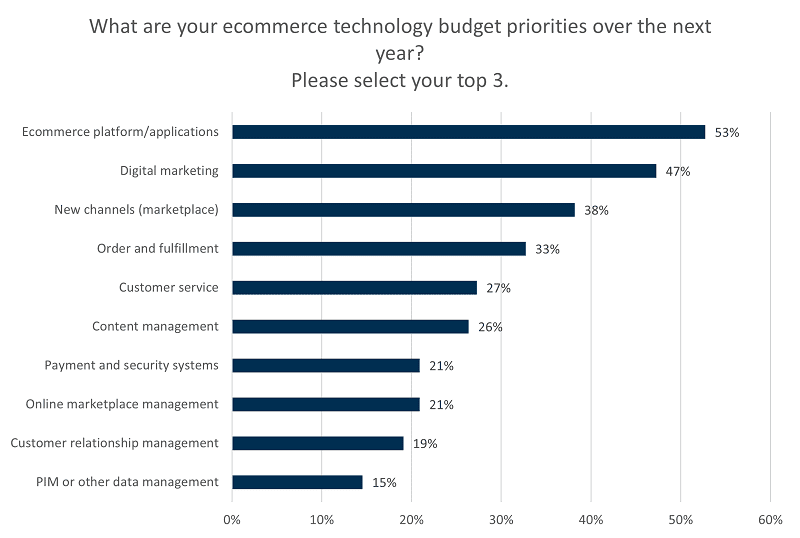 Image courtesy of Digital Commerce 360
Manufacturing News in B2B eCommerce
How digitalization develops growth for manufacturers
IndustryWeek is offering an interactive presentation titled "Digitalization Delivers 2021 Growth for Manufacturers" on December 20, 2021. It's free for those who register on IndustryWeek.com. It will feature industry 4.0 experts covering benchmarks and best practices for boosting productivity and profitability.
Five cybersecurity protocols manufacturers should prioritize
Today, manufacturers must be online to better reach and sell to their customers. However, as 2021 has shown us, manufacturers are not immune from cybersecurity attacks such as ransomware, remote desktop compromise, phishing, and more. Thomasnet has advice on how manufacturers can protect themselves online:
See the five cybersecurity protocols on Thomasnet
Supply Chain News in B2B eCommerce
Ten steps retailers can take to build resilient supply chains
Earlier this month, McKinsey released some actionable advice to help B2C and B2B businesses survive in the difficult supply chain landscape. From ocean freight to middle-mile trucking to last-mile delivery and warehousing, distributors are facing pressures from all sides. Here's how to navigate through these challenges.
Read the complete article on McKinsey
Localizing the supply chain? Consider these four tips
Nobody is immune from global supply chain disruptions, starting from shipping route incidents like the Suez Canal blockage to congestion at ports. The lingering effect of the pandemic and its socio-economic impacts will continue impacting supply chains for some time. For those interested in localizing their supply chains, SCB offers some practical advice:
See the four tips on the SCB website
What did we learn from 5 years of supply chain disruptions?
To help companies battle supply chain issues, Supply Chain Dive gathered a number of past stories that can teach us about supply chain disruptions and how to manage them. You can find articles about other epidemics, workforce shortages, China-US trade wars, and the current supply chain crisis.
Read the collection on Supply Chain Dive
Worker Health and Safety in B2B eCommerce
Making sense of OSHA's new vaccine mandate
This month, the Occupational Safety and Health Administration (OSHA) released the COVID-19 Vaccination Emergency Temporary Standard or ETS. This means applicable employers have 30 days to develop, implement, and enforce mandatory COVID-19 prevention measures. These can include vaccination, regular testing, or face coverings.
Find out more about the new ETS standard
B2B eCommerce and B2B Marketplace Success Stories
Canadian B2B marketplace set to make inroads in online health services
Fullscript, a Canadian B2B marketplace for alternative medicine and supplements, has raised a $240 million funding round. It is aimed at healthcare practitioners and offers an inventory of over 20,000 products from more than 300 brands. Over the last 10 years, the company grew to $300 million in overall revenue.
Brazilian on-demand workplace marketplace gains $10 million
BeerOrCoffee is a flexible office space marketplace, offering workspace solutions for large companies. It already offers 1,100 shared workspaces for Brazilian cities. It's attractive to investors because, being a marketplace, it does not own or directly operate its supply.
Sabi, a B2B retail platform, secures $6m and expands outside of Nigeria
Nigeria, the most populous country in Africa, mainly comprises micro, small, and medium businesses. Sabi's B2B eCommerce portal provides manufacturers, distributors, and wholesalers with power-as-a-service solutions. Additional funding will allow it to explore other value-added products to add to its customer base.
Thanks for Reading Our November 2021 Roundup!
That's all for November 2021. We hope you had a great Thanksgiving, Cyber Monday and wish you the best for the upcoming holidays. If you come across an interesting piece of news or story, let us know by email or social media. Also, keep checking the OroCommerce blog to stay on top of various news and developments in B2B eCommerce.