Last month, it looked like Japan and South Korea's vaccination rates could overtake the US and the EU, which finally happened. Brazil is not far behind – its vaccination rate is climbing much faster than that of the United States. The formerly vaccine-skeptical nation is set to overtake much of the developed world for the share of vaccinated populations. India also reached a milestone this month, with over 1 billion vaccinations. However, this is only a quarter of the population, and the country still has a long way to go. Similar scenarios are playing out in Russia and other Eastern European countries.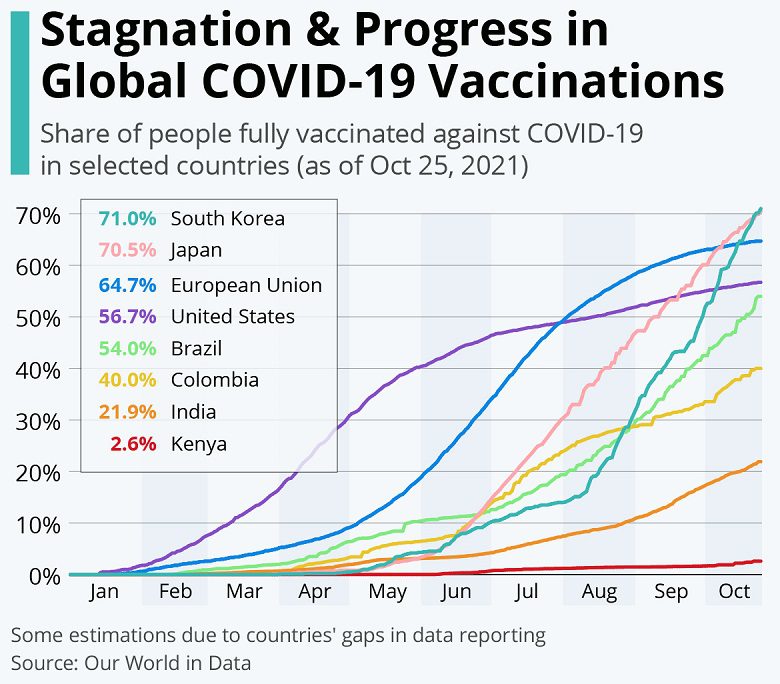 With partial lockdowns still in place and vaccinations still being administered in many communities worldwide, contactless delivery methods are quickly gaining greater use and acceptance. While readiness for this technology is still relatively low, last month's opinion polls revealed that China is leading the pack with drone delivery readiness, while Germany is on the opposite spectrum – with only 10 to 14 percent of respondents willing to embrace this technology.
Here's What Happened in B2B eCommerce in October 2021
This October 2021 B2B eCommerce news roundup is our monthly collection of trends, news, and statistics in the world of B2B commerce, supply chains, manufacturing, distribution, and marketplaces. We'll also touch upon some B2B eCommerce businesses and their success stories.
October 2021: Growing eCommerce Adoption Amid Supply Chain Issues
Oro gains first place for B2B eCommerce use case
Last month, OroCommerce, the leading B2B eCommerce platform, took first place for the B2B Digital Commerce Use Case in Gartner's Magic Quadrant for Digital Commerce report. If you haven't already, you can download your complimentary copy of the report below. Discover where the B2B eCommerce market is heading and what B2B eCommerce software vendors are doing about it.
Buyers prefer to research and purchase online
While online research before purchases is nothing new (this practice existed well before COVID-19), the pandemic only amplified these trends. What's remarkable is the speed with which B2B customers moved online to research and purchase. Like B2C customers, they rely on search engines to locate products or learn more about manufacturers, distributors, and suppliers.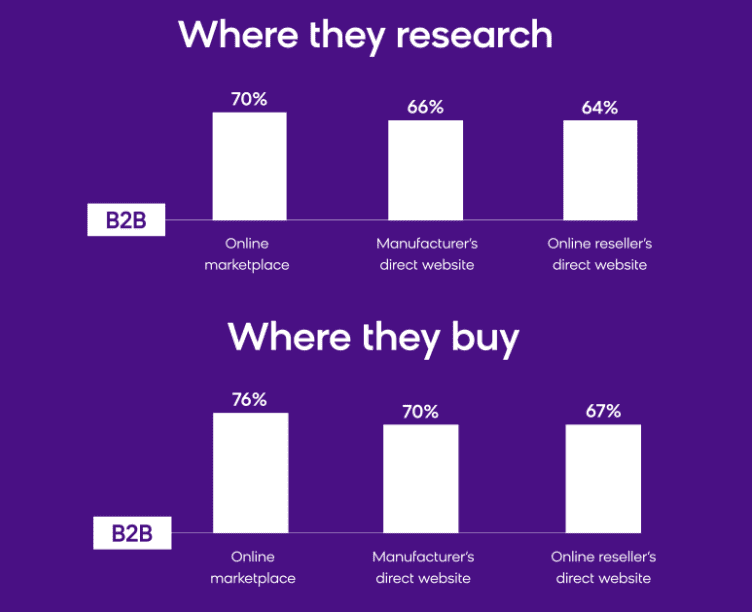 Discover more B2B eCommerce statistics
Why SEO and keywords for B2B and B2C eCommerce websites are very different
In the latest Forbes article, Yashar Shahabi talks B2B eCommerce SEO. He gets to the bottom of what separates a B2B buyer in a purchasing department from a regular consumer. He also offers critical tips for eCommerce managers to ensure their URLs, various SKUs, product description pages, and more stay on Google's good side.
Read the entire Forbes articles here
No one wants a bad B2B eCommerce experience. How can you improve?
The move online is not letting up, and customer needs are changing at breakneck speed. In order to keep up, B2B businesses must stay abreast of various eCommerce best practices. IndustryWeek covers four tips to boost the online user experience. 
See the four tips on IndustryWeek
Supply Chain B2B eCommerce News
Global supply chain challenges translate to a difficult holiday season
Supply chain challenges due to COVID-19 are not letting up, and there are many reasons for this. While vaccine mandates have reopened cities, mass resignations and the general worker shortage wreak havoc on supply chains. All that promises to make the holiday shopping season a messy one.
Read the whole article on Washington Post
United States Congress is preparing a $1.2 trillion infrastructure package
The US retail lobby asked Congress to pass a $1.2 trillion infrastructure package and update shipping and trucking laws to soften the blow of the ongoing supply chain crisis. Over $100 billion of that is set aside for roads, bridges, and major infrastructure projects. Federal investments are expected to span over five years.
Learn more about the infrastructure package here
Supply chain chaos is set to continue through 2022
According to Federal Reserve chair Jerome Powell, Americans should look past the holiday season and be prepared for the supply chain chaos to last well into 2022. Demand for products and services is likely to remain strong. However, it's yet to be seen if the labor market will regain strength or if inflation will slow down.
Read on to find out what else we can expect in 2022
Manufacturing B2B eCommerce News
What matters to manufacturers?
Manufacturers are relying on their websites to reach their customers, but many face challenges. According to a survey of over 800 decision-makers in the US, over 51% of manufacturers have invested in eCommerce solutions. However, manufacturers face numerous challenges along their path to digitalization.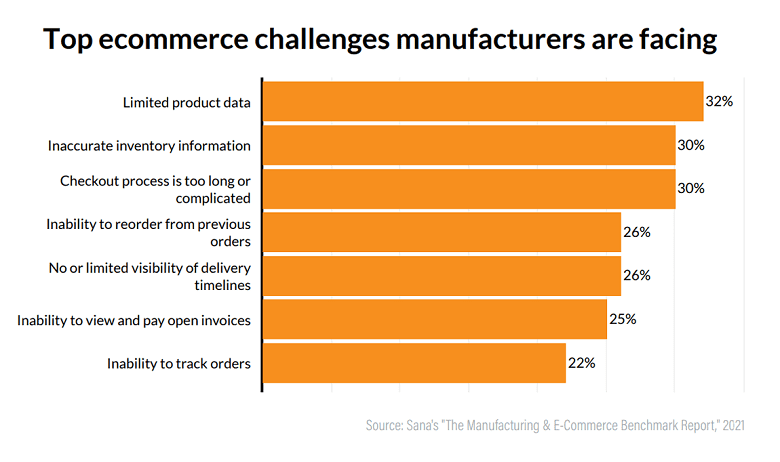 Innovation in manufacturing doesn't stop with digitalization. Sustainable packaging goes hand in hand with B2B eCommerce and is on the agenda for many brands and retailers. In the latest article, learn about the latest packaging trends and examples of how several manufacturers are tackling packaging challenges today.
Learn more about Clinique, Hovelsrud, Mars Petcare, and Sangria
Power tools and accessories B2B eCommerce growth ahead
B2B eCommerce brands are entering the lucrative eCommerce market for power tools and accessories, which is projected to grow 18 percent. The United States and China are expected to lead the way in power tools and accessories, driven in part by giants Amazon and Alibaba, respectively.
Learn more about the power tools and accessories industry here
Distribution B2B eCommerce News
Distributor offerings don't match customer expectations
Like manufacturers, many distributors have eCommerce websites. However, according to McKinsey, distributors are plagued with additional complexities related to distributor and sales management. In this post, McKinsey lays out the steps needed for a successful eCommerce channel strategy.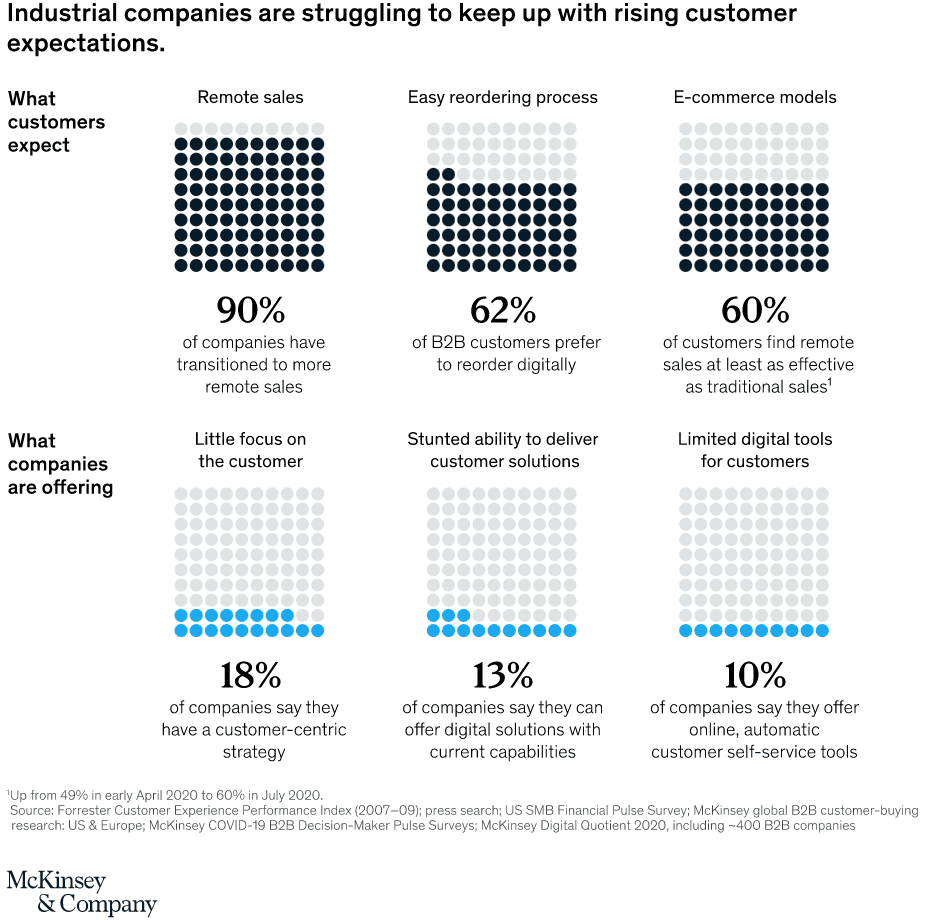 Read the whole McKinsey article here
B2B Marketplace News
Distributors want to sell on marketplaces
According to survey data by Digital Commerce 360, distributors want to sell on their own marketplaces, but interest in Amazon Business remains high. Distributors and B2B retailers that can juggle both channels with their B2B eCommerce software will be well-positioned to succeed in the multichannel marketplace environment.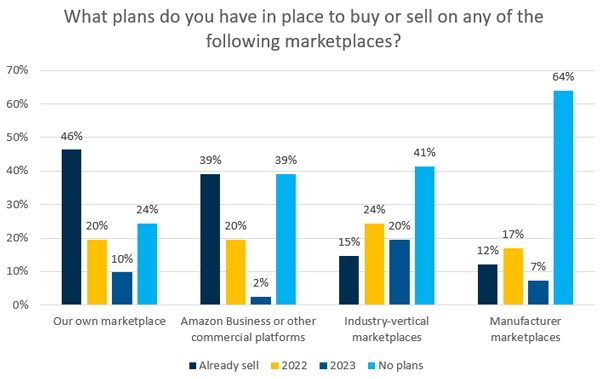 What to look for when selecting marketplace technology
B2B eCommerce Success Stories
Here is a list of last month's B2B eCommerce highlights from around the world:
We hope you found our October 2021 roundup informative. If you'd like to submit an article, tip, or statistic, do let us know. Don't forget to bookmark the OroCommerce blog for more updates!