This post has been contributed by Oro's technology partner, Marello. Originally published October 27, 2020, updated January 6, 2022
Omnichannel retail, also known as a unified shopping experience across sales channels, is a buzzword that seems to have been around for ages. While it hasn't been taken seriously over the last few years, things have changed remarkably over the past year. In 2022 and beyond, retailers will have to move quickly to avoid losing to the competition and keep up with quickly changing customer demands.
The biggest push from omni-channel in retail comes from customers themselves. Omni-device customers are everywhere, relying on multiple tools and apps while expecting brands to follow their every move. The COVID-19 pandemic also forced the vast majority of shoppers inside, reluctant to return to physical stores.
A changing landscape for retailers
According to Statista, global online sales are forecast to
reach 22% of all retail sales
in 2023 (vs. 14.1% in 2019)
It's too early to say whether eCommerce will leave brick-and-mortars in the dust. Still, customers that relied on retail omnichannel solutions and services before will likely continue seeking them out due to convenience.
Now that we've agreed that omnichannel is good, how do you go about getting there? In this article, we explore the definition of omnichannel, its pros and cons, and the future of omnichannel retailing. To help you get started with omnichannel commerce, we also share  five steps to consider when setting foot in the omni-channel world.
What is Omnichannel Retailing?
Historically, omnichannel was a way for forward-thinking brick-and-mortars to blur the lines between physical and digital.
Back in 2016, comScore and UPS discovered that customers bought more products online than in brick-and-mortar stores. The survey, now in its fifth year, asked more than 5,000 customers about their purchases in a three-month period. The results showed that shoppers made 51 percent of their purchases online, compared to 48 percent in 2015 and 47 percent in 2014.
Since many physical retailers couldn't compete with eCommerce giants such as Amazon, they had to innovate. By leveraging their online and offline channels, forward-thinking retailers could offer something that would get their customers to stand up and notice. That is, a single brand experience within multiple touchpoints instead of separate, disconnected ones. 
Unified retailing opened the door to new exciting opportunities for the retail industry: from greater customer satisfaction to new marketing strategies that businesses could leverage. In many ways, the benefits of omnichannel retailing have entirely transformed the retail business.
The rise of B2B omni-channel retailing
Although omni-channel retailing originated in the B2C sector, we are now witnessing its steady expansion into B2B eCommerce. As B2B eCommerce eclipses B2C eCommerce in size in the coming years, the competition among retailers will also grow. Thus, brands must streamline their selling models and marketing channels if they want to maintain a competitive advantage – and omnichannel is one way of doing that.
An omnichannel strategy in B2B eCommerce means approaching B2B, B2C, and physical sales channels holistically. Traditional B2B sellers such as food industry manufacturers are pivoting into D2C and B2B2C business models alongside their main B2B businesses. Automotive parts distributors are also embracing D2C and B2B marketplaces in their bid to circumvent the restriction of a physical store in the wake of lockdowns.
In many ways, omnichannel has become a critical retail concept and strategy and is now making its way into B2B customer experience and commerce jargon. This trend is likely to accelerate as omnichannel becomes inseparable from retail in years to come.

Google queries for omnichannel over the past 5 years. Even though many retailers understand the importance of an omni-channel strategy, it can be a challenge knowing which steps to take to successfully apply one to their business.
What Does Omnichannel Retail Feel Like to the Customer?
What does an omnichannel, unified brand experience feel like to the customer? According to one HBR survey, a whopping 75% of shoppers say they use multiple channels to compare prices and promotions, seek out the best deals – some even use their mobile phones while being physically present in stores.
Therefore, the customer experience could be vastly different from what the brand perceives it to be. Here's an example of a well-executed omnichannel retailing experience:
You discover an interesting product from an Instagram ad or post.

After visiting Facebook, you see a different ad about that brand. This time the ad highlights some lifestyle aspects of the product.

When you follow the Facebook link to the eCommerce website, a tracking code takes note of the items you engaged with and launches a popup asking you if you'd like to be notified of similar products.

You decide to visit the

retail store

. As you enter the store, your

mobile phone

shows you a personalized notification with items on sale you might be interested in. While you're not ready to buy just yet, these items are right up your alley. You make a note to purchase these items online at a later date.
Omnichannel vs. Multichannel Retailing: What's the Difference?
Digital commerce is confusing as it is, and with physical, digital, and hybrid selling experiences – things can get even more so. So what is the difference between omnichannel retail and multichannel eCommerce retail?
Multichannel retailing refers to the practice of offering customers many options to engage and purchase with your retail brand. These are native, branded experiences that allow customers to reach their goals. The brand is the centerpiece in this retail model, while each channel acts as its own silo. Ultimately, marketing, sales, and ultimately the customer journey is different from one channel to the next.
For example, think of a brand selling via their Facebook page, Instagram Business, Amazon store, eCommerce website, and in-person at the same time, but with different shopping experiences. Multichannel retailing is sufficient for single channel customers who prefer one channel over another. Yet with rising customer expectations, you can miss opportunities to create more engaging experiences and strengthen customer loyalty.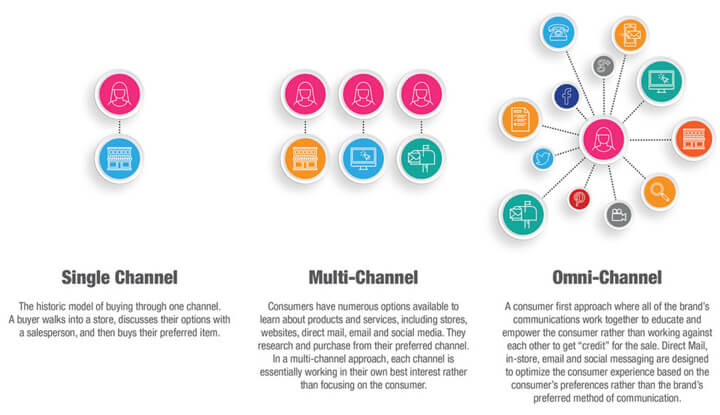 [Source]
Omnichannel retail builds upon multichannel retail but has a completely different focus. Instead of placing the brand at the center, the customer is the central figure. The goal is to give the customer a seamless experience across all selling platforms.
An omnichannel brand will track customer activity on Facebook, Instagram, and their Amazon store to offer personalized suggestions via display ads, mobile notifications, or offer a personalized customer service experience.
Benefits and Challenges of Omnichannel Retailing
As the technological and economic landscapes change, so do customer behaviors. As customers look for streamlined and highly personalized services regardless of their environment, they raise the collective customer expectation bar. An omnichannel retailing strategy helps you meet and exceed these expectations. Here are some other benefits of omnichannel retailing: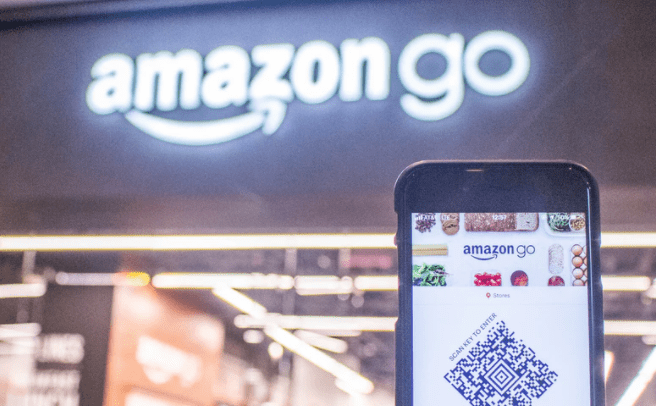 [Source]
Greater reach.

As lockdowns force customers to spend more time online, it pays to have a unified message across your retail network. Messaging helps you stay top of mind along your customers' digital journey and gives them more reason to give your brand a second look.

More engagement.

One of the biggest draws of omnichannel for retailers is it drives engagement. Whether it's social media, website, or physical store,

multiple channels

work together, filling every gap. Customers that want to know if an item is in stock can go online using their

mobile device

instead of calling the store or visiting it in person.

Seamless experiences.

Taken alone, no single channel is perfect. Customers don't want to dictate their order numbers on the phone or walk through endless aisles to find what they want. Instead, they will gravitate to brands that help them reach their objectives faster and with minimal friction.
While the benefits greatly outweigh the disadvantages of omni-channel retailing, it's still crucial to be aware of the potential challenges. Here are a few challenges of omnichannel retailing to keep in mind:
Adoption issues.

Depending on their customer base and workplace culture, not all brands will fully embrace omnichannel retail. Some organizations are in highly regulated industries with specialized processes or complex products. Others may use unique selling styles and heavily rely on their sales teams. In such environments, introducing new omnichannel strategies could result in significant pushback from sales reps.

Technology.

A perfect omnichannel experience must work like a well-oiled machine, giving customers a personalized and seamless experience. To get there, you'll first need to attract top tech talent, invest in future-proof software such as

eCommerce solutions

and scalable IT infrastructure. Then, as your customer base or product catalogs grow, you'll need to be able to build upon your solutions without having it impact your omnichannel experience.

Cost. Being an innovator in your industry requires investment. Any new strategy will require research, prioritization, and expertise development. You'll have to stay on top of retail marketing trends and the target experience your customers want. You'll have to reevaluate your IT strategy and work with digital transformation consultants. Such large IT-centered changes can add up to a hefty sum, but don't let it dissuade you from meeting your goals.
The 5-Step Omnichannel Retailing Strategy
No omnichannel strategy is the same. Your path to channel conquest will depend on your industry, business structure, and customer requirements. Carefully analyze your goals, capabilities, and company culture and management style, and follow the steps below to craft a strategy of your own.
Step 1: Connect your online and physical presence
First, identify your sales and customer engagement channels. For instance, along with your brick-and-mortar store, you should also think about building a website, webshop, or mobile app, as well as engaging with your customers via social media.
Make sure that your content (such as product descriptions and pricing) is consistent across each channel. For example, when a product has a 50 percent discount in your brick-and-mortar store, it should have this same discount across all of your online channels as well.
Furthermore, any actions taken in one channel should be visible in the others. When a product has sold out in one channel, for instance, the other channels should also reflect this information in your inventory management system. Any inconsistencies could lead to mistrust from customers, so ensure your information is the same across all channels.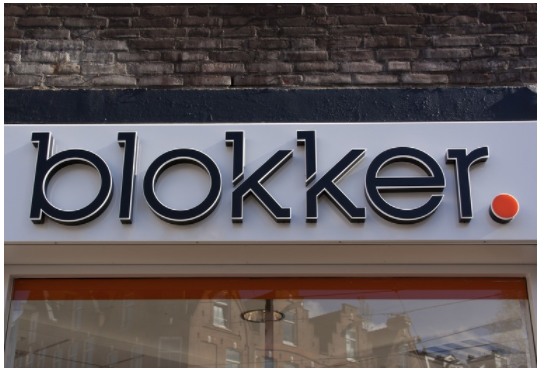 The Dutch retailer Blokker Holding is an example of an omni-channel shop. Since October 2016, they have experimented with dynamic pricing. Electronic price tags in their brick-and-mortar shops are linked to a central system, making it easy to ensure consistency in the prices of products across channels. So whether customers access their online store on mobile devices, on a work computer, or in-person, they can expect to see the same product information.
Step 2: Build flexibility into your business model
One of the biggest advantages of omnichannel retail is that it nurtures loyal customers, leading to customers that are engaged and spend more. Furthermore, B2B buyers familiar with omnichannel experiences as B2C customers grow to expect the same from B2B businesses.
In addition, both B2C and B2B sellers are expanding into different models such as B2B2B, D2C, or online marketplaces. Centralizing your selling channels not only gives you more control over them – it allows you to act on opportunities and pivot faster.
Invest in a future-proof eCommerce solution early on that allows you to expand into new channels. However, don't forget about maintaining a personalized approach to every customer, regardless of the channel they're on. For example, your B2B and B2C customers might have different site experiences and deal with different sales reps, but this shouldn't get in the way of them engaging with your brand through various communication channels.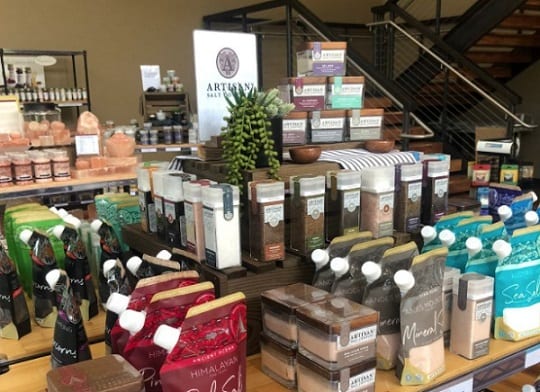 Saltworks is an example of a business that successfully unified its selling channels under one platform. One of the world's largest salt manufacturers, they offer separate web experiences to their B2C and B2B customers. While B2B SaaS customers get a comprehensive view of the inventory and shipping options, B2C customers get a completely different payment and fulfillment experience. Lastly, an "Available at Amazon" button allows customers to purchase products from Saltwork's Amazon store without leaving their website.
Step 3: Create a unified look and feel
Being omnichannel means having a uniform brand experience across every channel. Branding, messaging, style, visuals, and fonts should all match in order to establish a consistent look and feel across each channel.
Regardless of what channel your customers use to purchase, they should immediately recognize the style of your shop or brand. Design your omnichannel strategy to reinforce weaker retailing services and selling channels. In the eyes of your customers, some channels will be better than others. It doesn't mean that other channels are inferior. You want to give your customers the best of both worlds by offering them a more consistent and holistic experience.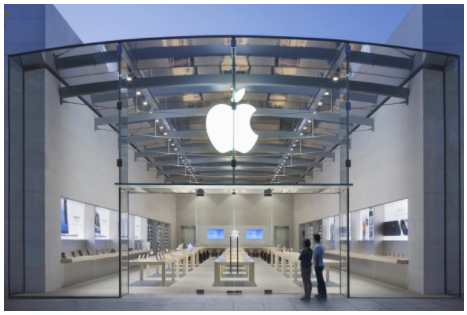 Apple is a great example of how a brand should look and feel across channels. Rather than being designed to drive sales, Apple's brick-and-mortar stores showcase how it feels to use their products. Customers can also easily research their products online, then come to the store to experience the products before buying them. And because the visual experience is consistent across each of their channels, their products and marketing are instantly recognizable.
Step 4: Share data across channels
Maintaining an omnichannel retail experience requires brands to analyze customer journeys over physical and digital channels. To target customers with messaging that matches their needs, brands must maintain accurate and up-to-date data on customers. For example, integrating customer-facing eCommerce systems with backend systems like your ERP gets crucial data to travel freely to automate processes and experiences across channels.
For vendors, centralizing, and keeping data in one source of truth increases efficiency.  Increased visibility into customer activity allows them to offer better shopping experiences. Ensure your analytics and tools give you the right customer and inventory insights when they're needed. You'll be able to identify customer needs and act on opportunities to solidify business or customer relationships.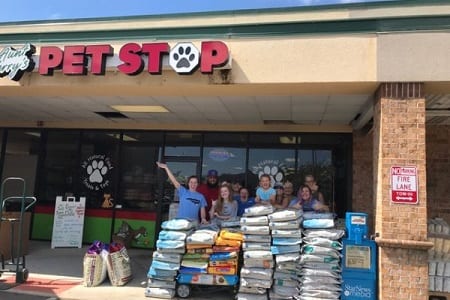 Animal Supply Company is a pet food supplies and distribution company that maintains a network of distributors, resellers, and thousands of retailers. By centralizing their ERP data in one place, they can change warehouses in a different region automatically. During times of demand spikes or unforeseen inventory fluctuations, this allows them to offer a better experience to their retailers, and by extension, their customers.
Step 5: Personalize the customer experience
Your customer data holds the key to personalization. CRM systems such as OroCRM, for instance, can reveal relationships between customers and shops in detail. Nowadays, it is possible to track customers across channels, see what products they look at and purchase, which products they add to their shopping cart, and so on.
When you understand customer behavior and what makes them happy, you can craft the desired experience for each customer. For example, channels should have the same look and feel and be specifically personalized according to each customer's needs.
This could mean displaying products that customers have bought before or showing related products that might interest them. Analyzing and using all of this user data is the biggest advantage of omni-channel retailing. It is now possible to know more about customers than ever before!
Related products in the OroCommerce storefront
How to Implement Omnichannel Retail for Your Brand?
Retail digital transformation has become a buzzword for a good reason: as retailers of all types begin to sell their products online, they are also discovering that, in order to appeal to customers, they have to meet them where they are. Increasingly, this not only means in the store and online but also across mobile and social media as well.
Growing demand for services like purchase online and pick up in-store, shop and ship from store, is proof of this trend. The proliferation of integration options and cloud eCommerce services become crucial links between the retailer and customers. Brands already on top of their customer behavior and inventory data will have an easier time translating the desired experience to the customer level.
As technology advances and new capabilities become possible, make sure to give your customers what they actually want. While the steps above outline the basics for a successful omnichannel retail strategy, one thing for certain: your customer must be at the center of it all.
Questions and Answers about Omnichannel Retail
What does omni channel mean in retail?
An omnichannel approach in retailing describes a retailer's efforts to provide a consistent, coordinated customer experience across all sales channels. Omnichannel brands strive to deliver consistency regardless of where the customer is (online or in a physical store), what device they are using (mobile or desktop), and how they are accessing content (through email, site, mobile app). To achieve this, retailers rely on centralized, universal data provided by their CRM and eCommerce systems. 
Why is omnichannel retailing important?
Omnichannel retail benefits your customers and your relationship with them, ultimately helping you grow your business. Here are some critical advantages of omnichannel retail: 
Greater reach

. The more sales channels you handle, the more customers you can attract. 

Higher retention rate

. Couple greater reach with a unified shopping experience across channels, and you receive customers who are more likely to purchase again from you. And according to Invesp, when omnichannel strategies are in place, the customer retention rate can go as high as 89%.

Stronger brand: Being present across multiple touchpoints and executing an omnichannel strategy increases your brand awareness.
How to create an omnichannel retail strategy?
An omnichannel retailing strategy starts from a complete 360 degree/single view of the customer. This allows the synchronization between channels, creating a consistent, impactful experience for customers.
To achieve the 360-degree view necessary for omnichannel retailing, brands need to employ the right technology. For example, a unified eCommerce platform will centralize and streamline data from multiple sources and establish an integrated data set based on all available customer information. This information can then be used to produce powerful, contextual experiences.