Originally published April 4, 2021, updated January 25, 2022
Buyers are everywhere, and sellers must be ready to receive orders via the website, phone, mobile app, and even in person at physical locations.
Before eCommerce order management systems (OMS), businesses processed and tracked orders either with their ERP or manually with excel sheets. But manual processes won't support the needs of today's dynamic, multichannel B2B businesses, and not all ERPs provide customer-centric functions necessary for the best customer experience.
You need digital technology to track the activities involved in taking an order, processing it, shipping it, and accounting for the cost and profit. The question is, what digital technology should you use? This article explores the order management process and provides an overview of the digital tools and OMS management solutions available to effectively manage orders.
What is an Order Management System (OMS)?
An order management system provides a centralized platform for gathering, organizing, and processing orders. While orders can originate from different sources, an order management system helps effectively manage them in a single place.
An OMS platform facilitates a seamless workflow by integrating with other critical business functions, like eCommerce, inventory management, and logistics.
The Order Management Process
The order management process begins when the customer creates an order and ends when the customer receives the product or returns it. Also known as order-to-cash, it involves the activities in picking, packing, shipping, and orders tracking as well as accounting and inventory management. 
An OMS or order management system in eCommerce must work with the other business systems and support multiple digital channels to keep the process moving along and help create a positive customer experience.

[Source]
Order processing includes the following general steps:
1. Customer places the order
Your customer might place an order in person, by phone, via email, or through online selling channels such as your eCommerce site, partner website, or Amazon, for example. This action generates the sales order and can be streamlined with the help of eCommerce automation.
2. Sales order received by the warehouse
Next, the sales order (SO) is routed to the warehouse for fulfillment. If your business operates several fulfillment houses or 3rd party logistics (3PL) warehouses, your ordering management system should route orders to the most cost-effective location for processing. It should also provide the opportunity to take on and manage backorders so that you know when is the right time to restock.
3. Warehouse processes the order
At the warehouse, order pickers locate every item, pull the product from the shelf, and move it to a packing and shipping station. This can be performed manually or the order picking may be automated. As the SO is fulfilled, the available inventory amounts are adjusted. If an item isn't available, the OMS helps with backorder management by notifying the warehouse manager, sales rep, and the customer of the backorder situation.
4. Shipment and invoicing
The order is packed and prepped for pickup by the courier or pickup in-store. The OMS notifies the customer that the shipment is on the way and provides tracking information and fulfillment details. The SO is then converted to a sales invoice. This may be done automatically or manually by the accounting department.
5. Receiving payment
The customer may pay for the merchandise at the time of order or they may pay on extended terms. Either way, the transaction must be recorded by the ERP or accounting software, so that revenue is posted and the cost of goods and profit is calculated. The customer order history is updated as well.
6. Post-sale support
The final step in order management may include a notification that the order has been delivered. This provides an excellent opportunity to collect feedback through user reviews or invite the customer to reach out to the support department if they have any questions or concerns. Sometimes order processing happens in reverse. In this instance, you are reversing the process to manage returns and refunds requested.
Let's look at this process through interactions between the storefront and the back-office. As customers browse the website (storefront), they can express their intent to purchase in a number of ways. They can proceed to checkout and pay, request a quote, or negotiate a price. This information is synced with the order management system's back-office, or in this case, OroCommerce's B2B eCommerce system.
In the back-office, sales reps can not only view buyer and pricing information, but also help buyers fulfill their orders, too. Orders can come in through a variety of ways. For example, they can be entered manually by the sales rep, who then applies a specific discount. Then, the order can be tacked by interested parties.
At this stage, an order management system or a B2B eCommerce solution can update the inventory, notify the warehouse, and synchronize stocks across warehouses and websites, thereby providing inventory visibility and real-time monitoring of available stock.
The Digital Order Management System
A digital ordering management system automates order processing. An OMS system brings data together to streamline the process of getting inventory off the shelf and into the hands of your customer. It saves time and money by creating efficiencies.
Without some sort of digital OMS, organizations would manually coordinate inventory, fulfillment, and returns of orders across selling channels. Not only is this inefficient, but it would be almost impossible for sellers that maintain inventory in multiple warehouses and maintain accurate records across channels.
For many large enterprises, marketplaces, or multichannel eCommerce businesses, a digital order management tool is necessary to support the back-office and maintain top-notch customer relationship management.
Ten Benefits of an Order Management Platform
An OMS provides numerous benefits. It makes scaling easier, as complex decisions (such as shipping location) can be automated, more orders can be processed, and fewer errors are made.   
A digital order management solution makes it easier to communicate with suppliers, track orders, manage shipments, and reduce backorders. 
Some of the top benefits sellers experience with a digital OMS include:
1. Unified order management
If you're selling products over multiple channels, an OMS helps you coordinate and track orders. As orders flow in from multiple channels, you can consolidate for processing while retaining the ability to segment by channel. This helps eliminate conflicts, avoid backorders, and spot trends as they emerge.
2. Inventory management
By integrating inventory management tools with your OMS, you can adjust stock levels to stay in sync with demand and make decisions without disrupting sales cycles. You minimize delays, better meet customer demand, and increase customer satisfaction all while gaining insights into your supply chain.
3. Streamlined fulfillment
If you operate multiple warehouses or use multiple fulfillment houses, an OMS can automate order routing, rerouting, or split orders between warehouses.
4. Reduced human error
An OMS with workflow automation eliminates most manual order entries. In most instances, the order information is entered directly by the customer. Instead of entering orders, your sales teams can focus on improved customer relationships, test out promotions that improve conversions, and make more reliable sales projections.
5. Shipping management
An OMS that integrates with shipping services and logistics providers, allows you to offer more shipping options. They even support the increasingly popular buy online and pick-up in-store (BOPIS) channels.
6. Easier payments and returns
If there is a need for merchandise return, your OMS can facilitate the process and integrate with financial data systems to speed up refunds.
7. Automated workflows
OMS systems can automatically update inventory across numerous locations, select the best fulfillment or shipping route, and reroute orders to avoid conflicts. They can produce picking tickets optimized by product location and even notify customers when an order is ready to be picked up.
8. Flexibility
An OMS helps you handle increased order volumes as your business grows. If you plan to sell on Amazon, expand to different channels, warehouses, or locations, an OMS will help you maintain the most efficient and effective order processing systems.
9. Reporting
An OMS offers reporting functions that provide team members with real-time sales, order, fulfillment, and customer information. Your customer service reps can use this data to track orders and returns. You can identify potential problems, optimize fulfillment processes, and make better projections.
10. Customer experience
While not customer-facing, the OMS directly impacts the customer experience and customer management. An OMS notifies customers when orders are received, processed, or shipped. Customers can use the OMS to track the status of deliveries and sales can use the data to follow up after deliveries.
Must-Have Order Management Software Features
The primary role of an OMS is to manage the entire order lifecycle starting from when the sales order is created to the moment when the product arrives in the customer's hands. While every OMS will have its strong (and weak) areas, every solution should have some common capabilities. These fall into three primary categories: integration, automation, and localization.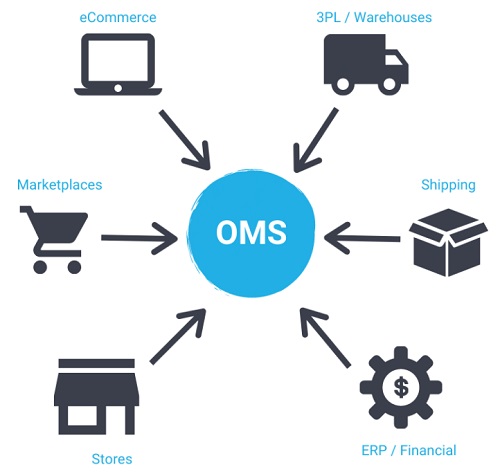 [Source]
Because the OMS must sync data from other platforms to process orders, it needs to work well with other business systems. This may be your eCommerce platform, your point-of-sale (POS) systems, distribution ERP software, or shipping partner platforms. To process orders, the data must flow seamlessly and timely across all business systems. A strong library of integrations and a robust API are required to facilitate smooth data transfer and ensure order management is as efficient as possible.
Automation and the use of AI in eCommerce allows you to offer the shortest delivery time by identifying the ideal warehouse for shipping while keeping freight costs down. When you automate, you decrease human intervention and the chances of error. Look for an OMS that supports workflows such as order approval processes or product and order routing.
Ecommerce sellers are increasingly looking to expand beyond their regions. OMS systems should facilitate orders originating from different geographic locations with different shipping preferences. When you fulfill international orders efficiently, you'll be able to easily expand to new markets.
Digital Transformation With OMS: Solutions and Alternatives
Wholesale online retailers and B2B companies undergoing a digital transformation in order processing fall into two camps: those that purchase standalone solutions and those that use an integrated order management module from other business systems. Integrated OMS can be provided by the Enterprise Resource Planning (ERP), Digital Operations Platform (DOP), or a B2B eCommerce solution.
ERP
Whether they sell online, offline, or over multiple channels, B2B sellers rely on their ERP to manage inventory, customers, orders, and accounting data. ERPs centralize data from inventory management, warehousing, CRM, accounting systems, and even production environment, making them a great candidate for an OMS.
Even the most basic ERPs offer some order management capabilities. However, ERP systems provide limited customer-centric advantages and features such as support for loyalty programs, in-store fulfillment, complex order routing, returns, exchanges, and more.
The most recent Software Review of consumer satisfaction rankings for ERP offerings places Oracle's ERP Cloud at the top of the list, followed closely by Unit 4 ERP.
DOP
A DOP allows sellers to manage orders from multiple channels such as brick and mortar stores, eCommerce stores, and 3rd party marketplaces. As a system that unifies company operations into a single view, the main objective of the DOP is to collect and record orders from multiple channels; manage inventory, supply chains, warehousing, and logistics; and provide accounting functions.
Many DOP functions overlap with the ERP, but the DOP focuses more on the customer behavior and experience. For example, a DOP grants you greater control of customer-centric elements like pricing and product recommendations. While DOPs are not designed to collect and unify orders, they do so because they pull data from eCommerce, inventory management, warehouse management, and shipping solutions.
One popular DOP for managing orders across multiple channels is Marello, which unifies data from traditional POS software, ERPs, and eCommerce platforms.
eCommerce platform
An eCommerce platform can also provide OMS functions. As a rule, most standard eCommerce solutions don't support multiple sales channels or warehouses, 3PL partners, or shipping providers. 
However, OroCommerce is a clear exception to the rule. As a purpose-built B2B eCommerce order management system, it easily handles complex omnichannel scenarios as well as multiple warehouses. 
Just like the ERP and DOP, a B2B eCommerce platform must offer powerful eCommerce integration capabilities if it is to unify order data and serve as an OMS. Connections to ERP, CRM, warehouse management, and accounting systems are vital to performing order management tasks. 
Stand-alone OMS
Some companies turn to dedicated OMS solutions for order management when their ERP, DOP, or eCommerce systems aren't up to the challenge. Standalone OMS vendor provides software with elements of warehouse management, inventory management, and even eCommerce systems as part of their product offering.
Just like the ERP and DOP, the strength of the stand-alone OMS lies in its integration capabilities. From accounting and shipping to demand planning and POS integrations, a standalone OMS system should provide extensive integration capabilities.
A popular stand-alone OMS is TradeGecko, which unifies sales channels and synchronizes orders with inventory data.
Whichever way you go, don't forget that your OMS system must also be PCI DSS compliant if you're handling any kind of payment.
Case Study: How Animal Supply Company Improved Order Processing
Animal Supply Company (ASC)  is a national pet food giant founded in 1987. They currently operate through 23 distribution centers staffed by over 1,400 employees. They also sell to 11,000 retailers with over 15,000 brick-and-mortar locations.
The Challenge
ASC grew through acquisition. This led to multiple warehouses operating with multiple WMS and ERPs. As a result, ASC sales reps and retail partners were required to log into different, disconnected systems to place and manage their orders. In addition, ASC needed to provide drop shipping services for their retail clients that wanted to accept online orders. They needed a solution that could accept orders from multiple channels and process them efficiently from the proper warehouse location.
The Solution
To remain competitive, ASC needed a system that could improve order processing as well as improve their customer experience. This included support for multiple sales channels, multiple business models, multiple warehouses, and multiple websites. They selected OroCommerce as an OMS for its ability to integrate multiple systems in a headless architecture that also provided an excellent eCommerce customer experience.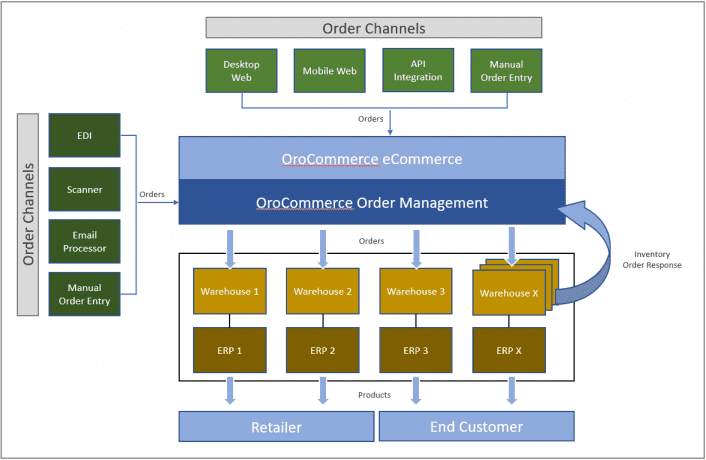 Orders come in from multiple channels, are automatically routed to the proper warehouse location for processing, and the appropriate ERP is updated.
Today, ASC remains a leader in the pet food and supplies industry because of its commitment to providing an exceptional customer experience and its use of digital technology. OroCommerce provided the ideal launching pad for ASC to constantly innovate and execute on their vision in a highly competitive industry.
How Will You Manage Orders?
Does your digital transformation include improved digital order processing? If so, you should know that the market is full of solutions to assist brands with creating a seamless order management process. The approach you take will depend on the size, needs, and goals of your business.
When selecting your digital approach to an OMS, don't focus solely on the feature and integration list. Instead, weigh the pros and cons of a standalone OMS system or DOP and how they will integrate with your tech stack. Compare this with an integrated eCommerce and ERP system or an eCommerce system alone to handle your OMS functions.  
Either way, you'll find OroCommerce on your shortlist. OroCommerce is an eCommerce software that's also an order management system. Its enterprise-grade open-source architecture and large partner ecosystem make it a great foundation for growing brands. Because it is designed for B2B, it comes with 70-90% of standard B2B functionality out of the box, allowing omnichannel-minded brands to customize the desired fulfillment experience for their customers.
Questions & Answers
What is an Order Management System?
An order management system gathers, manages, and processes orders in a single place. These orders can originate from multiple channels: phone, email, or online. To manage this process effectively in the back-office, companies need a fast and reliable way of matching inventory, managing incoming orders, and preparing goods for shipping.
Why use an Order Management System?
Order management systems help optimize order processing across many different channels, maintaining a single source of truth for the organization. This process streamlines internal data transfer, speeds up order processing and fulfillment, which increases customer satisfaction and revenues.
Who uses an Order Management System?
Order management systems are designed for businesses of all sizes. These include B2C, B2B, and D2C sellers, as well as manufacturers, distributors, wholesalers, warehouses, and logistics companies to facilitate order fulfillment.