We began 2021 at the height of a pandemic and saw a tremendous acceleration of digital commerce over the year. Slowly but surely, manufacturers, distributors, and other B2B businesses realized that their customers are less forgiving of cumbersome technology and poor user experiences.
Business buyers of all types are moving online, and B2B eCommerce is thriving. These trends have left their mark on us, too. Our customers saw record sales numbers, and we saw a rise in transactions made on our platform.
As for us, we can't believe how far we've come. 
We nabbed some prominent awards and added big names to our customer base. We grew our team and partner network, expanding our ecosystem. We launched OroMarketplace, the B2B-first marketplace management platform. Lastly, we introduced numerous features and improvements to our other products.
The year started off with cautious optimism but finished off on a much more positive note. For Oro, this was a year of getting in the rhythm of things. We captured new opportunities, doubled down on what works, and reached new levels of success along the way.
Oro's 2021 Year in Numbers
We always believed that great products can only be built on top of great relationships. And we're proud to say that in 2021, our customers, partners, and team members achieved more than we ever thought possible. 
Let's take a deeper look at the most important achievements, milestones, as well as the numbers behind our accomplishments this year.
1. Industry recognition
We don't chase recognition, but we certainly appreciate the validation of what we hold dear. 
This year, Gartner ranked us #1 in the B2B Commerce Use Case in the 2021 Critical Capabilities report. The Critical Capabilities report is part of the Gartner Magic Quadrant for Digital Commerce and is our most important award this year. 
Our newest product, OroMarketplace, was recognized by both Gartner and Forrester only a few months after launch.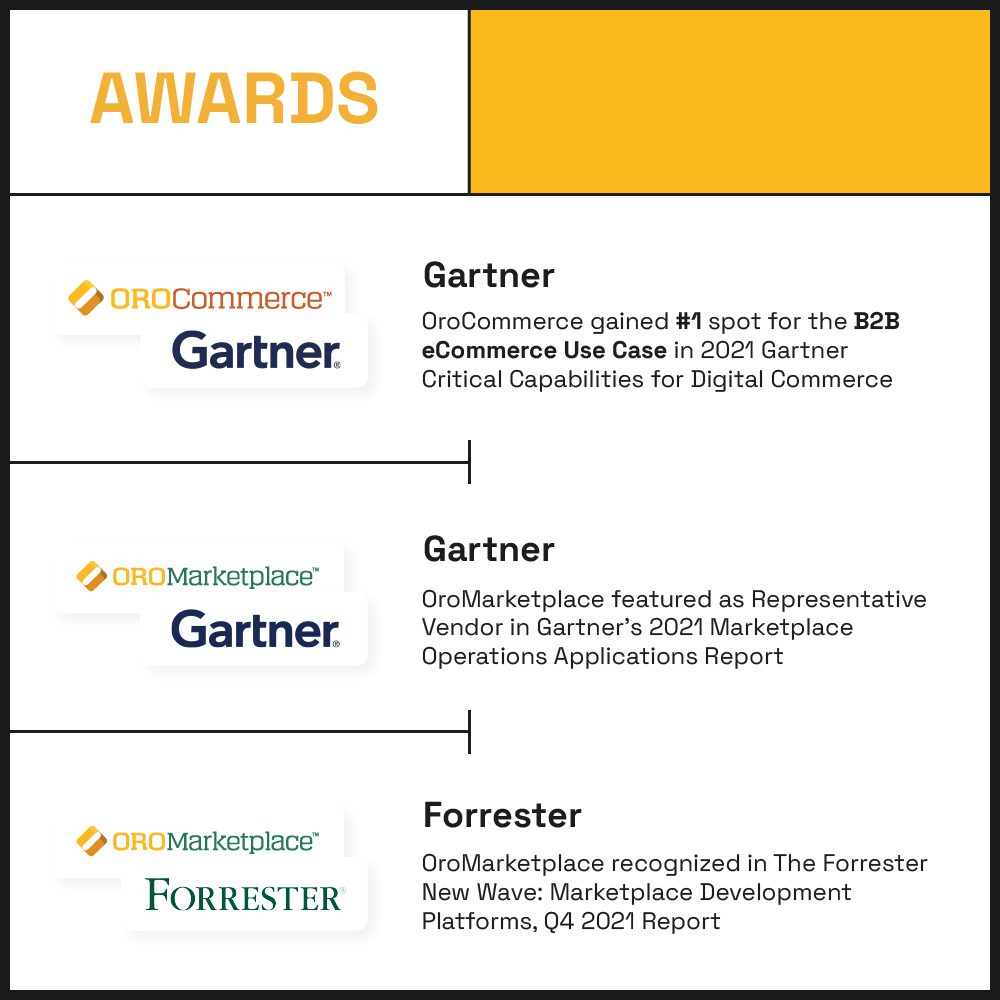 2. Transactions processed
Despite disruptions like labor shortages, manufacturing delays, and volatile demand, our customers proved to be resilient and well-equipped to grow their revenue.
For many Oro customers, it was business as usual. Others saw tremendous success. We saw a 50% jump in transactions compared to last year, and a 77% rise in sales volumes, on average*.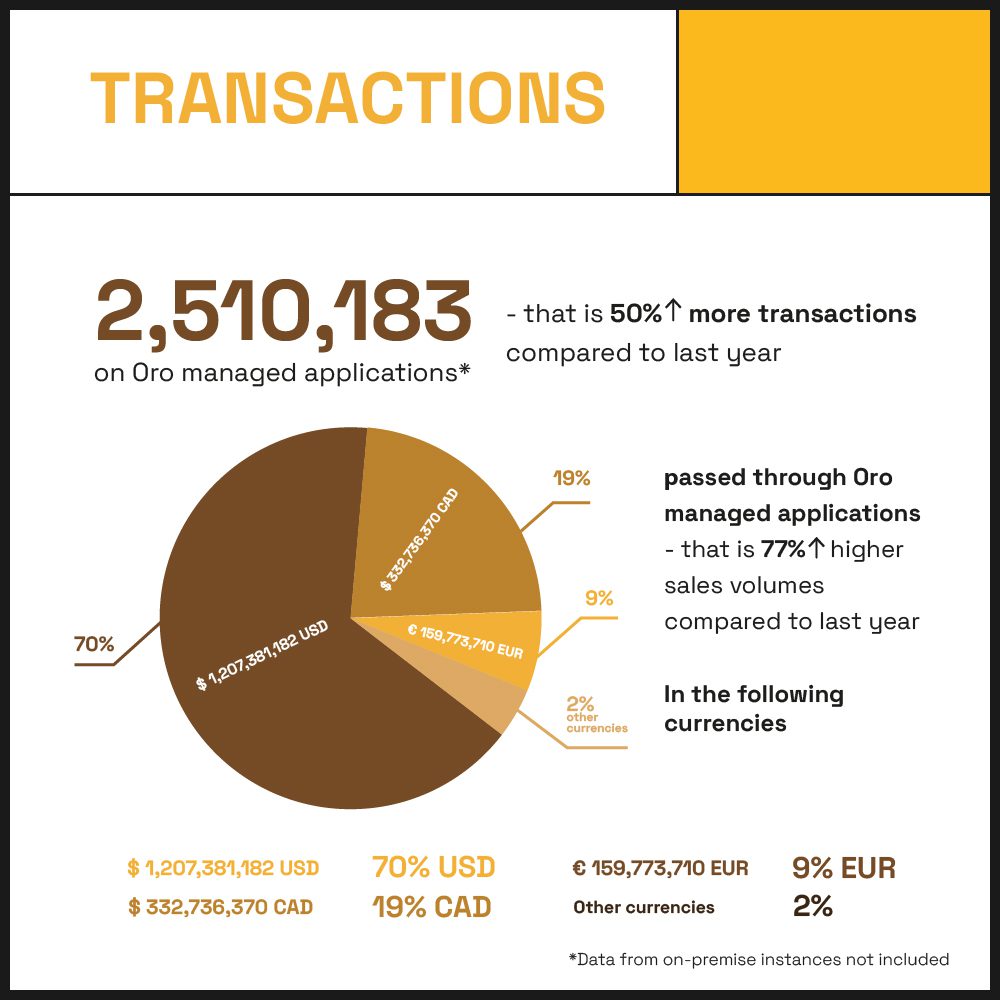 *These are only the sales we know about and don't include sales figures from our on-premise instances.
3. New customers
As more and more companies realized the importance of B2B eCommerce, we continued to expand our foothold on the market. We added over 80% more customers compared to last year.
This year, we welcomed Northern Metalic, industrial tools and supplies distributor. We also took on industrial trader ADDEV Materials, aerospace parts B2B marketplace PartsBase, and fire and security services provider Chubb, just to name a few.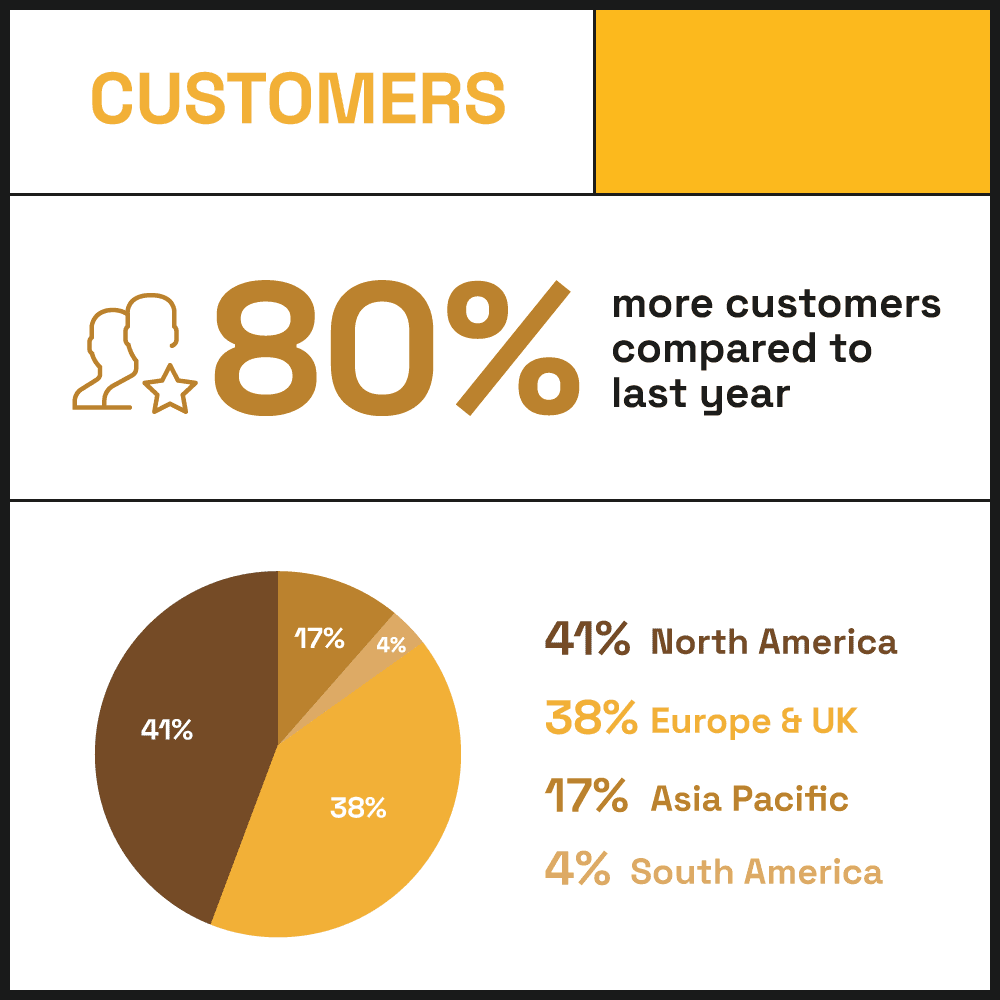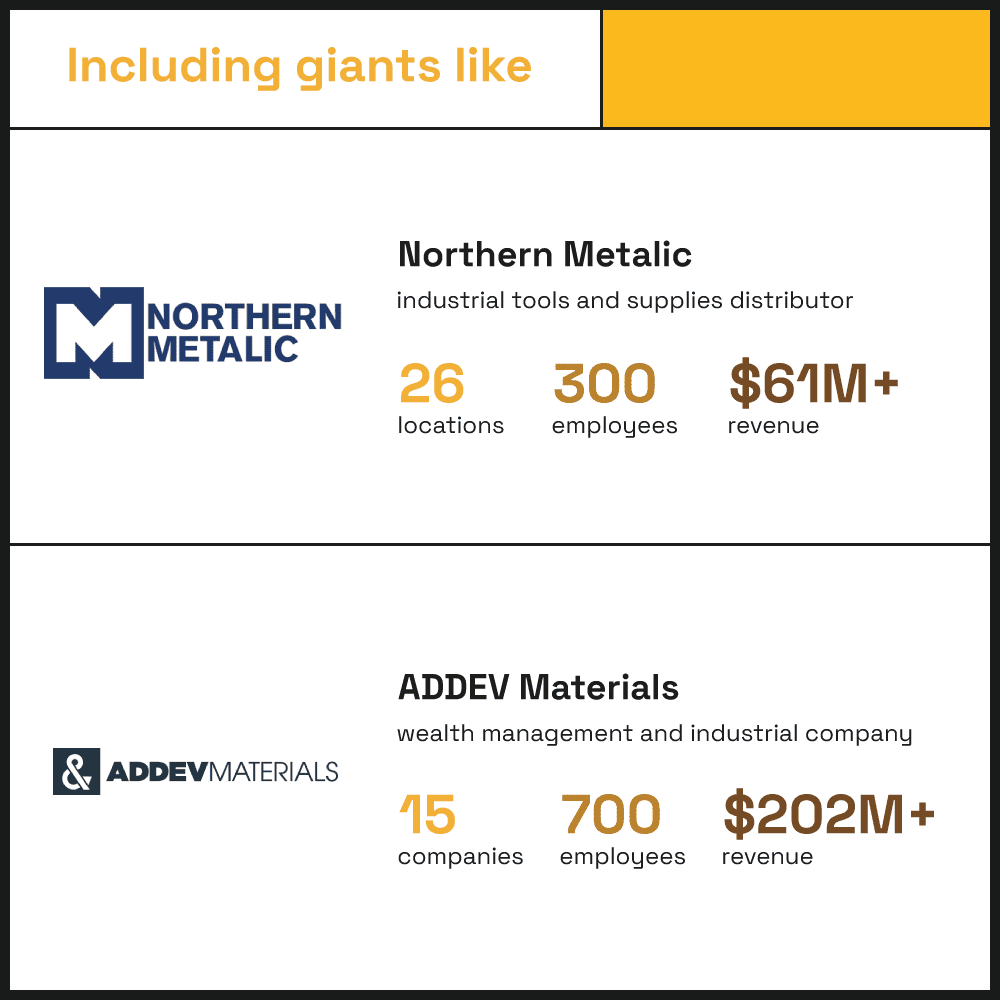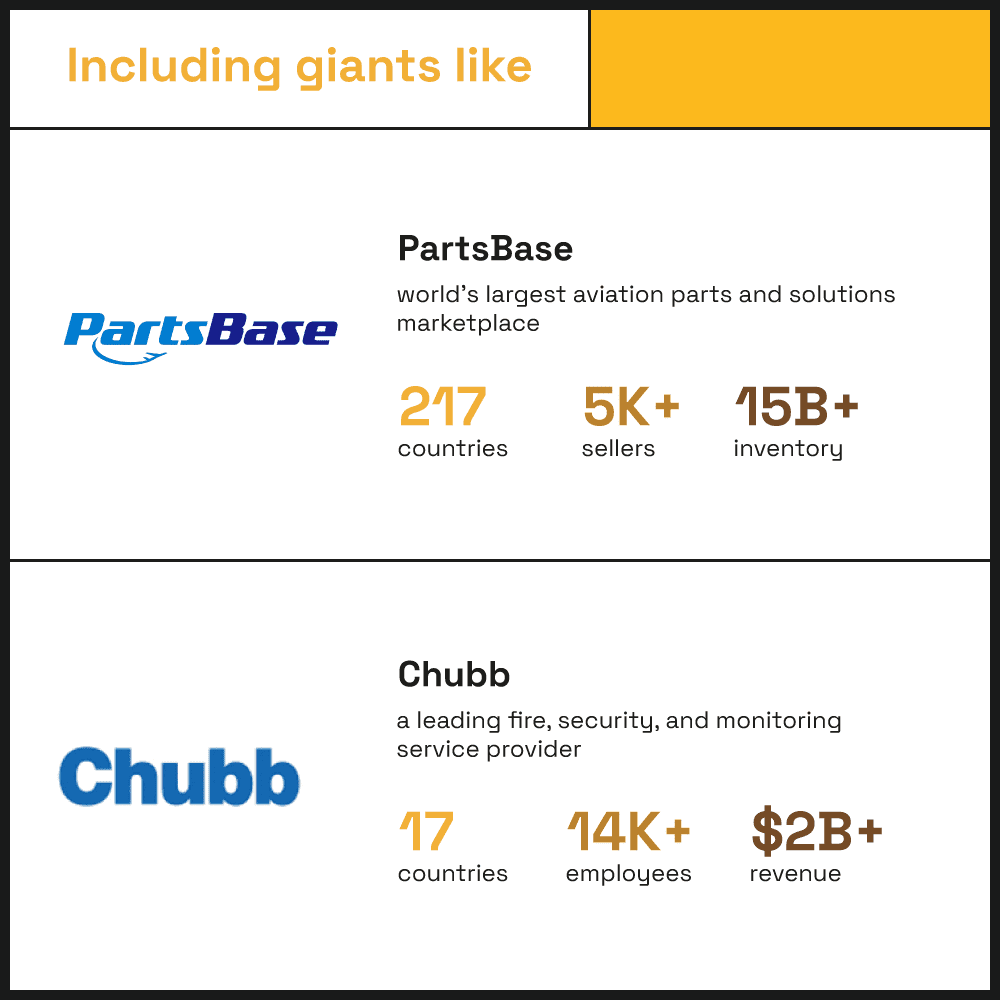 4. Existing customers
Uncertain times demonstrated just how critical it is for businesses to have the ability to enter new markets, pivot to new ones, and stay connected with customers.
From triple-digit growth to double-digit conversion rates, we're thrilled that our tools empower customers to reach their full potential.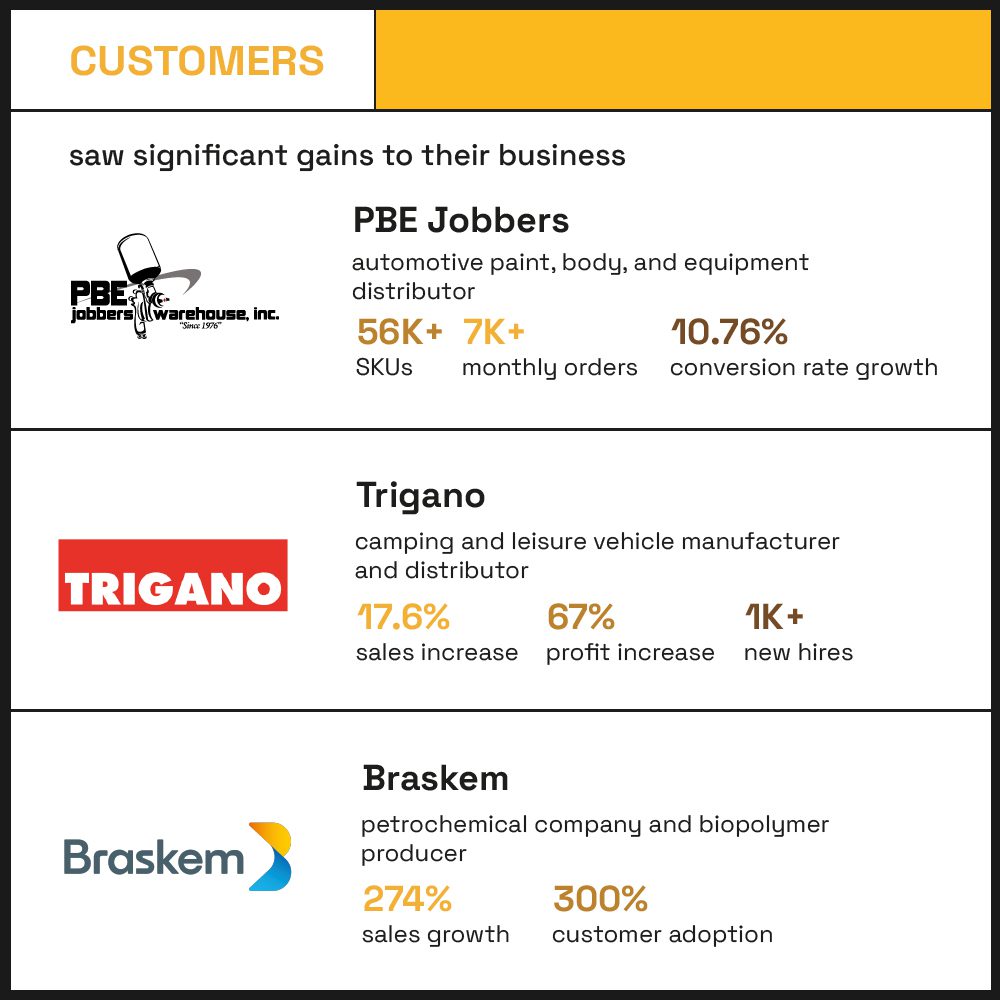 5. New partnerships
We owe our partners a big chunk of our success. We wouldn't be here today without their leadership, creativity, support, and guidance. We join forces only with leading experts who understand complex B2B needs and know how to meet them.
This year, we hosted our inaugural Oro Brilliance Awards to recognize integrators and solution providers that demonstrated exceptional leadership, creativity, and innovation in their line of business.
We pushed on and expanded an already diverse partner ecosystem with the industry's top system integrators and solution providers around the world.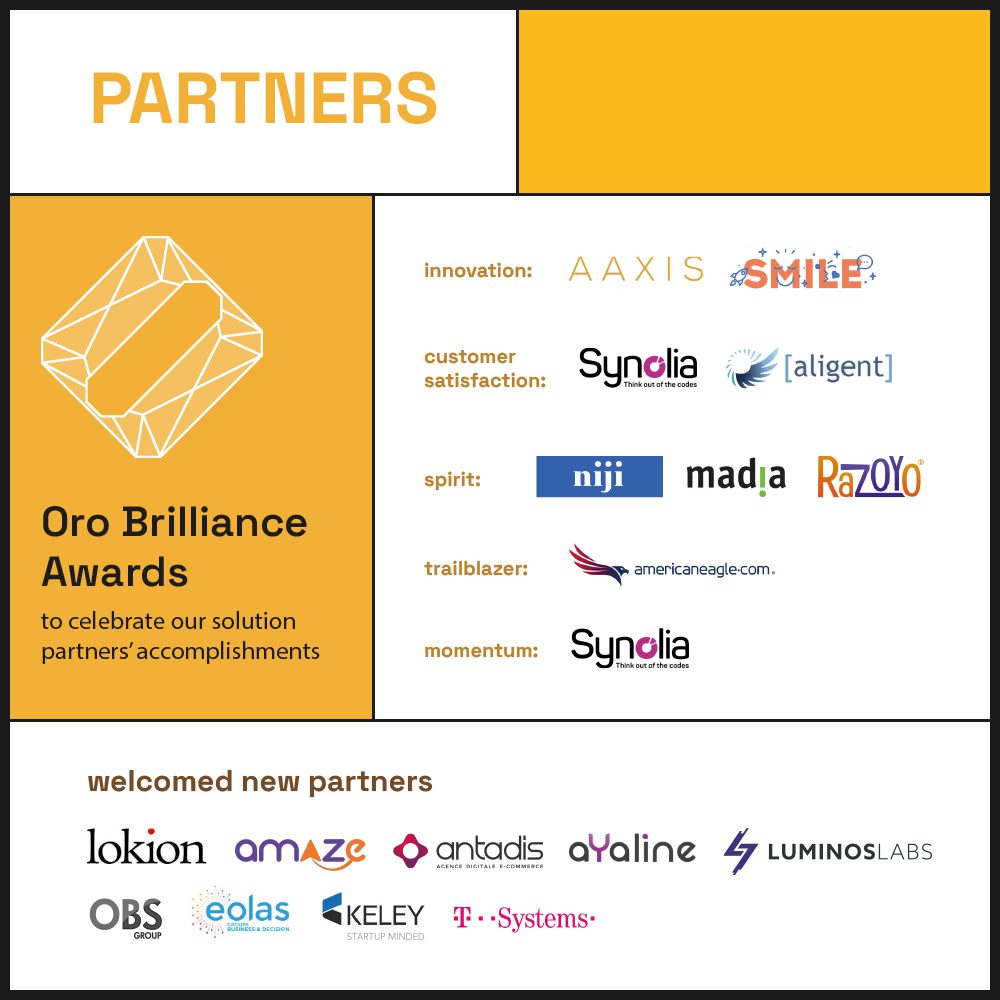 6. Company growth
As we took on more clients and more partners joined our ecosystem, we responded by stepping up hiring and (remotely) building our global team. From expanding leadership to growing the number of developers and tech specialists, we're incredibly proud by how much our team has grown.
Despite all that, we pay attention to every customer and ensure they achieve their desired goals. This year, we made customer success a company-wide priority and created a customer success department. We appointed Mickey Collins as Customer Success Manager North America and Elie Caille to lead the Customer Success department.
Due to our remarkable growth in Europe, we welcomed two strategic leadership roles in the region. Thomas Fleck joined us as VP Sales of the DACH Region, while Nadine Giguet joined as Marketing Manager Europe. 
We also expanded the team by 21 developers, engineers, administrators, project managers, and support representatives spread across six time zones.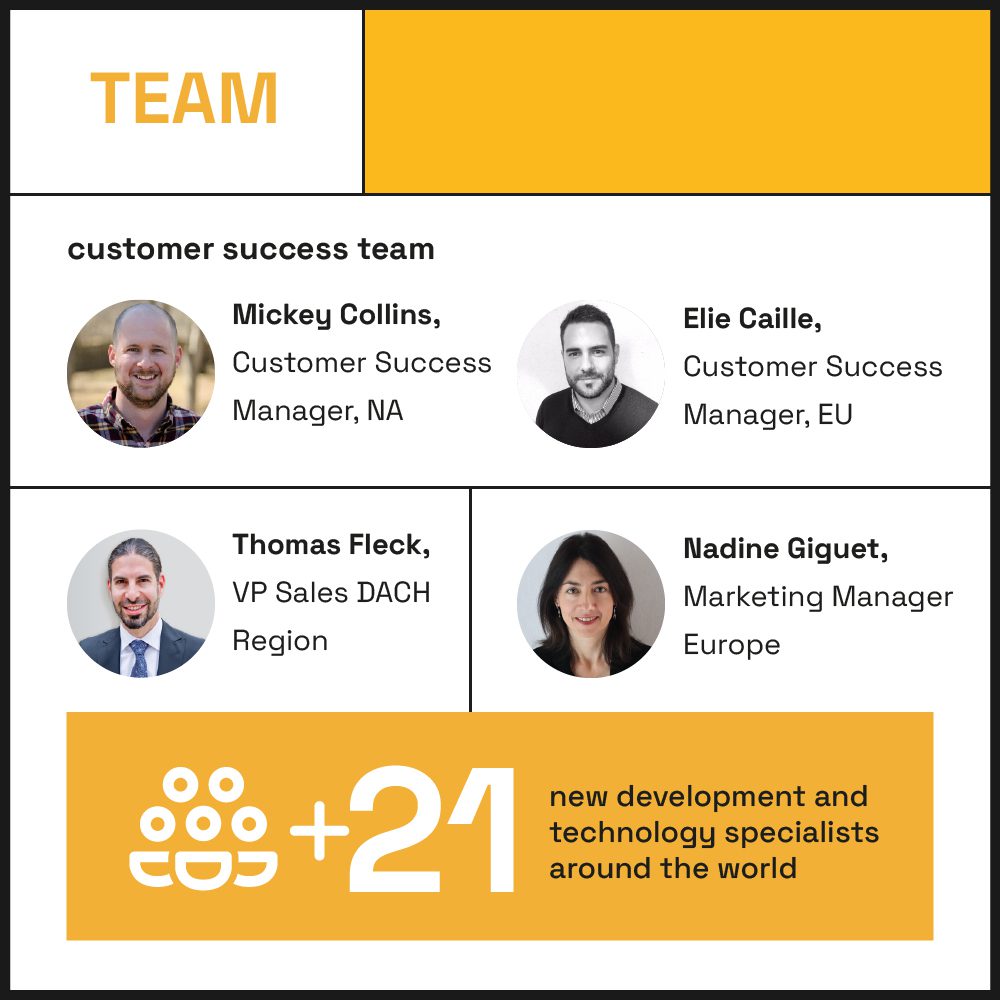 7. Product developments
This year, we launched a new product: OroMarketplace, the B2B marketplace platform to meet the next generation of B2B digitalization needs.
We rolled out OroAcademy, a brand new eLearning portal with courses, videos, and training materials, helping the community learn about Oro products at their own pace.
We also made significant investments in other Oro products, starting from the OroCommerce 4.2 LTS release at the start of the year, followed by five mid-cycle releases throughout the year. We've made storefront, navigation, and other interface improvements. We optimized the back-office, including speed, content management, and API performance.
In addition to these features, we never lose sight of the rock-solid reliability and stability of the platform, especially during crunch times like the holiday season.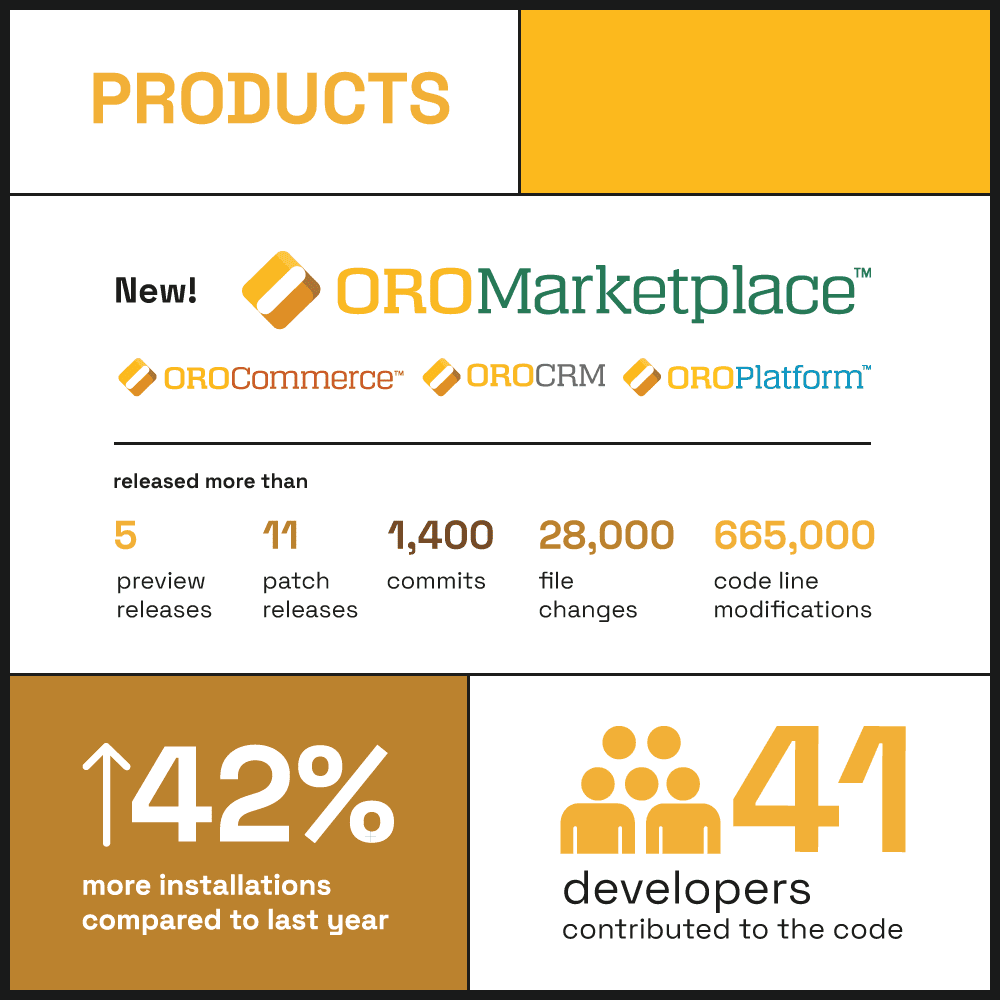 Lastly, we hosted many standout events this year and hope to host more next year. We hosted a live demo of OroMarketplace to help users familiarize themselves with our new product. Throughout the year, we hosted bi-monthly technical training sessions for our customers.
It makes us proud to see how much we've come and the value Oro continues bringing to the B2B business community around the world. We credit our customers, partners, and our team's dedication, resilience, and creativity for such a fantastic and eventful year. 
We certainly couldn't do any of this without you and wouldn't be where we are today.
Thank you again for being with us!
What's Coming Up in 2022 and Beyond?
Seeing what we accomplished in 2021 makes us excited for 2022. While the future is always a mystery, we make some predictions in our 2022 Biggest B2B eCommerce trends post.
We're launching the first episode of B2B UnCut, a comprehensive, actionable, and down-to-earth discussion about B2B eCommerce. Our first live stream episode is planned for February 10, 2022. This first inaugural episode of the series is not to be missed.
The next LTS release is scheduled for the end of January 2022, followed by the OroCommerce LTS demo showcasing the features sometime in March.
Last but not least, we are celebrating Oro's 10th year anniversary. We hope for an in-person event, but plan to take all possible precautions for a safe meeting experience for everyone involved. We'll share more details as we get closer to the date.
We hope you take a well-deserved break during the holidays, and all of us at Oro look forward to seeing everyone more refreshed, healthy, and happy in the new year!