You asked – we delivered! We are thrilled to announce the release of our brand new documentation portal. It is now available at https://doc.oroinc.com, where we have remastered all content to make it easier to read, search, and navigate.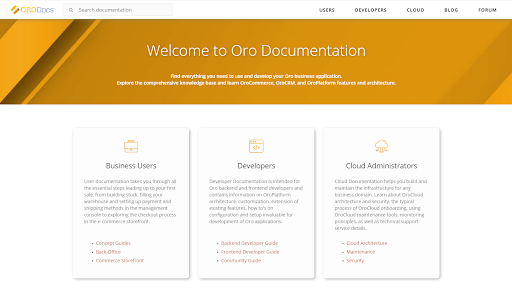 WHAT'S NEW IN NAVIGATION
Unified Information Source 
From now on, there is no more division into websites for different applications. We have consolidated all Oro documentation into one structured source, with pages of user guides marked with icons to show you in which application the feature or concept is available. Furthermore, Oro Documentation is now role-based with an option to choose the necessary documentation destination in fewer clicks.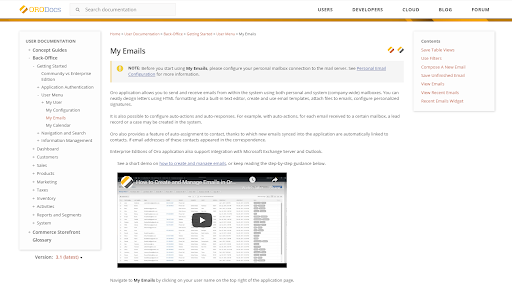 Informative Menus and Breadcrumbs
When browsing role-specific sections (e.g., back-office user, frontend developer), you are no longer distracted by the content irrelevant to your needs. We have created two menus to help you follow the content without distractions. The left panel menu displays the carefully selected content specifically for your role. The right panel menu is your table of contents for each documentation page. There is no more scrolling to the bottom of the page to find what you need. Moreover, with our informative breadcrumbs, you will never again be lost in the content and always stay on track.

Fast and Responsive Search
We have integrated a powerful search engine that reacts to your queries in the blink of an eye. To simplify navigation, we made sure that all search results are well refined and organized per section. This way, you always know which topics are relevant to you and your role.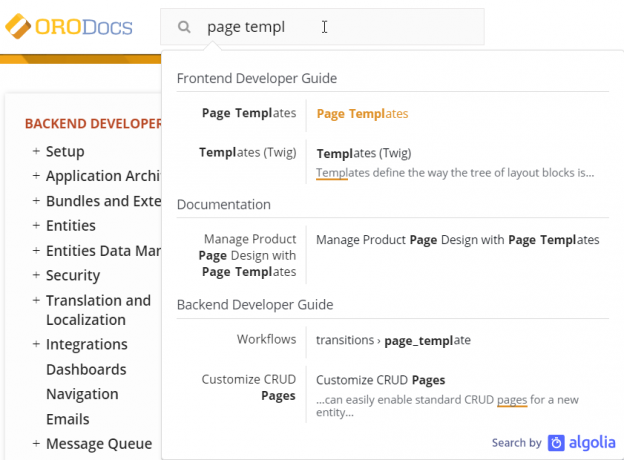 Mobile-Optimized
From now on, you can browse documentation anytime and anywhere, as we have optimized the website for mobiles and tablets.
WHAT'S NEW IN DOCUMENTATION
User Documentation
We have done our best to cater to most readers' needs. That is why we have split User Documentation into four sections. Each section delivers user-specific content in different ways, but all together, they complement each other and present content from different angles:
Concept Guide

describes the business logic behind OroCRM and OroCommerce concepts. 

Back-Office

documentation mirrors the structure of OroCRM and OroCommerce back-office UI. It is the go-to source of information when you are just starting with OroCRM, OroCommerce (or both), and have the application and user guide next to each other. 

Commerce Storefront

demonstrates the default OroCommerce storefront, how to navigate it as a guest, and a registered user, as well as manage all sales activities.

Glossary

provides a complete alphabetical list of OroCRM and OroCommerce terms used in the documentation.
Developer Documentation
Updated developer documentation has never been easier to navigate. It contains information on the application architecture, customization, and implementation of web services API. We have split Developer Documentation into role-based sections, with content sorted precisely to the needs of each role:
Backend Developer Guide

explains how to configure, deploy, and maintain all Oro applications.

Frontend Developer Guide

provides themes to prototype the storefront and back-office design of your application.

Community Guide

guides you through steps to contributing to the Oro application development, its documentation, and translations, and has details of our release schedule.
Cloud Documentation
Cloud Documentation describes OroCloud architecture and security principles, onboarding processes, maintenance tools, monitoring, and technical support details. 
Be the first to browse our new Oro Documentation Portal today, just head to https://doc.oroinc.com and choose your role!