Oro is excited to announce that Frost & Sullivan has recognized OroCommerce with their prestigious 2017 New Product Innovation Award based on their recent analysis of the B2B eCommerce industry.
Recognizing Innovators When They See Them
For more than 50 years, Frost & Sullivan has been developing growth strategies for businesses, the public sector, and the investment community. They are world renown for their disciplined research. In recognizing innovators, they dig deep to discern best practices and take a 360-degree view of the industry challenges, trends, and issues companies face.
Unprecedented Challenges for B2B
Frost & Sullivan recognizes the challenges facing B2B business today. eCommerce has changed the way B2B buyers and sellers interact forever. As Amazon and Alibaba race to a $500 billion evaluation, they are taking an entire generation of purchasers with them. In today's B2B marketplace, buyers expect a B2C experience, and if they can't find a self-serve portal for a company they move on. For B2B sellers, this presents an evolve or else situation. According to their report:
"in the fast-growing B2B eCommerce space, B2B organizations have little choice but to invest in a platform. B2C eCommerce solutions stretched to cover B2B will not be sufficient in the complex transactions that B2B requires, and the less comprehensive homegrown solutions will fall short as well."
Buyers want a B2C experience, but sellers need a solution that addresses the complexities of a B2B transaction. That's where OroCommerce excels.
Also, discover what you can learn from the success of the Alibaba B2B business model.
Key Factors in Selecting OroCommerce
Frost & Sullivan analyzed the paths to B2B e-commerce. Companies can craft homegrown solutions, try to stretch a B2C solution to fit their needs or invest in a B2B platform. No matter the approach, it is clear that an e-commerce platform is now mission critical. According to Frost & Sullivan, selecting the right platform is now "an 'adapt or die' type of investment that B2B companies will have to make in order to stay relevant."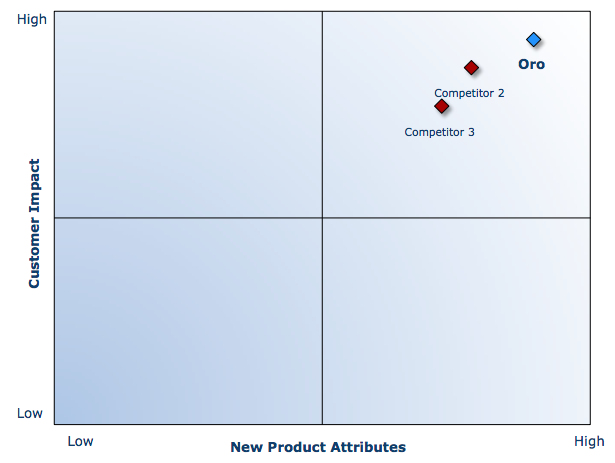 As the winner of the New Product Innovation award, OroCommerce is recognized as a purpose-built solution that was built from the ground up for B2B. Oro understands that B2C solutions stretched to cover B2B aren't flexible or sustainable solutions.
OroCommerce is open-sourced and provides a secure platform that is ready to integrate with third-party systems for Enterprise Resource Planning, Product Information Management, and Marketing Automation Systems. A major differentiator is that Customer Relationship Management functionalities are completely built-in.
OroCommerce was recognized as easy to deploy. 60% to 80% of OroCommerce is ready out-of-the-box, and if you need assistance, a rich ecosystem of technology partners and experts is ready to help.
Download the Full Report
Need more insight into how eCommerce is changing B2B?
Download the full report and learn:
Key benchmarks used to evaluate OroCommerce and key competitors

Industry challenges and prediction for the future

How OroCommerce is ready to help you.